BARTENDER OF THE SEASON FOR WINTER 2008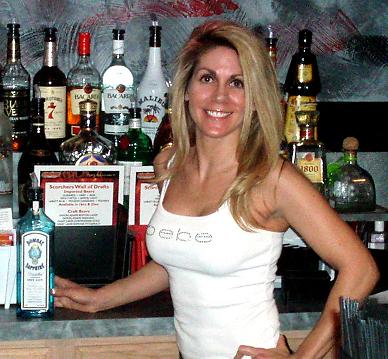 Our first Bartender of The Month for 2008 is Rhoda. Rhoda is one of the friendly bartenders at the New Scorchers on Waterloo Rd. in Firestone Park.  New Scorchers you say?  Well as of December 18, 2007 it opened under new management with a complete make-over, and owner. The owner is Randy Arehart who we want to thank for permitting us to come in and disrupt the normal flow of operation. Rhoda was nice enough to get permission to, and wear a special outfit for this article and pictorial to follow.  Rhoda is very cheerful, and just busting with energy. Pun intended! She is very attractive, but also a very conscientious employee, as are all of the bartenders here. On the following pages you will also see pictures of Vanessa and Doreen, just two more of the competent staff that Randy has assembled. When we first met Rhoda she was working at another establishment that we won't dig our cleats into right now! At that moment we knew that she was something special, and evidently so did Randy for as soon as Scorchers reopened there she was behind the bar.  Stop in sometime and say Hello, and tell her that The Geezers sent you.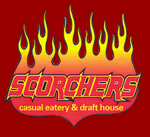 MORE ABOUT SCORCHERS: Scorchers has been a staple of the Firestone Park neighborhood for some time. The people from L.A. (Lower Akron) are very happy that they have decided to return to their area birthplace.  And the best thing about it is that the place is brand-spankin' New. Totally remodeled it is  comfortable, and enjoyable.  And the Happy Hour from 11-7 during the week from the previous owner is  

Back! From 11-7 domestic 23 oz. draft beer is only $2.25. Domestic bottled beer is $2.00. There are a total of 13 TV's in the building. There are 5 Plazma TV's at the bar along with a Big projection TV, and other Plazmas situated strategically throughout the rest of the restaurant.  Also available is a new feature called a Beer Helmet. You can have your choice of any beer  in a  large cylindrical tube anchored by either an Ohio state or Cleveland  Browns football helmet. It contains 110 ounces of your fave brew, and it is $15.00 during Happy Hour and $18.00 during regular times. It is an interesting fun thing.  Scorchers has been known for their great tasting wings for a long time. They are back, and better than ever along with a full menu to choose from.  Scorchers has the popular  Golden Tee golf video machine,  buzztimeTRIVIA played  with a keyboard using the TV monitors, and a dart board. There are plenty of things to enjoy bedsides your friends and your favorite games.  The owner is Randy Arehart. He is a great guy. Stop in and say Hi to Randy and the rest of  his friendly staff.

DAILY SPECIALS BEGINNING THE WEEK OF JANUARY 14, 2008

Monday  - Half  Price Burgers

Tuesday - 35 Cent Wings

Wednesday - 12" Pizza W/up to 3 toppings - $7.99

Thursday - Pasta  $4.99

                     Spaghetti & Meatballs -  $5.99

Friday - 3 Piece Fish & Frips

This page was last updated: March 31, 2008
CLICK ABOVE FOR MORE PICS