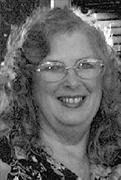 A good friend, former Goodyear Associate, and an avid golfer, gardener, and card player, Phyllis Miller, passed away on March 28, 2014. She was born in Cambridge, Ohio on November 26, 1937.

I worked with Phyllis at Goodyear, and at one time I was a Group Leader in the Invoice Processing section of Account Payable that she worked in. She knew, and also worked with most of the Geezers.

One Geezers Nite Out a couple of years ago she stopped by to say hello at the Tap House on Waterloo Rd, now known as The Grille on Waterloo.

While there she thanked me for everything I did for her at Goodyear. Actually I did not do that much for her. When I became a Group Leader in the section I was unfamiliar with some of the procedures. She actually helped me from time to time.

I was told that she was a very good golfer, and that she loved the game. I never played any golf with her, but she was a very informed fan of the game.

She will be missed dearly by her family and friends. May you rest in peace Phyllis.

Below are a few photos that have been posted to her Obituary page on the Internet. Click on them to Enlarge.

This page was last updated: April 25, 2014