Geezers St. Patty's Day Weekend 2018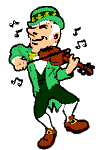 Another St. Patrick's Day has arrived, March 17, 2018. Some of The Geezers feel like they have to do their part. 

A lot of people celebrated it all weekend. We went to one party at Kevin O'Bryan's on Friday, March 16. Callahan & O'Connor was the featured entertainment playing Irish favorites. Below are those pictures..

This page was last updated: June 2, 2018