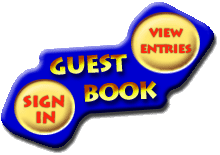 This page was last updated: February 12, 2014
Please Page Down to see all of the content on this page.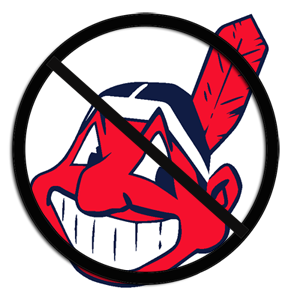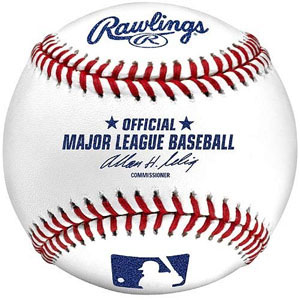 2012 CENTRAL DIVISION PREDICTIONS

1. DETROIT TIGERS

2. CLEVELAND INDIANS

3. MINNESOTA TWINS

4. CHICAGO WHITE SOX

5. KANSAS CITY ROYALS

I consulted Bleacher Report and Saber Analysis to arrive at the above predictions, Below is what I got from viewing these websites, and my own perceptions. Last year I predicted the Cleveland Indians to finish LAST. They finished SECOND behind Detroit as I predicted for this year. The Minnesota Twins did finish Last due to a rash of injuries.

DETROIT TIGERS - I only have to mention three names here to validate my pick. Justin Verlander, Miguel Cabrera, and Prince Fielder. I don't really need to say more. But part of the reason that the Tigers pulled the trigger for Prince Fielder was the loss of Catcher/DH Victor Martinez. Detroit will have to eat $12,000,000 that Martinez is due, however I believe Detroit must have had some kind of insurance to cover part of that amount. One more thing. The team came back and won the division last year because of their Manager Jim Leyland. He is still there.

CLEVELAND INDIANS -  Last season (2011) the Tribe started out in first place. They played with reckless abandon, and players invited to spring training, as a courtesy, ended up on the 40 man roster. It was...well...like Jack Hannahan who took over third base with appall. Not sure what happened to Paul.

But the young Indians' inexperience and lack of talent inexplicably finally did them in. However, they did finish in second place after a strong rebound.

The only problem is that they are basically the same team. What they needed was a power-hitting right-handed outfielder or firstbaseman. But what they got was a player with a high average last year (.306) but not many home runs or RBI's. His name is Casey Kotchmann, and he played with Tampa Bay last year. To compare him with Matt Laporta, Kotchmann had a .306  batting average (.247 for LaPorta). But LaPorta had 1 less double, 1 less triple, but 5 more RBI's. Not much of an upgrade. Oh yeah, he is a terrific fielder.

Other offseason moves were the acquisition of washed-up pitchers Derek Lowe, and Kevin Slowey. Also acquired were were outfielder Aaron Cunningham, and firstbaseman Russ Ganzler.  Non-roster invitees are infielders Andy La Roche, and Jose Lopez.

There are three players who must produce this year. Grady Sizemore, Travis Hafner, and pitcher Ubaldo Jimenez. I they can't stay healthy the outlook for the Tribe is not good considering what the Tigers have. 

The Indians must stay healthy or they have no chance to catch Prince Fielder, Justin Verlander, and the rest of the Tigers.

Note: Since the above outlook was written the Indians picked up infielder Cristian Guzman who played for Manager Manny Acta for the Washington Nationals. This sounds like a good pickup, but Guzman turns 34 years old in March. He will compete for a spot on the roster as a utility infielder.

And the Big News is that Grady Sizemore is hurt...Again! This time it is a lower back problem. He strained it fielding ground balls. He will not be available for Opening Day.

Also, the next day Indians closer Chris Perez suffered an Oblique Strain, and will be out indefinitely. If Perez isn't ready for opening day Vinnie Pestano will close. 

MINNESOTA TWINS - The Minnesota Twins finished in last place last year, but they had a rash of injuries which included two of their star players. Catcher Joe Mauer was on the DL with bilateral leg weakness and pneumonia. Firstbaseman Justin Morneau missed most of 2011 with concussion symptoms. Both should be back healthy in 2012.

This is really a crap-shoot with the remaining three teams in the division. None of them are supposed to have a good year for 2012. In fact the Kansas City Royal's target date for playoff contention isn't until 2013 & 2014.

The Twins' pitching isn't strong. They ranked 26th in the Majors in rotation with a 4.64 ERA. And their bullpen was the worst in baseball.

They also lost Michael Cuddyear to the Colorado Rockies (Cleveland was also interested in him), and Jason Kubel to the Arizona Diamondbacks. And on top of that closer Joe Nathan left for the Texas Rangers.

It really looks bleak for the Twins, but if Joe Mauer, and Justin Morneau make a comeback they will be stronger than the White Sox or Royals. What will make them stronger is their manager Ron Gardenhire. He became the manager on January 4, 2002 replacing Tom Kelly. In nine years he has had a losing record in only 2007 & 2011, the year of all fo the injuires. He was voted Manager of The Year in 2010.

CHICAGO WHITE SOX - The White Sox have too many things going against them to be considered for playoff contention in 2012. For one thing, they will have a new Manager in Robin Ventura who used to play for them. However, he has absolutely no managerial experience in any league. Former manager Ozzie Guillen is basking in the sun in Florida for the Miami Marlins.

The White Sox will also have a very young team. Last year they were counting on Adam Dunn for power, and a veteran influence in the locker room. He did neither. If they are to do anything in 2012 they need Dunn to come out of his trance.  

Also Alex Rios, and Jake Peavy had sub par years. These two players also need to rebound to help make the team respectable. On top of all those woes outfielder Carlos Quentin was traded to the San Diego Padres.

Paul Kanerko had a good season for the Sox after a dismal 2010. However, can he duplicate it in 2012. Catcher A. J. Pierzynski is back, and he will share duties with Tyler Flowers. 

John Danks is the Ace of the staff along with Gavin Floyd, and the surprise of 2011 Phillip Humber. But don't look for the starting rotation to throw any no-hitters. However, they do have a good bullpen

And an ex-Cleveland Indian will be roaming the outfield for the Sox, as Kosuke Fukudome was traded to them. He's a very solid player, but don't expect anything fantastic.

KANSAS CITY ROYALS - The Royals won 71 games in 2011. And they themselves admit that their target date for playoff contention isn't until 2013 & 2014.

The word is that Kansas City's pitching is suspect. Also last year closer Joakim Soria struggled.

To make matters worse Melky Cabrera left for San Francisco. 

However, all is not bleak for the Royals. Alex Gordon had a breakout year after glimpses of greatness over his first few years. And also Jeff Francoeur had a breakout season in 2011, and the Royals are hoping that he doesn't regress.

It sounds like from what I read on the Saber Analysis that the Royals infield is not set in stone. But I guess that is what Spring Training is all about. One of the the problems is Yuniesky Betancourt who has a household name, but is not guaranteed a job anywhere.

Another player who is trying to nail down a roster spot is another ex-Indian Kevin Kouzmanoff. Mike Moustakas is set to be the starting third baseman. However, he has a history of injuries. On January 14, 2012 Kouzmanoff signed a minor league contract deal that included an invitation to Spring Training. If he makes the team he will earn $1 million, with up to $3 million in incentives related to plate appearances. He will be insurance to Moustakas if nothing else.  

Note: If the Indians are going to win the division, this is the year. It seems like, from what I read on Bleacher Report, and Saber Analysis that the Detroit Tigers are their only competition. The Twins, White Sox, and Royals do not seem like they will have their teams ready to contend in the Cantral Division of the American League after Spring Training. The Indians have added some veterans, and they are looking for another Jack Hannahan to appear during the spring. If General Manager Chris Antonetti can pull another rabbit out of his hat for a power hitting right handed outfielder the Tribe should be right there. 


RE: Bleacher Report

      Saber Analysis

      Wikipedia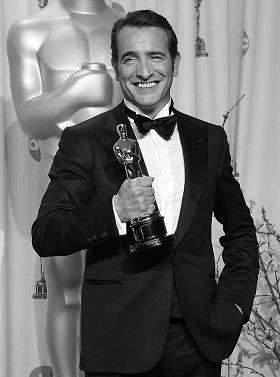 The Highlights of the Academy Awards Show Sunday night, February 26 in Hollywood to me were Billy Crystal, Will Ferrell, and Zach Galifianakis with the cymbals, Jennifer Lopez's gown Malfunction, the TV camera shot of the backside of both Jennifer Lopez, and Cameron Diaz, and then came the coup de grace was "The Leg" of Angelina Jolie. The rest of the show was predictable, and boring, except for the unexpected Oscar win of Meryl Streep for the Iron Lady.

The show lasted for 3 1/2 hours, but there were some parts of the show that weren't needed. Those seemed like fillers. So if you have to fill anywhere from one half hour to 45 minutes why not shorten the show? Does not compute.

Billy Crystal did a great job. It was his 9th time as the host, and it had been 9 years since he last hosted in 2003. The only person who hosted more times was Bob Hope at 19 times. Johnny Carson hosted it 5 times. Jack Lemmon, and Whoopi Goldberg are tied at 4 each. Crystal called the location the "Chapter 11" Theatre (Kodak filed, and backed-out). It is now the Hollywood and Highland Center.

Will Ferrell, and Zachifianakis jumped out of the orchestra pit with white tuxedos on each slamming two cymbals together. They came up on stage, and were hilarious. They also were the presenters for the Best Original Song which went to Bret Mckennie from New Zealand for The Muppets.

Oh yeah, Miss Piggy and Kermit the frog were also there. They introduced the performance of Cirque Du Soleil. Another highlight I neglected to mention. 

Then there was Jennifer Lopez. She was involved with two interesting scenarios. First of all she had a low cut gown on, and it it sure looked like it wasn't completely covering her breasts. I wasn't sure what I was seeing, but reports from others indicated that I wasn't imagining things!

Secondly, there was a camera shot of Lopez, and Cameron Diaz standing with there backs to the camera. That was either planned or it was the director's misstep. But it was an interesting shot.

Just when things were calming down Angelina Jolie came trodding onstage with her right leg flashing from the slit in her gown. That in itself was not unusual, but when she took her stance at the podium to present an Oscar she stood with the right leg prominently displayed. I wasn't sure if she was purposely taking this pose, but the aftermath indicated that it was a "plan"! I'm sure that you have seen the photo. 

By the way Frenchman Jean Dujardin won for Best Actor in a Leading role for The Artist. And The Artist also won for Best Picture. Tom Cruise was the presenter.  How a black and white silent movie can win Best Picture is beyond me. Once a movie becomes popular by the media the others don't stand a chance.

One more thing. One of the Oscars that Angelina Jolie presented was for Original Screenplay which was won by Woody Allen for Midnight in Paris. Of course he didn't lower himself to attend. I believe that if an actor or winner of an Oscar does not have a legitimate reason for not attending the show that they should take it  away from them, and give it to #2.

I did like the dog in The Artist.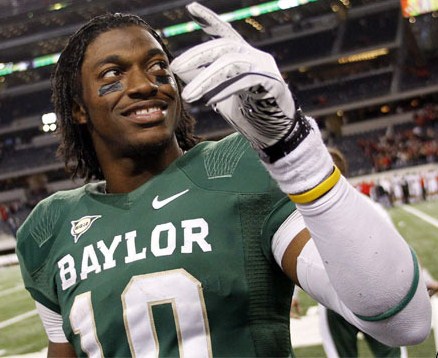 GOODBYE: CLEVELAND BROWNS

HELLO: ANOTHER BORING DRAFT

Well, forget about the possibility of the Cleveland Browns trading up  to the #2 spot in the NFL collegiate draft held by the St. Louis Rams to draft Heisman Trophy winner, and Super quarterback, Robert Griffin III.

It was announced by both teams that a deal has been made between the Washington Redskins and Rams to trade up to their spot in the draft order to take RG3. The Redskins gave up 3 #1 picks plus another pick. The Browns are not saying what they offered. Some sources indicated that they were going to give up their 1st, and 22nd round picks in the first round, and

two more 1st rounders.

Terry Pluto, of the Cleveland Plain Dealer, said in the paper Sunday, 3/11, that the word in the news media was that "the Browns offered three first-rounders, but that it was too late." But Pluto said that "I doubt if the Browns offered three first-rounders, and it was too late."

In an article by Marla Ridenour of the Akron Beacon Journal, she wrote "It seems almost unfathomable that the Browns had the most to offer the Rams, yet were somehow outfoxed by the Redskins."

If the Browns really wanted RG3 they should have done everything in their power to get him. But it sounds like they didn't. Since they are playing the CIA game, we'll probably never know, but something smells here. General Manager, Tom Heckert said one minute that they are not going to give up all of their draft choices for one player, and the next day we "hear" that the Browns were dueling with the Redskins to give up draft choices for the talents of RG3 

Robert Griffin III was not just any quarterback. He was not a good quarterback. He was a one-in-a-million quarterback. This guy was tall enough (No matter what anyone says), smart enough, has a strong arm, is a speedster, and has a great personality. He would have caused an excitement and fan interest that hasn't been felt by this team for many years This is one guy that you have to break the bank for. And the Redskins owner Dan Snyder, and GM Bruce Allen knew what to do, and they did it.

So now their is not really going to be any excitement on draft day. Or should I say you shouldn't get excited about draft day. Knowing the Browns they will make a couple of choices to make you say: "They did what?" Look for them to trade down for "more picks!" OMG.....Not Again! Last year they passed up on receiver Julio Jones who had a fantastic season with the Atlanta Falcons. The Browns (Here it comes) traded-down for a bunch of picks from the Falcons while saying that they were "satisfied" with the receivers they had. We all know how that went. 

On All Bets Are Off with Bruce Drennan, some Browns fans indicated that they didn't want the team to trade-up for RG3. They wanted to have them draft a receiver, or a running back, and one fan was talking about an offensive tackle. Sure, the Browns need all of those. Does the name Julio Jones come to mind? Go ahead, draft a receiver. But you won't have anyone to throw him the ball. Fans that think all Colt McCoy needs are receivers, and a halfback are not very observant. Maybe there were dropped passes last year. But how about those passes that missed their mark? Whose fault was that? One play in particular that I remember, was when Peyton Hillis was wide open down the sidelines, and he had to slow down to catch the ball and was tackled afterward. A pass right on the money would have scored a touchdown. Now that the Browns have lost RG3 to Washington Heckert is saying: "That Colt McCoy is alright."

We will see what the addition of RG3 does for the Redskins. In the meantime I am not looking forward to another boring draft day. It's just like the Browns to draft cornerback Morris Claiborne from LSU to match with Joe Haden! Yawn! There are two other quarterbacks available. Ryan Tannehill from Texas A&M, and Brandon Weeden from Oklahoma State. Yawn! Tannehill used to be a receiver, and the Browns wouldn't want to draft him at #4. Weeden is 28 years old, and played Minor League baseball. Not quite what the Browns are looking for. But Heckert said: "I don't care (about his age). I might not be here (that long)."

But whatever the Browns do, it will not be as exciting as the possibility of drafting RG3. It will be like waking up Christmas morning, and finding out that your present is a pair of socks. And not even Superman socks!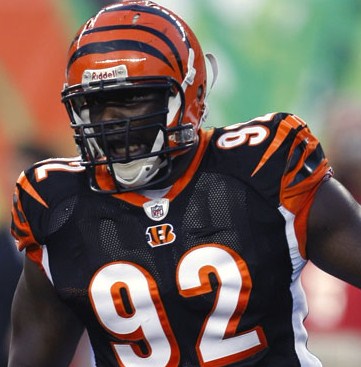 Well, Tom Heckert, General Manager of the NFL Cleveland Browns said that they weren't going to "go crazy" in free agency. And he is a man of his word.

Except when he said that he wasn't about trading-up in the NFL Collegiate draft to get Baylor quarterback RG3. Then the next day he made a feeble offer to get him. And after that fell through, you could say "bungled" (pay attention to that word) he said that they are fine with Colt McCoy.

So here is their laid back move that the "sane" Browns made on Wednesday, March 14. They picked up none other than the former defensive end of the Cincinnati Bengals, Frostee Rucker. OK, how sane is that move?  It sure wasn't a "crazy" move. They signed him for something like 21 million for 5 years. But nothing is guaranteed in the NFL. This move sure didn't get anyone too excited. Except for Frostee.

Earlier in the day it was reported that former Indianapolis Colts wide receiver, Pierre Garcon, was signed by the Washington Redskins. Now why would he do that so soon? It just so happens to be the team that Heisman Trophy winner, and highly touted quarterback from Baylor, Robert Griffin III, was guaranteed being picked in the #2 spot by Washington after they out maneuvered the Browns for the rights to draft him. Of course this is the same Browns team who's GM, Tom Heckert said a day before he wouldn't do.

There was tons of action on Tuesday, March  13, Wednesday, March 14 by most teams in the NFL. But you never heard the Browns mentioned except for ESPN announcing that the Miami Herald reported that free agent QB Matt Flynn was being offered a contract by the Seattle Seahawks, Miami Dolphins, and the Cleveland Browns. What? A breath of life from the Browns? However, they quickly dashed any hopes that the fans had by saying: "I know nothing!" (They didn't do it). OK, I am beginning to think that either the news media is incompetent or Tom Heckert is a habitual liar. He has contradicted himself from the time the NFL draft blitz, and free agent signing day has begun. the only thing that seem s apparent that he has done is being outfoxed by the Washington Redskins.

Besides a quarterback the Browns needed to acquire a receiver in the draft or free agency. Garcon has gone to Washington to join RG3 as I stated above.  His teammate Reggie Wayne went back to the Colts. Receiver Vincent Jackson, formerly of he San Diego Chargers signed a five year deal with the Tampa Bay Bucs. Receiver Robert Meachem formerly of the New Orleans Saints has a meeting with the Buffalo Bills. And former Giants receiver Mario Manningham said that the Browns were not on his radar. So the Browns lost out on those receivers without even a whimper. And the Browns were also interested in defensive end Jeremy Mincey, but he decided to go back to the Jaguars. That's where good old Frostee comes in. The Browns snatched him up before anyone knew his name.

The Browns had better have a terrific Plan D for the Draft, maybe dreaded trade-down or something earth shattering, or they are going to have another "OK" draft which will not endear them to their fans.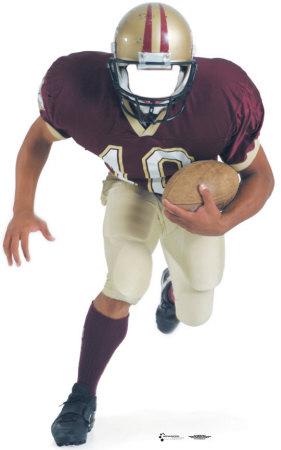 WHO WILL THE BROWNS DRAFT?

Question: What was Cleveland Browns Head Coach Pat Shurmur, and his wife doing on the Red Carpet at the 27th annual Rock and Roll Hall of Fame induction ceremonies Saturday night?

Speaking of Pat Shurmur, and the Cleveland Browns, the NFL Collegiate draft on April 26-28 is not that far away. All of Cleveland sportswriters, and analysts  throughout the country have been trying to guess who the Browns will take in the First round at Nos. 4 & 22 with their mock drafts.

Mary Kay Cabot, Browns beat writer for the Cleveland Plain Dealer, albeit because of the untimely departure of Toni Grossi, is staying with receiver, Justin Blackmon from Oklahoma State by the Browns with the No. 4 pick. It makes sense because we all know that the Browns need a playmaker at receiver. Last year the Browns passed on receiver Julio Jones to trade down with the Atlanta Falcons for a ton of picks. The Browns said, at that time, that they were satisfied with their receivers! 

If the Browns stay at No. 4, and since they blew the attempt to trade up to No. 2 for RG III, and since they made no attempt to keep Peyton Hillis, I believe that they will take running back Trent Richardson from Alabama at No. 4. I believe that Blackmon has fallen out of favor because of his height.

A lot of sports gurus think that Trent Richardson is the best running back in the draft since Adrian Peterson. As we all know the Browns passed on Peterson to take offensive tackle Joe Thomas which has paid off for the Browns since Thomas has been in the Pro Bowl every year since.  ESPN analyst Mel Kiper has Trent Richardson going to the Browns in his latest Mock Draft. 

Trent Richardson is not too much of a surprise because this choice is forecast in a lot of mock drafts. But I just have a feeling that the Browns will take quarterback Brandon Weeden also from Oklahoma State (Blackmon) if not in the first round at No. 22, but, if he is available, possibly No. 37 early in the second round. I watched Weeden play in a few games on TV, and I thought at that time he was a very talented quarterback who moved the team. Weeden is 6' 4" tall, and weighs 220 lbs. The knock on Weeden is that he is 28 years old. He played professional baseball for 5 years. He was drafted #1 by the New York Yankees in 2002, and spent time with the Yankees, LA Dodgers, and Kansas City Chiefs all in the Minor Leagues. He was a pitcher.

He left after the 2006 season, and enrolled at Oklahoma State in 2007. He came into his own during his last year of eligibility, and he drew the attention of NFL scouts through his accomplishments

He reminds me of Andy Dalton of the Cincinnati Bengals. 

Whatever the Browns do, I'm sure that the fans will not be happy with it. The Browns tend to do unusual things on draft day that makes you say: "They did what?"


Ref: Wikipedia

      Akron Beacon Journal, Cleveland Plain Dealer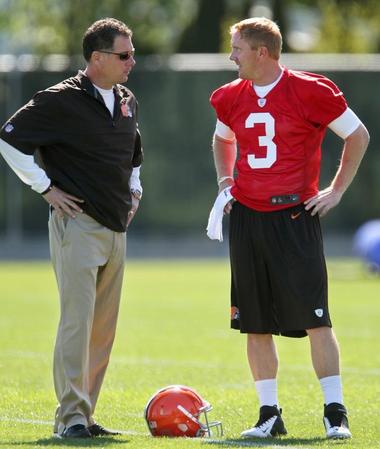 I saw this picture on the news, and it just made me wonder. Is Head Coach Pat Shurmur, left, that tall or is the Cleveland Browns 22nd pick in the collegiate draft, Brandon Weeden that short? Interesting visual.

I did some research on this. On one Internet sight when I asked what Pat Shurmur's height and playing weight was in college there was one guy who answered: "Who cares, you creeper!" I assure you that I am not a creeper. I just wanted to find out how tall Shurmur was, and then to find out how tall Weeden was. I had heard that Weeden was over 6 feet. Something like 6' 3-3/8".

I found out something very interesting. Coincidental? I was surprised to find out that Pat Shurmur is 6'-4" tall weighing in at 224 pounds. And Brandon Weeden was listed at also 6'-4" tall at 221 pounds.

However, if one of them is lying then they are not BOTH 6 feet 4 inches tall! Breaking News?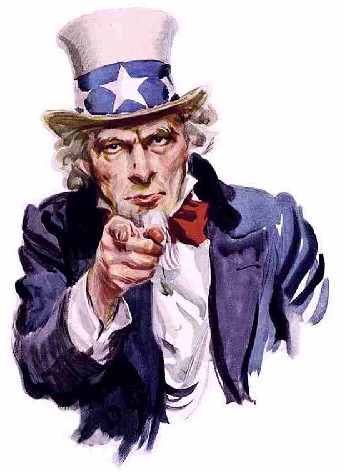 OK, I'm sure that most of you have heard about the Cleveland Indians closer, Chris Perez spouting off about the Cleveland Indians fans.

It all started when he came into a game in the 10th inning of a tie . He gave up a couple of runs, and the Tribe ended up losing the game. There was a controversy over whether Manager Manny Acta should have even brought him into the game with the score tied. Perez heard the boos.

During his next save appearance he put a couple of men on base, but ended up saving the game. However, when the two runners got onto base the fans booed. After that game he criticized the fans for booing, and went into a tirade about the slumping attendance with the Indians in First Place. The Indians are last in the league in attendance. He was interviewed the next day, and he stuck by his guns. Naturally it has embroiled into a controversy. 

The first thing I have to say is that whether you disagree with the fans booing a first place team or not, they pay a lot of money to go to a game. The Indians have lowered the price of tickets, however, their concessions are still the same if not more this year. I went to a Noon game back in April, and it seems like I remember a beer vendor with an $8 price button on his shirt.

I paid for parking at a place near across the street from Progressive Field for $15. There were other places asking $20. So what I am saying is that the fans have every right to boo! They are paying to do it!

As far as the Indians being in last place in attendance there are a lot of reasons for it. First of all everyone knows what condition the economy is in. People just can't afford to go to that many games early in the season.

The kids are still in school. You can't have a child staying up late for an extra inning game. And their parents have work the next day. Those that have jobs.

One contributing factor is that there are so many games that are being televised by STO, and WKYC. If the weather is shaky or the Indians are playing a bad team you can just sit back and watch it at home. There are approximately 130 televised at home and on the road. When I was a kid you were lucky if they televised 30 games a year. Here's the rub. The Indians own STO, they are making money off of advertising, and  broadcast rights. Maybe if they didn't televise so many games there would be more fans at them.

And (I think) the main reason that the fans are not packing the seats is that they don't really BELIEVE! You know, you've seen those signs at sporting events: WE BELIEVE! You remember what our former president George W. Bush once said: " fool me once, shame on -- shame on you. Fool me -- you can't get fooled again." The fans have seen it before. Back in 2007 when Cy Young Award winner C. C. Sabathia, and Fausto Carmona tanked. Last year the Indians started off with a bang. In their first 45 games of 2011 they were 30-15 and in first place. We all know how that worked out. Some say injuries were the culprit.. 

You can't blame the fans for being tentative in their support. One fan tweeted on TV: "When it counts, the fans will be there." The Indians were in the World Series in 1995 and 1997. They lost both years. The last time that the Indians won the Series was 1948. The fans are starving for a championship. The Browns, and the Cavs haven't been able to do it. The Indians have been close.

The fans are tired of being disappointed. When it is apparent that the Tribe is for real this year, they will be at Progressive Field in droves. They had better not disappoint the fans that do come when they play the Detroit Tigers in the upcoming series. If they do.....enough said!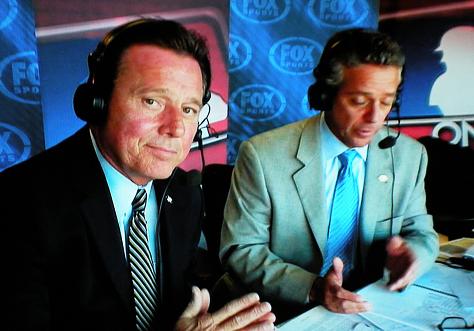 I am not a fan of the Cleveland Indians TV broadcasting team Matt Underwood and Rick Manning. There is nothing more boring than to watch a game that the Tribe is losing and hearing those two trying to make it sound interesting.

Manning was a Golden Glove outfielder, but rarely hit over the Mendoza Line. (Look it up) I won a bet one time with a friend time in a bar that Archie (Nickname) wasn't hitting his weight. We called the Beacon Journal sports department, and asked them. And lo-and-behold he was not. He had to be around 200 pounds but his average wasn't that high.  

So my question is how is he supposed to be an expert on hitting? He criticizes the hitters, describes what they are doing wrong, and what they should do right. Both Manning and Underwood are sitting up in the press box, and they know when a pitch is a strike or a ball, and what kind of a pitch it was. That is absolutely ludicrous.

Underwood isn't much better. He was a radio broadcaster before he was promoted to TV with Manning. The Indians had a very capable, and knowledgeable announcer who worked with Manning by the name of John Saunders. He was a professional. I wouldn't be surprised if Manning didn't have something to do with Saunders being replaced. Twice in one week Underwood said that the hitter popped the ball up in the air, and the outfielder on the opposing team caught the ball on the warning track both times.

Manning gets involved in a story about a player, manager, umpire or owner, and thinks that he must finish it even though there is action happening on the field. One time he was in the middle of la lengthy story when Asdrubal Cabrera hit a ball to the wall in Progressive Field to drive in Brantley but Manning wouldn't stop talking. Underwood had to interrupt him to call the play.

Manning has been around for quite some time. I remember seeing him walking in the upper deck at Cleveland Municipal Stadium, the old Indians ballpark which was torn down and replaced with Cleveland Browns Stadium. I was walking towards him and I said: "Hi Rick!" He just starred straight ahead, and walked right past me not saying a word. Nice guy! Maybe he was on his way to the restroom!

A friend of mine always gets upset when a pitching coach comes to the mound to talk to one of his pitchers. Manning will say what the pitching coach is telling the player. Manning is sitting up in the press box. The players aren't miced. My friend says: "How in the (heck) does Manning know what the coach is telling the pitcher?"

Last Saturday night the game between the Tribe and the St. Louis Cardinals was being broadcast by FOX Sports. I always enjoy watching an Indians game broadcast nationally with professional announcers. When I tuned into the game I heard the voice of FOX Sport's announcer Bob Brennaman. I also heard the voice of the color commentator. It sounded familiar. Then another camera focused on the broadcast team, and sitting next to Brennaman was none other than Rick Manning.

Talk about "The Curse"!    


RICK AND FRACK'S PLAY OF THE DAY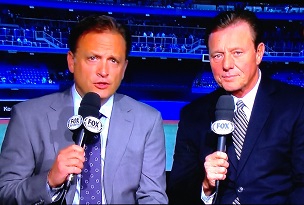 This Non-Emmy winning duo, Underwood & Manning, has been calling plays for the Cleveland Indians for a long time. Too Long! I used to think Herb Score, rest his soul, was bad, but these two guys take the cake. Sometimes things come out of their mouths that are unforgettable. These are instances that I hear that just must be shared! 

It was one of the Tribe's first games of the season in Toronto. Mark Reynolds was up to bat. During one of Manning's lengthy stories about his days in Milwaukee, Underwood interrupted as Reynolds made contact with a pitch, by casually saying: "Reynolds pops it to deep center".....as the ball sails over the fence for a Home Run Underwood tries to cover up his lackadaisical comment by excitedly saying: "Mark Reynolds with a 3 Run BOMB to straight away center."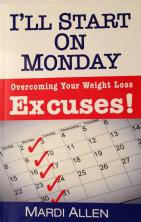 BREAKING NEWS! The Celveland Browns are looking for a new Head Coach! NO IT'S NOT! Same Old Browns! But wait a minute...owner Jimmy Halsam said in a press conference that it's not true. They are commited to winning, and they will get this right! That remains to be seen. They aren't doing anything to change anyone's mind!

UnlessI you have been out fo the country you know that after the Browns loss to the Pittsburgh Steelers DEC 29, Haslam lowered the boom on coach Rob Chudzinksi, and he did his best Donald Trump impersonation and told him: "You're Fired"! 

It was a surprise to a lot of sportswriters in Cleveland and around the country. The Browns usually give a coach two years to succeed. But the deed is done, and the now the search is ongoing for a new head coach.

Since the firing was so soon after the season and after only one year most sports aficianados thought that the Browns must have had another coach that they wanted who they were 95% sure would accept the position. But the way it is looking they did not.

It is the Same Old Thing! It seems to me that they have no plan, no idea of who or what kind of coach they want. Most sportswriters assumed that the coveted offensive coordinator of the New England Patriots, Josh McDaniels would get the nod. He is a local boy. However, the other day he took himslef out of considereation for the job.

How in the heck could they even have considered this guy? He was the head coach of the Denver Broncos and fired after one season. Reports of player dissatisfaction with his mode of operation, and confrontations were rampant. Why would the Browns organization even think this would be a good fit for their team?

I heard that he was interviewed by the 3 Amigos (Jimmy Halsam, Joe Banner, CEO, and Michael Lombardi, GM), but when he asked if he was the only coach under consideration, and was given the answer of NO, he immediately asked that his name be withdrawn from consideration.  

Banner said in a news conference that any candidates that they interviewd last year for the position would not be aksed to come back for another interview. However, once McDaniels turned them down, they are now looking at former Arizona Cardinals head coach, and current San Diego Charges offensive coordinator Ken Whisenhunt. He was interviewed last year, but the Browns are going to bring him back again anyway for another interview. Whisenhunt took the Cardinals to the Super Bowl in 2009 which they lost to the Pittsburgh Steelers in an exciting game.

He was a former head coach so maybe that is a good idea. But to bring in offensive or defensive coordiators with no head coaching experinece is not a good idea at this time for the Browns. They don't need to have another on-the-job-training coach. This team has to win NOW. They can't afford to wait for a coach to come around. They didn't do it for Chudzinki.

The Kansas City Chiefs had a record of 2-14 in 2012. They went out and hired Andy Reid who was fired from his long time job at Philadelpia, and he took the Chiefs in 2013 to the playoffs with an 11-5 record.

I along with most Browns fans have no confidence in Haslam, Banner, and Lombardi. Until they hire a competent head coach, make smart choices in the NFL Draft in May, and end up with a winning season no one will.

I just couldn't resist putting this on the website! this is Hilarious. I wish I would have thought of this! LMAO!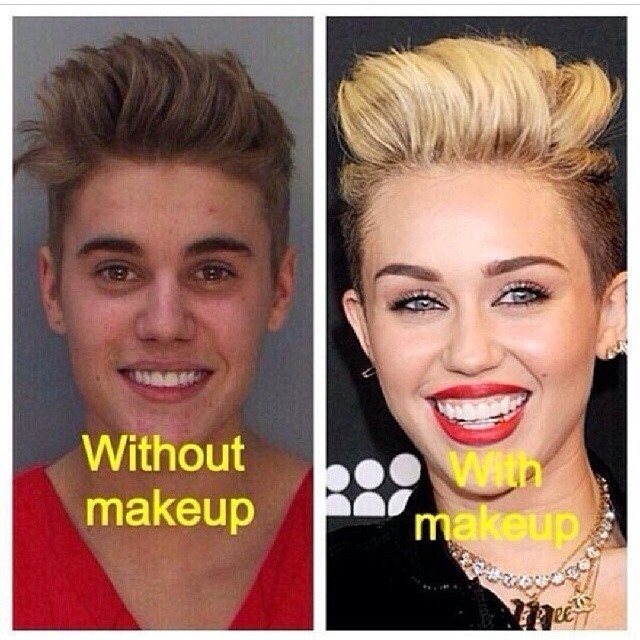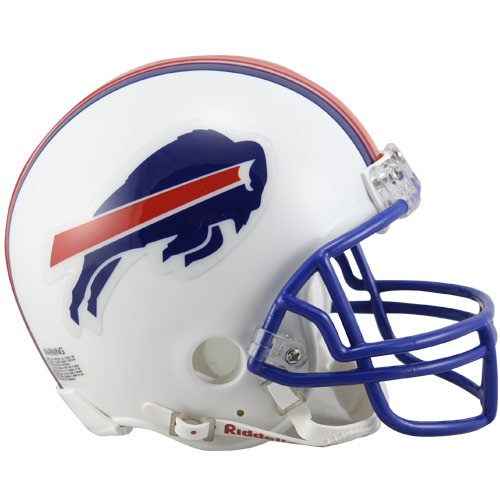 NEW CLEVELAND BROWNS HELMET

Deja Vu All Over Again...AGAIN!

Former Buffalo Bills Defensive Coordinator, Mike Pettine,  has been selected as the new Head Coach of the Cleveland Browns. 

That's right the Buffalo Bills, who ended up with a 6-10 season record in 2013. This is Pettine's first head coaching experience except a short stint for a high school.

And if that isn't bad enough, he is pulling an Eric Mangini, and bringing half of the Bills coaching staff with him.

He has hired Bills linebackers coach Jim O'Neil as Defensive Coordinator. Not only is Pettine a new head coach, but O'Neil will be a first time Defensive Coordinator.  

Also coming to the Browns from Buffalo are Brian Fleury, assistant linebackers coach, and Jeff Hafley, secondary coach. All household names!

Fired by Buffalo is linebackers coach is Chuck Diesbach who will become the Browns linebackers coach.

Yes, there was a coach form another team who will become the Browns Tight Ends coach. But he came from the Tampa Bay Bucs. Their record in 2013 was 4-12. Their head coach Greg Schiano was fired after the season.

As of the writing of this article the Browns have still not found an Offensive Coordinator, probably the most important coach position on the team next to the Head Coach. The Browns were counting on certain offensive minded coaches to fill the void of the fired Norv Turner. 

The last I heard they were going to interview Kyle Shanahan as offensive coordinator. He was the OC for the Washington Redskins working under his father Mike Shannahan.

The problem is that the Browns waited so long to decide on a head coach that all of the viable candidates for assistant coaches were gone. The reason that they waited was that they were interested in coaches of teams that were either in the playoffs or Super Bowl. But instead of waiting until after the Super Bowl they then decided on a coach who was not their first choice.

Sound familiar?  Rob Chudzinksi?

One of the coaches who they were high on was Seattle Seahawks DC, Dan Quinn. Word was that Quinn was interested in the job. The Browns finally narrowed it down to Quinn and Pettine. They did interview Quinn, one time. There is no explanation for they didn't interview him a second or third interview, and choosing Pettine instead. They said that Pettine really wanted the job. Well, heck yeah, he wanted the job. He wanted to get away from Buffalo even though the weather isn't that much better if at all than Cleveland.

It all boils down to the fact that no experienced assistant coach or coordinator wanted the job because of the front office he would have to deal with. Haslma, Banner, and Lombardi. (The Three Stooges). They wanted complete control, and no responsible coach would accept those stipulations.

What the front office has done is hire another first time coach who was a DC for a losing team. How is that any better than Rob Chudzinski? He is bringing in assistant coaches from his losing team. How is that going to improve the team from last year?

In effect...Starting All Over Again! Same old Browns!

Deja Vu All Over Again.....AGAIN!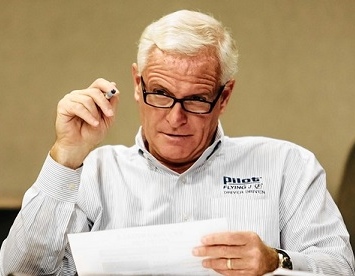 CLICK ON PICS TO ENLARGE!