Please page-down to view all articles as the current month progresses

This page was last updated: May 7, 2010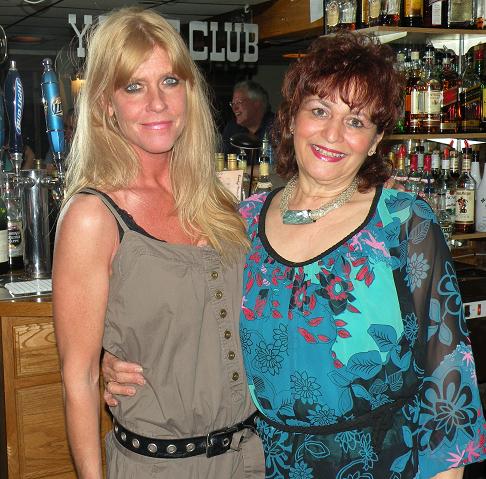 The Geezers Nite Out, Wednesday, April 7, at Dusty's Yacht Club on Portage Lakes was the first meeting of the 2010 Spring season.

For some reason Dusty's just happens to be the place that Birthdays are celebrated. Back in February there was a big party for Dianne with the Geezers Band playing. Most of the Geezers have celebrated a B-Day there one time or another. On this particular night it was Nuri's turn. Nuri goes by the nickname (No pun intended) of Nicki. She is pictured to the left with Karen. 

Nicki also goes way back with the Geezers from their days when they weren't Geezers. She used to sing karaoke at some of the bars that the Geezers frequented.

.

Nicki is an accomplished singer. I (Joebo) met her with the rest of the Geezers at a place called El Charro's. It is now called the Tap House which was formerly Scorchers. I found out that she was a beautician, and since I was looking for someone to cut my hair I started going to her, and continued to do so for many years to come. Happy Birthday Nicki. 

The Geezers there were R. B., BFB, Kenny J, Candyman, Swish, Fergie, Drumstir, and Joebo. And naturally, our bartender was one of our faves, Karen. She told us that she was informed by her boss that she will not be at Dusty's much longer. When that will occur is uncertain. But she wants to have one more big party with Karen's Band (Phantom Band) before she leaves. We will keep everyone posted here on the website. So the long run that the Phantom Band (Geezers Band) enjoyed since September of 2009 is coming to an end. 

Karen usually whips up something to eat for her customers on Tuesday, Wednesday, and Thursday, which are the nights that she currently works. On this night the treat was "chicken soup". It was very good, and hit the spot, but Karen didn't make it. It tasted home-made, and Drumstir loved the noodles,  but it was actually made by Campbell's Soup Company provided by Cisco's who is a restaurant supply company. Was this a sign that she won't be around long?

The Candyman finished off the night with some Bailey's and coffee. BFB (Dougie) was sippin' on some Black Jack. Swish "swished" to soda water. When not drinking draft beer at Dusty's, I switch to the same drink that Karen enjoys, vodka & water. Yes, water. Try it. You'll like it.

The occasion for the drinks? Well, Nicki's B-Day of course!

Some of The Geezers were planning on going up to
Cleveland
on Monday,
April 12
for the
Cleveland Indians Home Opener
baseball game. Swish, Mr. Lobber, and I planned on going. BFB said that he could not get away from work, and R. B. kiddingly said that he was going to go to a movie theater and see "
Bounty Hunter
" with Jennifer Anniston. Swish, Mr. Lobber, and I did go up to Cleveland for the game, but R. B. didn't make it to the game nor the movie. He was stuck at work. We will have some pictures from opening day on the
MEDIA
page shortly.
Wednesday, April 14 we will be meeting at Johnny Malloy's behind Chapel Hill Mall. Hope to see you there.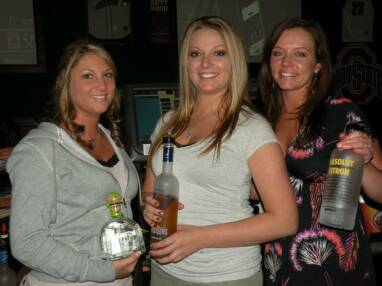 The lovely young ladies pictured to the left were our bartenders for the Geezers Nite Out Wednesday, April 14 at Johnny Malloy's Sports Pub behind Chapel Hill Mall.

They are from (L-R)  Jen, Ericka,  and Brandy. Johnny's Angels! 

It was not a very good turnout Wednesday, but a big surprise attendee was the golf aficiando, Nicko. Besides Nicko it was Swish, R. B., Joebo, and BFB (Dougie). When we are up on the North side of town the south side Geezers stay home.

Nicko has been golfing more than usual this spring due to the unseasonably warm weather, and the other day he had a hole-in-one!  He HAD to buy drinks for everyone after the round, which is the custom in golf. And if he was buying he had to indulge! He said the next morning: "They need to change that tradition."

All three of our bartenders did  a terrific job taking care of our every need all evening. However, Brandy was new to us, and she made sure that we had everything that we needed. Her name meant something more to a few of the Geezers. Years ago Swish, R. B., and Florida Geezer Jimbo (Fish) bowled together on the same team. After bowling they used to go out and sing (?) Karaoke. Doesn't everyone? Anyway for some odd reason they picked the song, Brandy (You're a Fine Girl),  recorded by Looking Glass, and released in 1972.  R. B. who's first name is Gary coined the group name of Gary and The Players. They started doing this when they weren't even Geezers. So the name Brandy is very special to them. About 3 years ago on a trip to Florida, the trio reunited (With some help) at the Elk's Club in Homosassa. We have included a photo below.

We did see a couple of Celebrity Look-A-Likes. One was someone who resembled the baseball player for the Boston Red Sox, Kevin Youkillis, and the other a fellow who BFB said looked like Willie Nelson. We have pics of both of them below.

Even though there was a small turn out for this meeting we had a good time. And Jen, Ericka, and Brandy helped make it enjoyable. They are a fun hard-working trio.

Next Wednesday, April 21, we will be out at Portage Lakes. We heard that the deck is open at the Harbor so we may start there, and move over to Hook Line & Drinkers during the course of the evening. Hope to see you there.

Click on Pics below to Enlarge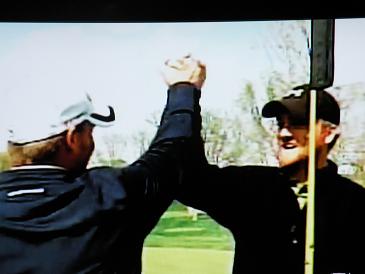 Two cousins Cody, and William Robbins each had consecutive holes-in-one on the same hole, a par 3, Sunday afternoon April 18 in Grove City, Ohio.

They were interviewed on WKYC Channel 3 News in Cleveland where these pics came from.

According to Golf Digest the odds for a hole-in-one for an average golfer are 1 in 12,000. For it happening, concecutively, on the same hole the odds are 1 in 17 Million. I have been golfing for nearly 50 years, and I haven't had even one.

I mentioned in the previous (following) article about Nicko's hole-in-one a few weeks ago, and then this happens. They say things happen in threes. I will have to go to the golf course ASAP to get mine....Finally!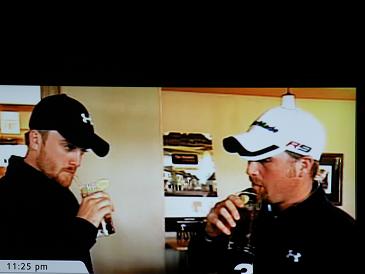 Ah, sipping on a cool one! Iced Tea? Nicko what's with these guys?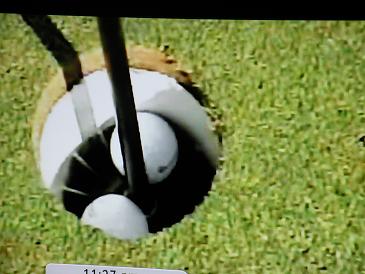 Yesiree! This is what it looked like. Good thing they had a camera with them!

Ref: WKYC TV 3 SPORTS 4/18/2010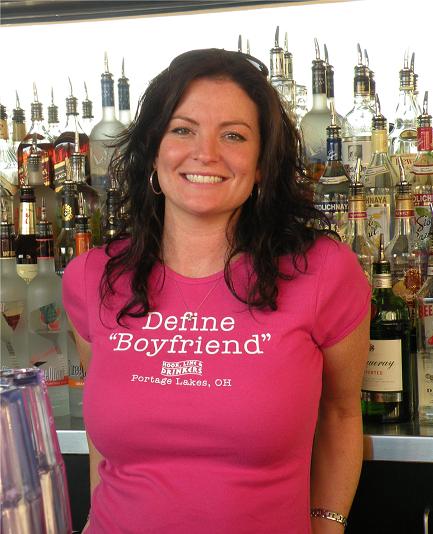 If you looked at the Geezers
SCHEDULE
page it said that the
Geezers Nite Out
for Wednesday,
April 21
, was at
HARBOR/HOOK LINE &
DRINKERS
. Well, that nite, some of the Geezers were at the Harbor, and some were at Hook Line & Drinkers out on the Portage Lakes.
We used to go to the Harbor quite often during the warmer months, and a few times we even went there twice in one month. But last year we didn't enjoy it as much there. The Harbor has no drink specials on Wednesday nights, like they used to have, and they raised their food prices. So we usually ended up at HLD next door, but started out at the Harbor. It was confusing because sometimes we went directly to HLD.

Our Entertainment Director, R. B. (Garo) thought that this year we should give the Harbor another chance. However it was .....the same thing! And since some of the Geezers were already over there we went over to HLD, and joined the rest.

To our surprise we just happened to be there on the nite that Lauren worked the main patio bar. She is pictured to the left. I say that because she was warned that we had a website.

WE, were, Fergie, Drumstir, Joebo, Swish, Robo, R. B., Candyman, and a new addition Stan The Man. Stan is an ole friend of the Geezers from the Goodyear Ski Club. He is also good friends with one of our infrequent visitors, Mr. Lobber.  Stan is now an official member since he retired last summer. Retired from what we don't know. Espionage? It was good to see him there. Yes, Ada, he was there! There is a pic of Stan and Fergie below.

It was a rather warm evening as long as the sun was out, and you didn't even need to wear a jacket. But when that sun went down it was a little cool. Unlike the Harbor, HLD has some specials. First of all they have a full bar. You can have almost any conncoction that you can think of. Then they have three kinds of draft beer that they service in plastic tankards. The Harbor has draft beer, but only at the indise bar. HLD also has on Wednesdays, 5 Bud or Bud Light for $11. That is $2.20 a beer. If you order it by the single bottle it is $2.25. Figure it out.  Then to satisy your hunger they had Beef or Chicken Fajitas for $4.99. And let me tell you it is a generous serving. So much so that R. B. split his order with me (Joebo) and the Candyman. Well I guess you could say that R. B., and I split an order with Voigle!

Swish's son Rob, also made an appearance to see his Dad, and take part in the festivities. What Festivities? Swish and Rob also split an order of Fajitas. We aren't sure what Fergie had, but I think it was a burger. I had a bowl of Whitey's Chili. It was da bomb! Oops!

Lauren was very busy throughout the course of the evening, but she took the time to take car of anything that we needed. And she also paused long enough to let us take a few pics. It took three takes to get the photo that you see above.! lol!

As I mentioned, it was getting a little cool once the sun went down. So we started to filter out a few at a time. R. B., Voigle, and i stopped over to Dusty's Yacht Club to see Karen, and check on how she is doing. While we were there Karen asked me if the Geezers Band (Phantom Band) would like to play again in May. We said Yes! So we are going to do that, but the date is up in the air at this moment. We will let you know when it will be. Karen also wants to have a cook out on the same evening.

Next Wednesday, April 28, we will be at the Galaxy in Wadswoth for the first time this year out on the patio. If it rains we will be inside at the Sports Bar. Hope to see you there.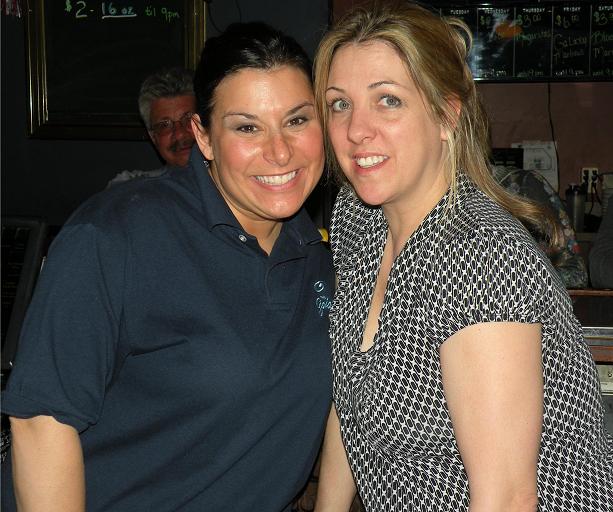 The Geezers were all set to go out on the patio at the Galaxy in Wadsworth for the first time this year on their Nite Out on Wednesday, April 28. Up until that time the weather has been unseasonably warm. However, on that day it was dry, but a little cool outside. So the Galaxy had the patio boarded up, and the Geezers ended up meeting inside.

There was not a very good turnout for this voting nite. The Geezer there were Swish, Fergie, Joebo, and BFB.  But we voted anyway. Our Entertainment Director, R. B.,  was out of town for Goodyear. 

He had already stated before he left that we would go to a Mexican location for Wed,
May 5th
for
Cinco De Mayo
. And the Geezers Band (
Phantom Band
) was also asked to play one day in May also at
Dusty's Yacht Club
. So there were actually only two meeting places to vote for in May after all. It has since been determined that the band will be playing on
May 19
at Dusty's.
Tap House
(Formerly Scorchers), and
Johnny Malloy's
were the two winners. Check the
SCHEDULE
page for the dates.
Also, since then, we heard through Krisko, a good friend of the Geezers, that Legends in Green is having a Cinco De Mayo party. So we decided to go there for that since it is one of our favorite places to meet anyway.

Getting back to the Galaxy, our bartender for the evening was Theresa. We go back a few years ago with Theresa from the time that we first started meeting at the Galaxy. Later on we found out how much fun it is out on the patio during the warmer months. They have two bars, seating for dinners, and a stage area for live music. The actual Grand Opening of the patio is May 26th.  Also out on the patio bar we met Marie, pictured above on the left with Theresa. She works the patio bar during the busy hours. We think Marie is one of our celebrity look-a-likes as a spittin' image of Sandra Bullock.

The Galaxy has a great menu to order from. Wednesday all of the Geezers ordered from it. BFB, and I ordered the Galaxy Burger. It has two patties of ground beef on it. It was tasty, but they could have been a little more generous with the size of the bun, and patties. Fergie had the Turkey Panini, and Swish had the Italian Sub. The patio should be up and running by the next time we meet there.

As I mentioned previously, Wednesday May 5th, we will be at Legends in Green for their Cinco De Mayo celebration. Hope to see you there.  HAPPY CINCO DE MAYO!