GEEZERS NITE OUT - NEWSLETTER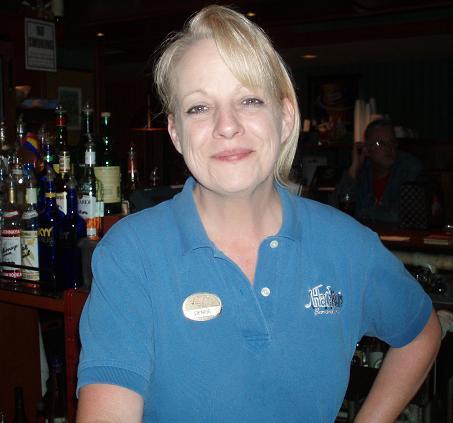 We have one Newsletter for each Month of the Year. Please Page Down to see all of the articles as each Current Month progresses.

Yes, we will soon be "hacking" again out on the golf course, but WED, Mar 3, The Geezers were back where it all began. Hackers Bar & Grill is next to Firestone Public golf course, and behind the "back door" of the Firestone C. C. North course.

Swish, and I (Joebo) used to meet at the new restaurant built next to the Firestone 9 golf course, and driving range on Swartz Rd.  Eventually our lodge brothers from Goodyear began to stop by now and then. After a year or so we had a regular weekly meeting there every Wednesday night.

We moved to Kevin O'Brien's on S. Main St. a few years later because we heard of their $1 domestic beers on Wednesdays. When that "secret" became public knowledge, and it began to get a little routy there we decided to go to a different place every Wednesday night. However, when we started doing that there was some confusion as to where we were going to be the following week.

R. B. (Garo) suggested to me that we should get a website, and publish a schedule on it. I already had a website provider for a site for the Oldies But Goodies Band that Dougie, Danno, and I were members. So I created a Geezers website overnight. We didn't know what to call it at first, but then R. B. suggested Geezers Nite Out since one of his fellow associates at  Goodyear, Vicki, referred to our group as the "Geezers". And right then and there the Geezers Nite Out website was born.

I'm sorry that you have to hear this same story every time we stop at Hackers! lol! But I needed something to write about. It was an uneventful nite at Hackers. Those Geezers in attendance were Candyman, Drumstir, Dougie, Nicko, Joebo, Baldo, and R. B.  Some of the Geezers ordered food from Hackers' fine menu. I had the Firestone Salad, which I highly recommend. Dougie had the Firestone Burger. He didn't challenge himself this time to consume on of their famous Monster Burger.  I believe that R. B. and Baldo shared an order of "some o' them thar Chicken Faingers".  I am not sure what Nicko had as I had to leave for a short time after I ordered.  Candyman had Popcorn!

Hackers has a Happy Hour I believe from 4-6 P. M. with a special price on beer and well drinks. After his meal Dougie did have a Martoonie at a reasonable price.

Next WED, Mar 10 we will be at Legends Sports Pub & Grille in Green. The following week (WED Mar 17, we will be at Dusty's Yacht Club for St. Patty's Day with the O' Phantom Band playing with food and Irish fun. Hope to see you all there.

This page was last updated: April 3, 2010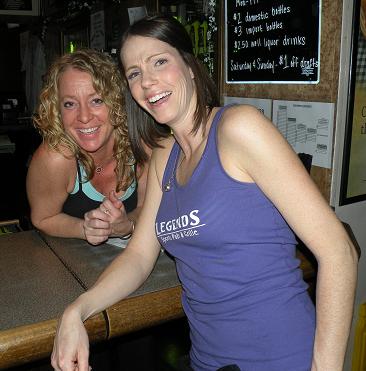 The Geezers Nite Out on Wednesday, March 10 was held at one of our fave stops, Legends Sports Pub & Grille in Green.

Those Geezers in attendance were Nicko, Joebo, Candyman, Dougie, and R. B.

Our bartender for the nite was none other than one of our faves,Tricia. She is pictured to the left with Kelly one of the waitresses. Nicko thought that she was  a celebrity look-a-like for Betsy Kling, weather forecaster for WKYC TV in Cleveland. Kelly was extremely busy and she had barely time enough to rush over and have this photo taken. It was crowded there. With the nice weather everyone was taking advantage of it I guess.

Boneless wings for 40 cents each were the hit of the evening. Almost everyone got an order with a 10 wing minimum. Also Long Island Ice Tea was on special for $3 each. Another sign of Spring. Nicko bought a round for anyone who wanted one. However, they were pretty potent. I had a little trouble sleeping Wednesday evening. R. B was telling us of the problem he had last Wednesday. He ended up in the emergency at City Hospital in the wee hours of Thursday morning. Ask him about it. He is doing fine now. 

I guess the warmer weather had everyone in a good mood. We met a nice young (In his early 30's) fellow at the bar by the name of Logan. He's a landscaper. He was a nice guy who stopped by, and told us that he admired our group (Geezers) remaining friends as long as we have. He said that it just doesn't happen anymore in this day, and age. That was quite a surprise to us.  I guess we are a rare breed.

Small world? As you probably know we meet a different place every week, and to run into someone we know is quite rare. However, some of the Geezers knew a fellow who came into Legends from their days at The Goodyear. His name is Jeff Healy. I imagine that some of you might know him also. 

It definitely was an unusual evening, but an enjoyable one. Except for the Long Island Ice Tea! Next Wednesday, is of course St. Patty's Day, March 17. There will be a big party at Dusty's Yacht Club on Portage Lakes. The Phantom (Geezers) Band will play. The band will start around 5:00. There will be a lot of parties that day, but stop by Dusty's, and say Hi, and take in a set or two.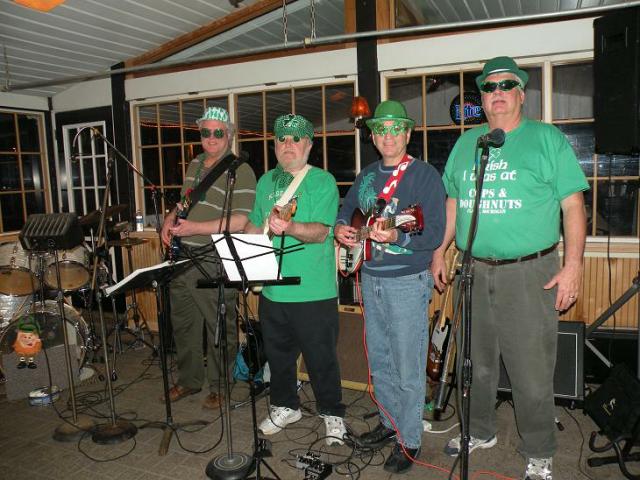 ST. PATTY'S DAY BASH AT DUSTY'S

Maybe they didn't play Irish music on St. Patty's Day at Dusty's Yacht Club on Portage Lakes, Wednesday March 17, but the Phantom (Geezers) Band sure looked the part. Just take a look at those fine specimens of Irish revelers. The players from L-R are Dougie, Joebo, Happy Hank, and the World's Tallest Leprechaun "Big Daddy"! The Drumstir also sat-in on drums and sang his famous "Medley"!

It was a multi-function evening. First and foremost it was Dusty's St. Patty's Day party put together by the chief cook & bottle washer, Karen. Then it was also Vicki Rarrick's 1st Anniversary party. Vicki had her wedding reception there last year after her and David were married, and they decided to have an anniversary party on the same day in 2010. And last but not least it was a Geezers Nite Out. The Geezers that were there, besides the members of the band, were Swish (Back from Florida), the Candyman, Baldo, and R. B. Swish's son Rob was also there for a short time. Our good friends from the Go-Go Jed, and Linda Derhammer also made an appearance.

There was all kinds of corned beef and cabbage. Vicki made a batch for her party, and Karen slaved over a hot stove all day to make some for her customers.  You just have to have corned beef, potatoes, carrots, and cabbage on this day.

The drummer for the band, Big Daddy, had people drop their names into a pan in front of his drums. (Sounds a little questionable doesn't it?) Anyway there was nothing but slips of paper with names on them in it. After every set he would draw out a name and give that person a chip for a free drink. I (Joebo) also had a few trinkets that I gave away. A customer,a nd oen fo our friends, Nuri Vanderslice (The Venezuelan Singing Hairdresser) won the first drink chip given away.

Joy was also there dressed in her proverbial Pot O' Gold. (There is a photo in the Photo Gallery below).

Speaking of photos I was pulling double duty. I was playing in the band and also taking pictures. Of course I was pretty limited on the number of pictures that I could take, but the ones that I did take are in that gallery below.

A good time was had by all, and as far as I heard everyone made it home safely from our group anyway. Next Wednesday, March 24, we are scheduled to go to Siamone's in Gala Plaza, but that location will probably be changed. Please check the Schedule on the Tuesday before to see where we will end of going.  

First of all, this was not how it seems? But we'll get back to that.

The Geezers Nite Out for Wednesday March 24, ended up at River City Bar & Grille (R. C.) on Bailey Rd in Cuyahoga

Falls. We were actually scheduled to go to Siamone's in Gala Plaza, but our Entertainment Director, Gary, instructed me to change it to River City due to the backlash he received from the Geezers who attended Siamone's back in February.

Gary was in Vegas with his wife. The Geezers that did  make it to R. C. were Jim, Bob, Joe, and Doug. But no Nick! who you say were these guys? The Geezers without their nicknames. see if you an figure it out. Our bartender for most of the evening was a young kid. (He had to be 21)

We didn't get his name. There were no pics taken of the bartenders. That is where the pic above comes in. There was a young lady by the name of Dee who happened to come in and sit at the end of the bar where the Geezers were. She was friendly and amused by our group. She lives in the Falls with her husband, but she was born and raised in Arizona. Since I knew that I wasn't going to take any pictures of the bartenders I asked Dee if I could take one of her. She said yes, and I did that. But she wanted to take a picture with all of us. Doug was turned around for the first pic, and Bob took it so those two weren't in it. So I took another pic of the four of them. Dee looks like a "little person" next to the "Big Buoy" (Doug). See all of the pics below in the Photo Gallery.

R. C. has great food, and drink prices. During Happy Hour there is 25 cents off of beer, and 35 cents off of well drinks. Also on Wednesdays they have
30 Cent Wings
. The wings are big and delicious. We highly recommend them. Then there is also their famous "
OAKIES
" or Sliders as they are commonly known. For a look at their Menu
CLICK HERE
.  
We also saw a customer at the bar who is one of our fave bartenders, Vanessa, who worked formerly at Scorchers (Now Tap House) on Waterloo Rd. We found out that she lives in the Falls. She is now working at a new place on the corner of Waterloo Rd, and S. Main St. in south Akron called the Hide-A-Way. She is there Thursday nites, and Saturday days. There is a file photo of her in the Photo Gallery below striking her familiar pose.

Actually the only Trouble that there was in River City that nite was caused by Jim. For some reason they ran out of Carona beer, both Regular, and Light the night before we arrived. Jim was not too happy about that, and let me and the bartenders know about it most of the evening. What was he drinking? Why Landshark of course!

Next Wednesday, March 31, we will be at the Tap House (Formerly Scorchers) on Waterloo Rd across from South Plaza. Hope to see you all there.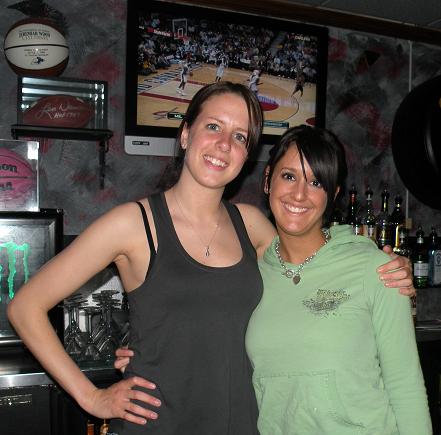 Yes, the Geezers Nite Out on Wednesday, March 31, was held at the Tap House on Waterloo Rd. formerly known as Scorchers, and formerly known as a lot of other places over the years.

The Geezers in attendance were Fergie (Just recently back from Florida), Joebo, BFB (Dougie), Kenny J, and R. B.  BFB was late after working all day, and then  having to take his wife to the airport, and stopping in for calling hours at the funeral home for a family member. He needed a drink after all of that. Swish, who is also recently back from Florida, had to baby sit for grand kids, and couldn't make it. That makes him an "official" Geezer. 

Our bartenders for the evening were Amanda, and Jenna (L-R) pictured.

Fergie, and Swish are snowbirds a long with
The Jerry
(Jerry's Corner). They are all back from Florida now. The Jerry was busy getting his house back in working order after being in
Florida
all winter. BFB, Joebo, and Garo flew down to Florida to see Fergie, and Swish in early February, and also take in the
Super Bowl
. While there they stopped into one of the most popular new sports bars in Clearwater called the
Tilted Kilt.
It is patterned after
Hooters
, but the waitresses wear teeny-tiny kilts with slits in them along with a similar top. I (Joebo) found out about the Kilt when I was in Arizona in 2009 for
Cleveland Indians
spring training. Most locations are on the West and East coast, but they are adding new ones all of the time.       
Click Here
to go to their website.
When we were there our waitress, Meghan, gave us coupons for a Free Tilted Kilt calendar. But they were not distributing them until February 26. We were leaving on February 8 so we gave our coupons to Fergie,  and on that day (2/26) he went in the Kilt, and got us calendars. It was a tough job, but someone had to do it. He brought them in Wednesday nite at T.H.

This Wednesday nite was voting night also of the meeting places for April. At first we didn't have a very good turnout, but later on BFB showed up, and we were able to hold a legitimate vote. According to R. B., our Entertainment Director, the results were one of a kind. R. B. lists a number of places on a ballot and each Geezer votes for 4 or 5 places depending on how many Wednesdays there are in the following month. There are four in April. As it turned out there were four votes each for four places, and only 1 vote each for any other place voted on other than the four that we will be going to. This rarely ever happens if it ever has. Most of the time we have a tie between 3 or 4 places that have to be decided by a 3rd party. Usually the bartender from where we are at. The results have been tallied, and they will be posted on the SCHEDULE page shortly.

The Tap House has a different menu than the one when it was Scorchers. There are some new items, and some familiar items remain. There are specials during the week. Twenty-three ounce domestic draft beer for $2.25 from 11-7. Half price burgers on Mondays. 1-2-3 Thursdays: $1 Bottles, $2 Long Island, $3 Gyros. They also have an excellent choice of salads.

Check the SCHEDULE page for the meeting location for next week.

Have a HAPPY EASTER everyone.