GEEZERS NITE OUT ~ Newsletter

We have one Newsletter for each month of the year. Please Page Down to view all of the News for the Current Month as it Progresses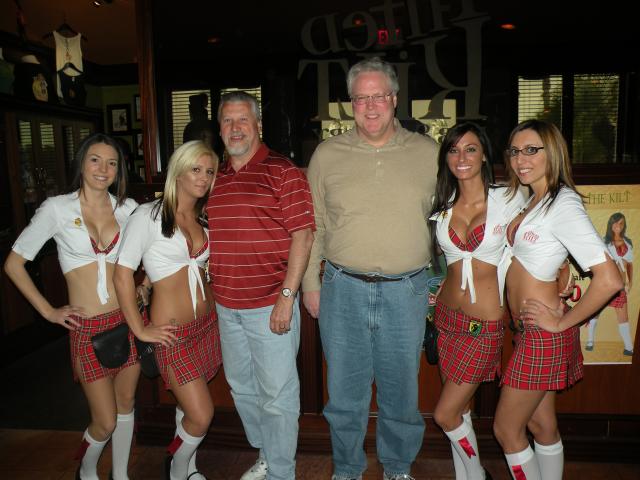 Above is a picture of Swish (L), and Dougie with the lovely girls from The Tilted Kilt in Clearwater, Florida. This photo was taken on the Sunday of the Super Bowl. We did not watch it there, but they had a big party planned with 100 oz beers.

The Tilted Kilt is is a new chain of exclusive Sports Bars. I saw one when I was in Peoria, Arizona for a Cleveland Indians Spring Training baseball game in March of 2009. I don't believe that there are any locations in Ohio at the moment. It is an interesting place with great girls, food and 100 oz beers.

Check the
MEDIA
page for 2010 for more pictures from the Geezers trip.
Dougie, R. B., and Me (Joebo) flew down to the Tampa/Clearwater area for a week to visit with snowbirds Swish, and Fergie, and also with Jimbo Fish who is now a permanent resident.

We will have more about the trip as soon as we compare notes.

This page was last updated: February 27, 2010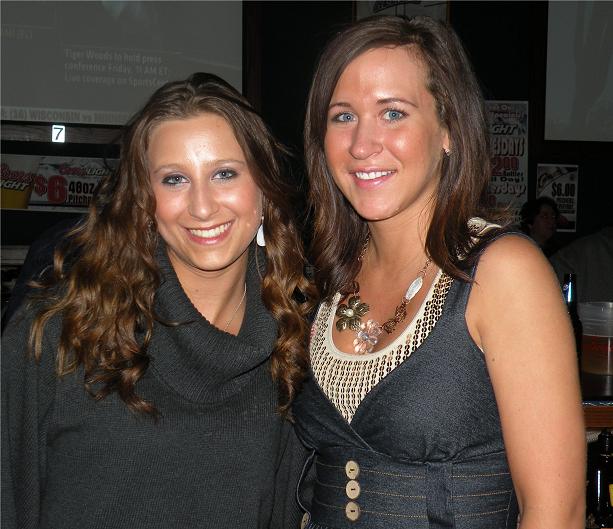 It's getting closer to Spring all of the time. The annual Geezers trip to Florida is over, and it's sunny todayI

Wednesday night, Feb 17, the Geezer Nite Out was held at one of our fave places Johnny Malloy's Sports Pub  behind Chapel Hill Mall. Dougie, Joebo, and R. B. were the ones who returned from Tampa, Florida the Wednesday before. The Geezers remaining in Florida are snowbirds Swish, Fergie, and The Jerry, and also Florida resident "Jimbo" Fish. Fergie, Swish, and Jerry will return sometime at the end of March or early April.

The other Geezers that were there that night were Drumstir, and Kenny J. Our bartenders for most of the evening were Nikki, Danielle, and Jen. I was able to corner Nikki, and Danielle above for a pic on a busy Wednesday night.  Jen used to work days, but she was there that night. It was impossible to corral all three of them.

Since next Wednesday night, Feb 24, the Phantom Band (Geezers Band) will be playing at Dusty's Yacht Club for Dianne's B-Day party R. B. (Garo) thought it would be a good idea to take our vote for the meeting places to go to for March. So we voted. As far as I know there were no ties so the vote was tabulated, and the results will be posted at the end of February.

Most of the Geezers ordered from Malloy's excellent menu. I had an Antipasto salad, and Dougie had his usually Black & Blue Burger. (The Tiger Woods special) 

Dougie spotted a Celebrity Look-A-Like. And this time we got a photo. It is none other than Nikki, above, who Dougie thought looked like Sarah Jessica Parker. What do you think?

We also ran into an old friend of the Geezers, and the band, Bruce Rich. He was really good friends with one of our dear departed friends Scotty Bartley, and Mary Ann. Bruce, Scotty, and Mary Ann were always down at the Katmandu on E. Market St. near Goodyear for any  of the Phantom Band or Oldies But Goodies Band performances. It was good to see him, and talk about Scotty. We miss him!

Nikki, and Danielle took care of our every need including 23 oz draft beer for $2.25, good food, and pictures. It was an enjoyable evening.

Next week as I mentioned above we will be meeting at Dusty's Landing on Dusty's Rd. on Portage Lakes. The Phantom Band will be back again after their successfully gig for the Christmas Party on Dec 23. Spread the word, and we hope to see you there.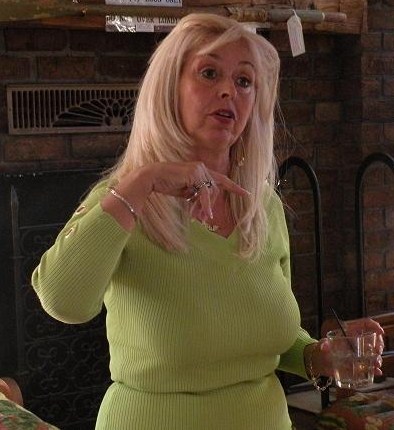 THERE'S NO BUSINESS LIKE SNOW BUSINESS

Just like the Mail Carriers neither rain, nor sleet, or snow will keep the Geezers Band from performing. And last Wednesday night, Feb 24, it was the snow that tried. However, weather did have an effect on the turn out for Geezers Nite Out, The Geezers Band, and Dianne's B-Day.

Yes, Wednesday was going to be quite a night.

However, everyone who was there enjoyed themselves.

The Geezers and friends who were there were Big Daddy, Dougie, Happy Hank, and Joebo. (The Band) Then there were the Geezers Baldo, Kenny J, Nicko, and his wife Ro, R.B., and Candy Man. Then Betty Boop, and Krisko were also there for a short time. So on the Geezers end it was a good turnout.    

Dianne, the guest of honor, pictured above, finally made an appearance. For awhile we were wondering. The dreaded snow was coming down all evening, and it would have been no surprise if she wouldn't have been able to get there. This picture was not taken that evening. I believe it was taken the first time the Geezers Band played. I did not have my camera with me, and even if I would have I would not have been able to take many pictures seeing that I was playing in the band. Our band photographer, Swish, is still snowbirding it in Florida. 

Dianne's actual Birthday was the day before, Feb 23, and then she originally asked the band to play for a party. But then she had second thoughts. However, Karen, the Chief Cook & Bottle Washer at Dusty's, picked up on it, and the party was a GO.  Karen made Hot Dogs, and Kraut, and a big pot of her famous Chili.

On qu the Geezers Band played Birthday by the Beatles, and later on in the evening they sang the traditional version of Happy Birthday as Karen presented dianne with a large cup cake with a candle on top. The Geezers got Dianne a provocative card with a Hunk on the front and Instant Lottery tickets, and some cash inside. Joebo had taken the card to Florida for the Geezers trip to have Swish, and Fergie sign it. Dianne said she appreciated our efforts, but she would have much rather have had the actual Hunk.

A vote was held on Wednesday,
Feb 17
, at
Legends
to determine the meeting places for the month of March.  The results will  be published on March 1 on the
SCHEDULE
page.