This is a Monthly Newsletter. Articles, Pictures, and Happenings are all listed on one page for the Current Month. Page Down to see all of the News in the order that it happens.

LEGENDS SPORTS PUB & GRILLE - Green, OH - March 6, 2013

Surprise, Surprise, Surprise! It happened again! It never fails. As we have said before it seems like there is always something happening at Legends Sports Pub whenever we meet there. This time one of our "snowbirds" from Florida surprised us with an early arrival home. Just like the Robins! In fact I saw three of them the other day.

Pictured to the left is Spike (Swish) as if you didn't know. But when we all arrived Wednesday nite (2/6) he was sitting at the bar. Spike left for a warmer climate during the winter with his wife, Kathy, around Christmas. She came back after a few weeks and he he toughed it out until last Tuesday when he returned with Mom. He was staying at his place in Homosassa, and she was staying with his sister in Naples. But they came back together. Of course we saw Spike when most of the Geezers went down to Clearwater Beach around Super Bowl time  in February. It was good to see him.

Fergie is still in Florida. He won't be back until the middle of April. However, as far as we know, "Big Daddy" Dan Minier is still down in Port St Lucie. He will be in Michigan when he returns.  

When R.B. arrived he was surprised to see Spike sitting there first of all. Then he began telling everyone about the new car he bought over the weekend. He and Drumstir went out last Saturday afternoon (3/2) shopping for cars. R.B. was doing it so he could give his son Ryan his car. Drumstir was just ready to buy.

R.B. purchased a 2013 Chrysler 300. I saw it. It is a very nice car. Drumstir got one just like it (Different color) except he leased his. I understand that it was a very "Good Deal", as Fergie would say. It sounds like it is a good time to buy a car if you were thinking about getting one. Got that, Big Al?

St. Patty's Day this year is on a Sunday (3/17). Legends is planning a big bash. They aren't going to have anything like Kegs & Eggs. In fact they aren't going to open until 11:00 AM. But later in the day the place is going to be rockin'! A very popular country band called, Buck Naked, will be playing beginning at 6:00 PM. A country band for St. Patty's Day? They draw the crowd. They have a great following. But Tricia, our bartender, told us that Legends plans on having Irish dancers sometime in the early afternoon.

The Geezers are not sure where we are going to go for St. Patty's Day this year. The last couple of years we went to the Tap House on Waterloo Rd in south Akron. But that place is no more. However, there is still a club/restaurant in the same location. It is called The Grille on Waterloo. It is owned by a guy named Russ who opened the first Scorchers in the same location many years ago. It was a very popular place for a long time.

The Cavs were playing the Utah Jazz on TV. Legends has renovated the place somewhat and they have all new HD TV's. The Cavaliers ended up winning 104-101. Kyrie Irving scored 20 points, had 7 rebounds, and 10 asists. One of the the reasons they won. Tricia can't wear her Cavs jersey any longer to work.

We haven't seen a celebrity look-a-like for a while, but being at Legends we finally did saw one this nite. It was none other than Lou Holtz, the great Notre Dame football coach. Well, it wasn't really him, but this guy looks more like him than he does.

And last but not least R.B. was up to one of his fave tricks of crumbling up or tearing napkins and putting them back in he napkin holder on the bar. It just drives Tricia crazy when she goes to grab one to place it under a customer's drink. He's a kid!

Next Wednesday, March 13, we will be holding a practice for St. Patrick's Day four days later on March 17, at the Tilted Kilt in No Canton near Belden Village Mall on 5075 Dressler Rd. Hope to see you there.

Got to our
PHOTOS
link for a few more pics!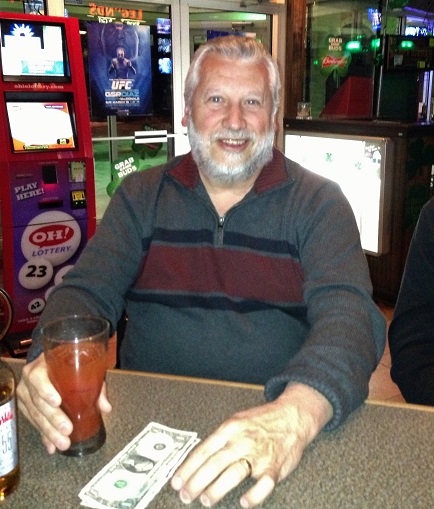 This page was last updated: April 9, 2013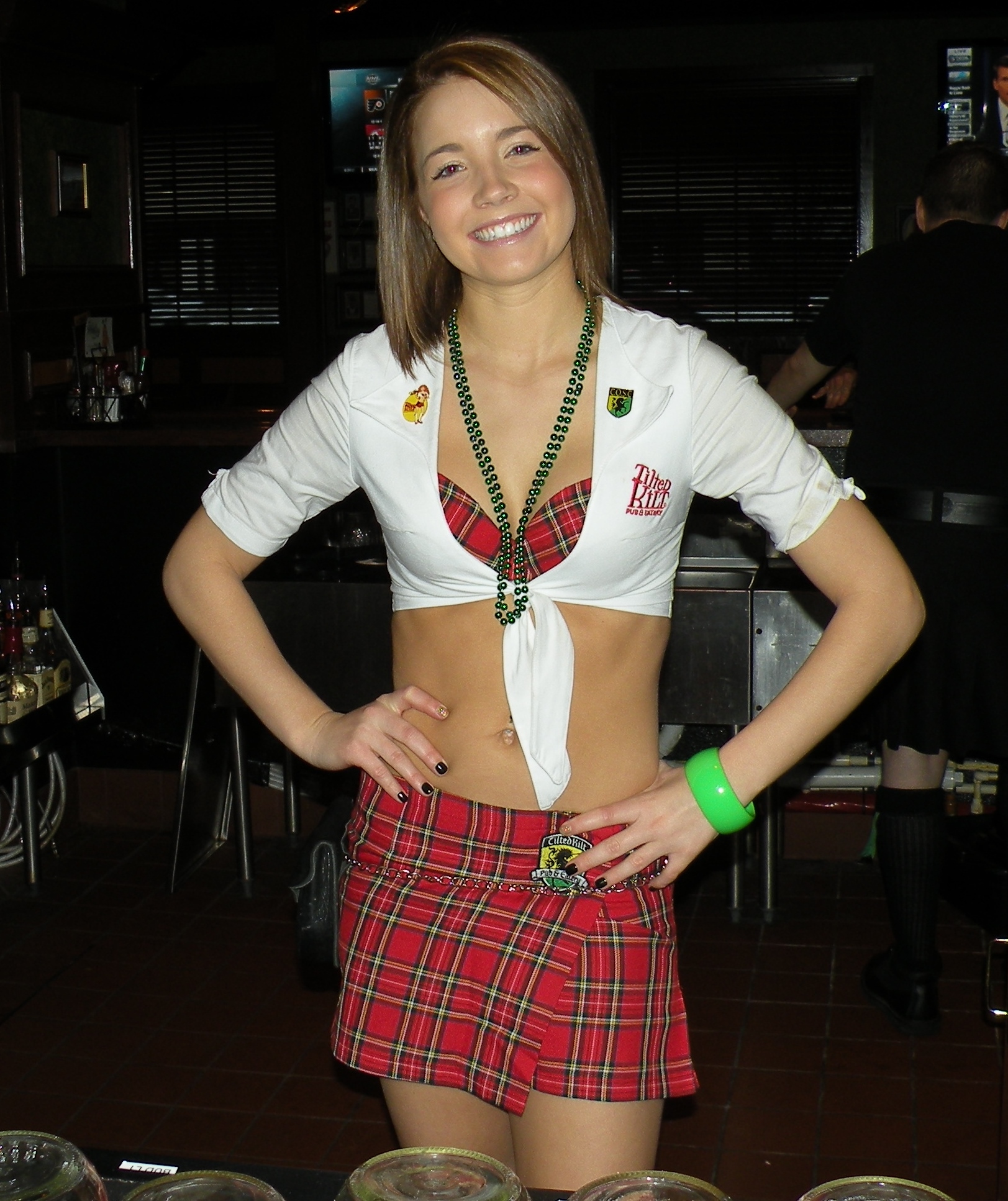 THE TILTED KILT - No Canton, OH - March 13, 2013

We haven't been to the Kilt for quite sometime. As you probably know we vote at the end of every month for where we will go the following month. At the end of February we voted in the Tilted Kilt. It couldn't have come at a better time. And our Entertainment Director, R. B., schedules the winning meeting places on the dates that he chooses. He had enough foresight to schedule the Kilt on the Wednesday before St. Patty's Day.

Pictured to the left is one of our bartenders for the evening,
Lynae
. Anyway, I think that's how you spell it. She was very friendly, and took good care of us. She was also nice enough to pose for a couple of pictures, and also to round up more Kilt Girls for a group photo with
S. B.
Go to
our
PHOTOS
link to see those pictures.
If you didn't know it before you would when you walked into the Kilt. The girls were all wearing something green. They were wearing green beads, bracelets, ribbons, and anything green that we could see. We didn't get too personal!

The Kilt also has a "Holiday Menu". Their St. Patty's Day menu was da bomb!

Some of the items on the Holiday Menu were Scotch Eggs, Irish Stew, Shepherd's Pie, a Corned Beef Sandwich, and Corned Beef & Cabbage. I had a small bowl of Irish Stew topped off with Mashed potatoes. The Kilt had 1/2 price appetizers until 6:00 PM along with $1 off of draft beer. Spike ordered the Nachos and it was a Hearty Bowl of Nachos. In fact he shared it with all of us who were there except for S. B. I missed the opportunity to take a pic of it. S. B. did have a turkey wrap (I think). The Candyman totally abstained. 

When we first arrived at the Kilt there were male bartenders behind the bar. And, yes, they were wearing kilts. But they were not as short as the Kilt Girls kilts. And, No, we didn't ask! Vincent was our bartender when we first arrived, but around 6:00 Lynae joined him behind the bar.  

The weather outside was spotty. It was snowing off and on during the evening that we could see out of the windows. At times it was heavy. At 6:04 PM when most of us were there, the temperature was 28 degrees. The wind was gusting at 25 MPH. Figure it out. The temperature for that time was 16 Windchilled degrees.

We will be celebrating the real St. Patty's Day on Sunday, March 17 of course, at a New/Old place. It was formerly the Tap House, but it is now called The GRILLE on Waterloo since it is on Waterloo Rd in south Akron. Some of us will be there for Keggs, and Eggs at 9:00 AM. WKDD will also be there from 11:30 AM - 2:00 PM. Stop by and say hello.

Next Wednesday, March 20, we will be at The Winking Lizard on Ghent Rd, across from Summit Mall.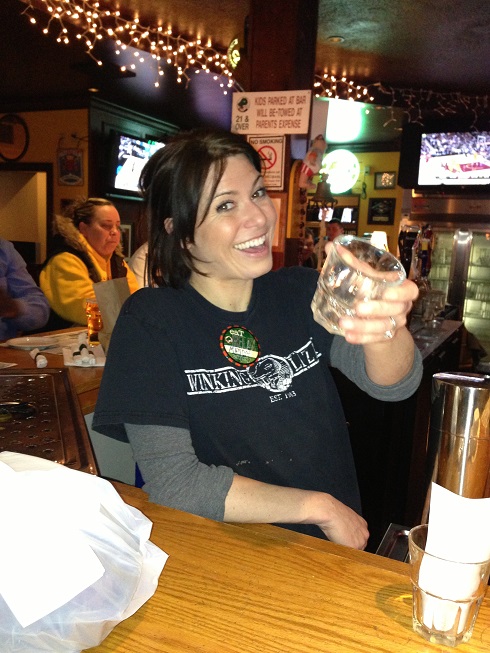 THE WINKING LIZARD - Fairlawn, OH - March 20, 2013

It was the first day of Spring for the Geezers Nite Out, Wednesday at the Winking Lizard, but you wouldn't know it.

At 6:24 PM when we were all there, the temperature outside was 26 degrees, with a Windchill of 16.8. The wind speed was 10.4 mph, gusting at 19.6 mph. They said there was "light snow", but it was coming down pretty good at times! It was snowing heavily at 7:07 PM. Sports next! 

Pictured to the left is one of our bartenders for the night, Mandy. Here she is asking me "Refill"? When I first arrived around 4:45 PM it was not crowded at all. But later on in the evening when most of the Geezers had arrived it was packed. We had a little trouble saving seats. So Mandy, and the other bartenders were flying around behind the bar most of the time that we were there.

As I said, I arrived early around 4:45 PM. Spike came in at 5:00 PM. But S. B. didn't make it until 5:53 PM. Then Billy Bob arrived at his normal time, and R. B. 5 minutes after that. We were meeting in Fairlawn so the distance had a lot to do with the late arrivals plus the weather.

Krisko paid us a visit close to 7:30 PM. She was working the 7:00 PM shift at the Goodyear.

As we've stated before, the Winking Lizard has over 466 beers available at certain times of the year. There are 107 bottled beers, and 27 or 28 draft beers available daily. We enjoy trying the different kinds available. We all are partial to the Kentucky Bourbon Ale Draft. It is stored in bourbon barrels.

The Lizard has over a dozen HD TV's in the bar area and surrounding tables. Where we were sitting we could see telecasts of the Indians pre-season game against the Anaheim Angels, and the Cavs game against the dreaded Miami Heat with you-know-who. The beginning of the Cavs game was held up over 30 minutes due to a leaking scoreboard. Huh? The Cavs had a 27 point lead most of the game, but lost it. What's new?

The Lizard has a food special every day of the week. On Wednesdays it's a half-slab of
Ribs
for $7.99. Billy Bob ordered it. R. B. had Wings & Fries w/celery. We have a picture of him "inhaling" his celery on the
PHOTOS
link along with others from the evening. I ate a
Turkey Club Wrap
. Krisko ordered some wings to go. She had to go check on her cats after working all day. The Lizard has an excellent
MENU
.
For your information, the Winking Lizard is moving into their new location on April 17th. That is the date of their Grand Opening. It is farther up the road heading West near Cleveland-Massillon Rd. We will post an address as soon as we learn what it is. But one thing for sure, we intend on being there on that day for it. Mark your calendars. Below is a picture of the new building that I took a couple of weeks ago while it was under construction.

Click on pic to Enlarge.

Next Wednesday, March 27, we will be meeting at Dusty's Landing/Yacht Club.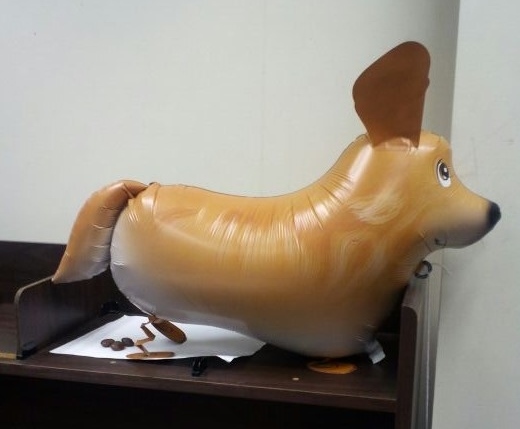 We want to bring to your attention a courageous act performed by one of our Geezers, and Entertainment Director, R. B. (Garo) at the Goodyear Tire & Rubber Co.

R. B. is a Manger in Pensions and Medical Benefits. Recently his department was the last to move to the new corporate headquarters on Martha Ave. After the move they held a "Bring Your Dog To Work Day" at the new facility.

R. B.'s dog, Mitzi,  passed away a couple of years ago so he had no dog to bring. However, in her memory he went out and bought a blow-up dog, and brought it into work instead. (The mess under the dog is just chocolate candy)

So we want to give him a Special Geezers Atta Boy!    

DUSTY'S LANDING YACHT CLUB - Portage Lakes - March 27, 2013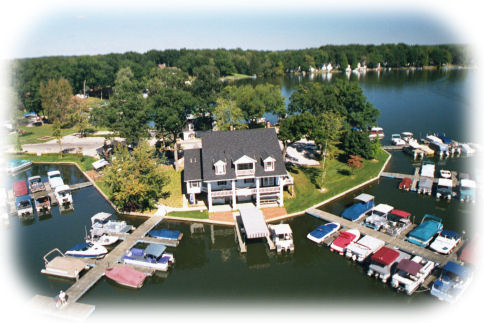 I was not at the meeting at Dusty's on this Wednesday nite due to medical procedure that I had to have performed at 6:30 AM the following morning on March 28. The following is what I was told by some of the Geezers who were there.

I believe that R. B., S. B., the Candyman, Drumstir, and Spike were in attendance. Fergie is still a snowbird in Florida, and he should be coming back the early part of April. I don't believe that Billy Bob was there. I could be wrong, but I think he missed his second meeting in a row due to some commitments. Don't hold me to this as it is just hearsay!

Karen, one of our fave bartenders, was behind the bar as she usually is when we meet on Wednesday evenings at Dusty's. She ordered pizza for everyone as she has been doing when the Geezers meet there. Sorry I missed the FREE pizza. But I had to fast for the procedure in the morning anyway.

Larry Alltop, a local singer, and who used to perform with big time bands back in the 60's and 70's was at Dusty's setting up his equipment for the big Thursday night show. He performs at Dusty's every Thursday evening. He sings to prerecorded music that he provides. But he usually isn't there on Wednesdays.

It was also voting night for the meeting places for
April
. The vote was taken and tabulated by our Entertainment Director, R. B., and the results are posted on our
SCHEDULE
link.
Next Wednesday, April 3, we will be meeting at Johnny J's in Springfield. Hope to see you there.

(Sorry for the late posting Big Al)