This is a Monthly Newsletter. Articles, Pictures, and Happenings are all listed on One page for the Current Month. Page Down to see all of the News in the order that it happens.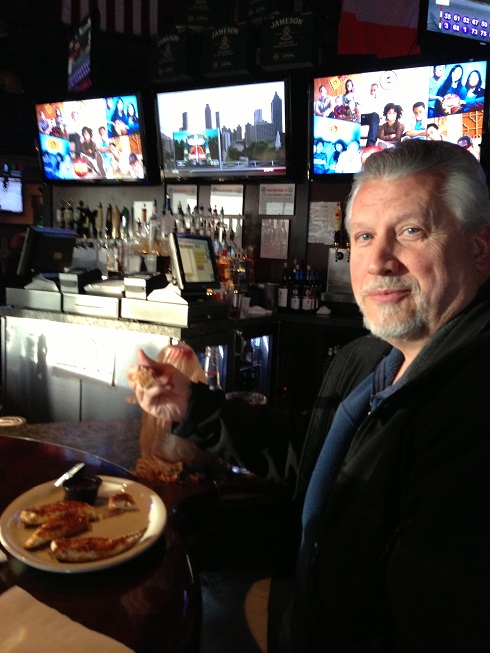 "Stay thilsty my fliends!"

JOHNNY J'S PUB & GRILLE - Springfield - April 3, 2013

The Geezers Nite Out at JJ's last Wednesday was more like the first day of Spring than a on March 20 at the Winking Lizard, but not by much.

On March 20th it was 26 degrees with a windchill of 16.8, and itermitant snow showers. Last Wednesday, 4/3/13, it was 37 degrees at 4:54 PM, but the wind speed was 23 MPH. So it wasn't 60 degrees, but better than two weeks ago on the actual first day of SPRING.

Pictured to the left is Spike (Swish). He was enjoying his Broiled Chicken Tenders. One of the appetizers that was half-price till 7:00 PM on Wednesdays.

In fact most of us ordered the same thing. They come fried or broiled. I ordered the broiled as did Swish, and Billy Bob. However, the bartender brought me the FRIED version. After a brief exchange he took them away. A few mintues later they brought the three of us the broiled pieces.

Johnny J's also has Happy Hour Fries for those sitting at the bar. They are FREE! Some of us did enjoy those also.

R. B. chose two other items.

He chose the Reuben Bits, and an order of Poppers. Billy Bob also had an order of Moz Sticks along with his grilled chicken tenders. Most of us sampled one of everything.

Go to our
PHOTOS
link to see pics of some of the food, and others from the evening.
We usually see another person who resembles a celebrity or a person that we know at our weekly meetings. On this night we saw a bunch. It was pretty comical.

When we first arrived we saw a man sitting with a woman at the bar. The man looked a lot like our good friend and fellow musician Jack Bishop of The Flames fame. That was only the beginning.

After the Jack Bishop look-a-like left we saw another guy who resembled the old skipper of the New York Yankees, Casey Stengel. If you aren't 60 years old or older you won't know who he was.

Then in the same area there was another man and woman who sat down at the bar, with the man resembling that famed Cleveland Browns announcer and WKYC Sports Director Jim Donovan. I mean this guy WAS Jim Donovan.

After Casey left our good friend Lou Holtz showed up. Lou Holtz look-a-like of course. We usually see him at Legends in Green, OH.

And at one point Lou Holtz was sitting right next to Jimmy Donovan. It was Hilarious!

JJ's has an adequate number of HD TV's to give customers almost anywhere a view of a screen. Something like they said at the old Jacob's Field that there wasn't a bad seat in the house. Anyway, we had three TV's in front of us. Two of them had the Cleveland Indians game on it and one of them had the Cleveland Cavs game. Needless to say we were watching the Indians.

We had one casualty. S. B. (Slim Boy) did not make a showing at JJ's, nor had we heard from him. Texts went unanswered. But the next day I did find an email from him on the Geezers Nite Out email site indicating that he was under the weather, and that he wouldn't make it out that evening. We hope that he is doing well.

Next Wednesday, April 10, we will be back at one of our fave meeting places, Legends to see one of our fave bartenders Tricia. 

This page was last updated: April 28, 2013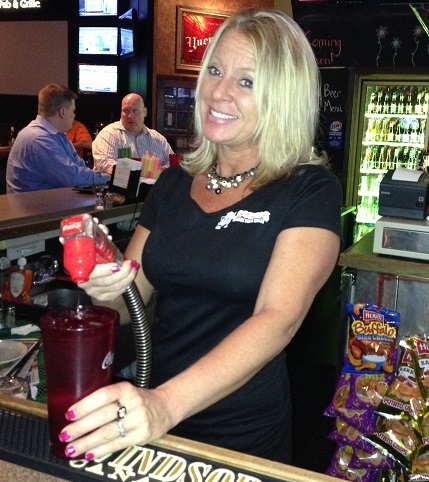 LEGENDS SPORTS PUB & GRILLE - Green, OH - April 10, 2013

As I have said before, every time we meet at Legends for our Geezers Nite Out something unusual happens.

I'm not saying that a thunder storm is unusual, but in this day and age with satellite dishes it can be disastrous. Our bartender for the nite, Tricia, pictured to the left, even had something to do with it.

After most of us had arrived the weather progressively was getting worse every minute. It became darker and darker outside. Finally, it let loose. (Not going to put what you are thinking on here in writing.)

And with that, the many TV's around the bar, and dining areas working with the satellite dishes from Direct TV went dark. Just a little logo floating around the screen. However, this did not last for long. At 5:28 PM the TV's were again lit up. Just like a few of the customers.

So what they say about Satellite TV during storms DOES HAPPEN!

The way that Tricia is involved with this is that she is not noted to be a lucky fan for our local professional sports teams. She used to wear Cleveland Cavs jerseys behind the bar when the game was on TV on the nights that she worked. Needless to say the Cavs would lose. But that has been a foregone conclusion the last few years. She is no longer permitted to wear anything but Legends' attire. However, the storm on this evening caused the Cleveland Indians game with the New York Yankees to be postponed. Just sayin'!

As is the case during our meetings we did see a celebrity look-A-like. It was stretching it a little, but some of us thought this guy looked like former Cheers star Woody Harrelson. In the above photo you will see a guy in the background at the bar also with a shaved head. It has become a popular style with those who are follicle deprived. But our Entertainment Director, R. B., is still hangin' tough!

The Geezers who ate from Legends excellent (New)
MENU
were trying to eat healthy.
Spike
had a
Chef Salad
, and
S. B.
had some type of salad. I am guessing it was a
Cobb Salad
. I had the
Turkey Club
Wrap
. Not sure what
Drumstir
or
Bill Bob
had or RB, if anything at all. Legends has some new items added into their previous menu. Take a look above.
Fergie is still a Snowbird in Florida. And the way our weather has been in Northeastern Ohio he made the right move by not coming back yet. His wife, Brenda, will be flying back on April 24 with her sister, and he plans on driving back on April 27th.

The Specials for Wednesday night were their usual Half Slab of Ribs for $7.98, and Cheddar & Broccoli Soup. The drink Special was Long Island Ice Tea for $2.99.

Next Wednesday, April 17, we will be meeting at the Winking Lizard. However, it will be at their new location in Montrose. It is located on  Brookwall and Springside Dr. You can reach Brookwall Dr off of Cleve-Massillon Rd, and Springside Dr. off of RT 18 (Medina Rd.) 

At this moment we do not have a street number to give you.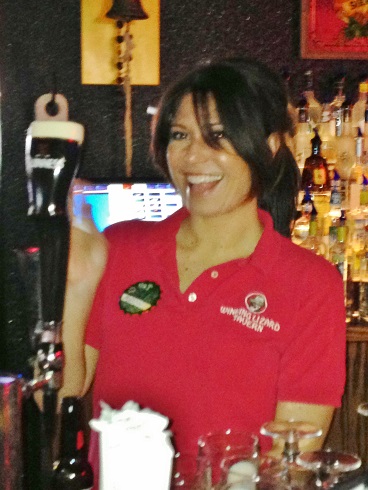 THE "NEW" WINKING LIZARD - Copley - April 17, 2013

It was an Amazing Geezers Nite Out at the Winking Lizard last Wednesday for their Grand Opening of the new location on the corner of Brookwall & Springside Dr. in Copley (Montrose).

It was also a great day weather wise. At 5:54 PM the temperature was 66 degrees with the wind almost nonexistent at 3.5 mph.

This was Wednesday. I (Joebo) went back on the following Friday, April 19, and at 5:54 PM it was 44 degrees with the wind speed of 31 mph.

The new Winking Lizard is comprised of two bars, one inside, and one outside with an outdoor patio.

Lizardville is located (somewhere) in the same building, and it is comprised of it's own bar, and outdoor patio, and a Wine and Liquor store.

We have pictures posted on our
PHOTOS
link.
On Wednesday the patios were well populated at both places, but needless to say on Friday they were closed. Or else no one wanted to venture out there.

Above is one of the many bartenders at the main bar at The Lizard,
Mandy
. She is one of our faves who also tended bar at the former location, and one of our most photographed. She makes a mean drink. You can see a picture of it on our
PHOTOS
link.
One of the surprises for the evening was the appearance of one of our part time Geezers, part time Labor Relations associate for the Goodyear Tire & Rubber Co, and part time drummer for The Phantom Band "Big Daddy" Dan Minier. He is retired, but he was in town to help Goodyear out at the Plant while the rest of the department is in Cincinnati for contract negotiations with the union. It was good to see him. He was on his way to see his son in Columbus. See the Photos from this nite to see what he ordered to eat.

Speaking of food the Lizard has kept one of their perks from the former Lizard of Free Popcorn in tact. It even may be the same machine. You can just go at your leisure and fill up a brown bag with some inexpensive appetizers..

And, yes, THE Lizard is there too. We have a few pics on the Photos page. It is actually a Green Iguana. You can read all about him inside of his den while you check him out. I believe his name is Arnie.

I was told that the
MENU
at the new location remains the same along with their Specials every night of the week. Big Daddy,
S. B.
, and I ate from it. But it became so crowded on opening nite that
R. B.
and
Billy Bob
were not able to get waited on. And crowded it was. They have a pretty generous parking lot, but when I drove in around 4:15 PM there was not a place to be found. However, on my
Second time
around I did manage to find one.
Friday was about the same if not even worse. On this nite I arrived around 5:00 PM. This time I add to go around the parking lot Three times.

What made it worse was that the patios were not open due to the weather. I stayed on the Lizard side, and found a stool against the wall at the inside bar. The outside bar is closed in, but there were no seats there either. About an hour later I made it to the bar. It will probably be like this for some time.

Next Wednesday, April 24, we will be meeting at Dusty's Landing Yacht Club on Portage Lakes.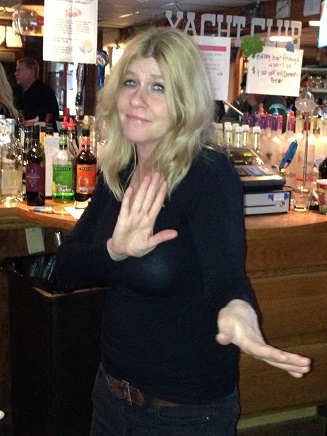 DUSTY'S LANDING/YACHT CLUB -  Portage Lakes - April 24, 2013

Pictured to the left is Karen, bartender at Dusty's Yacht Club. She has been a little edgy lately since she has been receiving harassing crank phone calls. So when I pointed my camera at her to take a picture I understood why she was a little apprehensive about it.

We hope that the calls stop so that she can get back to her regular routine.

It was a very quiet night when Spike and I (Joebo) were there around 5:32 PM. In fact there were only 6 people at the bar at that time. We were the only Geezers.

S. B. had called off due to the fact that his brother, Dave, from Iowa was in town. Fergie was still in Florida, ready to head back home on Saturday, 4/27.

About 6:00  PM the rest of the Geezers who were there started arriving. It was R. B., Drumstir, and Billy Bob. Drumstir just returned early Wednesday morning at 1:00 AM from Vegas with his wife Cindy who is a flight attendant for United Airlines.

It was a good nite to be inside as it was pouring down rain outside. so we had to stay there.

There was something simmering in the crock pot in the back by the ladies restroom where Karen cooks a little something for her customers. But since the Geezers were there, and more customers arrived she decided to also order a pizza as she sometimes does. I am not sure exactly when she ordered it, but she was a little concerned when they were taking quite a long time to deliver it. Maybe since it was raining everyone was staying in and ordering pizzas. Finally at 7:47 the pizza was delivered. We all attacked it. Maybe it was Karen's trick to keep us there longer! It was well worth the wait!

There was a couple sitting at the bar who Karen knew. They asked her if she had her little board game that the players roll dice to get certain numbers. I don't know what it's called or begin to explain how it's played. Karen didn't have the one that used to be at the club, but she had her personal one in the car. It is a fun game where the most you can lose at a time is $1.

These customers asked her to play it. She was being polite by also playing. Well, as it turned out she won the first two games. The two customers were a little unhappy about it. they are the ones who asked her to play. she just happened to get lucky. She lost the next game, and then let the customers play the rest of the games. Sometimes maybe it doesn't pay to be lucky! 

We also voted for the meeting places that we are going to go to for May. Our Entertainment Director had a very professional ballot made up for us to complete the voting. Not like last month, also at Dusty's by the way, where we had to vote on a piece of scratch paper with the locations hastily penned.

The results have been tabulated, and they are now posted on the
SCHEDULE
page.
Next Wednesday, May 1, we will be back at one of our fave places, Legends Sports Pub in Green.