Please Page-Down as the Current Month progresses to see all of the Content 

This page was last updated: June 2, 2010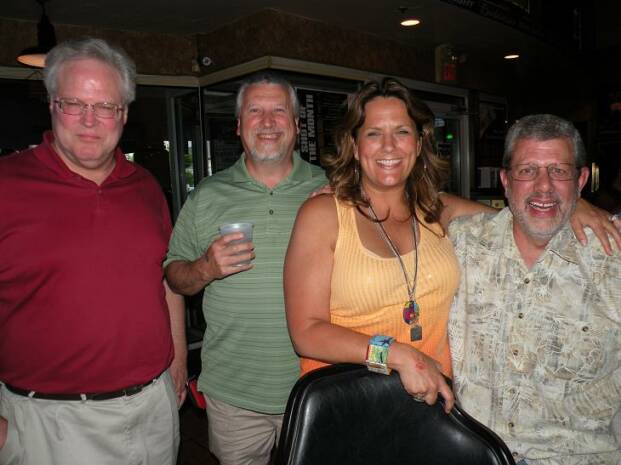 CINCO DE MAYO MYOH MYOH !

It was a "small world" at
Legends Sports Pub & Grille
at the
Cinco de Mayo
party Wednesday,
May 5
.  Not only was there a good Geezer turnout, but there were also a number of friends who just happened to be there. Above, from L-R,  are 
BFB
,
Swish
,
Tammy
, and
Kenny J.
With the Geezers is a friend of ours, Tammy,  from radio station
WHBC
who we met at
Hook Line & Drinkers
during the summer of 2007 for one of their
Bike Nites
when she was working for another radio station. It was good to see her there. For photos from that nite of Tammy, and the Geezers go to the
MEDIA
page for 2007.
The other Geezers there, beside those pictured above, were Fergie, Joebo, Drumstir, R. B. and Candyman.  Besides Tammy we ran into two of our good friends from Goodyear Pam, and Russ Hartline who were there to take advantage of the food and drink specials at Legends. It was good to see them.

Legends first of all had All You Can Eat Tacos for only $6.99. Joebo, Swish, and BFB took advantage of the offer. The last count I had for BFB (Dougie) was three plates full.

Fergie, and Drusmtir ordered from Legends excellent menu. Fergie got a Burger and fries for only $5.57. What a good deal. The Candyman got an even better deal with FREE popcorn.

The drink specials were $.99 Margaritas. If you were thirsty,  pitchers were only $5.00. The Geezers bought into that offer also. However, everyone drank in moderation. Legends also had $2 domestic bottles, $3 Imported, and $2.50 well drinks. And on Saturdays and Sundays you can get $1 off of Drafts during the normal Happy Hour.

Our bartenders for the evening were many. We were first served by Danille (Like Tanille). One of our faves, Tricia, was also there. The place was pretty busy.  After Danille left Courtney showed up who we have never had the pleasure of meeting before.

If you go back to some of teh other newsletters you may see Tricia wearing a pink or ladies jersey. She wears thes when the Cavas are on TV,a dn she is workign at Legends. She calls it her lucky jersey, but lately when she wore it the Cavs lost. She todl us Wednesday nite that hse was at the Cavs/Celtics game Monday with her duaghter,a nd guess what happened? They LOST!  Pics of all the bartenders, and from the evening will be posted on the current
MEDIA
page shortly.
There was a party of people to the right of us who were also celebrating a B-Day besides Cinco de Mayo. The only female in the group just happened to be sitting next to me. Her name was Amber. She was very attractive, and very slim, which was actually a curse for her since she couldn't partake of any of the tacos that were being offered. She was eying my plate, and I felt guilty eating them in front of her. Ha ha! Anyway, we bantered back and fourth about the Cavs between the Geezers, Amber, and her group, and they were nice enough to let me take a photo of them before they left. 

It was a very well planned party, and the customers came in droves to show their appreciation for the way Legends accommodates them. We didn't stay for the whole evening, and we started to file out one or two at a time. I was the only one left as I was trying to pay my tab. Just when I thought my evening was over, out of the blue wanders 
Stan The Man
heading for the bar where I was sitting. Stan is the newly retired Geezer who was initiated on the nite of
April 21
at
Hook Line & Drinkers
.  Stan twisted by arm to have just
Juan Moore Beer
which I accepted. As we were leaving  there were more customers pouring in the front door. There were four guys with sombreros on who were in tune with the celebration. No, I didn't take a pic. 
Legends is a great sports bar with a lot going on, and a lot of TV's. They have a back room also with a bar for special occasions, and a deck for the warmer months where they hold their Bike Nights. We had a great time, and we recommend it to you for next year.

Next Wednesday,  May 12, we will be at the Tap House (Formerly Scorchers) on Waterloo Rd. Hope to see you there.

(See photos on the current
MEDIA
page)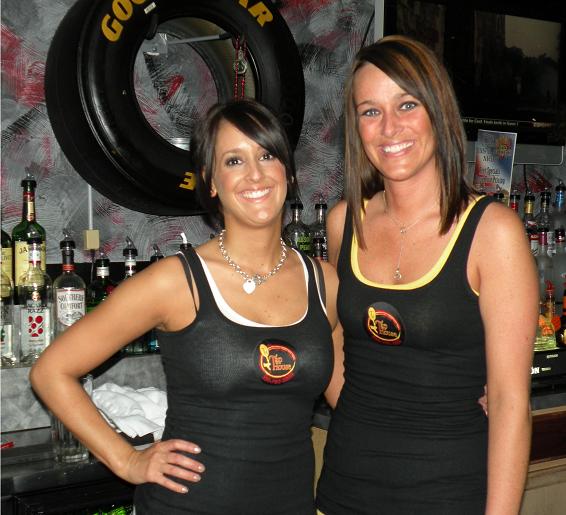 The Geezers Nite Out for Wednesday May 12, was held at the Tap House on Waterloo Rd. I wasn't there for very long, but long enough to take a couple of pics.

To the left are Jenna, and Misti, two of our faves. We know Misit from her nights at  Kevin O'Brien's on S. Main St. They are modeling their new Tap House T-shirts. Cool.

Those Geezers there were Fergie, Candyman, Juice (Swish), Joebo, R. B. and Kenny J.  Candyman (Voigle) showed up in his yellow slicker.

This was a dead give-away that there was inclement weather outdoors. In fact we didn't expect to see him for sometime since he had a condo up on Catawba Island. We had some wind, and rain, and there were Tornado warnings out the night before. One of them was issued in Sandusky where he was. Word has it that he was in a restaurant eating, and the sirens were going off. I guess there is more to the story.

Speaking of long stories, R. B. came in dripping wet from changing a tire on his car,  It all started with the electric going out at Goodyear, and led to a trip outside for lunch which led to a flat which led to a trip to a tire store, and it goes on, and on. He got it handled. But he was wet!

Then there's "Juice", or Swish. Have you ever heard of a Texas drink called "Red-Eye"? It's simply "tomato juice" in beer. Swish likes it. A lot of bars don't use tomato juice or charge you an arm and a leg for it. So since we were at the Tap House with a Giant Eagle in close proximity he brought his own. He didn't get the little cans, but a large plastic bottle which he put in a brown paper bag. Each time he would get another beer he would get his brown bag out and pour a little in the glass with the beer. He shocked Christi, a  bartender who was there earlier, as she couldn't figure out how his glass was full of red liguid. Hence the new nickname, Juice!

It was an early evening for all. I had to leave to go practice with the Geezers band (Phantom Band), and the rest of the group filtered out quickly after that.

Speaking of the Phantom Band, we will be playing the the Geezers Nite Out next Wednesday,  May 19 at Dusty's Yacht Club on Portage Lakes. Karen, the bartender there, will be making a roaster full of Sloppy Joe's (Hate that name). If you want more than that you can bring a covered dish. Hope to see you there.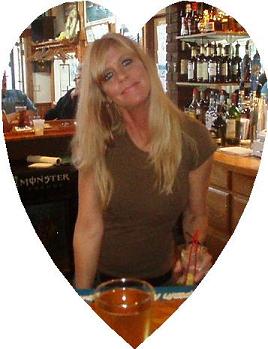 BIRTHDAY, BAND, & SLOPPY JOE!

No, that headline is nothing to do with ME! (Joebo) Well, sort of! The Band part. The Geezers Nite Out Wednesday, May 19 was quite an affair. No, not that kind either! Karen, Chief Cook & Bottle Washer at Dusty's Yacht Club on Portage Lakes put together the first bash for the up and coming summer season.

Not only was it a party, but also the Phantom Band (Karen's Band) was playing. And we were celebrating Juices' B-Day. Quite a night.

The Geezers who were there were of course  the B-Day boy Juice (Swish), R. B., Fergie, Drumstir, Stan the Man, Mr. Lobber, and Joebo, BFB, Big Daddy, and Happy Hank in the band. 

And one of our faves, Karen, was behind the bar, out at the tables, and outside. She was everywhere. We found out that she has just become a Grandma for the first time. Can you believe that? Look at her to the left!

Karen made a crock pot, and a roaster full of Sloppy Joe's. Juice, even though it was his B-Day, brought some chips, and potato salad besides his signature Tomato Juice. Nikki (The Venezuelan Singing Hairdresser) also brought a home made covered dish. Others brought chips or some other side dish.  There was plenty to eat.

It was good to see Vicki also. She has been helping Karen behind the bar for years. Ironically she was formerly married to the son of one fo our Goodyear retirees from the payroll department Pearl Hayes. She has two twin boys by him.

Dianne, a from regular at Dusty's, and a Tax Accountant, was a no-show, but I had my own Tax "Person" there. She is Tammy Thompson, who is a very sharp accountant. Needless to say she does my taxes, and also those of "Crazy" Richie, a Geezer who has not been around since January. He was our first photographer when we began the Geezers Nite Out website back in 2005.  If anyone is in the need of a trusted tax "person" she is located at 2542 S. Arlington St, Ste. 104. Or give her a call at 330-644-1637. Tammy was there with her Mom, and Tammy said that she remembered every song that we played in the first set. She is not old enough to buy the records, but her Mom was the one buying, and playing them.

There were a number of Goodyear associates also there. Most of the Geezers and the band were either former employees or currently are. There was Larry Bungo, and his wife. We haven't seen Larry for a number of years. He lives in Cleveland now.Then there was Flo Abbot and her entourage of ladies. She goes way back with some of the Geezers at Goodyear. Jed and Linda Derhammer were not ot only at Dusty's but they were at Wink's in Barberton on Saturday night. Gluttons for punishment! Vicky Hooever, who used to wotk for me, was there too with the Derhammers.

Big Daddy's wife Barb, and Happy hank's wife Karen were also there. They had no other choice!  (Kidding.) And last but not least one of our tww "groupies" Lucy was there with a friend of hers who also happens to be a guitarist.

It was a beautiful evening weatherwise which also helped the turnout. Karen said that they did quite well at the bar.  It was an enjoyable evening. Nothing like the Christmas party, but it was good. Thanks to everyone who were there.

I forgot to bring my "good" camera so I had to use my back-up. For some reason the back-up camera was not working properly. however, I was able to take some pics which I will publish below, and that I'm going to refer to as my "Bad Picture Gallery"! Sorry about that.

Next Wednesday
May 26
, we are schedule to go to
Johnny Malloy's
behind Chapel Hill Mall. But that is subject to change depending on the weather. We may change it to
The
Galaxy
in Wadsworth. Check the
SCHEDULE
page next week.
Click on Pics to Enlarge. Then go to Next or Previous pics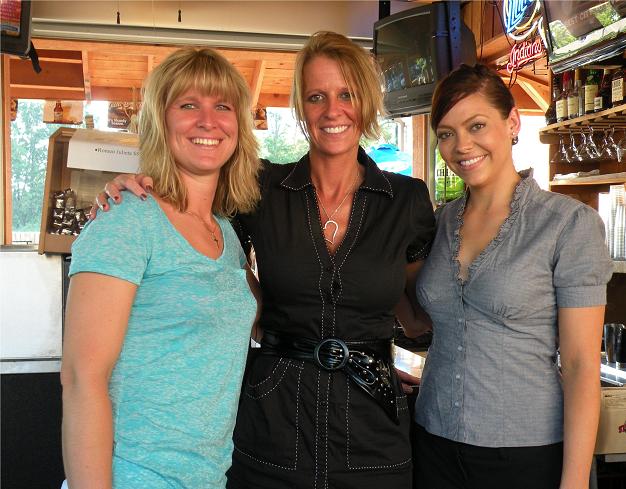 Food seems to always taste better with a little salt on it. But too much salt is not good for you health wise they say. However, you can have all of the Colin Dussalt that you want. In some cases more is good! 

The
Geezers Nite Out
Wednesday,
May 26
, was held at
The Galaxy
in Wadsworth.  In fact it was the night of the
Grand Opening of The Patio
at the Galaxy. And to start off the season right, none other than
Colin Dussalt's Blues Project
was performing.They are a terrific band. To check out all of the entertainment at The Galaxy on the Patio this summer go to the
Galaxy website
.
But it was our first Geezers Nite Out on the Patio this year. We were there a couple of times prior, but the weather was not conducive for the patio to be open. It is a great open-air venue with two bars, plenty of dining tables, and and an area for live entertainment. I also understand that on Thursdays for Ladies Night they will have what they call Island Night with Island Doctor Scott Alan starting at 7 P. M.

The Geezers in attendance Wednesday were Juice (Swish), Joebo, BFB (Dougie), R. B. and Stan The Man. R. B. also invited a friend, Mike, who may or may not become a regular Geezer as long as we meet in Wadsworth.

Our bartenders for the evening were Shelly, Darla, and Shanna picture above. We call them Galaxy's Angels. They are very attractive just like the Charlie's Angels, but they are also very proficient, and friendly. At least to the Geezers. The Galaxy is one of our fave summer stops. Another one of out fave bartenders, and Sandra Bullock look-a-like, Marie, stopped behind the bar on her way home. Below is a pic of her and Shanna.

Juice, BFB (Dougie), and I (Joebo) all had salads off of Galaxy's fine menu. R. B. wanted to know what was wrong with us. First of all we were just trying to eat healthy, and secondly the sauerkraut balls, and potato skin specials, that we ordered last year were not being offered any longer on Wednesday nights at bargain prices.  Those options are available on Ladies Nights on Thursdays now.

BFB met a new friend! He was the gopher for Colin Dussalt's band.  He was yacking away in BFB's ear about the band. Looking at a schedule that he passed out to everyone at the bar, they play almost every night of the year. Anyway, since he found out that BFB plays bass in the Phantom Band he said that the bass player in the Dussalt group also plays bass for Michael Stanley. When does he get the time?

It was a warm night, but not that humid, and it was very enjoyable. There was not a large turnout of Geezers for such a night, but we did manage to take a vote for the meeting places for June. The results will be posted on the SCHEDULE page shortly. Next Wednesday, June 2, we will be at Johnny Malloy's which we missed on May 26 when we went to The Galaxy.

On June 30 we will be going to a new place to everyone. A new place is under construction on Howe Ave near Target that will be called The Brick House. It is supposed to be completed by the end of June So we are looking forward to that.

We hope everyone has a happy MEMORIAL DAY!

Click on Pics to Enlarge. then click on Next or Prev Pics