We have One Page with Newsletters for the Entire Month. Please Page-Down to view all of the Newsletters as the month prgogresses.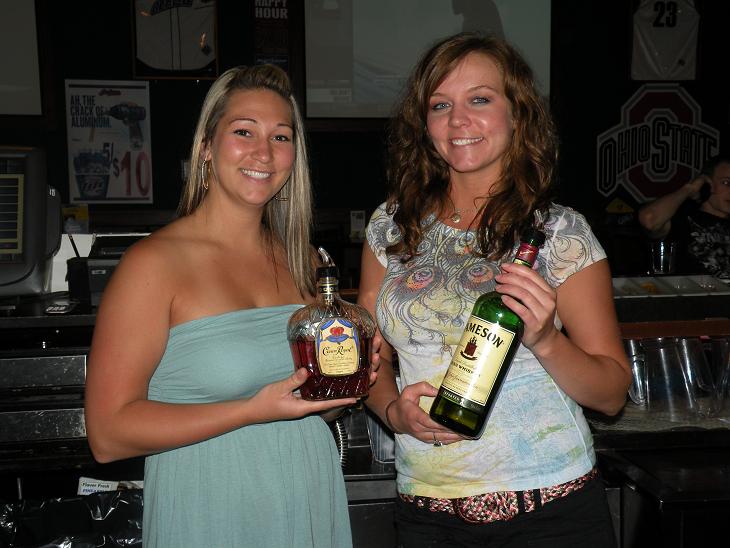 PLEASE HAVE A DRINK WITH US

Well, we didn't disappoint! How could you refuse the offer of a drink with these two beauties? Well the Geezers Nite Out, Wednesday, June 2, was held at one of our fave places, Johnny Malloy's Sports Bar behind Chapel Hill Mall. The two lovelies above were two of our bartenders for the night. From L-R are Brittany, and Brandi.  Brandi was working during the day, and later on she snuck out, and we didn't get a chance to tip her. Sorry!

The Geezers who were there were unpredictable. The regulars there were Fergie, Juice, Joebo, BFB, R. B., and Kenny J. Also The Jerry (Jerry's Corner), and an old friend of Jerry, and BFB,  Dick Walker made an appearance! Dougie, Jerry, and Dick were all sold by Goodyear to IBM. Jerry retired from IBM, and BFB (Dougie) has been sold a number of additional times, but he is still physically working at the Goodyear complex. He said that the trio were talking about the Good-Old-Days! I guess in retrospect that they were.

Our bartenders for the evening were Brittany and Brandi when we first arrived. The rest of the evening we were attended to by Brittany, Jen, and a rookie, Katie. Pictured above are (L-R) Brittany, and Brandi. Below in the Photo Gallery are Jen, and Katie.

It was a good night at Malloy's. However, on the way there I had to have my windshield wipers on High, as a monsoon hit. It cleared up somewhat as there were some people out at the patio bar. It has been an unusual spring. Summer isn't officially here until Monday, June 21 in the Northern Hemisphere. In Australia, Southern Africa, and South America it is December 21. All I know it has been in the 80's from the middle of May until currently, June 4, in Ohio. These are the kind of temps we don't get until late August. What is it going to be like then? Global Warming?

Johnny Malloy's used to have a complimentary food bar during their Happy Hours. (Pizza, Gyros, Tacos). Due to the economy they have discontinued that practice. But they do have specials on Wednesday night, and during major sports events. One of which is a Two Topping Medium Pizza plus10 Wings for $9.99 from Geppetto's Pizza next door. A friend of mine visiting from Tennessee, Jim Bob, said that it is the best pizza that he has ever had.  If it was $10 I wouldn't do it! (Joke) But at least four of the Geezers took advantage of that offer. You can't beat it! Joebo, and R. B., and Swish and Fergie were the ones who took advantage of the Good Deal.

Later in the evening Juice's (Swish) son, Robo, also stopped by. He is not officially a Geezer, but he comes around every now and then for the Geezers Nite's Out, and special occasions such as Cleveland Indians Opening Day. Robo is currently managing an On Tap in Cuyahoga Falls, OH.  Robo finished up all the the pizza and wings that we couldn't eat. If BFB ever found out about it he would be jealous or hungry!  It is always good to see him.

This page was last updated: July 10, 2010
Click on Pics to Enlarge. Then go to Next or Previous Pics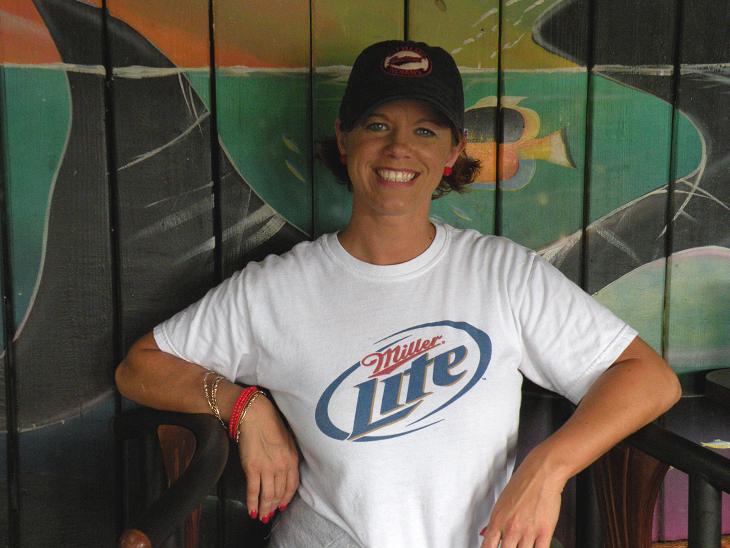 Pictured above is our bartender,
Kelly
, for our
Geezers Nite Out
at
The Harbor
on Portage Lakes, Wednesday nite,
June 9
. We are starting our June B-Day celebrations. There are 10 Geezers & Friends who have B-Days in the month of June. Check the
B-DAYS
link. The regular Geezers with B-Days in June are
Big Daddy
(6/5),
Fergie
(6/8),
Candyman
(Voigle) (6/9),
Nicko
(6/14), and
Stan The Man
(6/21). So our Geezers Nites Out in June are primarily B-Day celebrations.
However, because of the warmer weather it is hard to get us altogether at one time. The B-Day boys who were there on this nite were Big Daddy, and Candyman. However, Big "D" was only there for ONE ($8 Mudslide). He was there with his wife Barb on the way to another B-Day celebration. Barb makes the best Brownies I ever had. The Phantom Band practices at their home on occasion, and Barb supplies the carbs. Juice (Swish) was also there, who is a carry-over from May (5/18). He got a card from some of the Geezers who were there 6/9, but not in May. (He also received some cards in May) Those Geezers without B-Days who were there were BFB, Joebo, Kenny J, and Drumstir.  Drumstir was so confused that he just brought Lottery Tickets as a gift, which some of the Geezers practice, but no cards since he was not really sure who was going to be there. If you are totally confused by now I can't help you because I don't know if I'm right!

When we first arrived at The Harbor, around 4:35, it was not very busy as many people (who work) were not there yet. But as the evening progressed it did get pretty crowded. Kelly was kind enough to come out from the bar, and humor me by letting me take a picture of her, above, for our website. I had to leave early for a condo meeting. Thanks Kelly!

Well, that's about all I can tell you as I had to leave early. The weather cleared up nicely, and it was a pleasant evening out on the Marina Bar.

Next Wednesday,
June 16
, we will be at
Legends Sports Pub
in Green. There is a deck out in the back if the weather cooperates.  As a footnote, I would like to say that our
Entertainment
Director
,
R. B.
(Garo), will be back at Legends from his vacation in the
Outer Banks
. He made sure that the
SCHEDULE
was in place before he left.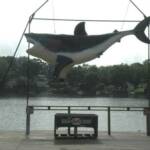 TO PLAY OR NOT TO PLAY...THAT IS THE QUESTION 

We have resorted to a little Shakespeare here on the Geezers Nite Out website. But I'm sure that most of you are cultured enough that you can be comfortable with it.

Wednesday, June 16, the Geezers meeting was held at Legends Sports Pub in Green. As is usually the case in June, it was another B-Day celebration. Fergie, who couldn't make the birthday celebration at the Harbor because of another one of his "good deed for the day" moments was there to receive the cards, and lottery tickets that he missed out on June 9. The original Geezers exchange B-Day cards on their birthdays. Most of them contain Instant Lottery Tickets. Legends sells lottery tickets as most bars, and restaurants in Ohio do. However, Drumstir scraped off Fergie's tickets that he bought the week before so he had to buy fresh ones from one of our fave bartenders, Tricia, at Legends. I don't think that Fergie won anything on them. But he did end up with about $7. (Brenda, don't read this part).

Legends does have food and drink specials every day, and this Wednesday they had the Rodeo Burger w/Fries, onion, bacon, BBQ sauce, and cheese for $5.99. Also, a special that a couple of the Geezers took advantage of was Boneless Wings for 40 cents each. I (Joebo) had a Chef Salad, and Dougie had the Black and Blue Burger. It's the "Rihanna Special"!  R. B. had Drumstir's leftovers, who had the boneless wings, and a huge order of fries. Unbelievable as it may seem Drumstir couldn't eat it all. So R. B. lucked out!

Speaking of the Geezers those in attendance, were Drumstir, Joebo, Fergie, Dougie, R. B., and our "newest" Geezer Mikey! Mikey is an "ole" friend of R. B.'s.

It was a very busy nite at Legends in the main bar, and out on the deck. However, it's a shame that it all happened after most of the Geezers left. For some reason, probably the weather, most of the people came out later in the evening. Earlier in the day it was very windy, and very hot. Later on the wind died down, and it became a little cooler.

Next Wednesday,
June 23
, we will be at
The Galaxy
in Wadsworth. Also, one of our Florida Geezers,
Jimbo Fish
, (Not Jumbo Shrimp) will be there. He was our First and ONLY Male Bartender of The Month for
January 2007.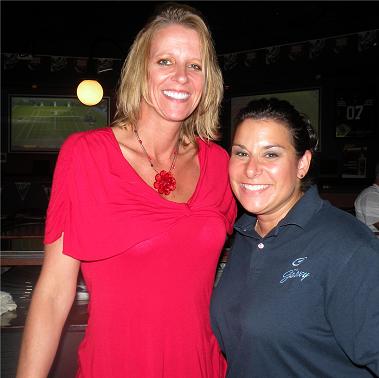 The weather has been sunny with temps in the 80's for the last few months. However, weatherpersons will never hesitate to say "sunny and warm with temps in the 80's but..."possible chance of showers"! How can they go wrong? It's summer, it will be sunny, and sometimes it rains. Well, on Wednesday, June 23, it was one of those chances fulfilled. It rained. I guess Mother Nature had a lot of those "possible chances" backed-up!

Wednesday was our Geezers Nite Out at The Galaxy in Wadsworth. There are a couple of reasons for our concern about the weather.

First of all one of our fellow Geezers who now makes his home in Florida, Jimbo (Jim Fish), was in town for a visit. Along with Swish, R. B., and I (Joebo) he attempted to golf 9 holes at Firestone Public Public golf course located on the back nine of the Firestone North Course.  We go way back with our notorious golf matches against each other in Ohio, and down in Florida. It is always, Jimbo, and I against Juice (Swish), and R. B. Throughout the years Jimbo and I have prevailed as the winners, even though R. B. has had a penchant for pulling off some "lucky" shots (O.O. H. A.). Our tee time was at 1:40 P. M. and when we arrived there it was a gorgeous day, but the weather report was for "possible thunderstorms". They always say that so we teed off. We were having a good old time with an unusual happening at the 4th hole, which you will have to ask one of them about. As we moved closer and closer to the last hole the sky became darker, and darker. We teed off on No. 8, however, there were ominous slashes of lightening hovering over the clubhouse. So we picked up our golf balls and headed for the parking lot. Before we could get there it became very windy, and started to rain. However, we did get our clubs put away, and the golf carts back to the clubhouse before it really let loose. It became a hurricane! We believe that my playing partner, Jimbo, brought it with him from Florida. Needless to say we didn't finish the round, but Jimbo advised me at the Galaxy that we were ahead by 3 strokes at that point. Worth noting: Jimbo parred the low handicap hole, No. 5 (hardest hole), and also the next hole. And Juice had a "birdie" on a difficult hole up a hill with a blind shot to the green (No. 7). It is a short par 4, but Juice made it to the fringe on his drive, and two-putted for his birdie. However.....IT DIDN'T COUNT!

The Second weather concern was what was happening out in Wadsworth. We were intending on heading for The Galaxy in Wadsworth for the scheduled Geezers Nite Out. But we had no idea what to expect when we got there. Since there was no golf in our foreseeable future we headed out to Wadsworth. The wind and the rain followed me all the way out there on RT 224 until I got to the Norton area. We were not expecting the best. As I walked into the Sports Bar at The Galaxy it was still drizzling, but it seemed to be clearing a little, and the Patio Bar was not open at that time. So we all sat inside at the main bar with Darla, and Marie, as our bartenders. Quite a pleasant consolation. They are pictured above. Marie is The Galaxy's version of Sandra Bullock (Don't you think?).

At first the Geezers who were there were just our original foursome of Me, Jimbo, Swish, and Garo.  Drumstir, and Mikey came strolling in a little later on. For awhile that was it. I had sent out an email to all Geezers that Jimbo was going to be in town, and at the Galaxy that night. To our surprise some of his former friends, and associates from Goodyear found their way to the bar. G2 (Gary Sutherland) stopped in on his way to a card game (Fish). After that the Galaxy Kentucky Derby winner, Mr Lobber (Dick Laber), also made an encore visit. And then low and behold the Biggest Daddy of them all "Big D" Dan Minier made a dramatic entrance. BFB (Dougie) was not there. He sent a pic in (Below) of why he was not!

I'm sure that Jimbo, who doesn't make it back to Akron very often, was very pleased with the turnout. After most of us ordered food from Galaxy's fine menu we all ended up out at the Patio Bar that after various rain delays was open for business.

Our bartenders out at the Patio Bar were Shelly, and Shanna. Shanna refused to let us take a picture, but after various tries we have a pic of Shelly (That she won't like) in the Photo Gallery below.

It cleared up so well out on the Patio that the band for the evening, Vibrogroove, began to set up their instruments to play. Also, disc jockey TK O'Grady from 97.5 WONE showed up with an entourage, to announce the goings-on, and give away prizes. After some haggling by Drusmtir and some of the other Geezers, one of O'Grady's Ladies, awarded us with T-Shirts, and Miller Lite foam beer bottle sleeves.

So what we thought was going to be a washout evening, after the thunderstorm hit the Geezers group at the golf course, turned out to be an enjoyable evening. (Hello Jimbo, you had better be reading this lengthy write-up written Just For You!)

Next Wednesday, June 30, is the Nite that we have been all looking forward to. It will be our meeting at a brand new establishment in Cuyahoga Falls called  the Brick House. The Grand Opening is Sunday, June 27. Check it out. I have been in the building, and it is a really laid out place that I think is different from anywhere in Northeastern Ohio. Hope to see you there.

Click on Pics to Enlarge. Then go to Next or Prev Pic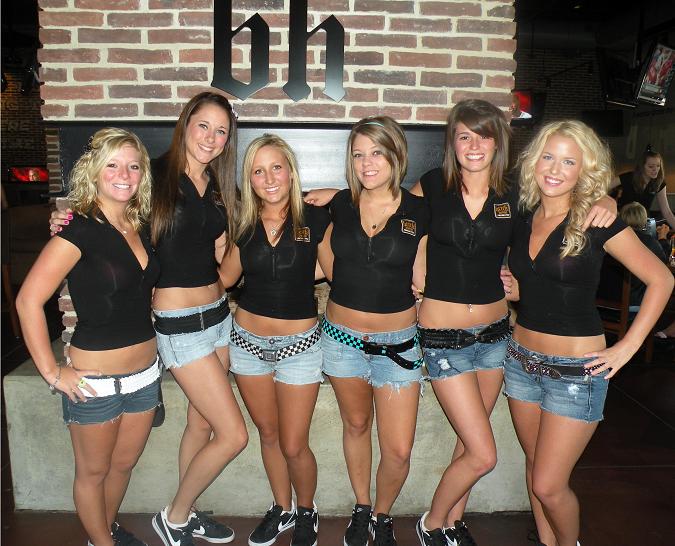 BRICK HOUSE DOES IT RIGHT

When I walked into the meeting place for the Geezers Nite Out, Wednesday, June 30, these are the lovely young ladies who greeted me. The Geezers met at a new place called the Brick House that is in the remodeled building that formerly housed Bennigans on 581 Howe Rd near the Target store.

The Brick House opened on Sunday, June 27, without much fanfare. In fact the girls told me that they don't advertise. They depend on word of mouth. And from what we saw last Wednesday nite there must have been a lot of talking going on. When we first arrived it was not very crowded, but it quickly filled up. Besides the fact that they don't advertise that is not the only different concept that they adhere to. We will get into that more a little later on.

There was a good turn out of Geezers for this auspicious occasion. Besides myself,Joebo, there was Juice (Swish), "Crazy" Richie, BFB (Dougie), R. B., Mikey, Fergie, Mr. Lobber, and Stan The Man.  It was good to see Crazy out with the Geezers again.

Our first two bartenders were J2. They were both named Jenna. Jenna1, and Jenna2. Their pictures are below in the Photo Gallery. They left shortly after we arrived in order for their evening replacements to take the floor. We also have pics of them below. Three of them were Cynthia, Kirsten, and Amanda. Sorry girls there were too many of you to remember all of the names.  

We want to extend out heartfelt thanks to the management, and their counterparts at their corporate headquarters for allowing us to take the pictures of their staff members who are in the photo gallery below. The Brick House runs a tight ship, and they are a first class operation. I must admit that I felt like one of those Russian spies when I first asked the welcoming committee above if I could take a picture of them. We take it for granted that we can take pictures at all of the establishments that we frequent, and we do not intend on infringing against anyone's privacy or interfere with their job performance. I had to talk to the manager who was very polite but proficient at her job who gave us permission once that she knew what we were all about. 

They also didn't want to have any pictures taken of the way they operate, and the interior of the building, and we can understand that. Only the girls. Darn! But the place is a one-of-a-kind operation. There are so many unique things about this place that you just have to see it for yourself. But we highly recommend it to anyone. 

Most of the Geezers also ordered food from the Brick House refreshing menu. The burgers are served in the shape of bricks. BFB had one with a fried egg on it.  I had the
Meat Loaf Sliders
. They were very good. They have a very different menu with new and interesting drinks. Juice, and I tried what they call the
Bloody Brew
. You'll have to try one to find out what is in it, but I think that you should be able to guess. Also if you are going to drink draft beer, which the Brick House has in
Iced Kegs
be prepared to drink the 20 oz size because the bartender will ask you if you want the "
sissy size
" or the "
Man Size
"? Needless to say we ordered the Man Size. To find out more go to the
Brick House
website.
We also want to thank Abbey for taking time out form her duties at the Man Cave to welcome all of the Geezers at the bar as they filtered in. Abbey is the first girl on the left in the picture above. And we have another one of her  with Swish, and Crazy below.

I said at the beginning of this article that the girls pictured above will welcome you to the Brick House as you enter. And when we left they even held the door open for us. Were they waiting for us to leave? (Joke) This is our kind of place.

It was also voting nite for the meeting places for
July,
and our Entertainment Director R. B. came through with flying colors. (What does that mean?)  The voting was completed and the votes tabulated, and they will be published shortly on the
SCHEDULE
page.  R. B. announced that there were no ties this month. The places picked were unanimous. Needless to say the Brick House was voted in again for
July 27
. Next week,
July 6
we will be at one of our fave places on Portage Lakes at
Dusty's Yacht Club
. Come out and say Hi to one of our fave bartenders,
Karen
. 
HAPPY FOURTH OF JULY!
Click on Pics to Enlarge. Then go to Next or Prev pics