GEEZERS NITE OUT - Newsletter

This is a Monthly Newsletter. Articles, Pictures, and happenings are all listed on one page for the Current Month. Page down to see all of the News in the order that it happens.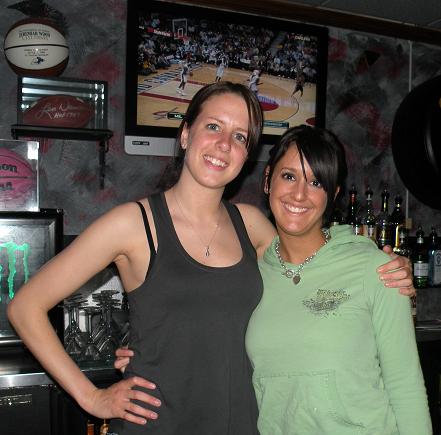 GEEZERS GET RIPPED AT TAP HOUSE

The first Geezers Nite Out for the month of October was held Wednesday, 10/06, at the Tap House on Waterloo Rd. No, the Geezers did not get totally smashed or try  to get ripped like the "Situation" on Jersey Shores. We always joke about the "Celebrity Sightings" that we see when we are out every Wednesday night. Ordinary people who look-like a celebrity. But this time we actually saw a real live "Celebrity". And according to what we heard he maybe be around a lot. He is Tim Ripper Owens, known for being the former the lead singer of the infamous band Judas Priest. 

According to Amanda, and Jenna pictured above he is going to have some interest in the Tap House. So much so that the place is going to be renamed Ripper Owens Tap House. (See a picture of the new sign below) I just hope that it works out better than when Usher bought an interest in the Cleveland Cavaliers when LeBum was with the team. It's weird that we haven't heard a word about or from Usher ever since "The Betrayal!"

As far as I know
Randy Arehart
is still the owner. Exactly how much input, and financial investment if any that Ripper has is unknown by us right now. You can go to
ripperowenstaphouse.com
to find out more. Ripper was there in person. Akron is his home. A
Ripper
Owens Tap House Relaunch
party will happen Saturday
October 16
all day and night long.
There was not much of a turn out on this Wednesday. The Geezers who were there were Spike, Joebo, Drumstir, Big Boi, R. B., and Billy Bob.  Most of us ordered from the menu. I (Joebo) got the bright idea to order a pizza. R. B. and Billy Bob said that they would eat a couple of pieces. I ate as much as I could but there was plenty to go around.

As fate would have it we had another B-Day celebration. Drumstir's B-Day is October 11, but he and his wife Cindy will be in Mexico. So some of us gave him an early B-Day card.  Some them contained instant lottery tickets, but as far as I know none were winners. That seems to be a common result when you are dealing with the Ohio Lottery. Talk about being ripped......I gave Drumstir a Visa gift card. He couldn't lose with that. Starting next year we will discontinue our practice of giving out B-Day cards to everyone. With the economy the way it is it can get a little expensive.

Next  Wednesday, October 13, we will be meeting at a new place called Roosters Sports Bar, and it is located at 4335 Dressler Rd., NW in N. Canton. Hope to see you there.

(Anyone who needs directions please contact us at our email address listed on the HOME page)

This page was last updated: October 29, 2010
I'm sure that if you're from the Akron, OH area you are familiar with the slogan "Fear The Roo" of Akron University sports.  However, they are referring to their mascot Zippy who is a "Kangaroo", and we are talking about a new meeting place for the Geezers Nite Out, Wednesday, October 13, in North Canton, Ohio

called Roosters Sports Bar, at 4335 Dressler Rd. Actually I think that The "Roo" is the bad Kangaroo, and Zippy is the good one. And It's quite a stretch, and a little scary.

Anyway there is nothing to fear about Roosters. It is an attractive casual place adorned with knotty pine throughout. There is a large bar in the middle of the room where we sat. Our bartender for the evening was Natasha, pictured above on the left. She is joined in the photo by Melissa who was serving us our food.  They were both very friendly, and attentive to our needs.

The Geezers who made the trip to N. Canton were
Spike
,
Kenny J
,
Joebo
,
Big Boi
,
Billy
Bob
, and
R. B.
  All of us ordered food from Roosters fine menu.
CLICK HERE
to go to their website to check it out. A popular item was their wings. I believe K. J., Billy Bob, R. B. and myself tried them. They are some of the best wings that I have ever had. And the
biggest
. They are huge. They had a special that Wednesday evening where the wings were 59 cents each for a minimum order of 10. I'm not sure if that is just on Wednesdays. Big Boi ordered a
Personal Pizza,
and Spike had the
Italian Sub
. There were no complaints from any of us, and we sent our compliments to the chef. 
We did see a few celebrity look-a-likes. There was a customer there who resembled Uncle Fester from the Adams Family TV show. Truly bald and maybe a little heavy. I saw a Joe Pesci look-a-like, and then there was a young fellow working there behind the bar who we thought looked like Pee-Wee Herman. As usual we were not able to take any pics. Sorry!

All in all it was an enjoyable evening, and we recommend it, and we may be back there again. However, we did have one complain!. Roosters has flat panel TV's all over the place. At the end of the bar where  we were sitting at there was a TV facing us directly. On that TV was the NBA Channel. And wouldn't you know that they were covering a Miami Heat scrimmage with none other than LeBum James. I couldn't stand looking at it for too long so I asked Natasha if she could please change it, and she understandably did.  What a way to ruin an evening!

After Roosters some of us went to another place in N. Canton called
Fox and Hound
English Pub, and Sports Bar. It is located on Everhard Rd. It is a franchise location, and I went to one with my sister
Lynda
, and her husband
Warren
when I was visiting them in Tucson, AZ. It is a sports bar, but more upscale than Roosters. I have heard about it before, but I had never been there until Wednesday night. It is similar to the one in Tucson with a half moon oak bar. Then there are separate rooms on either side of the bar to watch games of your fave team. One is labeled
Brownstown
, and the other
Steelers Country
. I imagine that it will be very interesting there come this Sunday, October 17 when the two teams meet. We intend to put it on the ballot when we vote for meeting places to go each month.
Click Here
to see more.
Next Wednesday, October 20, we will be back at one of our fave places, Dusty's Landing to see one of our fave bartenders, Karen. And a little birdy told me that she is having a B-Day the next day (10/21). Come celebrate her B-Day with us.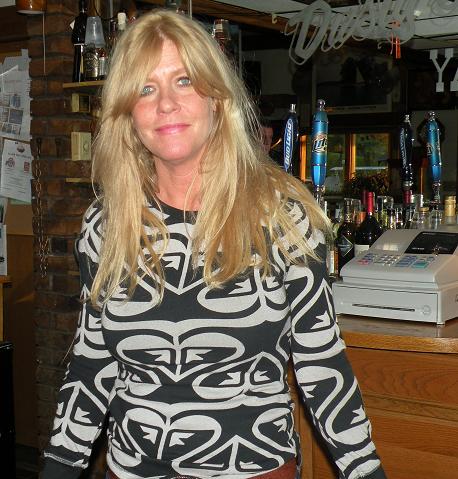 Just Another Nite at Dusty's

You just never know what's going to happen at Dusty's Yacht Club on Portage Lakes when the Geezers are there for their Geezers Nite Out.

That was the case on Wednesday, October 20. It started out innocent enough, but as the night progressed it got increasingly bazaar.

Our bartender for the evening was Karen, as usual on Wednesdays, pictured to the left. She had vegetable soup brewing in the crock pot.

The Geezers were Fergie, Drumstir, Spike, Joebo, R. B., and the Candyman (Voigle). It was a surprise to see the C-Man. He has been up on Catawba Island for the summer.  He may be a Geezer, but his memory isn't going yet. He brought B-Day cards that were long overdue.

The original Geezers exchange B-Day cards every year usually with Ohio Lottery instant tickets in them. This practice is going to be discontinued next year. Those who want can still do it. C-Man brought cards for Fergie, Joebo, and R. B. I'm not sure if there were others. R. B., and I (Joebo) didn't win any money on our tickets, but Fergie lucked out winning $25. It just proves the "old" saying is true. Those that Have.....Get!

We were actually there on this date (10/20) to celebrate Karens' B-Day. Little did we know C-Man was goign to crash the party. anyway, Karen's B-Day was 10/21. We got her a neat card,a nd those Geezers who were there signed it. I ahve a pic in the Photo Gallery fo the card. It has a synchronized group of water skiers on the front. When you open it (It's a musical card) it ahs the bginnign og the 50's instrumental Wipe Out playing. then part of it. Karen loved it because one of her customers who became a good friend, Martha, used to water ski when she was younger. Martha passed away last eyar at the age of  85. So ti menat a lot to her.

But another customer trumped us. He brought Karen a bunch of freshly cooked "crab legs". She was excitred an "hongry". She not only ate her share, but his too. Sorry I don't remember hii name. Does she care? Below is a pic of Karen chowing down.

Later on we were graced by the presence of none other than the great "Big Daddy" Dan Minier. He was out "shopping". It just so happens that I still owe him one f.oOrm my B-Day "surprise" party back in September. Halloween is coming up shortly. I saw costumes and incidentals at Walgreens one day when I was there to drop off a prescription. It was called "Instant Big Daddy". Since Dano's nickname if Big Daddy I just had to get it. I had it with me this night, and when he showed up I went out to my car, and got it can gave it to him. He thought that it was hilarious! And most surprisingly he put it on. It was a hoot! Pics below.

I also had a mask for R. B. But he left before Big Daddy showed up. So I will "try" to give it to him next week when we go to the Brick House on Howe Ave in the Falls (10/27). Come on out to see what it is.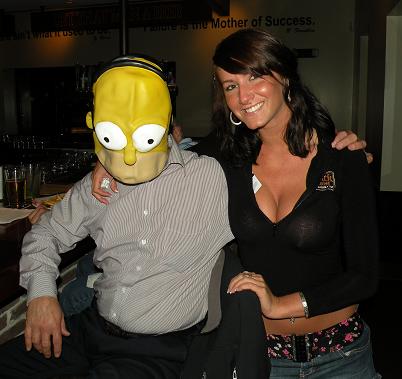 Yes, it's that time of year again! Halloween!

Our last Geezers Nite Out for October was held at the Brick House in the Falls on October 27,   four days before the spooky holiday. Speaking of "spooky" the picture to the left is R. B., and one of our bartenders for the evening, Emily.

R. B. is wearing a Halloween mask of Homer Simpson that I got him as a  joke as I (J.Bo) did for Big Daddy at Dusty's Landing last Wednesday, 10/20.  And they both surprised me by putting them on. Big Daddy, I can understand, but I never thought that R. B. would do that. But I should have known better. 

The reason for the Homer Simpson mask is that after R. B. shaved his mustache Spike said that Homer was who he looked like! I saw it at Target, and I just had to get it!

The other bartender that evening was Amanda. She is also pictured with R. B. in the Photo Gallery below. R. B. was having a little trouble when he put the mask on, and it may look a little weird in some of the pics.

Those Geezers in attendance were Spike, J.Bo,
Fergie
,
Big Boi
, R. B., and
Billy Bob
. We all ate from the Brick House fine, and different menu. I still can't get over how the burgers come with the meat, and buns shaped like "bricks". That is except for the "Sliders".
Click Here
to check out the Menu.
This Wednesday we also voted for the meeting places that we will be attending in
November.
The results have been tabulated by R. B., our Entertainment Director, and they will be posted on the
SCHEDULE
page shortly. We will be going to another "new" place next Wednesday,
November 3
which has the same name as a place that we go to quite frequently. It is the "new"
Legends Sports Grille
in the Falls. We are going there to see one of our fave bartenders,
Rhoda,
who we know from way back at the old
Scorchers
on Waterloo Rd which is now the
Tap House
. She will start working there in November.