This is a Monthly Newsletter. articles, Pictures, and Happenings are all listed on One Page for the Current month! Page Down to see all of the News in the order that it happens.

JOHNNY J'S PUB & GRILLE - Springfield - November 6, 2013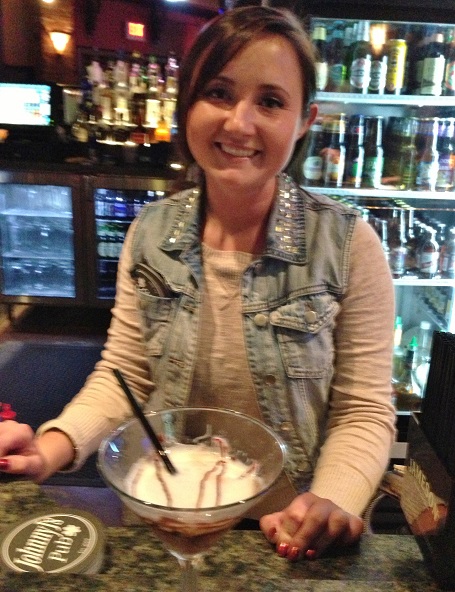 Last Wednesday nite at Johnny J's our Geezers Nite Out became a Geezers Martini Nite Out.

JJ's has Specials on Wednesday nights. One of them is Half-Priced Appetizers. And the other is $3 Martinis. These are not your Father's Martinis. Whoa! They offer so many types it is hard to choose. They have had this special for quite some time, but for some reason this is the first time that we have taken advantage of it. And boy, did we!

Pictured to left is one of our bartenders for the evening,
Jenna
. She made most of our martinis. But
Stormy
, also was making them for us. A pic of Stormy, and the rest of the Martinis that we drank are on our
PHOTOS
link!
Most of the Geezers who order the 1/2 priced appetizers ordered the Chicken Tenders. Some of us ordered them "Grilled" and some of us got "fried"!

That is except for R. B. He had some kind of Reuben Rolls.

Our friend, Krisko joined us for awhile, and she enjoyed a "Dirty Martini"!

We did see a Celebrity Look-A-Like. It was one of the guys that we usually see when we go to Legends Sports Pub. We will be there next Wednesday, November 13. He looks a lot like Lou Holtz, the famous Notre Dame football coach.

Make sure you check out the photos on our
PHOTOS
link to see the delicious Martinis that we drank.
As I said above we will be at Legends Sports Bar in Green next week to see the #1 Beacons Best Bartender, Tricia.

This page was last updated: December 3, 2013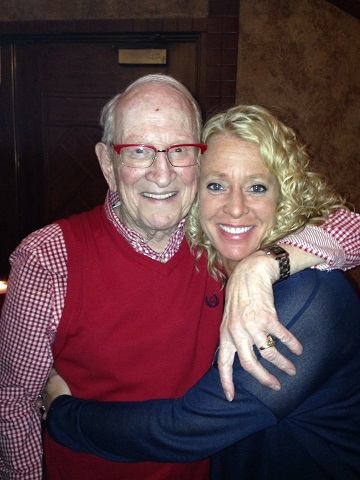 ARNIE "RED" SHAPIRO HITS "90"!

Most of The Geezers know Arnie Shapiro, affectionately known as "Red"! I would say that most of us have been in one of his establishments at one time over the years.

The most popular one was called "Red's Bar", after his nickname. It was located on the corner of Arlington St, and E. Waterloo Rd in Akron. It was the most popular spot in town next for Tangier's on W Market St. And coincidently, that is where a Gala Birthday Party was held for him on Nov 9.

With Red in this picture is a bartender extraordinaire, Tricia, who is now employed at Legends Sports Pub in Green. Tricia was voted Beacon's Best #1 Bartender for 2013. 

Red's was a popular place on the south side of town until a fire destroyed it. Arnie pledged to rebuild. During the reconstruction he opened a place called El Cid's on Tallmadge Ave. It also became a popular night club.

When Red's new building was finished he moved back there, and the place was as plush as they come. It became a "must see" attraction with many popular local, and national entertainers appearing. 

Some of the favorites were La Flavour and Joe Savage (With his snakes). It was a New York type Night Club in Akron, OH. After Red's was gone, Arnie movedhimself downtown to the newly built Quaker Square, created by Quaker Oats in 36 Grain Silos, where he managed a Sports Bar & Grille called Bucks.

I did not hear about the party as many of The Geezers or we would have been there. I am sure that is was very crowded as Red made many friends.

I was amazed by his ability to remember names after only meeting a person one time. My first name is Joe, but I have a nickname which is Buzz. I tried in vane to establish Buzz, but most people knew me as Joe. One of the first times I went to the New Red's, there was Arnie standing at the front door. I was with a friend of mine that he knew. After he shared pleasantries with my friend he asked me my name, and I told him Buzz.I didn't come back for a few weeks, but the first time that I did when he saw me he said: "Hello, Buzz!"

I am glad to hear that Red has made it to 90, and I am thrilled to know that a special birthday party was thrown in his honor at Tangiers.

I found out by researching for this article that Red has a
Blog.
That's right, a Blog. And he also is on the radio. To find out more about his blog and to see more photos from the party at Tangiers click on this link: 
www.RedsBarInAkron.com
. 
HAPPY BIRTHDAY "RED" FROM THE GEEZERS!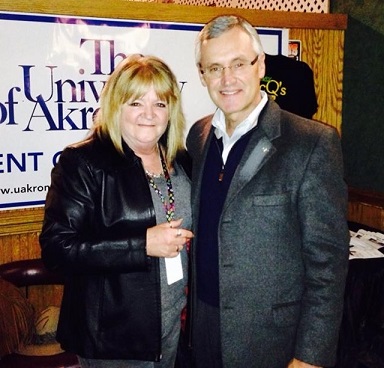 Or should it be the other way around? Who Is That With Jim Tressel? Why it's none other than Kris Conley (Krisko)!

Kris is a friend of The Geezers, and the former girlfriend of one of the Geezers, the late Dan Powel (Dano). She is from Buffalo, and she came to Akron via Goodyear when they purchased Dunlop Tyres in 1999.

And yes, she is a Buffalo Bills fan, but she does root for the Browns when the two teams are not playing against each otehr.

I, as most of the Geezers, have been born and raised in Akron, OH where most of us still live. And look who gets a picture taken with the former Head Coach of Youngstown State, and Ohio State, Jim Tressel. We kidded her about that.  

Evidently Tressel was at Max McQ's Sports Bar & Grille in the Valley to sign autographs. Kris just happened to stop in there after work to order dinner to go. I saw some posts from her on Facebook that started out with her arriving at McQ's, and commented on how crowded it was. Then there was another post with her stating that Jim Tressel was there signing autographs. The next post was the picture of her with Tressel above. Amazing. Way to go Kris!

Oh, by the way, as of the date of this writing (11/14/13) she is now on vacation in the Bahamas! Some girls have all the luck. Have a good time, Mon!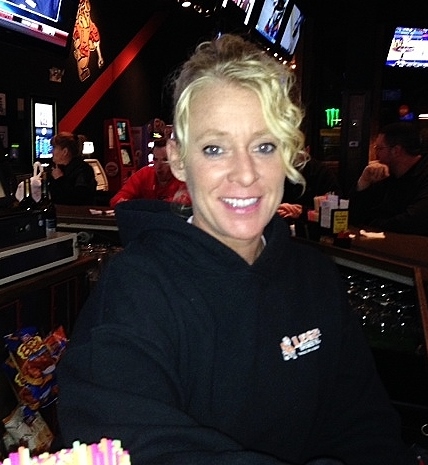 LEGENDS SPORTS PUB & GRILLE - Green, OH - November 13, 2013

Well, you may have been seeing Tricia's picture on here numerous times the last couple of months. She is pictured to the left. And.....(You know what I'm going to say) she was voted the Beacons Best #1 Bartender for 2013. And yes, her picture has been on here...a lot!

Last Wednesday night, Nov 13, we were at Legends Sports Pub in Green for our Geezers Nite Out. One of the premier bar owners of Akron Arnie "Red" Shapiro just celebrated his 90th birthday down at Tangiers Restaurant. He was the entrepreneur of three of the most popular places in the Akron area. Reds Bar, El Cids, and Bucks. Tricia was at the party and posted some of the pictures on Facebook. You can read more about it in an article two articles below.

The topic of discussion for the evening was the Cleveland Browns football game coming up this Sunday. It is now Sunday, and the game is over, and they got clobbered 41-20! At one point the Browns were leading. Then they proceeded to screw up!

We were also talking about the fact that people are against saying Happy Thanksgiving or Merry Christmas. They want to use some other type of terminology. Like "Happy Holidays" Ta Ta! Whatever you want to call it, Thanksgiving, and Christmas are fast approaching and there is nothing you can do to stop it.

We also talked about the fact that Wednesdays are referred to as "Hump Day"! I have heard that as long as I have been alive, and that has been a "long time"! There is a popular TV commercial with a computer edited camel walking thru an office on a Wednesday, and talking to the employees asking them if they know what day it is? Most of them ignore him, but one of them finally says: "It's Wednesday." Too funny. R. B. loves it.

We saw a person at Legends who we used to call
Uncle Fester
because he has a d head, and in an older sense of the word sort of resembles
Uncle Fester
from the
Adams Family
TV show, and movie. However, on this nite, he came in wearing a cap with "hair" on it. That's right. And "blonde" hair no less. This was a big thing. So naturally I had to go over and take a picture of him which is on our
PHOTOS
link. We usually don't take pictures of customers for the website wherever we go, but in this case I knew the guy. He was a childhood friend along with another close friend who lives now in
Nashville, Tennessee
. We all three used to play basketball down at a local park. The guy in the picture is
Monty Shriner,
and the other friend who we used to associate with as kids was
Jim Harpley
. Monty and Jim played little league baseball together.
We also have a picture of the board at the entrance of Legends for the
Specials
for a Wednesday nite on our
PHOTOS
link. They basically have the same thing every Wednesday, but you always have to come in and check it out.
Next Wednesday, November 20, we will be at The Tilted Kilt in North Canton, OH at 5075 Dressler Rd, near Belden Village.  

THE TILTED KILT - No Canton, OH - November 20, 2013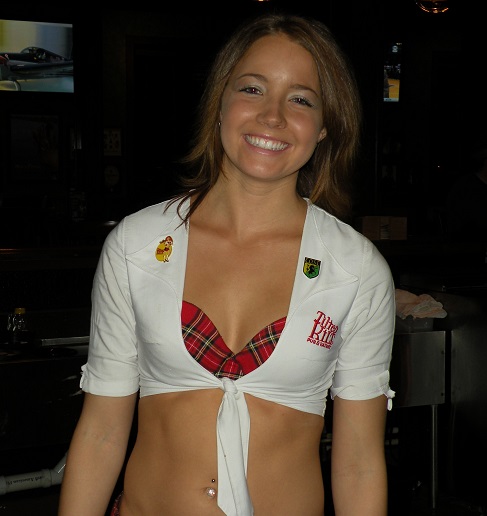 We were back at The Tilted Kilt in No Canton, OH for our Geezers Nite Out on Nov 20 since the last time on March 13 of 2013.

And there she was.
Lynae
, pictured to the left. She was our bartender the last time that we were there in March of this year, and Wed nite also. Go to our Geezers Nite out Photos for
Jan Thru June 2013
to see those Pics. Also go to our current
PHOTOS
page to see the pics taken this evening.
The Tilted Kilt's Happy Hour is from 4:00 to 6:00 PM with $1 off all 33 Draft Beers, and 1/2 off Appetizers.

Most of the Geezers who were there ordered from the Kilt's regular
Menu
.
R. B. ordered Danny Boys Shepherds Pie, S. B. had the Chicken Tender Wrap, I (Joebo) enjoyed Irish Stew, and Buddmann came all the way from Germany to sample the Kilt's Classic Caesar Salad.

Buddmann is our European Geezer.  

Bud Dulin is a U. S. citizen, but he lives in Germany with his wife. He was in the U. S. Air Force in the States, but went to Germany after he graduated from The Ohio State University.  I used to play in a band back with Bud back in the 60's.  The name of the band was The Sudds, and we played at the Kove. In the band with us was my cousin Jim Paulis (lead singer), Terry Ray on drums, Jon Hay on keyboard, and vocals, and me on lead guitar. Buddmann played the bass guitar, and sang background vocals.

There was not a big turn out for this meeting. Budman just arrived in town last Sunday. He checks our website, and saw that were were going to be at the Kilt, and he was there. Yes, he came all the way from Germany, but Fergie couldn't make it from Tallmadge. I did hear from him him and he said that he was having computer problems, also a family gathering Wednesday, and his wife Brenda, had some outpatient surgery on Thursday.

Spike was out of town. He had to take his mother down to his sister's home in Florida for her winter stay. He will be back this weekend, and won't be leaving for his place in Homosassa until late December.

Billy Bob had to either work late or he had something to do so he wasn't there either. Drumstir's granddaughter, and her daughter were in town from Idaho so he couldn't be there.

And we don't know where the Candyman is.

There was a Cleveland Cavaliers game on TV. We watched some of it at the Kilt, but the Cavs were having a tough time of it, and we lost interest. And they lost the game.

R. B. had an invitation to attend the game with some clients for Goodyear in a lodge, but he chose not to since so many of the Geezers could not attend the meeting. He was glad that he did.

The topics of discussion during the course of the evening were the Cleveland Browns, and the mayor of Toronto, Rob Ford. Two interesting subjects to say the least.

Next Wednesday, November 27, we will be at The Grille on Waterloo, formerly the Tap House. It is the night before Thanksgiving, and there will be some special deals along with Live Entertainment.

If we don't see you then HAVE A HAPPY THANKSGIVING!

THE GRILLE On WATERLOO - Waterloo Rd - November 27, 2013

Thanksgiving Eve has earned the distinction of being the biggest "celebration" night of the year. It is right up there with New Year's Eve. Hard to believe. So the Geezers Nite Out, Wednesday, at The Grille was part of that national celebration!

The Thanksgiving holiday is the "official" start of the Christmas season. Santa Claus, and the Mrs. arrived on a reindeer driven sleigh at the Macy's Thanksgiving Day Parade in New York City.

This brings out lots of holiday guests. There were 5 regular Geezers there in addition to other friends and relatives. 

Pictured to the left were our bartenders!

Our European Geezer, Buddmann (Bud Dulin), was also there enjoying his holiday visit. Also, a part-time Geezer G2 (Gary Sutherland) stopped in to see us. He usually plays cards on Wednesdays, but he was available since the game didn't happen on this week due to the holiday. He stopped by to see us!

My (Joebo) cuz Rick (Schultz) also made an appearance. We saw him as he was walking into The Grille with a gigantic carton of glasses for Russ, the owner. Rick works part time at the clubhouse for Firestone Public Golf Course.

There was live entertainment on this nite, and the band was Kill The Radio. The Geezers have heard them play out at The Galaxy in Wadsworth during the summer at one of the Patio Parties there. What is unbelievable is that the guitar player in the band just happens to be the nephew of one of our former Goodyear associates, Linda Holler. She was there with her husband Tom who we also know.

They were playing less one musician, but they sounded Fabulous!

There was a Cleveland Cavaliers game on TV that nite. And it wasn't just Any Game! No, the King of James was in Cleveland. As you can expect we were not paying too much attention to it. Another win for "LeBum!"

Oh yeah, to give credit where credit is due, after the game the King has invited the entire Miami Heat team, coaches, trainers, equipment managers, and Gator Aid boys to his home in Montrose/Bath for Thanksgiving dinner. What a guy!

And last but not least, by any means, we saw one of the bartenders who used to work at Kevin O'Brians on So Main St when the Geezers used to hold our meetings exclusively. His nickname is "Pudge"! And that's all we know. It was good to see him!

Go to our
PHOTOS
page to see pictures from this nite!
Our Entertainment Director, R. B., is always trying to keep us entertained. He suggested we play the Ohio Lottery video gambling game called Keno. They play this game in Las Vegas, and other casinos. You pick a set of numbers, and then play them against the odds hoping that your numbers come up out of a total of 80 numbers. Your chances are Slim, and None, and Slim left town.

We decided how many numbers to pick and four of us came up with our "lucky" numbers. Years ago the bar would play your numbers for you, but then the "lottery" came up with these "newfangled" machines that you can choose the numbers for yourself.

We made the mistake of letting R. B. go by himself to the machine to play our numbers. 

He came back mumbling something about the machine wouldn't let him pick the numbers. So we ended up with auto numbers. This guy leads a charmed life. It so happens that we did better with the auto numbers than we would have done with our own. Except it was not "that much" better.

We put in $20, and we got $8 back. So we put the money back in and used the numbers that we originally picked. We got $2 back, and then we played that and it was over. But it was fun!

We also voted for the
meeting places
for
December
. And the results will be posted on our
SCHEDULE
page shortly. However, with
Christmas
being on a Wednesday this year we only voted for "
3
" places.
Some of the Geezers will be meeting on Christmas Eve Day (Tues12/24) at The Grille until they kick us out. Some of us have been meeting on Christmas Eve afternoon for many many years,

Any Geezers or friends are welcome to join us.

On Wednesday, December 4th, we will be meeting at Johnny J's Pub & Grille in Springfield. Free Fries at the bar! One half off Appetizers!