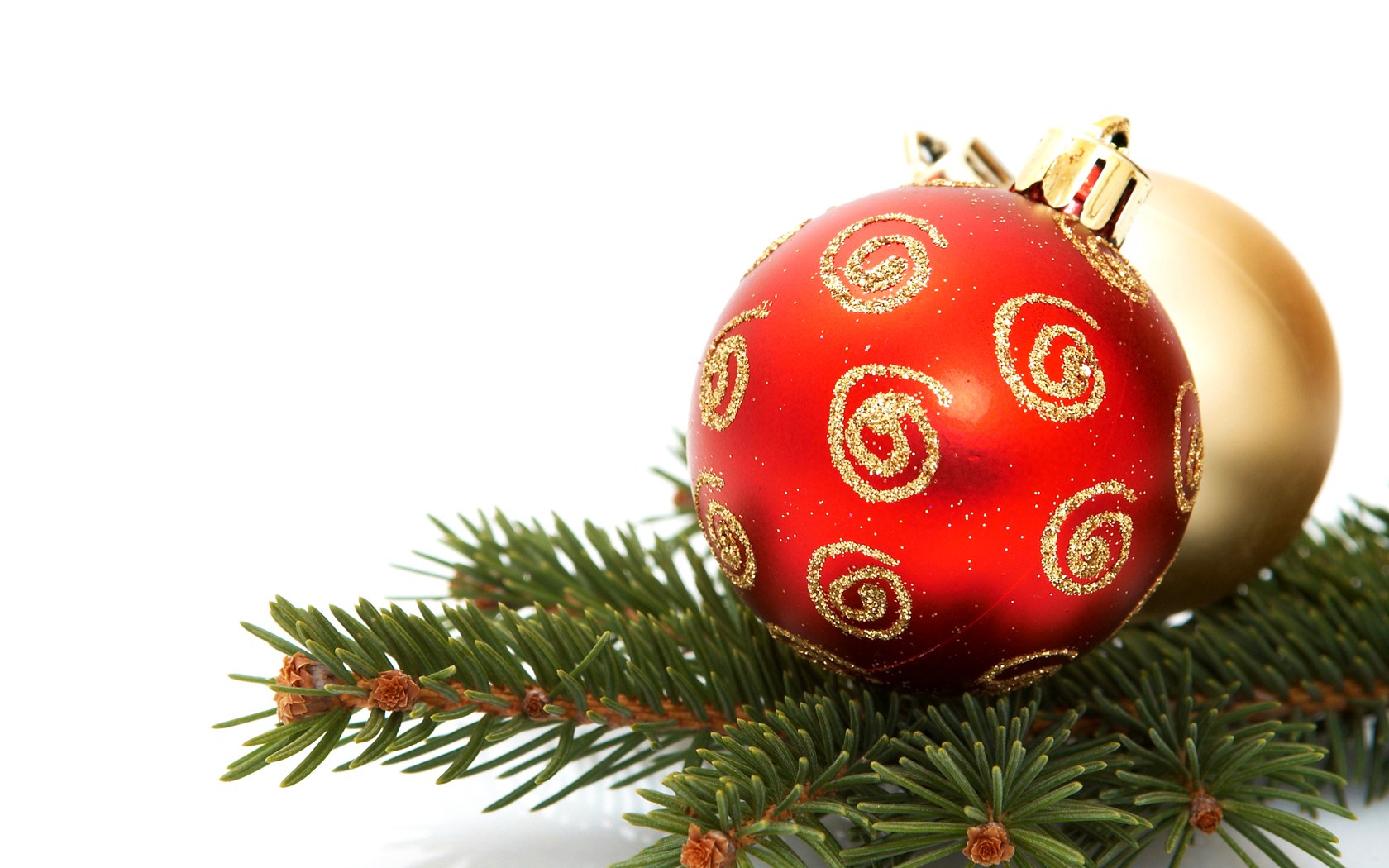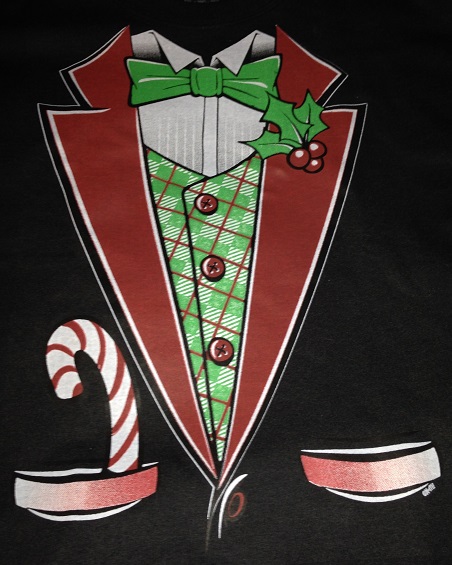 This is a Monthly Newsletter. Articles, Pictures, and Happenings are all listed one one Page for the Current Month. Page Down to see all of the News in the order that it happens!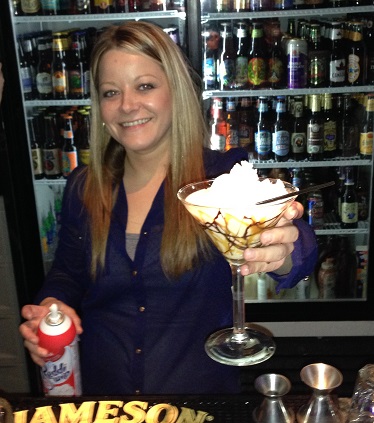 JOHNNY J'S PUB & GRILLE - Springfield - December 4, 2013

The
Geezers Nite Out
Wednesday,
12/04
, was held at
Johnny J's
that is quietly becoming one of our fave stops on our
SCHEDULE
!  
The fact that they have Free Bar Fries, 1/2 Off Appetizers, and $3 Martinis on Wednesday nites might have something to do with it. I think that the bartenders must have to go thru special training to learn how to make them all. They have quite a variety. (23 Varieties)

Of course the topic of discussion was the Big Ten Championship game between Ohio State and Michigan State. Naturally, we are all buckeye fans, and one of our Geezers, Buddmann is a graduate. It should be a good game, and we are keeping our fingers crossed that Ohio State wins. The win should put them into the BCS Championship game at the Rose Bowl. The regular Rose Bowl game will be held there also.

Michigan State could wind up there.

Fergie was leading a discussion on Obamacare or the Affordable Care Act that President Obama has championed. Fergie says that he is neither a Republican or a Democrat, but that is debatable. And that is what we were doing! As we are all aware Obamacare has had its problems in the start-up stage.However, we did not come up with any viable solution. We just had another martini!

Spike
had a surprise visit from his daughter,
Denise
. He was not aware that she was going to be there, and she was not aware that he was going to be there either. We have a picture of her on our
PHOTOS
page along with pictures from the evening taken by me, and also by the Buddmann who brought his.Thanks Bud.
We usually see a customer who resembles a celebrity. We call them
Celebrity Look-A-Likes
. We not only saw one Wed nite, but the person sat right next to
R. B.
On top of that he is the guy that we see when we are at
Legends
Sports Pub in Green
.
This guy looks more like
Lou Holtz
than Lou does. You can see the picture that we were able to take on the
PHOTOS
page.
Next Wednesday, Dec 11, we will be meeting at Legends Sports Pub & Grille in Green to see one of our fave bartenders, Tricia, who was voted Beacon's Best Bartender in their annual contest.

This page was last updated: January 2, 2014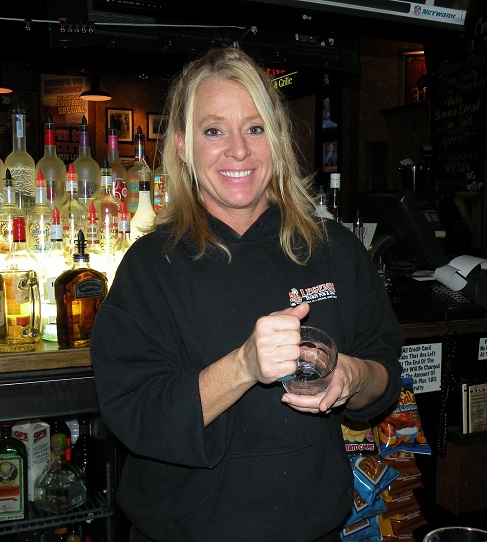 LEGENDS SPORTS PUB & GRILLE - Green - December 11, 2013

I usually start off my articles about our meetings at Legends by saying that every time we go there something unusual happens, someone different was there or we saw a Celebrity Look-A-Like. Last Wednesday nite it was "All Of The Above"! I will start slowly, and end with a Bang!

Our fave bartender, Tricia, is pictured to the left. If you don't mind me repeating myself, she was voted #1 in the Beacon's Best Bartender in the Akron Beacon Journal contest. She always treats us good. But we do pay for everything! (Joke)

We took a New Geezers picture on this nite. Two new faces were our European Geezer The Buddmann (Bud Dulin) from Germany. Also there was an "ole" friend of the Geezers, The Forester (John Dorka).

Bud was visitng for a few weeks, but he will be back next May (2014). John is an Akron native but he has lived in Columbus most of his life.

(He graduated from That Team Up North)

As I write this article I am looking out the window and all I see is snow. In fact, it has been snowing all day long. We are supposed to get snow all weekend and next week. After all it is December. However, one of our Geezers, Drumstir is in Las Vegas with his son Gary. It may be cold out there too, but there is probably no snow. If flights are canceled because of the weather Drumstir will just have to stay longer in Vegas. What a bummer!

OK, so we took care of the "new faces", now there was a Celebrity Look-A-Like except he didn't "look like" the celebrity on this nite. He is bald and looks like "
Uncle Fester
" (Monty Shriner) of the Adams Family without the hat. During the winter he has been wearing this visor with fake blonde hair on the top. We have a pic of him in the hat on our
PHOTOS
link for our visit to the Legends Logo on
November 13, 2013
along with other pictures from this nite. (Click on Legends logos)
We did see a second Look-A-Like. it was a person who
S. B.
thought looked like the Broadway and movie actor
Zero Mostel
. He was most noted for his performances in
Fiddler on the Roof
,
A Funny
Thing Happened on the Way to the Forum,
and
The Producers. (
Click on the red lick to hear.)
Most of us ate from Legend's excellent
MENU
! The Special on Wednesdays at Legends is the
1/2 Slab of Ribs at @$7.99 and Long Island Ice Tea for $2.99 5-Close. Some of the Geezers ordered the Ribs. S. B. had his usual Veggie Plate (Without Dressing). I had the Beacons Best #1 Bulldog Burger! It was Da bomb. The Buddmann (Mr Healthy) even had the ribs.

Our Entertainment Director, R.B. had the "Jerk Rub" wings. He likes the dry rub wings as I do. He had to order 10 of them so he passed them round after he had his 6. I had one. Tasted great. His nickname is R. B. which some of you know what that means, and some of you don't. But one of the Geezers started calling him "J. B."! Jerk Rub? (You got that Big Al?) 

The topic of discussion was naturally the Ohio State Buckeyes, and the Cleveland Browns. Both teams lost tough games last weekend that they could have won. The Browns were the worst because they had a 12 point lead with a little over 2 minutes on the clock to New England, but the Buckeyes just got out-played and out-coached by That Team Up North! There's always next year!

We were watching an Ohio State basketballl game on TV at the bar. They were playing a team (?) named Bryant. Ohio State had their way with them. The final score was astronomical. (86-48 OSU) 

And then, this is the BANG part! Everyone arrives between 4:30 and 5:30 on most nights. And then after a few drinks and dinner the Geezers start to leave. There were a few of us left and all of us were preparing to leave when a Fight broke out Inside near the pool tables. I mean this was a serious thing with a lot of punches thrown by big bodies. Legends has Security people in place and they were involved. But there was a strong element that kept the altercation going.

They finally got the thing calmed down and the instigators were escorted outside. However, things started happening again in front of the place Big Time!

We decided not to leave immediately. There were guys (Some security) coming back inside with blood on their shirts, and torn to pieces (One guy in tatters), and one customer with a bloody finger.

The Legends Security handled the problem and the police were called. We finally left after things settled down. When I went to my car there were about 2 or 3 Sheriff's vehicles in the parking lot with their light flashing. Problem handled. Legends security staff should be commended!

OK, it was quite a nite. We are looking forward to a more relaxing evening next Wednesday, DEC 18, when we will be at the New Winking Lizard in Montrose/Copley. It should be a fun time. Hope to see you there.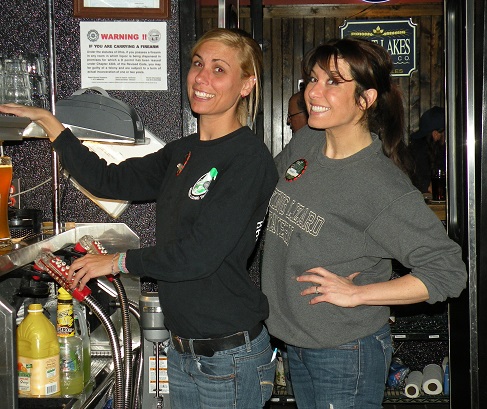 THE WINKING LIZARD - Montrose - December 18, 2013 

Our Geezers Nite Out at the Lizard turned out to be an early Christmas party considering that some of the Geezers were not in attendance.

The highlight of the evening was the big plate of Christmas cookies that our friend, Krisko brought with her.

She did that last year at the old location, and it was a big hit. This year it was almost like they were expecting it as the staff's eyes lit up as they saw the full plate on the bar.

Another mutual friend, Betty, also stopped by for a drink and some cookies.

Joebo, Drumstir, S. B., R. B., and Billy Bob were present.

Spike (Swish) is in Homosassa, Florida until March of 2014. Fergie had personal matters to attend to. The Buddmann is back in Germany, and we still don't know where the Candyman is.

The cookies were a big attraction. The staff at the Lizard were coming out of the woodwork to get some. But they were very welcome because they work hard. Trouble is,
Mandy
, on the Right above, just went on a diet. (It's not New Year's yet) She was trying her best not to eat any. I'm not sayin' anything one way or the other, but check out the pictures from that night on our
PHOTOS
page.
That is Kate to the left. As far as we know she was not on a diet. 

Since this was our last regular meeting of the Year 2013 we voted for our meeting places for January 2014. It is hard to believe that another year has passed by. We only had 5 of the regular Geezers there, and we had to vote for 4 places for January. Consequently there were "two" tie breaker votes. These votes have been tabulated and the four winners will be posted on our Schedule page in January 2014. 

We all ate from the Lizard's excellent
MENU.
We have pictures of some of the food that we ordered also on the the
PHOTOS
page. One particular item caught our attention, but none of us ordered it. It is called the
OUTRAGEOUS HOTDOG!
It is a monstrous
1 LB
Hot dog with Outrageous toppings. See it on the Photos page.
As we previously stated the Winking Lizard meeting was our last regular meeting for 2013. However, some of the Geezers will be meeting at The Grille On Waterloo (Christmas Eve Day 12/24) at 1:00 PM to share a little Christmas cheer. You are welcome to stop by and share in a Holiday Toast with us.

If not we want to wish everyone a MERRY CHRISTMAS & A HAPPY NEW YEAR!