This News is posted as it happens on one page. Page down to view the events from most current to past .


This page was last updated: December 31, 2020
THE GEEZERS ARE GETTING WITH IT!

If you ever wondered how the Geezers pick the meeting places each Wednesday during the current month it was a very complicated procedure.

Our Entertainment Director, R. B., used to make up a ballot on any kind of paper that he could find, including bar napkins the nite of the meeting on the last meeting of the current month. He would put it in play having every member who was in attendance vote from a list of Restaurant/Bars in the area that we would frequent. He would then tabulate the votes, and mark down the winners, and the dates that he picked for us to attend. He would then give the piece of paper to JoeBo to have him enter it on a formal schedule. We would do that on the last Wednesday of the month. A schedule was published each month. 

R. B. eventually got on the computer and printed out a work sheet with a listing of meeting places that we could choose from. It was a lot better than his hand drawn versions at the beginning. But we still had to vote at the last meeting of the month and if you were not there it was a case of "if you snooze you lose".

We instituted a Website back in 2005 for the sole purpose of publishing a Schedule, since we couldn't recall where we were supposed to go week to week. JoeBo is the Website Administrator, and he was suggesting for years that we vote online. R. B. and the others felt that the human touch was most indicative for our stature.

But as everyone became busier we decided to do it. There were a few glitches at the beginning, but we have been doing it since we instituted it a couple of years ago, and after a few adjustments it has been working out very well.

R. B. still counts the votes, determines the winners, and assigns the dates for us to attend. Then JoeBo adds then to a Schedule. But everyone has 3 or 4 days to vote on their own time.

Only the regular Geezers are authorized to vote, and we can't divulge how that is done.

We are now "Getting with it"!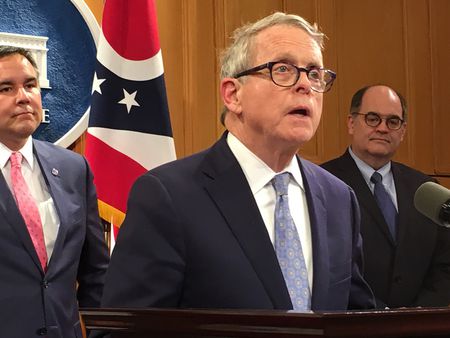 CORONAVIRUS PUTTING GNO ON HOLD

This winter has been very different in many ways that we never even imagined.

First of all, from the end of December to the end of April two regular Snowbirds, and various other Geezers make trips south to Florida.

Even though it played havoc with the Geezers Schedule, as far as who would show up for the meetings.

That we expected, and as soon as Spring came around it worked itself out. But this year that isn't going to happen due to Coronavirus.

The shocker was when a new virus, which began in China, krept up on our freedom. How it started is attributed to some of the Chinese engaging in dining on bats as a delicacy. As it happened, the bats were infected with a new strain of a virus called COVID-19 (Coronavirus). Wether this is true or not we are not sure. But we are sure that this is a nasty, nasty virus.

It quickly spread to Italy, and Spain, an eventually made it's way to the United States. The entire country of Italy is in quarantine. As more people contracted the virus, including Tom Hanks, and his wife, more and more restrictions were put on us. Panic spread, and people raided supermarkets for paper products, and toilet paper.

One of the symptoms of the virus is Diarrhea. Testing has begun. Also Drive-by testing in Cleveland. 

It has began to be mandatory to avoid contact with large crowds, wash your hands, and take your temperature, while not touching your face. A fever is one of the symptoms.

Sunday, March 15, Ohio Governor Mike DeWine mandated that all bars, and restaurants be closed to observe the health saving suggestion of no close contact with crowds. The restaurants may take To Go orders, and alcohol can be purchased at stores.

Sporting events at this time of year have been canceled. That includes the biggies Major League Baseball, The NBA, College Mark Madness, and the PGA.

Also, since the Geezers meet at different restaurant/bars every Wednesday, the Governor's decree puts a hold on our group functions which are now a no-no. 

As I said in the beginning we expected some interruptions in our normal routine during the winter months, but nothing like this. We will miss the comradery, and getting out of the house, but this is a serious matter. It has become a Pandemic.

Please follow the guidelines set fourth by our doctors & and nurses. And take care of yourselves.

We will be looking forward to the day when we can meet again.

(Check our Facebook page @Geezers Nite Out for any updates.)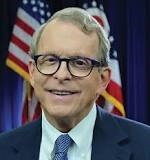 GOVERNOR MICHAEL DEWINE'S PLAN TO OPEN OH

On Monday April 27, Governor Dewine announced his plan to cautiously reopen Ohio for business.

It was not exactly good news for the Geezers as restaurants dine-in service was not authorized for resumption, and bars also will remain closed except for carry out. As you know our weekly meetings, that have been postponed during the stay at home order, take place at those venues. Friday May 1 will begin the procedure that will gradually take place.

MAY 1  Medical procedures, and surgeries halted under a March 17 order can proceed on if medically     justified do not require overnight stays. Also dental offices, and veterinarian clinics are allowed                 to reopen.

MAY 4 General offices, distribution centers, manufacturers, and construction companies. 

MAY 12  Retail stores, consumer, and service businesses will be permitted.

Hands on services such as barbershops, hair and nail salons, tattoo parlors, massage therapy                 must remain closed.

Dewine did not make wearing a mask in public mandatory, but they are required for all workers and customers at all times in confined places including in stores, and work places.

There are several articles on Google that will explain this further.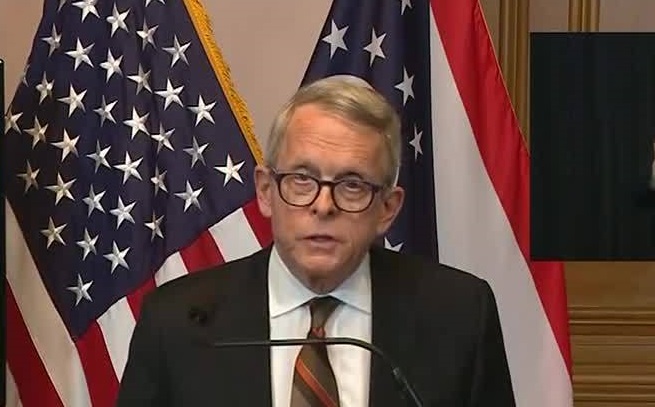 GOVERNOR DEWINE MAKES PLEA TO OHIOANS AS 'OUR WAY OF LIFE IN OH IS IN DANGER'

On Wednesday, July 16, Governor Dewine held a late afternoon news conference making a plea to everyone in Ohio to help slow the spread of Coronavirus.

His speech came after canceling his schedule Tuesday conference which created specuation that the governor was using this opportunity to issue new orders.

But that didn't happen.

Instead, his speech was directed at concerns of Ohio's increasing cases of COVID-19, which included a plea for everybody to wear a mask while in public. He also took a moment to compare Ohio's numbers to

Florida's current situation, warning that action must be taken to avoid a similar outcome.

Several fellow constituants thought that his speech was too week, and was more like a 'pep talk'!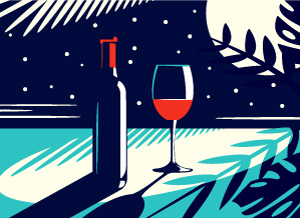 DEWINE SAYS NO WINE AFTER IT'S TIME

Ohio Governor Michael DeWine signed a mandate on Friday, July 31st, for bars, and restaurants to have "Last Call" for alcohol at 10:00 pm in an attempt to stop the spread of Coronavirus in the state.

Ohio's Liquor Control Commission voted unanimously to end bar and restaurant alcohol sales at 10:00. The governor's executive order to take effect immediately.

Under the order, drink sales must stop at 10:00 pm with all drinks being consumed by 11:00 pm.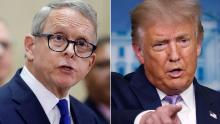 Ohio Governor Michael DeWine in line to meet President Trump at the airport in Clevend tested positive for COVID -19. Trump is in town to tour the Whirlpool Plant and for a fundraiser.

Governor DeWine says he feels fine. Just to ad solice to the fact that people can have the Virus and not know it!.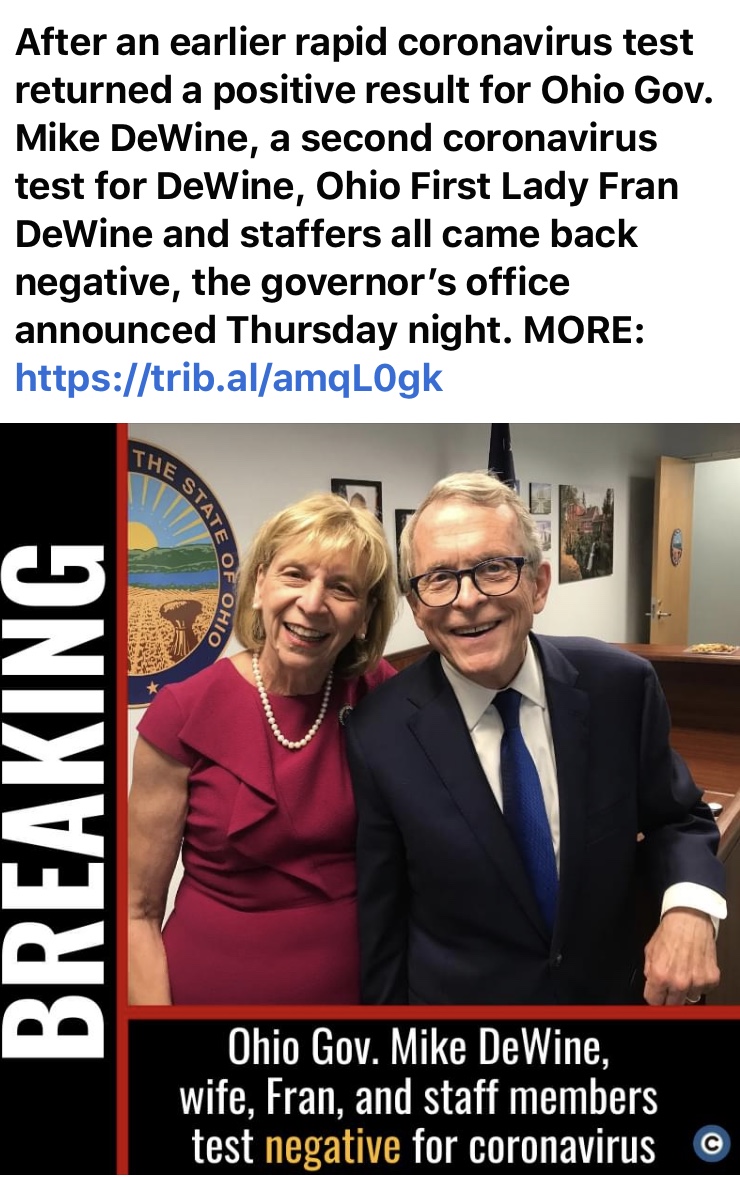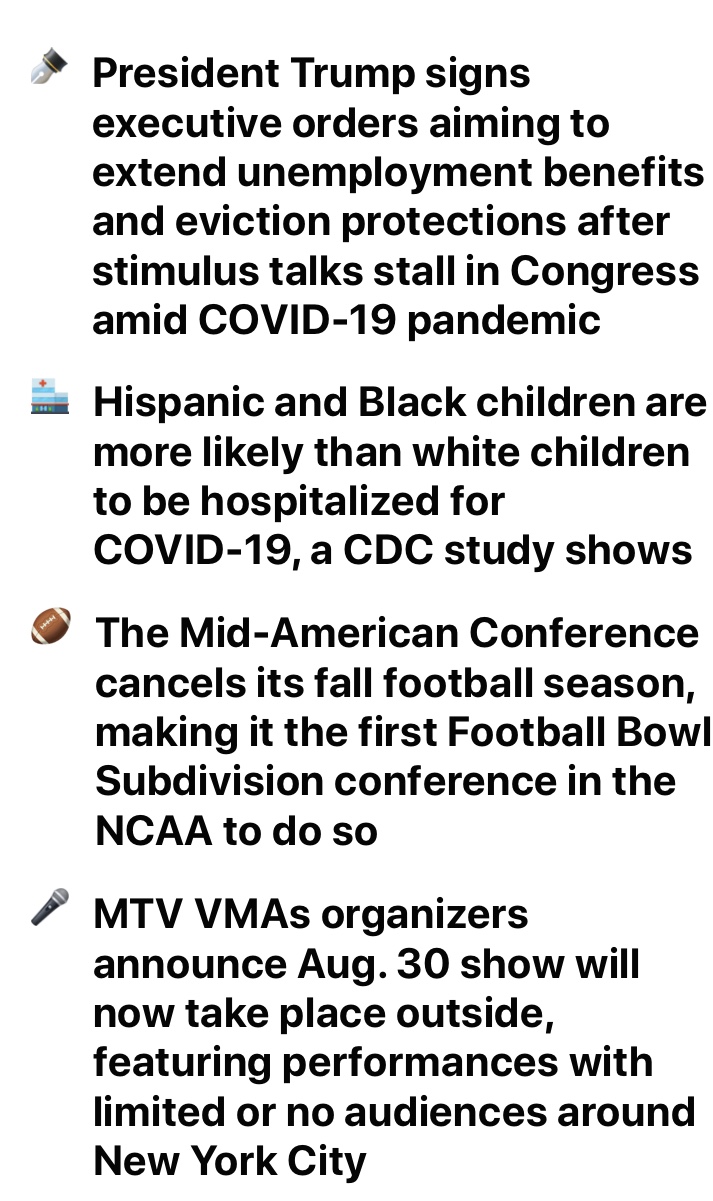 COVID-19 UPDATE August 8, 2020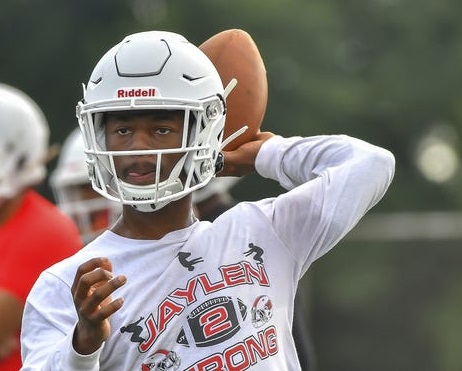 GOV DEWINE ALLOWS FALL SPORTS  .

Ohio Governor Michael DeWine during a news conference on August 18, has allowed  both contact and non-contact sports to move forward, but they could look quite different.

"It's not going to be your typical Friday night football in Ohio,' DeWine said. "But the young people are going to get to play."

Some changes include:

.

Spectators will be limited to a small number of people close to the athlete. marching band member or other participants. Schools will determine who will be allowed to attend.

Local health department, and Ohio Athletic Association officials will have site inspectors at contests to ensure social distancing and other health regulations are followed.

Teams and leagues can delay sports to the spring.

Students won't need to be tested to participate in sports. DeWine said he anticipated most schools wouldn't have the resources to regularly test their athletes.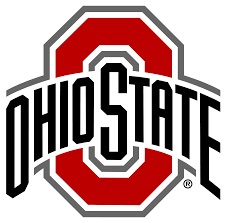 BIG TEN FOOTBALL IS COMING BACK

The Conference announced last Wednesday,  September 16, that football will resune this fall, declaring a unanimous vote and a plan to play eight regular-season games in eight weeks beginning October 23-24.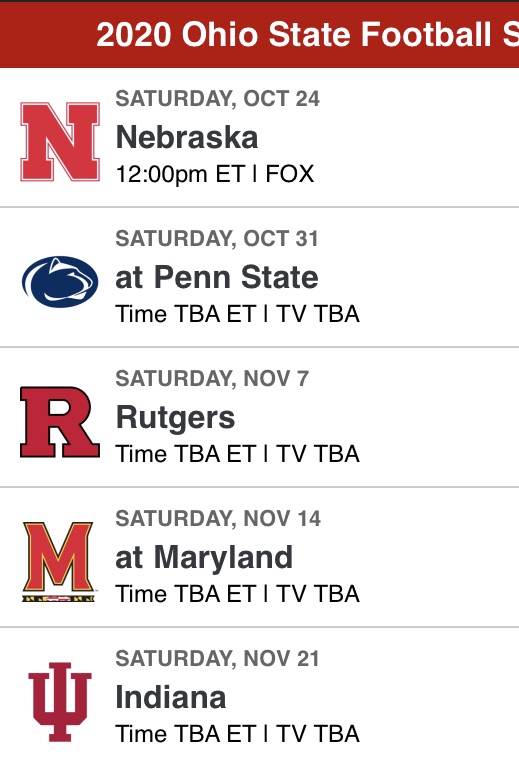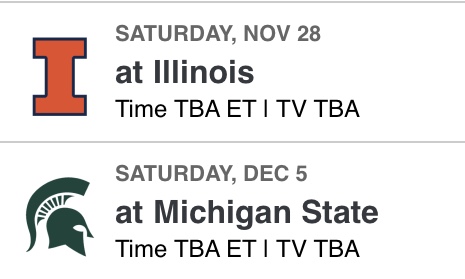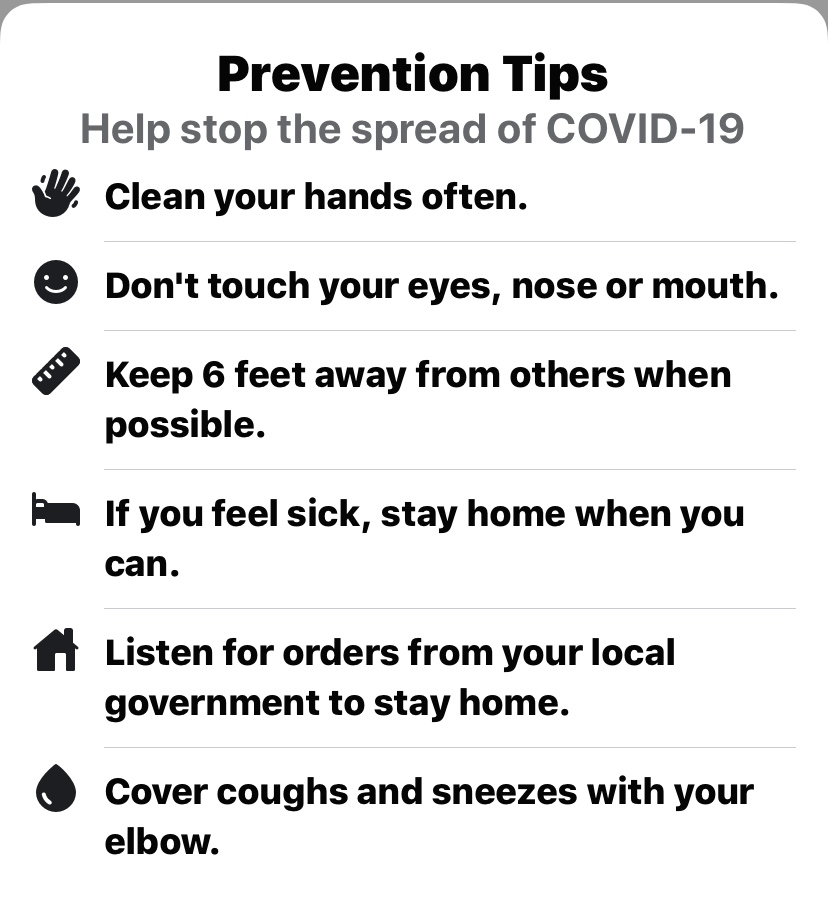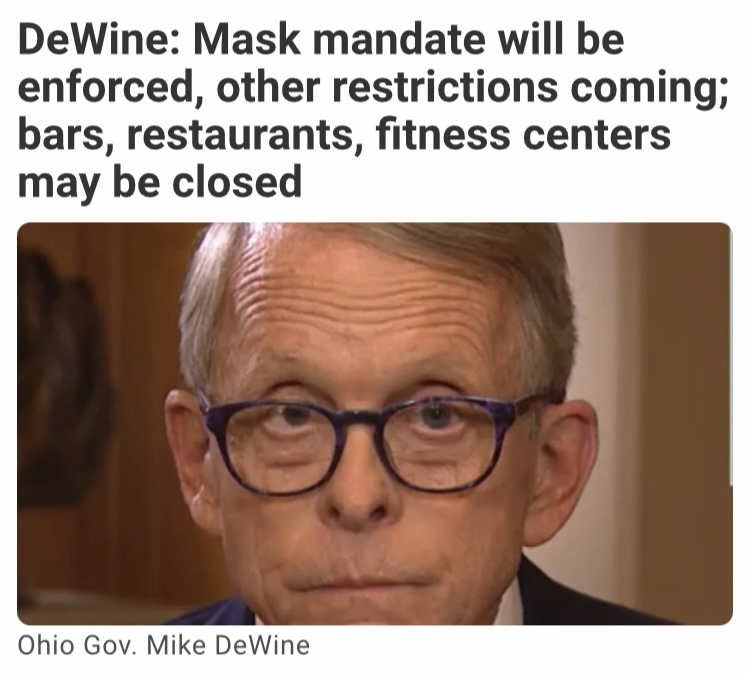 MASK MANDATE

The Caronavirus is out of control in Ohio. New cases are increasing every day this week. On October 21 there were 2,366 cases They were going up every day.

There were 7,101 cases on 11/12. It was then that Governor DeWine issued a Mask Mandate saying that it will be enforced.

Masks must be worn inside businesses, and outside if social distancing cannot be attained.

If this mandate isn't adhered to by everyone in the state, there will be no other recourse but to shut down restaurants, bars and fitness centers. .

The Ohio State game with Maryland scheduled for this Saturday, November 14, 2020 has been CANCELED due to several Maryland players testing positive for COVID-19. It will not be made up!

STAY-AT-HOME & TRAVEL ADVISORIES PLUS A CURFEW

With COVID-19 cases rising at an alarming rate each day, and the Thanksgiving holiday quickly approaching, Summit County has issued a stay-at-home advisory through DEC 16..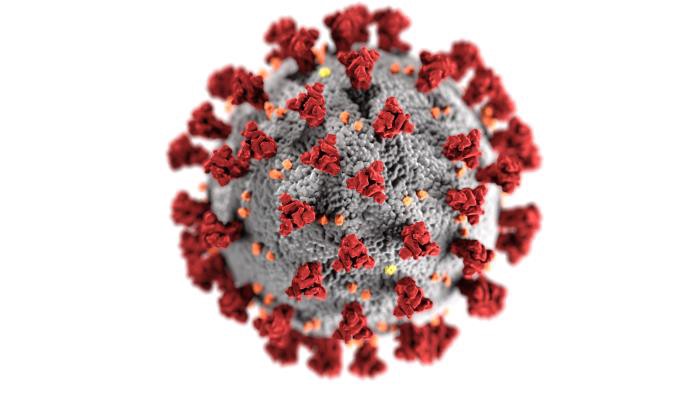 "Residents should only leave home to go to work or school, or the essential needs, such as seeking medical care, going to the grocery store or pharmacy, picking up food or receiving deliveries."

On top of that there has been a curfew issued by the Governor for everyone from 10:00 PM until 5:00 AM during the stay-at-home time.

Also a travel advisory has been put in effect. We will expound on this in greater detail as we have the info available.

The advisory urges "all residents to stay at home to the greatest extent possible due to the risk of COVID-19 cases and hospitalizations in the county."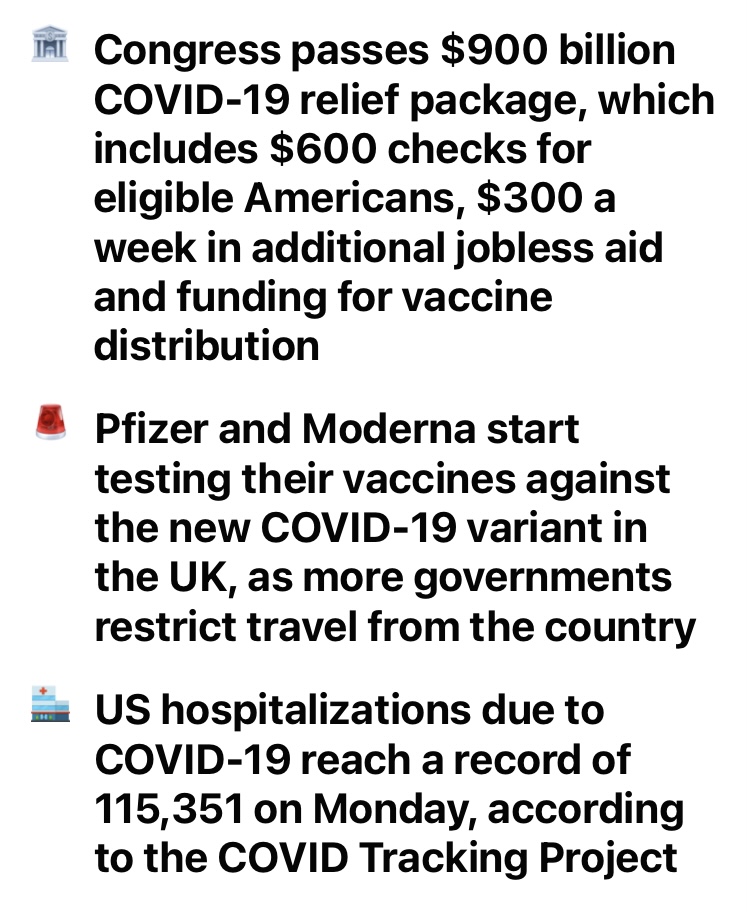 COVID-19 UPDATE  12/22/20


OHIO STATE BIG TEN CHAMPS HEAD FOR CFP GAME

The Ohio State Buckeyes, against all odds, end up winning the Big Ten Championship, and head to the College Football Playofs against Clemson in the Sugar Bowl on Friday on January 1, 2021 at 8:00 PM. The #1 rated team Alabama will play Notre Dame in the Rose Bowl whish been move to AT&T Stadium in Texas.

To win the Big Ten the Buckeyes had to beat up and coming Nothrwestern in the Championship game. They didn't play that well in the first half but came back strong to win 22-10 on the running of college transfer gaining 331 yaards. He transferred from Oklahoma of all teams. The 331 yards was the most rushing yardsin any conferencechampionship game in FBS history. It broke Ohio State's single game record previously held by 1995 Heisman Trophy winner Eddie George.

One reson for the Buckeyes slow start in the game is that Justin Fields was playing a spraigned thumb, but he should be ready for the Clemson game on January 1.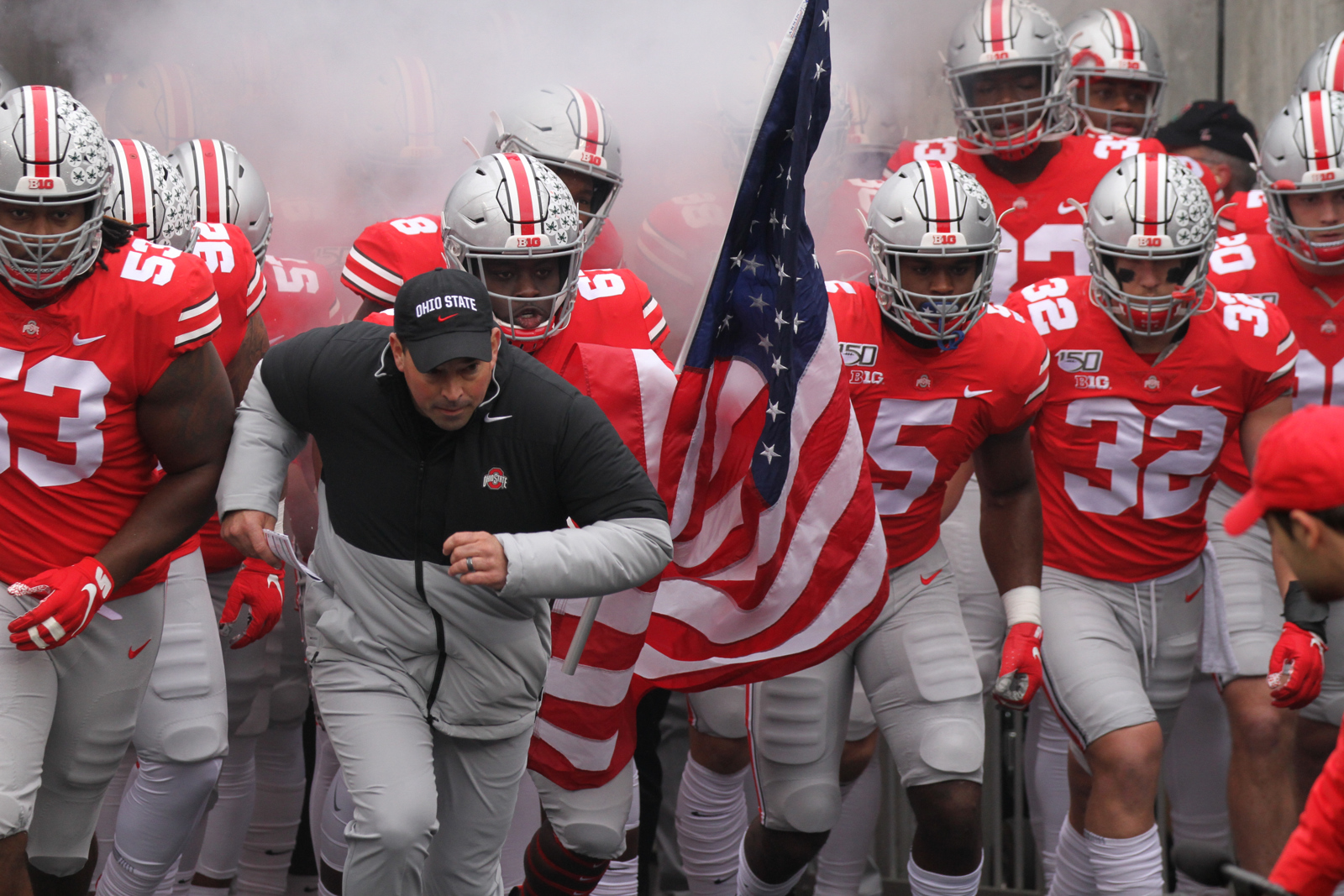 Ohio State had to fight COVID-19, the Big Ten school presidents, and a ridiculouse 6 game minium to get to the Big Ten Championship game.

Once they did that they had to be selected by the CFP Committee to be able to play in the playoffs.

They have done all of that, but now they have to beat Clemson in the Sugar Bowl game on Jan 1, 2021 to get to the Championship game on Jan 11. .