This News is posted as it happens on one page. Page down to view the events from most current to past .


This page was last updated: December 21, 2018
Entertaiment Director R. B.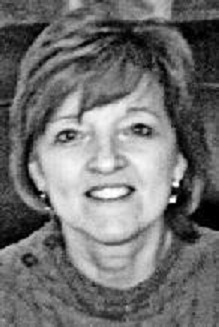 We are very sad to report that the wife of Geezer Gary Dannemiller, Brenda, passed away unexpedtedly on Thursday, January 11, 2018.  There was an obituary in the Akron Beacon Journal on Sunday January 14, 2018.

It is also availabe online.

As you probably have read in the previous newsletters Brenda went into the hospital shortly after returning from the fateful Dominican Republic trip. Her husband Gary had to remain in the country to care for a friend who suufered a heart attack.

Brenda had successful open heart surgery on December 4, and was released from the hospital on December 9, 2017. May she Rest In Peace.

Geezers Nite Out - The Firehouse - Tallmadge Circle

January did not start out as a very good month for the beginning of the year 2018 for some of the Geezers..

But on January 24 most of the Geezers were back at it with the exception of Fergie, whos is a Snowbird in Florida, and Drumstir, who travels a lot with his wife..

Joebo was at his first GNO (Geezers Nite Out) in four weeks. He was down witha bad case of Bronchitis. R. B. was there, and it seemed like he was doing pretty well after the loss of his wife Brenda.

We also had a visit by our part time Geezer, The Jerry (Jerry's Corner). He stopped by after returning from the Cleveland Clinic. (Cleveland Location) He isn't able to come every week since he is in his never ending pursuit of the Queen of Hearts every Wednesday.

Go to our
PHOTOS
page to see a few pics from the nite.   
Geezers Nite Out - Johnny J's - Springfield

Since we meet every Wednesday there are times when we don't have a very large turnout. And then there are times when we are surprised by who shows up. This was one of the latter.

The surprise was another one of our part time Geezers, The Candyman (Verg Gipson), and his wife, Mary Ann. They have been at JJ's before together, but during the warmer months they stay at their condo on Catawba Island up north at the Big Lake. They live down south in Clinton.

The Geezers all have nicknames/initials, and we call Verg the Candyman. The reason is that he along with Mary Ann used to own a candy store called the Blossom Shop Candy, I believe. Verg also worked at Goodyear as most of the Geezers did.

JJ's is a popular stop on our schedule. First off on Wednesdays they offer Free Fries to any customers sitting at the bar. Of course you have to ask for them. Also on Wednesdays Appetizers are at a Special Price. And last but not least they have a variety of 10 or 12 different kinds of Martinis at $3.50 each.

JJ's also has an excellent Menu to chose from, and during Lent All You Can Eat Fish on Fridays.

Go to our
PHOTOS
page to see pics from this nite.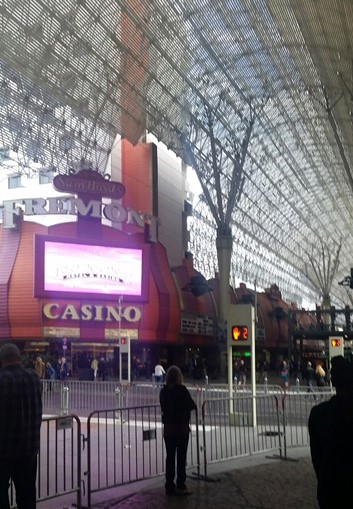 DRUMSTIR SHOCKED AT DT VEGAS.

One of our own, Drumstir (Denny Edwards), was in Las Vegas the week of February 11, with his wife Cindy. He texted me from Chicago last Sunday telling me that they didn't know if they could get a seat on the plane to Vegas. Cindy is retired from United Airlines, and she gets discounted seats for her and Drumstir only.

Last Wednesday or Thursday I texted him to see if he made it OK. He said that he did, but he was very disappointed in the downtown casinos. Downtown was a very exciting place to be with Live Entertainment in bands, and a spectacular Visual Light Display on a metal roof positioned over Fremont St. It was one of the attractions that everyone just had to see when they went to Vegas called the Fremont Street Experience. .

Well, I was  informed by Denny that, in his words, "Went downtown today. Really run down. Never again."   

However, it did look like they did some gambling while they were down there. This looks like a very big win, but I believe it was on one of the Penny machines.

CLICK ON PICS BELOW TO ENLARGE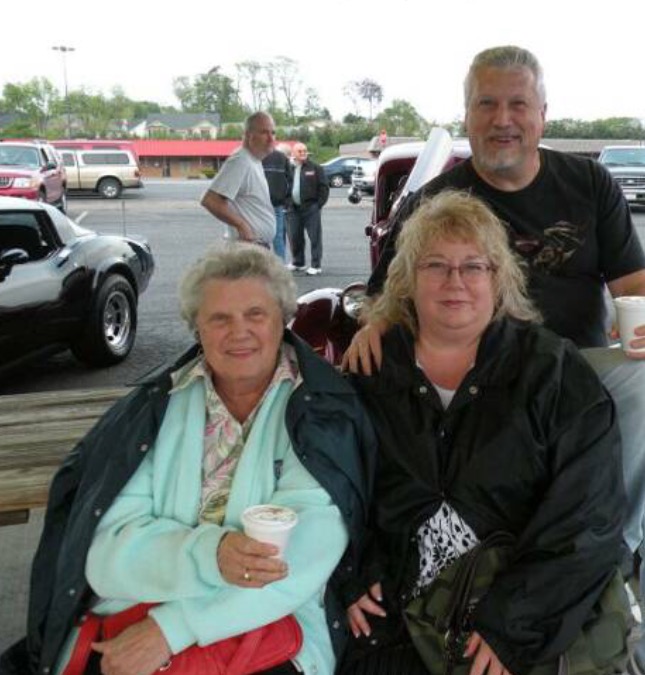 We are sorry to report that the Mother of Bob Swisher, Mary Seglem, passed away on Tuesday night, March 13, 2018 at the hospital.

Mary was 91 years old, and she didn't want any calling hours since most of the people that she knew are all gone.

Mary had been living with Bob, and his wife Kathy for over 11 years after she left New Mexico. Bob said that it would have been 12 years in June. He reqiested no cards or donations.

If you would like to get in touch with Bob or Kathy send an email to
Geezersniteout@aol.com
and we will forward it to them.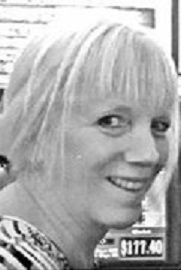 JULIANN BARBARA (DORKA) STROUP

The sister of one of the Geezers, John Dorka, (The Forester), Juliann Stroup, passed away March 26, 2018, after a short illness. There was an obituary in the Akron Beacon Journal on Sunday, April 1, 2018.

She was 64 years old.

John also lost his brother, Chuk Dorka, back on March 3, 2016.

There was no mention of calling hours or a funeral in the obituary.

We want to extend our deepest sympathy to John, and the rest of his family.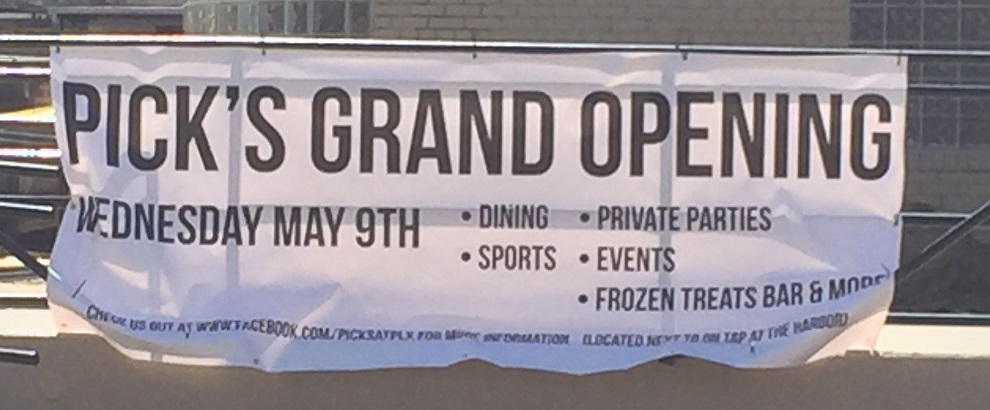 ATTENTION: THIS IS WHERE THE GEEZERS WILL BE ON WED, APRIL 9, 2018

There was a rumor going around that someone was going to open a new club on Portage Lakes that was formerly occupied by Hook Line & Drinkers and a few other businesses.

Well it is no longer a rumor. I Have been driving by the building every Sunday for the last few weeks, and I haven't seen any indication that the rumor was true. However, Sunday, April 8, I saw this sign. So it must be true!

If you are not familiar with the area it is near the old Harbor Inn West of the Clock Tower.

This is not a new name. There is a business operating under the name of Picks Boat House on 

578 Catalina Dr, Akron 44319. We have no idea of the connection between these two at the moment.

But we do know on May 9th Pick's At PLX will be open, and The Geezers plan on being there.

Check them out on Facebook at PICKSATPLX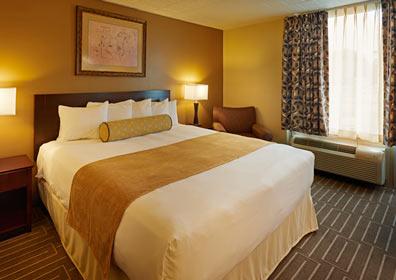 Earlier in March three of  the Geezers R. B., Spike, and Joebo planned to take a gambling trip around April 13 to celebrate if, and when two of them, each made it through serious meetings with their doctors. R. B. had successfull surgery, and Joebo received some good results from his blood tests. 

Once the all-clear was sounded they made plans to head down to West Virginia on Thursday April 12 since R. B. had a free room coming from previous visits..

We decided on Mountaineer Casino & Racetrack because of the free room which could only be used on a Thursday.  We all met at Spike's house since he lives in Ellet, and we were going to be using the expressway heading East. Mountianeer is in Cumberland, West Virginia. We took I-76 to OH-11,

(To make a long story short) We got there close to 2:00, and went inside to gamble before we checked into our room. (Check in time was 4:00 PM)  We set a time, and place, and agreed to meet later at that time.

Later we met back at the Main Bar, and after sharing our sad stories of how much we lost (so far) we went to the hotel desk after retrieving our overnight bags and checked in. We were in the Tower (They said) Room 4034. At the time it didn't mean anything. (At the time)

R.B., Spike, and Joebo then went back to the casino, and gambled for a short time longer. The amazing thing was about the weather that it was 78 degrees in West Virginia on April 12. So we ended up out on the patio to enjoy the sun, and take a break.

From there R. B. and Joebo went to the buffet (That was operating as a restaurant because of it being a week day). Spike went to Big Al's Delicatessen.

We separated again and went out on the floor for another round of gambling. Eventually we all ended up in the room. After so long we were sound asleep. Except for Joebo, and R. B. Joebo was fighting his esophagus, and R. B. was fighting his roll-a-way bed. We had two queen size beds, and a roll-a-way. Spike was wearing his sleep apnea machine, and Joebo had his usual ear plugs. We all finally fell asleep.

And then what this article is all about: We entered the Twilight Zone

Everything went wacky. R. B. was over at my bed pulling on my covers. He then went over to Spike, and I think he was yelling at him. I took out my ear plugs, and I heard this loud screeching sound with a light flashing. R. B. was yelling something like: "There's smoke.....Come on...we gotta get outta here..." Joebo then asked: "Do you have a key?" R. B. eventually found a key and we were out of the room.

Remember our room number? (4043) So we had to run down four flights of stairs. Joebo was in bare feet, a tee shirt, and gym shorts. R. B. put on a T-shirt, slacks, and shoes. Spike had a T-shirt, slacks, and shoes.

There were all kinds of people in the hall wearing all kinds of different outfits. I wish I would have grabbed my phone to snap pictures. It looked like a Walmart after 9:00 PM. We frantically proceeded down to the first floor step by step. From the hallway we could see people in the casino gambling, It was

                    5:22 AM!  

Then it came. Like a skit from Saturday Night Live, Someone was talking thru a microphone that sounded like they were holding their hand over their mouth. " Ladies and Gentlemen......This has been a False Alarm. this has been a False Alarm" Ahhh......there it was......what President Trump would have called a FAKE ALARM!

R. B. , and Joebo had just fallen asleep, and this happens. However, they did go back to the room, and went back to sleep. Spike stayed down in the casino.

Check out time, Friday April 13 was........Wait a minute. Friday the 13th. No wonder!

We visited the casino for a short time after checking out, and drove carefully back to Ohio.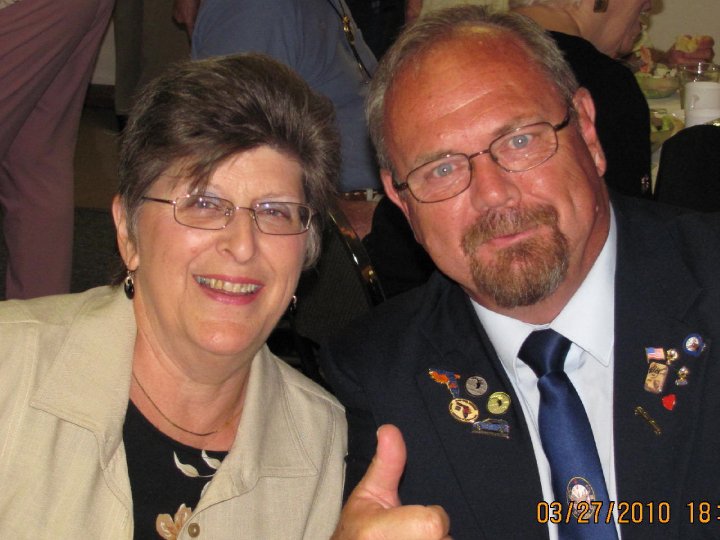 Jim Fish, one of The Geezers, and his wife Karen formerly lived in Akron, Ohio. They moved to Florida almost a decade ago.

Recently Karen began to feel some discomfort under her rib cage. She saw a couple of doctors, and after a few X-rays they decided to perform surgery on her Pancreas removing part of it for a

biopsy.

She has been in a hospital for two weeks since last Friday, April 27.

Jim has been with her the whole time except for one day when he went back to Homosassa to get more money, and check the mail. What he found in the mail was a card that most of the Geezers signed at our last meeting, and mailed to her home. She liked that. It was a funny card.

Karen was in surgery for 7 1/2 hours so she is a little weak, and has been having nausea at night. Jim called me a couple of days ago, and said that he took her for a walk earlier in the day. The doctors believe that if everything goes well this weekend that she will be able to go home Monday, April 30..

We will keep you posted.

GOOD LUCK, and GET WELL SOON KAREN!

It's about time! Pick's was supposed to open on May 9th, and The Geezers were going to be there. However, they had to fix a couple of things before that could happen.

They are on Facebook at Pick's at PLX. However, we have not seen an Opening Date there.

Fergie said he saw in the Akron Beacon Journal that Pick's new Opening Date is Monday, May 21. The Geezers are scheduled to be be there on Wednesday May 30,

We figure that they should be open by then "dag dabbit"!

Next Wednesday, May 23, we will be at The Galaxy in Wadsworth for the opening of the Patio Party with Live Music and food & drink at the bar, and tables outside on the patio.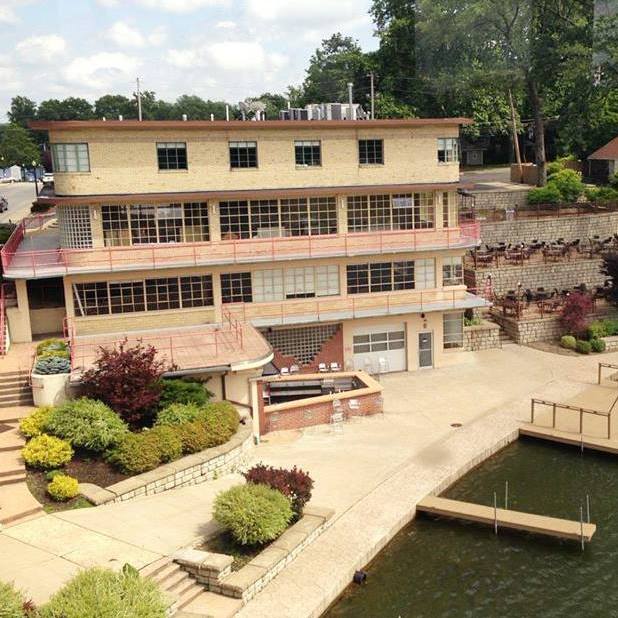 Pick's Bar Restaurant is finally open, and the Geezers fianlly went there Wednesday night, May 30th. We went to one of the patio bars in the middle of the terraces outside.

They have another patio bar out on the bottom patio near the water. There is a bar there, but no bar stools. There are tables and chairs for customers to drink, and eat .

The restaurant inside is upscale with plenty of tables and chairs for diners with a bar, but they do not have draft beer.

The place is not 100% ready. There is going to be a sports bar on the middle level, but it is not open yet.

We didn't really care for the patio bar that we were at outside. When you sit at it your back is to the lake.

We will probably be back when the place is completely finished. Check it out for yourself.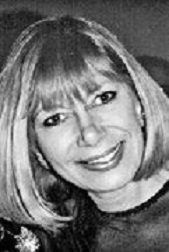 We are very sorry to report that the wife of one of our own, and a good friend, of Gary Sutherland, passed away on Friday June 1, 2018 after a long illness..

Paula Sutherland was a Goodyear Associate with most of the Geezers, and a good friend along with Gary.

There is an obituary in the Akron Beacon Journal Sunday; June 3, 2018 It also can be accessed on the Internet at www.legacy.com.

It is very interesting, and informative about Paula's outstanding life.

Cremation has taken place, but there will be a visitaion for family and friends held at Hummel Funeral Home 3475 Copley Rd June 8, 2018 from 4 to 7 pm..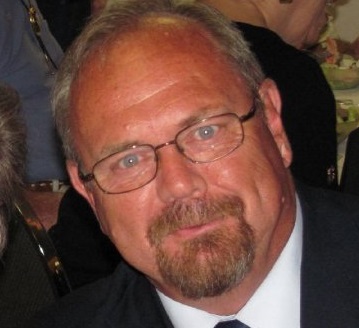 HAPPY BIRTHDAY "JIMBO" FISH

WHAT A GUY! Jim Fish is our current Geezer resident Floridan!

Fergie is a Snow Bird for about 5 months a year, and Spike

(Swish) owns land with a trailer on it, and has been been a Swobird in the past.

The Geezers make an annual trip to Florida every year to get together, but we don't see Jimbo that often.

I sent him a birthday card around May 28 with a few Ohio Instant Lottery tickets in it. Five tickets worth $10.

He called me over the weekend to tell me that he won $25. His wife Karen recently had serious surgery so he could use the money.

However, Jimbo will have none of that. He told me that he doesnt get the chance that often to buy any of the Geezers a drink  by living in Florida. So, is going to send the winning tickets back to me, and wants me to cash them in. Then he wants me to take the cash to a Geezers Nite Out, and buy the Geezers a round of drinks.

WHAT A GUY!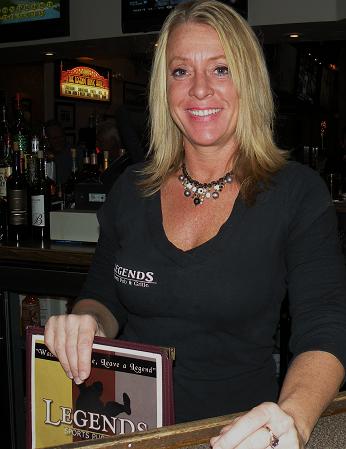 Yes, Tricia, who was a bartender forever at at Legends Sports Pub in Green decided to return there after a short stint at the new Pick's Restaurant & Bar on Portage Lakes.

She told me: "It just wasn't working out for me at picks."

The Geezers scheduled a visit to Pick's on their Grand Opening on May 30. Tricia was there working at the middle patio bar. But she worked the day shift so we didn't get to tak to her for very long. 

She also worked inside the restaurant bar, which by the way does not serve draft beer.

It just seemed to me that she never knew which bar she was going to be working at as she would post it on Facebook that day. .

She was excited about going to Pick's, but if things arem't comfortable for you, the best thing to do is get away from it, the sooner the better!. WELCOME BACK TRICIA!! 


We will be revamping the Geezers Nite Out website. Some of the older pictures and articles will not be available after February of 2019. As you can imagine the file on Homestead.com, the website provider, since 2005, involves a lot of pictures and pages of files which are costly to maintain, and seldom viewed.

For the last few years we have established a Geezers Nite Out Facebook page. To access it go to your Facebook page and Search for Geezers Nite Out. When you get to the page Like it, and you will receive any pages that we publish.

However, we will be keeping the website active on a limited basis. We will be keeping the Schedule Page, The Birthday listing, of course the HOME page, and a limited Newsletter. We will have 7 pages to work with so we can also publish some pictures as space allows.

Also we will be voting Online for our meeting places for future months. That will also necessitate using a page.

So look through the website and if there are any pictures that you want to save print them out.

Keep checking back on the Newsletter for any further updates.      

We have received a reprieve from Homestead.com, our website provider.

I called them and told them that I was going to cut down on the volume and price of Geezers Nite Out.

At first they advised me that there was beginner package that we could change to that would reduce the number of pages that we would have available to us. They were talking about 7 to 15 pages for less than $100 a year.

Then the programmer that I was talking to put me on hold. When he came back on the line he made me an offer that I couldn't refuse. They gave us a discount that reduces the annual charge by almost $100. So I took it. Therefore, everything will remain the same for another year starting in February. But we will also be posting on our page on Facebook. So check there also!

Another important fact I was told is that there is a way to "back up" the site to my computer.  This I was unaware of, and will enable us to save pictures, and articles that became sentimental.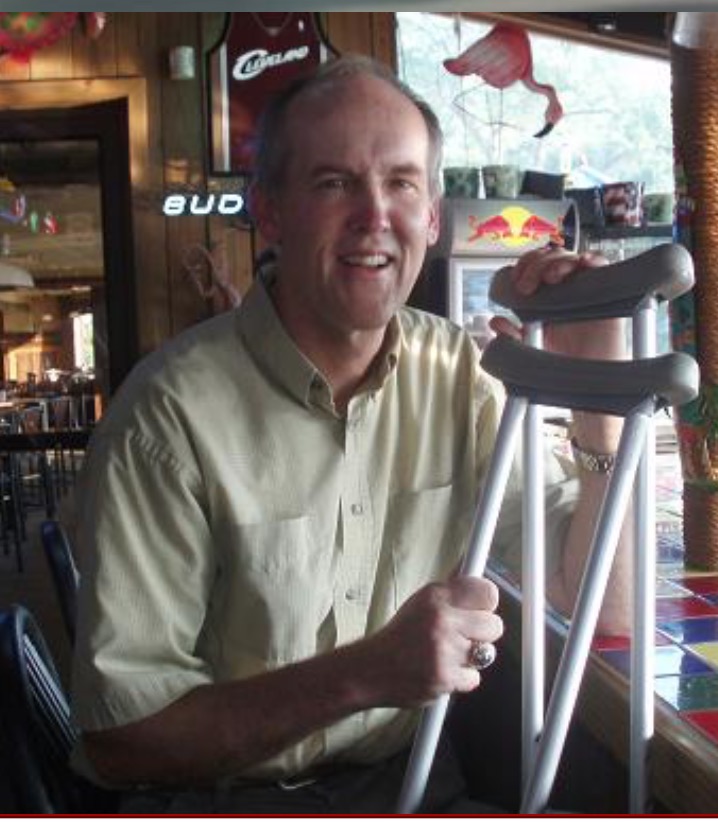 We are sorry to report that our good friend, and fellow Goodyear associate to many, Randy Carlson, passed away on Wednesday December 19, 2018.

We do not have any other information at this time, but we suggest  checking
Ohio.com
for a possible obituary.
Randy was an avid bowler and golfer. Many of the Geezers have either bowled or golfed with him. 

Check back here or on our Facebook page for more info.