This is a monthly Newsletter. Page down to view the news and events as they happened.


This page was last updated: February 4, 2018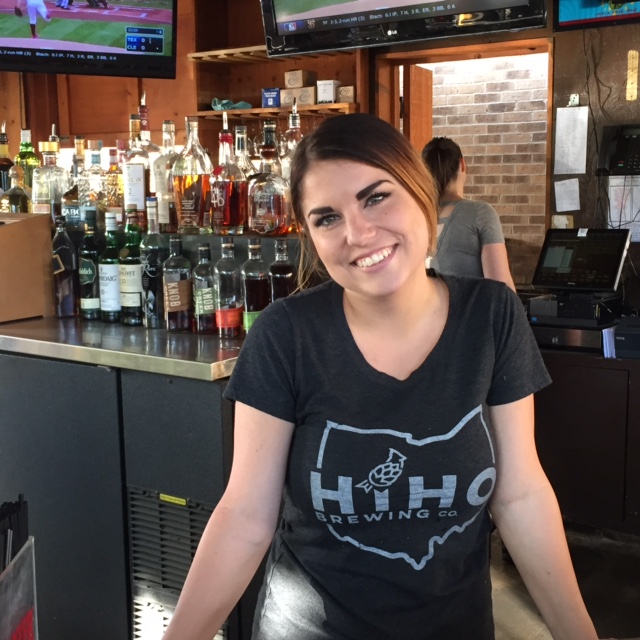 Geezers Nite Out last Wednesday was held at

the Galaxy for their Patio Party on the last Wednesday of June, the 28th.

From the first Wednesday that the Geezers showed up on a out on the Patio, it has either rained or there was a threat of rain.

But on this nite it was almost perfect  without a hint of precipitation.

It was also voting nite for the meeting places to go to the following month which was
July
. There are times when we have a tie in the voting, and we have to vote again. This time was unusual because we tied a second time, and we had to vote a 3rd time on where NOT to go. The vote is in, and is posted on the
SCHEDULE
Page.
There is
Live Music
at the Galaxy out on the patio on Wednesdays. On this Wednesday they had a very good band called
Electric Mud
. There were only three of them in the band, but they put out a great sound. Go to our
MEDIA
page to hear a short video clip of their sound.
We will be posting pictures from this event shortly, but in the meantime LIKE our Geezers Nite Out page on Facebook.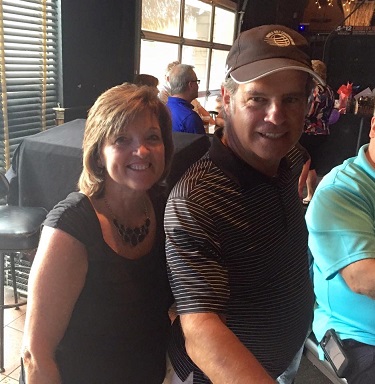 You Can't Make This Stuff Up!

Pictured to the left are Brenda and Gary Dannemiller at Gary's retirement party from Goodyear that was held at Legends Sports Pub in Green on June 5, 2016. Little did they know at the time what was ahead of them in 2017. .

A few weeks ago Gary, Brenda, another couple, Jim, and Judy, and a friend of theirs, Al Zurawsky, embarked on a vacation to the Dominican Republic. Al's wife, Joanne,  passed away in July of last year so he asked Gary and the others if they wanted to go on this trip courtesy of Al. It sounded interesting so they agreed to go.   

Most of what I am going to tell you from here on out was related to me by Gary.

Things were going great for the first few days. Then during dinner on Thursday November 16, Al suffered a massive heart attack. The resort called an ambulance, and Al, along with Gary, was taken to a hospital. The others went back to their rooms, but later returned to the States.

In the meantime Al was admitted to Intensive Care. Gary was having a problem communicating with the doctors, and the nurses for him. Most of them spoke Spanish, and little English.

Gary was  staying at the same resort during all of this that the group stayed at when they first arrived in the Dominican when not at the hospital. He worked out a deal with them to stay in the same room. However, that was $140 a night. He traveled back and fourth to the hospital by taxi for $60 day.

When Brenda, Jim, and Judy returned to the States, Judy fell ill, and she was admitted to the hospital. Later on it was discovered that she contracted Typhoid Fever. I believe she is out of the hospital and doing fine.

Then Brenda Brenda was having trouble breathing, and she also was admitted into the hospital.

She was trying to wait for Gary, but he was stuck in the Dominican.

Note: While the group was out of the country they all experienced diarrhea, Gary believes, after eating hamburgers at a beach grille.

Gary, and Al were in the Dominican thru Thanksgiving. Gary had Thanksgiving dinner at the hospital. But finally they were given the chance to return to the US, However, nothing about this trip was normal so their exit from abroad was also different. They were flown to Ft. Lauderdale on a Air Ambulance which turned out to be be a small Learjet. They were worried that there wouldn't be enough room for Gary, but he made it back with Al. They transported them both from the tarmac to a hospital in Florida.

Note: A day or two before the return flight on the Laerjet to Florida, Gary was experiencing some discomfort with his Gout condition. He ran out of his medication, and it got to the point where he couldn't walk. So when they got to the hospital they were wheeling Al around on a hospital bed, and Gary in a wheel chair. He got more meds and is now doing fine.

So Al was in the hospital, and Gary had to find a room at a hotel during the Thanksgiving weekend which wasn't easy. A travel agent found him a room..

At the Florida hospital they performed a Heart Catheterization, and inserted a Stent. Gary said that the hospital in the Dominican did a heck of a job saving Al's life, and stabilizing him so that they could return to the U S. 

About now, Gary said he just wanted to get back home. So he booked himself, and Al on a flight back to Ohio. Al was paying for the flight so they flew back First Class. However, there was a moment when the doctor at the Florida hospital was not sure he could release Al in time for them to make there flight. But Gary said the hospital staff bent over backwards to get them to the airport on time. They made it back last Saturday (11/25) around 9:30 in the evening. I am not sure which airport.

However, the story is not over. Sadly when Gary was able to make it to the hospital he found out that Brenda was going to need open heart surgery. Evidently she has a valve that is leaking. It wasn't a life or death situation at the time, but something that needed to be done. So Brenda was released from the hospital the evening of November 29. She had to return for the surgery the morning of December 4nth. We heard from Gary the afternoon of the 4th, and he said that Brenda did good, and the surgery was successful. She will remain in the hospital for about a week.

We are glad that the surgery is and want to wish Brenda a Speedy Recovery.

Gary is now doing fine, but he is going to have his hands full until Brenda is completely recovered.

Note: Another anecdote to this unbelievable story is that Gary did not take his iPhone with him on this trip due to the fact the he was going out of the country. So he had to use Al's phone, and that he did......A Lot!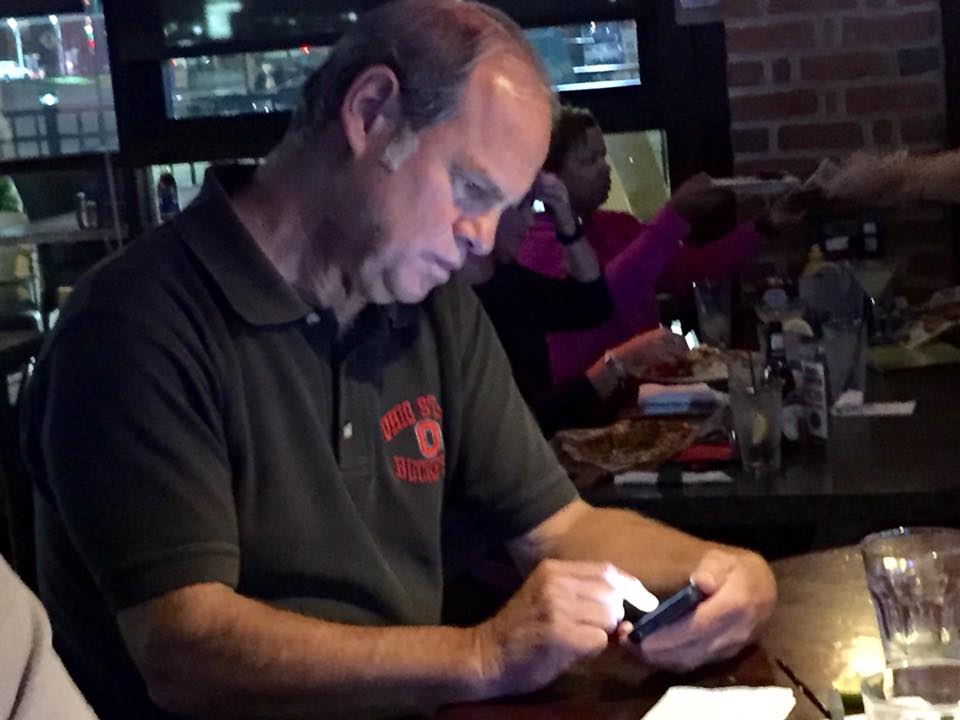 GOOD NEWS ON BRENDA DANNEMILLER

I received a text from Gary Dannemiller this afternoon indicating that his his wife Brenda was going to be  released trom the hospital today (12/9/17) after having open heart surgery at General Hospital just Monday morning December 4th. She was progressing so well that they had no other choice, but to release her. They must have needed the bed. I was with Gary last night (12/8)after he left the hospital around 6:30 after getting there at 9:00 o'clock in the morning.

They were thinking about releasing Brenda the day before, but there were some issues that kept that from happening.

Gary did tell me that Al, who had the heart attack in the Dominican Republic, is also doing well. In fact Brenda texted Gary while we were together, to say that Al was ironically visiting Brenda at the hospital.

Gary also said that Judy, one of the travelers to the Dominican who came down with Typhoid Fever when she returned to the states, was also doing well. In fact she took over some of the babysitting duties for Gary, and Brenda's grandkids.

As bad as the situation looked a few weeks ago everything is working out in a way that the people involved in The Trip will be able to enjoy the holidays. 

Gary is going to have his hands full for awhile taking care of Brenda, but he is relieved to know that she will be at home.