This is a Monthly Newsletter. Articles, Accounts, and Descriptions are all listed on one page for the Current Month. Page Down to see all of the News as it happens.

This page was last updated: August 31, 2013
We have just recently received news from Florida that our "resident" Geezer, "Jimbo" Fish in Homosassa has been named the Elk of The Month for the Third Time.

The club is Lodge #2693 located on 7890 W. Grover Cleveland Blvd not far from Jimbo's residence on Green Acres St around the block.

This is not the first award for Mr. Fish. Besides being a third-time Elk of The Month he was also picked as the Geezers Nite Out only male
Bartender of The Month for 2007
when we were giving those awards out.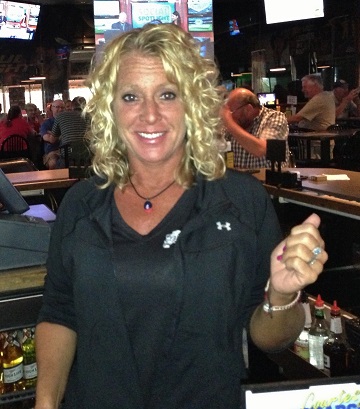 LEGENDS SPORTS PUB & GRILLE - Green - July 3, 2013

The first Wednesday meeting in July was held at Legends, and as true to form it was another unusual night there.

The temperature at 5:54 PM was 82 degrees with 60% humidity, and Heat Index of 84.5 degrees. It was a cloudy day with forecasts for rain.

Rain has been in the forecast for much of the summer as most of you know. We finally did get rain Wednesday nite, and chances are it came from out west as in Kansas City.

That is where one of our Geezers,
Drumstir
, was with his wife
Cindy
. Cindy had an excuse. She is a flight attendant for
United Airlines
. She had a flight to Kansas City so Drumstir went along with her to see the
Cleveland Indians
play a game. There was a 2 hour 35 minute rain delay, but they did play the game albeit a 12 minute stoppage for a few banks of lights going out. There are some pictures that Drumstir sent from his cell phone before it died on our
PHOTOS
link.   
Pictured above is one of our fave bartenders at Legends, Tricia. She had no idea what was in store for her on this evening. One of the Geezers, our Entertainment Director, R. B.,  was out in the parking lot dressing up as a Biker before he came inside.

R. B. was down in Hilton Head, S. C. a few weeks ago on a family & friends vacation. While there he and another one of the vacationers, Big Al, decided to play a trick on another one of the attendees. I don't know the whole story, but R. B. and Big Al showed up out of the blue with bandanas, white T-Shirts with the sleeves rolled up, and sun glasses to have a picture taken. You had to be there!

R. B. likes to tease Tricia in anyway that he can possibly think of. Since we were going to Legends he decided to bring out the outfit to get a laugh from Tricia. A picture of him at Legends is also on the
PHOTOS
link.  
We did not have any celebrity-sightings this week, but there was a guy sitting at the bar who closely resembled Billy Bob, one of the Geezers. This guy could have been mistaken for his brother. He was a little older, but we had to look twice since Billy Bob was not there yet, and we had been there for quite sometime. He did show up though at 7:27 PM.

Legends has a new draft beer that they have introduced. It is Hoppin' Frog Red Scotch Ale. S. B. was first to try it. And then R. B.  also gave it a try. It was "O.K.", but it was also $7 a glass. And it was in a type of glass that usually contains cognac.

Before the Red Scotch Ale I tried Fathead Headhunter IPA. S. B. usually drinks an IPA when we go to the New Winking Lizard in Montrose. This was one beer that I absolutely could not drink! It tasted like "tree bark"! So I asked Tricia to pour it into new glass, and I had her give it to S. B. He did reciprocate before he left.

It did finally rain that night, and it was raining just about everywhere on the east side of the country including Kansas City where Drumstir was trying to escape the weather. We still don't know if he did see the game or not, but it was played. Very Late!

Wednesday, July 10, we will be at The Galaxy Patio for their Party on the Patio. The weather forecast is not the best, but this show must go on. Performing this week is the nationally known band the Colin Dussault's Blues Project. These guys are fantastic, and they play about 360 days a year. A friend of mine, and fellow Geezer, Crazy Richie, resides in Savannah Georgia, on Tybee island. If you can find one of Dussault's schedules you will see that they play on that island during the winter. (Colin Dussault's staff will provide schedules at the event.) Let's keep our fingers crossed.

My apologies to "Big Al" for the late publication of this Newsletter from Wednesday, July 3. Blame July 4th!

THE GRILLE ON WATERLOO - Waterloo Rd - So Akron, OH - July 10, 2013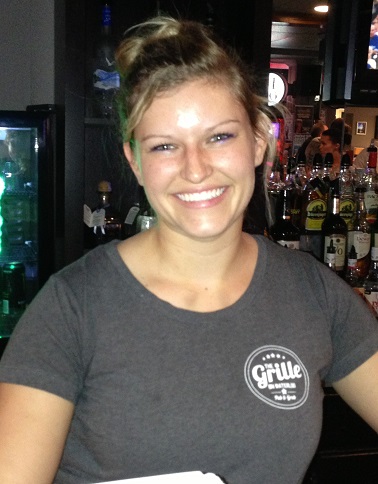 As most of you know in the Akron, Barberton, and surrounding areas, there was a devastating storm last Wednesday, July 10. There was very heavy rain which caused flash flooding.

We were scheduled to meet at The Galaxy in Wadsworth, but as the day wore on it became rather obvious that it wasn't going to happen. The sky was dark, it was raining, windy, and there was a threat of  tornados in the area.

It didn't need to be said. I got in touch with R. B., S.B., and Spike on a foursome Text. (Don't say it!) There were texts popping up from someone every few minutes. We agreed to go somewhere close by if we were going to go anywhere.

I also received a call from Fergie who wanted to check with me before he did anything. It was mutually agreed upon that he was not going to venture outside.

He later called me and told me that a tree branch had fallen on his roof, and that there were tornado warnings in my area.

In the meantime there was texting going on.

To make matters worse for me was that my electric went out! I received one weather warning on my iPhone, but I did not have access to a TV or radio. I relayed this in a text to the others. I was using the Flashlight App on my iPhone for light. (No batteries in my regular flashlight) Of course it was draining the battery on my phone. S. B. (Dougie) said that it was all the more reason for me to leave. So I grabbed my charger for the iPhone, fed the cat, and headed out the door for The Grille on Waterloo Rd where three of us decided to meet via text. Spike declined to leave his house.

What I didn't realize was that all of the main intersections that one would use to get to The Grille were flooded. I could have walked to The Grille from where I was in about 15 minutes, but it ended up taking me over and hour and a half to get there. Dougie attempted to drive from the intersection of Arlington & Waterloo, but it was flooded under the expressway bridge blocking the road. He gave up and headed home.

I ended up having to get on I277 to the Kenmore leg, to I76, exiting on the Innerbelt to Main St. And from S. Main St with the help of R. B. on the cell phone guiding me thru theback streets to get to Brown St. and then The Grille. R. B. made it there from his Dad's house which is close by.

I received a text from Drumstir, and he was asking about the flooding. But he had no intention of going out, and Billy Bob was trying to make his way home from work to Wadswoth.

So it was just R. B. and Me (Joebo) at The Grille. At one point I didn't know if I could even get back home as they were closing roads behind and in front of me.

Above is a picture of Nikki, who was our bartender at The Grille. I was not surprised  that It wasn't very crowded  because the road (Waterloo) was flooded very near the restaurant. Most of the people who were there could not get home.  I was not sure if my electric was back on or not so I charged my cell phone while I was there.

R. B. and I stayed long enough that by the time I returned home the water had subsided from most of the roads, and our parking lot (which was totally underwater). Also the electric was back on. However, I did get something To Go (to eat) at The Grille in case the electric was not on.

I was very fortunate that my condo was one of the lucky ones who's condo was not flooded. My heart goes out to my neighbors, some of who lost personal items, furniture, cars, flooring, rugs, washing machines, clothes dryers, water tanks, and maybe even furnaces. There are more people in the area with similar or worse conditions. It was a very tragic and expensive storm.

Next Wednesday, July 17, (God willing) we will be meeting at The Winking Lizard in Montrose at the new location. (Check Schedule)  

If you come, bring a friend. Drumstir and Fergie are leaving for a week to Florida to Fergie's condo in Clearwater to take care of a few matters. Spike is having visitors from out-of-town (Dougie), and the Candyman has been at his condo on Catawba Island as soon as the ice on the Big Lake melted in the spring.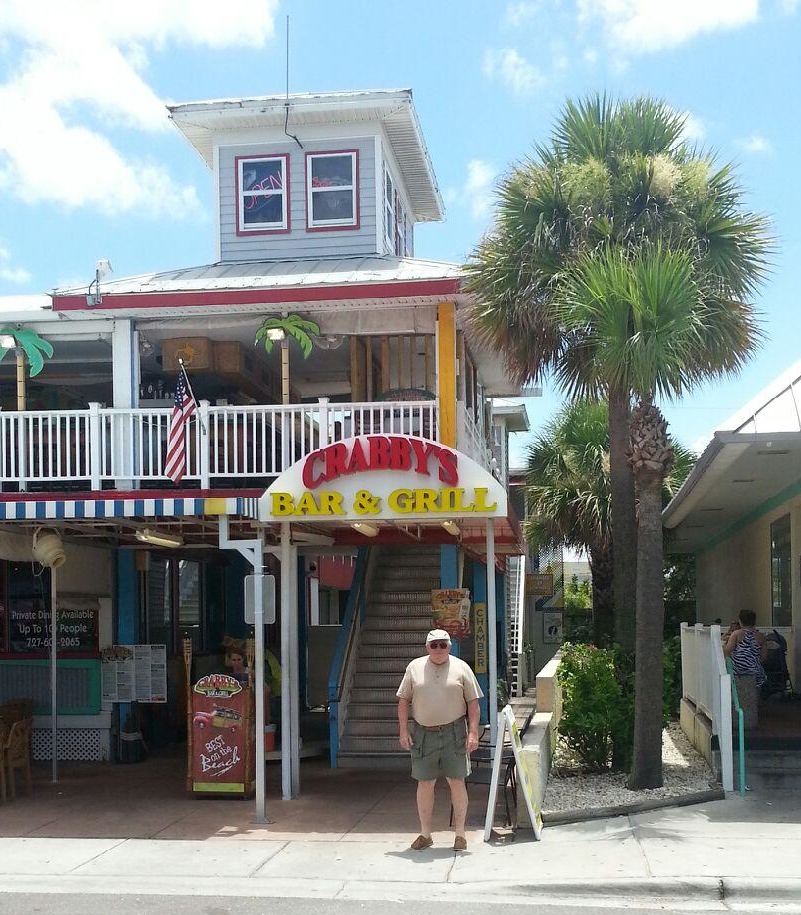 Having wonderful time in Clearwater, Florida. Wish you were here.....Please...ANYBODY!

Drumstir & Fergie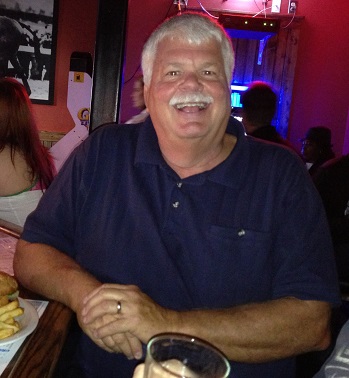 THE WINKING LIZARD - Montrose/Copley - July 17, 2013

It was a hot one at The Lizard last Wednesday nite for our Geezers Nite Out! At 4:54 PM it was 90 degrees with the Heat Index at 96.4. The humidity wasn't too bad at 54%. And.....we were out at the patio bar.

It turned out to be a special nite, as our Meeshigan Geezer, "Big Daddy" Dan Minier made an appearance. He was in town as a consultant for Goodyear.

He had also made a stop back on June 5th at the Lizard when it was his actual birthday.

We were going to also celebrate Fergie's B-Day which was on 6/8 on that day.

However, he was there early, and I was late so some of us missed him. So this Wednesday we celebrated it...Again!

I have been buying him a drink called a Mudlside for years on his special day. It is a very "expensive" drink. At first he declined the offer, but then ordered one. My (Joebo) treat.  

I also went out and bought a musical card for the big guy, and one of those "no win" $10 Instant Ohio Lottery tickets. I usually give my friends lottery tickets with their cards, and most of them never usually win. But this time there was "one winner" on his card. It was a star that revealed a $10 winner. S. B. (Dougie) also bought him a draft beer.

When he was here on June 5, Spike bought also bought him a beer, and he neglected to pay his dinner bill in his haste to get down to Columbus to have cake and ice cream with his wife and kids. The group took care of it for his B-Day..

So the last two times that Big Daddy was here for Geezers Nite Out at The Lizard, he received 2 free brews, one free Mudslide, one Carolina Pulled Pork sandwich, a birthday card, and a winning $10 ticket. Only this time he did pay for his meal. But that was it!

In his defense we have to admit that back on April 17, 2013 when he was here for the Lizard's Grand Opening, he did buy a round for all of the Geezers who were here. So I guess we are even?  

Two of our Geezers who were missing for this meeting Drumstir, and Fergie are in Clearwater, Florida at Fergie's condo as of the writing of this article. We have been receiving texts from Drumstir and a few pictures from his smart phone. One of the pictures that they sent, taken at Crabby's on Clearwater Beach, can be seen below on a postcard. They will be back on Monday, July 23rd.

Spike also missed the meeting. He had company from out of town! And the Candyman is still up at his condo on Catawba island on the Big Lake! 

One of our bartenders for the evening, Mandy, was working both the patio and inside bars. When Big Daddy came to the Opening Day on April 17, he bet her that if she could remember his nickname (Big Daddy) the next time he came in he would give her $5.

The last time he was there (6/5) on his B-Day she guessed it close enough that he paid off. When she saw he was there Wednesday, she leaned out the swinging doors between bars, and said "Big Daddy". He said that was right, but it only works "one time". But he told her that he would give her another $5 if she could guess his real First name. She blurted out: "Bill!". He said "wrong", but he did leave her a $2 tip after she came back out again and said "Dan" correctly. She put it in the tip jar. Fun and games at the Lizard.

Next Wednesday, July 24, we will be at Hacker's Bar & Grill on Swartz Rd for Rockin' On The Range unless we have another bad storm. They never announce who the band will be, but there will be A band, and they have great food for $8 a plate.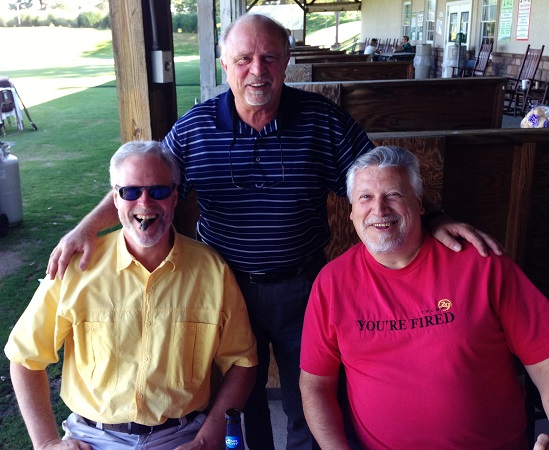 HACKERS BAR & GRILL - Rockin On The Range - July 25, 2013

The Geezers Nite Out at Hackers was somewhat of a Homecoming. As we said before we started the Geezers meetings there. So we are familiar with the surroundings and the people working there.

Also, two of my cousins, former or current part time employees at
Firestone Public Golf
Course
, were there.. Pictured above is one of my cousins,
Rick
(In the middle) with
S. B.
(Dougie) on the left, and
Spike
(Swish). My other cousin,
Andy
(His brother) was also there. I have a picture of him on our
PHOTOS
page along with other pictures from the evening.
The difference between when we used to hold our Geezers meetings every Wednesday from way back when to now, is that the meetings at Hackers now are out on the Range with a band and on Thursday nights. (The last Rockin On The Range this summer will be this Friday, August 2, during the Bridgestone Invitational, July 31-August 4.)

The band on this Wednesday was
Everyday America
. They were a
Sugarland
Tribute band with a very talented female lead singer.  
Fergie and Drumstir recently returned form an 8 day trip down to Fergie's condo in Clearwater, Florida. The discussion for a large part of the evening centered around that adventure.  

We also did see  fellow associate from Goodyear, Debbie Schultz. Most of the Geezers are or were employed by Goodyear at one time. Most of us know her. It was good to see her. She was sitting at the table next to us with a group of friends. There are also pictures of them on the PHOTOS page.

S. B. saw a Celebrity Look-A-Like who he thought resembled Sara Jessica Parker.

As of the writing of this article the Geezers are meeting at The Galaxy in Wadsworth, However Spike, and I (Joebo) are not there due to the fact that we are packing for an early flight to Las Vegas Thrusday morning. I am going to my sister Cathy's wedding at the Wynn Hotel Casino, and Spike is going along with me.

Therefore there will not be a Newsletter or Pictures next week covering July 31..

The voting for meeting places for August is being held tonight, and the results will be published as soon as they are available to me.