This is a Monthly Newsletter. Page Down to View each Article as it appears in the order that it Happened for the Current Month.

THE "NEW" WINKING LIZARD - MONTROSE - June 5, 2013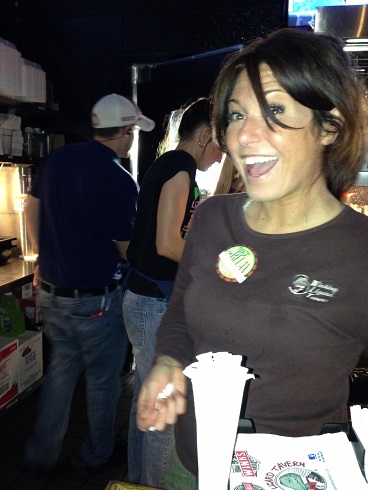 Our Geezers Nite Out on Wednesday, June 5, at the Lizard was supposed to be a birthday celebration for two of our Geezers. But due to unusual circumstances it didn't happen the way we planned it. And part of the reason is that we really didn't plan it.

First of all, pictured to the left is one of the bartenders, Mandy, who was working the inside bar. We were seated at the outside Patio Bar. Except we all weren't seated.

OK, let's start at the beginning. The Birthday Boys were "Big Daddy" Dan Minier (6/5), and Fergie (6/8).

The problem was that none of the Geezers who were there before me, knew about Big D's Big Day! I arrived late as I was busy moving, and unbeknownst to them, no one else knew it but me.

By the time I got there, Big D drank a beer, purchased by Spike, and he had eaten a Carolina Pulled Pork sandwich.

However, he was in such a hurry to leave for Columbus to celebrate with his family, that he forgot to take care of his bill.

Once I told the rest of the Geezers that it was Big D's B-Day, and being the nice guys that we are, we all chipped in, and paid it for him. And if that wasn't bad enough he told some of the Geezers that I (Joebo) should by myself a "Mudslide" and drink it since I was going to buy him one when I saw him there. I didn't, but he told me in an email later on that he will let me know when he is in town next and he will "let" me buy him the drink then.

HAPPY BIRTHDAY BIG GUY!

And then there was Fergie. We have a practice of buying each other cards for B-Days with Instant Lottery Tickets in them. We have sort of discontinued the practice, and now it is up to the individual.

I bought Fergie a card with a $10 Instant inside, and R. B. did the same. The result was "0" winnings! And boy did we hear it from Fergie! He was especially critical of R. B. because he bought the tickets at a "different" place than where he usually does..And Fergie had good luck with those tickets in the past.

On top of everything else, out of the kindness of my heart, I had bought an extra $10 Instant ticket for Big D. Since he left before I got there, we let Fergie scrape off that ticket hoping to win enough to pay Big D's tab. No such luck!

Now, the reason that Mandy received Top Billing on the bartender pic above is because the last time the Big Guy was there we were inside, and Mandy waited on him. Being the humorist that he is, Big D told her that if she could remember his name the next time he came in, he would give her $5. She was made aware that we called him Big Daddy.

That was back on April 17 which was the Grand Opening of the Winking Lizard and Lizardville. Even though Mandy was working inside she did manage to talk to Big D on this nite ( I was told), and she guessed his name so (Close Enough) that he had to pay-off! But that was the only thing that he paid.

But since it was his B-Day we were glad to do it as on April 17 he did pay for our bar bill before he left that day. Touche!

The temperature at the Lizard on
June 5
was clear and
77
degrees around 6:00 PM.  Today,
June7
, it is cloudy and
61
degrees as of the writing of this article. I think we are in for a different summer this year than back in 2012. It was very crowded outdoors, and we all did not originally find seats at the patio bar. The pictures of Mandy you will see on our
PHOTOS
link are those that I took when I went to the inside bar to sit for awhile. Later on we all had seats out at the patio bar.
Next Wednesday, June 12, we will be back at one of our fave meeting places, Legends Sports Pub in Green to see one of our fave bartenders,Tricia!

This page was last updated: June 29, 2013
LEGENDS SPORTS PUB & GRILLE - Green - June 12, 2013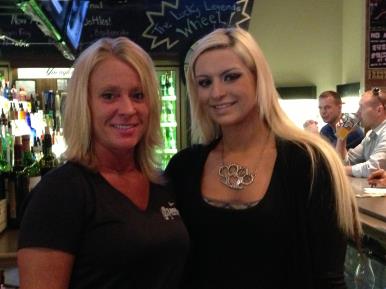 All day leading up to this meeting at Legends the weather forecasters were predicting that a major storm was heading our way.

A couple of months ago, on April 10 to be exact, at Legends a storm did hit the area shutting down the Direct TV's in the place. However, on this day it never happened while we we there. But during the night a nasty monsoon hit the area causing some flooding, downed trees, and loss of power. For some reason Wednesdays seem to draw bad weather. Or is it the Geezers?

To the left are our bartenders Tricia (L) and Rachelle.

. 

We go way back to
2005
with Tricia, but Rachelle is new to us. At least to me. They both were very attentive to our needs and helped make our evening enjoyable. Go to our
PHOTOS
link to see other pictures from the evening.
We usually see a celebrity look-a-like each week, but Wednesday night we saw someone who resembled an old childhood friend of min, Jim Bob, from Tennessee. We discovered this guy in one of the pictures that we took during the evening. Check it out Jim Bob on our Photos page for this night.

The subject of conversation ranged from Spike's back that he injured playing golf last Sunday (6/9), the NBA championship Series, and cry baby LeBron James, to the shocking explanation by actor Michael Douglas on why he developed throat cancer, and Drumstir's trip to Boise, Idaho for his granddaughter's graduation. You know, the usual Geezers chatter!

We usually relate to you the Specials at Legends during the day that we meet there, but in reality every Wednesday they feature $2.99 Long Island Iced Tea (5 - Close), 1/2 Slab of Barbecued Ribs for $8.99with a side for only $1.99.

I tried something different this week. Legends interjected a new mini menu inside of the standard selections. I was in the mood for pizza for some reason, but it is not on the menu. They have the next best thing though. It's called Barbequed Chicken Flat Bread. It was very good for a change. Try it. There is a picture of it on the Photos page.

Next Wednesday, June 19, we will be back to The Galaxy out on The Patio in Wadsworth.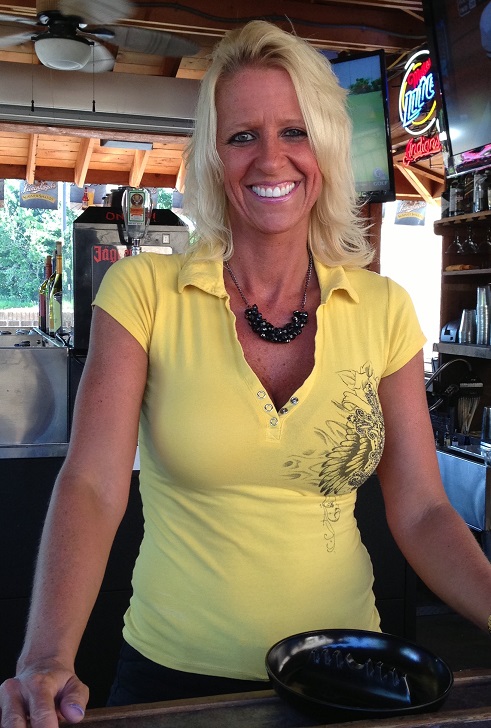 THE GALAXY - Patio Party - Wadsworth - June 19, 2013

We had a rare treat Wednesday nite at The Galaxy for Geezers Nite Out. Darla, pictured to the left, was one of the bartenders working behind the bar.

A few years ago she was there every Wednesday nite with a bevy of lovelies.

Darla is the only one left (Of that group) after Shauna left last year.

She normally works on Thursday nights and various other days and nights out on the Patio bar during the summer months. Do you think Darla was there because she knew that the Geezers were going to be there? NAH! Just a coincidence. 

Of course Jesse, and Theresa were also there with Darla Wednesday and we go way back with them also.

Then there was Mike, Manager/Bartender, who also joined the ladies out at the Patio Bar on Wednesdays. He also left last year after Shauna.

We are glad to be at The Galaxy out on The Patio whoever is working. But we fondly remember the bartenders of the past. You can see some of them by going to our
BARTENDERS
link on the HOME page.
The weather was perfect for a change. At 5:53 PM it was clear, and 74 degrees. The humidity was only 40% with the wind at 4.6 MPH.

The great thing at the Patio bar is that we can smoke are "stinky" cigars out there. It is in the open air. There are only about three of us who smoke them. Me (Joebo), Spike, and S. B.

We usually bring our own or buy them at the bar. They sell them there.

However, this time I brought some cigars that were given to me by sister
Cathy's
fiance,
Peter
. They were very good cigars. You can see a pic of us smoking them on our
PHOTOS
page.
The construction on RT 224 south is just atrocious. After the RT 21 exit (Heading South) the speed limit is 45 MPH. And if you bear left instead of right at a fork in the highway you will miss the Wadsworth exit for RT 94 that you need to take for The Galaxy. Drumstir lives in Canal Fulton and he had trouble getting there as his life-blood is Manchester Rd which is also under construction. Yes, there are two seasons in Ohio. Winter and Construction.

Next Wednesday, June 26, there will be a Schedule Change. We were scheduled to go to On Tap at The Harbor, but our Entertainment Director, R. B., has changed it to Thursday, June 27. Hacker's Restaurant started their Rockin on The Range parties with live bands last week, June 19.

They are only around for a few weeks. So to take advantage them now we have decided to go to Hacker's.

R. B. consulted with everyone one who was at The Galaxy Wednesday, and all were in favor.

The change will be posted on the
SCHEDULE
page.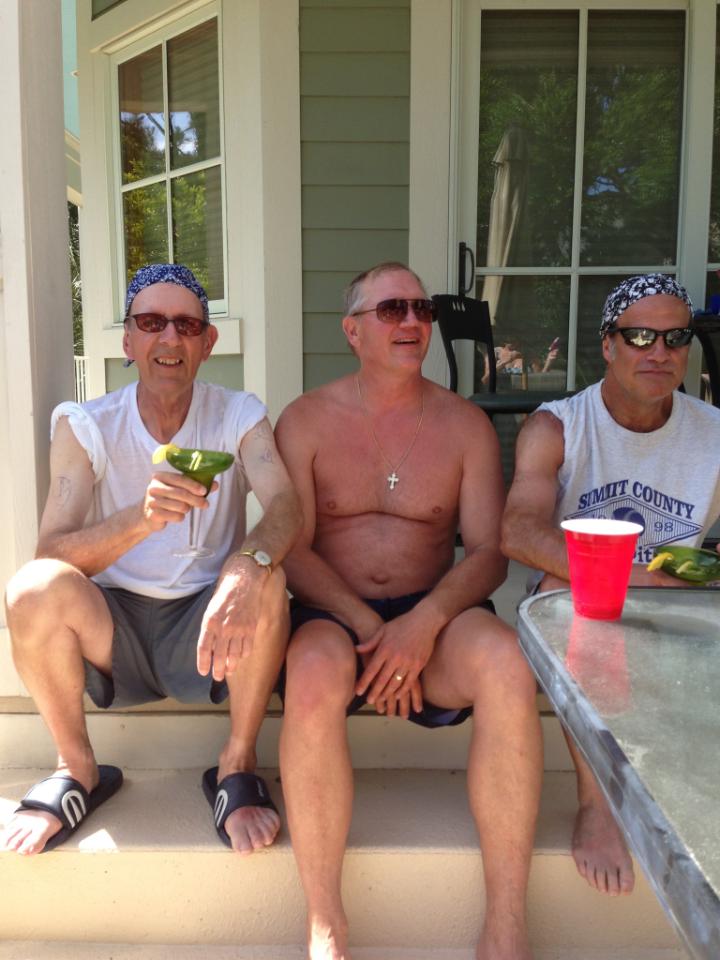 PUBLIC SERVICE ANNOUNCEMENT

This from Associated Press Wire Services:

Pirates have been spotted off of the coast of Hilton Head, SC.

If you are planning to vaction there this summer BEWARE!

HACKERS BAR & GRILL - Rockin' On The Range - Akron - June 27, 2013

Thursday, June 27, was our first nite of the summer at Hackers for their "Rockin' On The Range" nites. They start in June on Thursdays, causing us to change our regular nite out of Wednesday only for Hackers, and they go to August.

Our Entertainment Director, R. B., always on the lookout for any new and exciting events, discovered it and now we are there. He deserves "full credit"!

What is sentimental to us at Hackers (Not the Golf) is that it is "the place" that Geezers Nite Out began. Spike (Swish) and I began stopping there on Wednesday nites after we were both retired from the Goodyear Tire & Rubber Co. We had a group of guys who we used to run around with from Goodyear, and a few others. It used to be our "Friday Nite Group!" (You know who you are)

Little by little the "ole" Friday nite group started showing up. After a year or so most of our friends and fellow associates from Goodyear would show up there on a hit-and-miss basis every Wednesday.

After 5 years or so we decided to "expand". (Yes, the waistline too) We found a place nearby, Kevin O'Brian's, on S. Main St., and that became our meeting place for a few years. One reason was that they offered $1 domestic bottled beers. However, after while we weren't the only ones who were taking advantage of the $1 beers, and it became a little too crowded and noisy,  So we decided to start going to a different place every week.

That's when the Website (www.geezersniteout.com) came into the picture. We were never on the same page as to where we would be going from week to week so our, E. D., R. B., suggested creating a website. Well, I (Joebo) already had a website for the band S. B., and I was playing in. So the next day I called him at work and told him that we "have a website." So that is how we are at where we are now.

When we, Spike and I, first arrived at Hackers Thursday nite, our old friends, John, the bartender at the moment was behind the bar. And, the day bartender, Ruthie, was sitting on the other side of the bar for a change, preparing to leave for the day. We know them from way back when we first started stopping there.

After awhile we decided to go out on the range and pick some seats. We sat in front of where the band was going to be. There was a PA system set up at first but no band. A little later on the band members started setting up their instruments. After more than a few sound checks we decided to move as some of the other Geezers arrived. Yes, it was a little Loud. And, Yes, we are Old!

Once the band began we were glad we moved. They sounded good, and the lead singer sounded like he had a great range, and could sing most anything, but we  were surprised that Hackers would have booked this kind of band. They were heavy metal for the most part and any contemporary song that you would recognize they did in their "own" style.

Hackers sets up a makeshift full bar on the range, which this year included draft beer along with bottled beer, and mixed drinks. The beer was only $2 a bottle. I am not sure about the draft or mixed drink prices. But it was very reasonable.

The food out on the range gave us quite a variety. For $8 you could have a
Sausage Sandwich
,
Grilled
Chicken
sandwich, and
1/4 lb Burgers
. Or all three! There were plenty of condiments to go along with them, plus a variety of salads. Plenty of food to eat at a great price. We have pictures of our plates plus the band,, and other photos from the evening on our
PHOTOS
link.
It was also
voting nite
for the meeting places that we will be going to for
July
. For one of the few times there were no ties. There are 5 Wednesdays in July with the exception of Hackers (Thursday) which was also voted in for next month. You can see the results of the vote on our
SCHEDULE
page.
Next Wednesday, July 3, we will be meeting at Legends Sports Bar in Green. It's the day before the Fourth of July, and we urge you to attend if you are even thinking about it for a special surprise (Maybe).