This is a Monthly Newsletter. Articles, Pictures, and Happenings are all listed on one page for the Current Month. Page Down to see all of the News in the order that it happens.

This page was last updated: June 1, 2013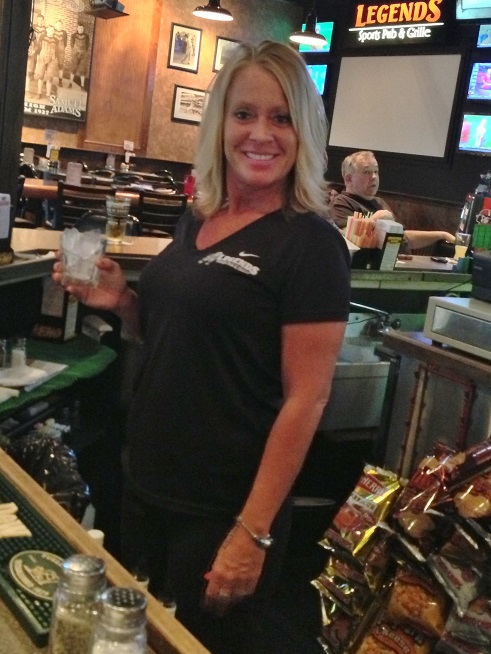 LEGENDS SPORTS PUB & GRILLE - Green - May 1, 2013

OK, so nothing special was going on at Legends this time for our Geezers Nite Out.......wait a minute. Actually there was.

The last one of our Florida Snowbirds returned last Sunday, April 28. Fergie was back home from his winter digs in Clearwater, Florida since sometime around Christmas 2012. His wife Brenda, flew back with her sister on April 24th. According to Fergie, he didn't have enough room in the van for her with all of the booze he was bringing back. Kidding! There were other extenuating circumstances.

It was good to see him.

Pictured to our left is one of our fave bartenders at Legends, Tricia. She also welcomed back Fergie with open-arms. Well, not exactly!

Last Wednesday, April 24, at Dusty's Landing at 5:54 PM it was 41 degrees with the wind speed of 16.1 MPH. At Legends on this nite it was 75.9 degrees with the wind blowing at 6.9 MPH. Quite a difference.  

Of the Geezers who were there that nite, 4 of us have Smart phones (Actually iPhones) and 3 of us have the old standby, Flip Phones. Like in Flip Wilson? Anyway, we were trying to show them the advantages to owning a smart phone, but it seems that they are so infatuated with their flip phones that they don't want to give them up. Maybe because they are Geezers?

As I have said before, Legends has a New (Insert) to their
MENU
. It is called
MAKIN' THE CUT
! We will have a picture of it on our
PHOTOS
link along with others from the evening. Most of us ate from their fine menu. Check it out on the above link!
Some of us played golf Wednesday before the Geezers meeting. Or you could say we were out on the course. It was the first time out for most of us, and we are hoping that it will get better as the season progresses. R. B., Spike, and I (Joebo) struggled as our former Goodyear associate, and friend, Jerry Gorbach was finding the fairway, a fair piece ahead of us.

Next Wednesday, May 8, we will be back to one of the meeting places that we have not been to for awhile, Johnny Malloy's Sports Pub near Chapel Hill Mall. (Check the schedule for any change to that date as the weather is supposed to be great all next week.) 

JOHNNY MALLOY'S - Chapel Hill - May 8, 2013

Wednesday nite, May 8, was an unusual Geezers Nite Out. It began and ended as most meetings do. We have no set time to meet. The guys start arriving anytime form 4:30 to 6:00.

We do not take attendance, and there is no guarantee who or how many of us will be there.

We drank, we ate, and we discussed the current events along with a few stories. One at a time we began to leave, and then the Geezers remaining walk out the door together, and say adieu until next week. Nothing unusual.

But to one of the Geezers it was not that way, and it will be a nite that he will never forget.

We will get back to that last statement later, but for now we will begin our Newsletter as always.

The two lovely ladies to the left were our bartenders as we first arrived. To the left is Valerie, and to her left is Kelly. Valerie was working days, and was later replaced by Tom (Not pictured). They were very friendly and accommodating by letting us take a picture as we/I usually do. 

Malloy's has a Food Special every day during the week.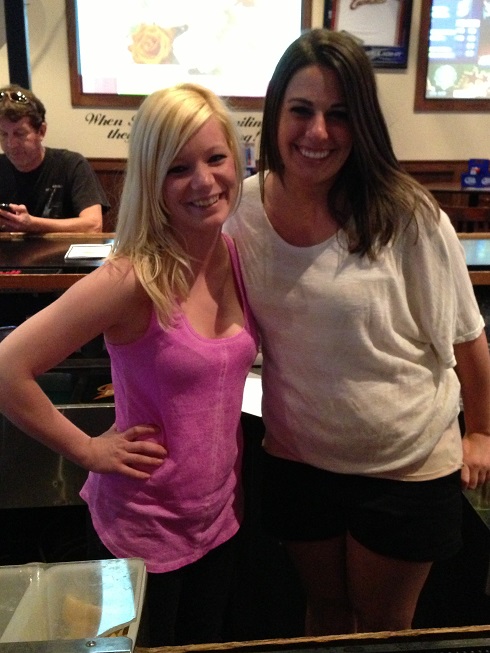 On Wednesdays it's a
two-topping pizza
from
Geppetto's
next door, plus
10 wings for just $10.99
. We paired up and placed an order for the pizza special. However, Fergie place one order. He said that he was going to take half of it home to his wife Brenda. Billy Bob came in later, and he too placed a single order for the pizza special. He was going to take what he didn't eat home for meals the rest of the week. It's a really "good deal" as Fergie would say. Check out their
MENU
from Geppetto's next door.
R. B. (Gary) did not have the same Geezers Nite Out. In fact it was a Nightmare! He arrived and ordered a beer. In fact it was a draft Blue Moon with an orange slice. He was sitting down a few seats from me at the bar. I was busy talking to Fergie, and Spike when all of a sudden my cell phone rang. I could see right away it was Gary. He said, forcefull,y that it was him and that his Dad called him, that he could not understand him, and he was on his way over to his house.

Unfortunately, he never returned that night. I texted him before we left Malloy's and he texted me back that his Dad had Cardiac Arrest. I let the rest of the Geezers know before they left. Gary stayed most of the night at City Hospital, Wednesday. And he was there most of the day Thursday.

We are sorry to say that his Dad,
Leroy
, passed away at 9:30 PM on Thursday night, 5/9. There was an obituary in the
Akron Beacon Journal,
and also on
Ohio.com
on Saturday (5/11). There will be an updated version on Sunday (5/12). We send our deepest sympathy to Gary and his family.
Next Wednesday, May 15, we will be back for our second time to the "New" Winking Linking Lizard/Lizardville in Montrose since the Grand Opening on April 17. 

THE "New" WINKING LIZARD - Montrose - May 15, 2013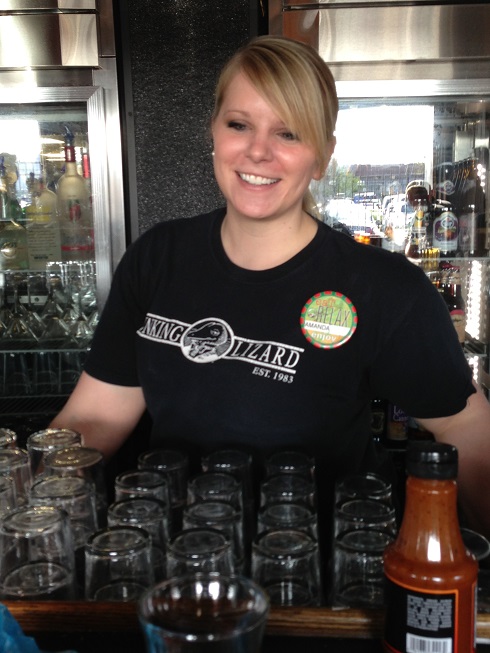 We (As a group) were back for our second time to the New Winking Lizard in Montrose for our Geezers Nite Out.

We were out on the patio bar on the Winking Lizard side of the complex.

When we we there on the Grand Opening back on April 17th it was 66 degrees out there on the patio. We thought that was warm!

On this nite (5/15) it was a little windy, but 84 Degrees AT 5:54 pm. SUMMER IS HERE!

Pictured to the left is
Amanda
. She was taking care of us at the bar most of the night along with
Kate,
and
Joanne
. And
Mandy
was waiting on tables on the "windy" patio. For more pics of them, and from the evening go to our
PHOTOS
link. 
This was the first time for Fergie at Lizard since his returned from Florida. He like the the patio bar and its surroundings. But not the price$.

The bar is actually under-roof, but it has garage-type doors that can be open and closed to accomadate the weather.

The Lizard does have food specials every nite of the week, and they do have $1 off draft beer during Happy Hour. However, it was not enough to Impress Fergie. Oh well.

As we have mentioned before, they do have an interesting
MENU.
Fergie and I each enjoyed the
Turkey
Wrap
. I had a side of
Steamed Broccoli
, and Fergie had
Fries
. Of course I had to hear it from
R. B.
when he saw them bring my turkey wrap with the side dish of broccoli. He wanted to know what kind of
soup
that was? Ha ha! I said "pea soup"!
Krisko stopped in to see us and pick up her "cookie dish"! Kidding! It's a long story. (Ask her) She ordered the Steak Wrap. I was unaware that it was on the menu. I will have to try that next time. (No I won't!)

And Billy Bob ordered the Half Slap of Ribs with Fries for $7.99 which is the Special on Wednesdays.

Our Celebrity Look-A-Like this week was a customer who we could not agree on who he most looked like. I thought that he looked like that departed, controversial comedian Lenny Bruce. S. B. thought he looked like the late Rodney Dangerfield. But the the majority of us thought he looked like, and the Winner Is.....Zippy the Lizard on Winking's Logo!

Next Wednesday, May 22, we are going to meet at one of our fave summer spots, on the Patio at The Galaxy in Wadsworth. It is the grand opening of their Patio Parties with WONE, and a Live Band, Highway 61.

The weather forecast is for a chance of rain, but temps in the 80's. We are hoping for clear skies!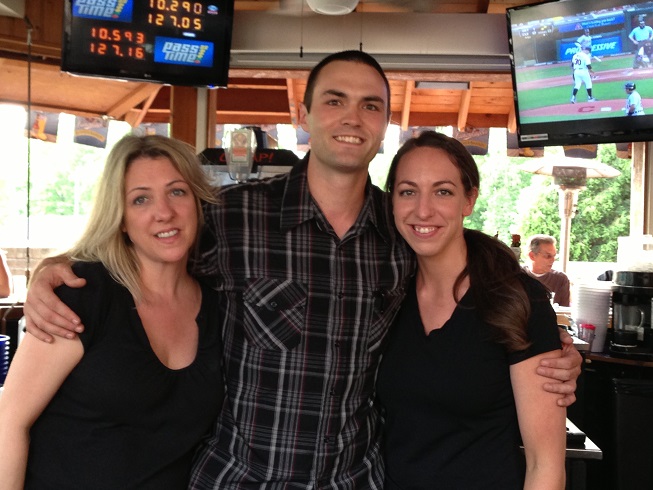 The Curse Was Broken! Every weather forecaster in Northeastern Ohio was predicting rain for Wednesday. But it didn't happen until way after we left. It was very windy but we enjoyed our time out on the Patio and even heard the band, Highway 61, play. It did rain later on in the evening around 10:30 PM here in Montrose, but I am not sure what all that they got in Wadsworth. It was 81 degrees however, but with the wind not very humid.

Pictured above is the new
Patio Party Crew for 2013
. They are from (L-R)
Theresa
,
David
, and
Jesse
. Theresa and Jesse were out there last year, but David is the new addition with
Mike
, and
Shauna
leaving at the end of last summer. We have more pictures from Wednesday night along with a picture of Mike, Shauna and Jesse from last year on our
PHOTOS
link.
We were on the cell phone kick again! Drumstir recently purchased a Samsung smart phone. However, he let someone talk him into switching to Sprint from AT&T. He was not a happy camper with Sprint as his carrier. I recommend not using either one. I have had trouble with both of them. And it ended up costing me.  I bought an iPhone5 at the Apple Store in Summit Mall, and took it with me when Crazy Richie and I drove a car out to California for my sister Cathy. Not one time could I ever get a 4G signal all the way from Akron, OH to Palm Desert, CA. I could get wireless at hotels and restaurants, but not on the road. No matter what Sprint tells you don't do it.

There are two seasons in Ohio. Winter and Construction! All last summer during the Patio Parties there was construction going on. It made it a little difficult to get back to Akron using RT 224 once we were out at The Galaxy. Getting there was no problem. At one point they even closed the North entrance ramp. We had to find our own detours to get back home. This year it is the same thing, but it will be harder getting there and return. However, the entrance ramp is now open again!  

I ordered the
Shooting Star
burger from the Galaxy
MENU
. It is a 1/4 lb beef patty with American Cheese. It comes with a side of whatever you want. It is on their new
Circle L Steaks & Burgers
menu.
Fergie had the Patty Melt which he said was very good. Drumstir had Chicken Quesadilla he said was OK. And S. B. had his usual Chicken Caesar Wrap which Drumstir says is not too good. But S. B. recommends it highly.

Our good friend Krisko stopped in for awhile to see us. Krisko and another friend, Darcy, were the ones who told us about the Patio Parties. Until that time we were just meeting out there at the Sports Bar during the colder months. Now it's just the opposite.

We also saw a Celebrity Look-A-Like. One or two of the Geezers mentioned that a man with gray hair, and a straw hat reminded them of the old man on "Pawn Stars"!

Next Wednesday, May 29, we will be meeting at the New On Tap at The Harbor on Portage Lakes. A few of the Geezers checked it out on Friday after golf. We ended up at the bar downstairs. The bar on the water was not open due to the cold weather. Next Wednesday the High Temperature is supposed to be 88 degrees. So we will be meeting where we used to meet when it was The Olde Harbor Inn.

Our Entertainment Director, R. B., will not be attending as he is in Hilton Head, SC with family and friends for a much needed vacation.  

THE PATIO AT THE GALAXY - Wadsworth - May 22, 2013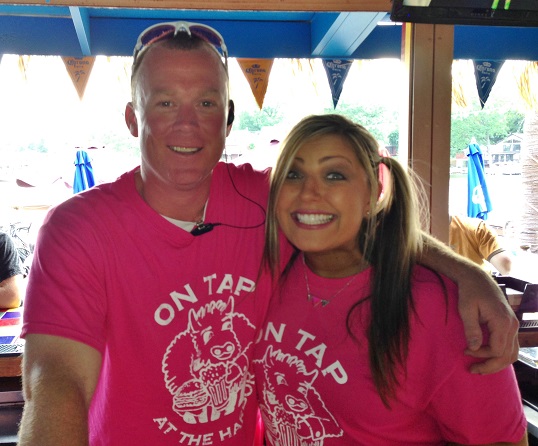 ON TAP AT THE HARBOR - Portage Lakes - May 29, 2013

We hadn't been meeting for our Geezers Nites Out at the former Olde Harbor Inn during the summer for a number years.

They used to have buckets of Labatt Blue for a Special Price on Wednesday nights when we used to meet there. The food prices were above average, but the view and atmosphere was worth it.

Soon the Labatt Blue Special disappeared and a New Menu was introduced. They had absolutely no Specials of any kind. Happy Hour? What's that?

However, time changes things. The Harbor closes. People shed tears. And the Harbor is buried. Or was it?

ON TAP to the rescue!

The Harbor is Open again, but as On Tap at The Harbor. A unique play on words. Yes, On Tap Grille & Bar has purchased and reopened the Harbor as another one of their locations. They already have locations in Medina, Cuyahoga Falls, Stow, and on Medina Rd in Montrose. It took them awhile to make the change at the Lakes location, but they are now up and running. 

Above are two of the bartenders at the bar on the Marina bar. To the right is, Dianne, who The Geezers first met at the old Hook Line & Drinkers next door. She is the picture with Ron. While we were there on Wednesday we heard that On Tap also purchased the building next door which housed Hook Line & Drinkers, and a business owned by the Hook Line owner. We heard that On Tap is planning on creating a four-floor-entertainment complex with one of the floors operating as an up scale restaurant. That remains to be seen.

Well, once we were inside we were outside. The Marina bar (As the Harbor used to call it) has one side of the bar inside, and the other side outside on the deck where there are also tables and chairs for dining. It looked pretty similar to the Harbor set up.

One way that On Tap has outdone the Olde Harbor on the Marina bar was that they have Draft Beer. During harbor days they did not serve draft been outside. There were 24 different taps. I don't remember them all but they did have one that said "Guinness"!

There was also an On Tap Menu for the Marina bar. I'll tell you one thing, On Tap did not cut back on that. It is still a little pricey, but it's on the water, right? There may be "Specials" during the week, but i didn't see any.

Drumstir ordered the Patty Melt. Fergie had the Turkey Wrap that he ordered "without" Mayo. Or "white stuff" as he calls it. Needless to say it had "white stuff" on it! He ate it the way it was because he was worried about the "Cook's Revenge). S. B. ordered the Raspberry Chicken. I (Joebo) tried the On Tap Burger. It was a burger with grilled mushrooms and onions. I skipped the onions. it was adequate.

And last but not least, Billy Bob also had the Patty Melt. He was happy with it.

We ran into a couple who are friends of the Geezers, and also good friends with Drumstir. It was
Dewster,
and
Gayle
. We have a picture of them along with other pics from the evening on our
PHOTOS
link. We go way back with this couple. Originally Dewster (Dwayne) worked with Drumstir (Denny) at
Babcock & Wilcox
in Barberton. Dewey (Also a nickname) was in
Salary
, and Drumstir was a "
factory worker
". It was good to see them.
We did see a Celebrity Look-A-Like sitting across the bar across from us. I thought that she looked like the female poker playing movie actress Jennifer Tilly. But at the time I couldn't think of her name. I knew that she was in a couple of movies with Gina Gershon, but I couldn't remember the name of one of the movies either. My "smart phone" was no help either because fo the "dumb" input!

Well, it was good to be back at the Harbor again with On Tap in command. And there are some differences that we could see. But maybe it will take some time for us to realize what all of them are. Until then the Harbor is Open again! 

We voted for our meeting places for June last week,
May 22
, at
The Galaxy Patio
. Our Entertainment Director,
R. B.
was leaving for a family vacation in
Hilton Head, SC
. The results of that voting should be posted on the
SCHEDULE
page. But, next Wednesday,
June 5
, we will be meeting at the
New Winking Lizard
in Montrose/Copley.