This page was last updated: November 30, 2014
This is a Monthly Newsletter. Page Down to view all of the Current News as it happens.

Geezers Nite Out - The Grille on Waterloo - South Akron

The Geezers were at The Grille last Wednesday nite, and I (Joebo) was at the grille too. But I was at the Hyde Park Grille in Fairlawn, OH. I missed going to The Grille in order to celebrate my sister Lynda's birthday at the Grille. (Who's on First?) OK, I'll stop.

So I was not there, but some of the Geezers who were told me that there just happened to be a large group of Goodyear associates there for some kind of basketball meeting. Most of the Geezers either worked or currently do work at Goodyear. It was quite a coincidence that it was Geezers Nite Out on exactly the same night that our Goodyear friends were also holding a meeting on the same night. I guess you had to be there!

Something that I found out on Thursday nite, 11/6, when some of the Geezers met to watch the Cleveland Browns whip the Cincinnati Bengals, was that the current owner, Russ, sold The Grille to a group of of Japanese businessmen. I'm thinking maybe they are connected somehow to Firestone Country Club in some way. Maybe not. But it was a surprise. The bartenders at The Grille said that they were told nothing is going to change with new owners. How many times have you heard that?

One of our good friends, and former girlfriend of one of our Geezers, the late
Dano Powell,
Krisko
(Kris Conley) also joined the Geezers at The Grille. She has recently retired from Goodyear via an outsource company, and she was there to celebrate. I usually take pictures during the meetings when something interesting happens, and post them on our
PHO
TOS
link.
Since I wasn't there she took one
for me. It is a picture of
S. B.
devouring a
Turkey Club Wrap
. See below. Thanks Krisko.

Next Wednesday, Nov 12, we will be meeting at Legends Sports Pub & Grille in Green.

Geezers Nite Out - Legends Sports Pub & Grille - Green

It was a rather quiet nite at Legends Wednesday. The temps were in the low 30's so that probably had something to do with it. But The Geezers were there in force to see one of our fav bartenders, Tricia. She takes good care of us even though she only sees us once a month..

In a few weeks, some of the Geezers will be heading down south to be snowbirds until spring. Spike is leaving on Saturday, 11/15, to take his Mom down to Florida to stay with his sister during the winter months. He will return during the following week for a month or so until he departs again for his winter hiatus in Homosassa sometime around Christmas. He usually stays until March to be back for St. Patty's Day, which is really not that far away.

Fergie is also leaving, but not till sometime in early 2015. He stays down there a little longer than Spike, not returning until around May. So when these two are gone we lose some of our regulars every Wednesday nite for most of the winter. Fergie  just returned on Monday (11/10) from a warm-up in Clearwater.

On this nite Fergie and I (Joebo) arrived about the same time. (4:35). Spike (Swish) showed up shortly thereafter. He had to get a blower put in his furnace for a price tag of about $550. An important expense with winter quickly approaching, but not desirable.

We were not expecting anything unusual to happen on this nite at Legends. Usually something does. And it did! We were watching ESPN when all of a sudden there was BREAKING NEWS. Yes, and it was! It was announced on ESPN that  Cleveland Indians pitched Corey Kluber had just been voted in as the American League Cy Young Award winner for 2014. Now that was exciting.

He ended the 2014 season with an 18-9 record, 2,44 ERA, and 269 Strikeouts in 235 2/3 innings.

Who is Cy Young you say? Coincidently, Cy Young started his Major League career in Cleveland with the Cleveland Spiders on August 6, 1890, and more or less finished his career with the Cleveland Naps in 1911 with a brief stint with the Boston Rustlers at the end of that season.

He has the most wins in Major League Baseball history with 511.

Most Losses 316. Most innings pitched with 7,354 2/3, and

Most complete games with 749.

If you know anything about baseball those are unbelievable statistics. But it happened.

Credits: Thanks to Wikipedia.

For the most part all of the Geezers ate from Legends
MENU.
None of us ate what we usually order but Spike pulled a
Shocker
.  He ordered the dreaded the
Veggie Tray
that
Skinny Boy
usually orders. But since Spike order the Veggies, S. B. decided to change his choice.
Go to our
PHOTOS
page to see pics from the nite including Tricia.
Next Wednesday, November 19, we are scheduled to meet at Dusty's Yacht Club in Portage Lakes.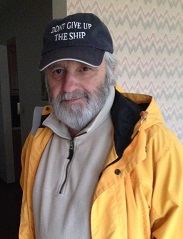 Geezers Nite Out - Dusty's Yacht Club - Portage Lakes -  He's Ba-ack!

I, (Joebo) was not at Dusty's last Wednesday, Nov 19, for Geezers Nite Out due to a prior commitment. But I was informed by R. B., our Entertainment Director, that our long lost Geezer, the Candyman (Voigle) was.

Verg, has a condo up North at the big lake, and lives there during the summer months. But we have not seen him at our winter meetings for around a year or so.

R. B. said that Voigle advised that he has some minor medical problems, and that he has not been able to drive to where we are meeting if it is too far from where he lives.

I am sorry I missed seeing him. It has been quite a while.

If you don't recognize the person in the picture above it is the Candyman. He has changed his appearance dramatically since the last time we saw him..He has grown a beard, and according to R. B., he is no longer wearing glasses.

This picture was actually sent to me by his wife, Mary Ann. She follows us on The Geezers Nite Out Facebook page, and she sent me this picture. According to her he has trimmed the beard down a little but he still has it.

Unfortunately none of my Geezer cohorts took a picture of him that nite to post on the website.

We hope to see you back again soon V.

Next week, Thanksgiving week, we will be going out on a Tuesday nite. We usually meet on Wednesdays, but since the Wednesday nite before Thanksgiving, Thanksgiving Eve, is known as the biggest drinkign nite of the year we decided to stop out on the day before instead to avoid the crowd.

So, we will be at Johnny J's Pub & Grille in Springfield on Tuesday nite, November 25, 2014.

If we don't see you have a very HAPPY THANKSGIVING!

Geezers Nite Out  - Johnny J's Pub & Grille - Springfield

The last Geezers Meeting of November was held on a Tuesday instead of Wednesday due to the Thanksgiving holiday. Thanksgiving is not held on a Wednesday, but Thanksgiving Eve is rumored to be the busiest drinking nite of the year. Therefore, it is not only the most dangerous nite to be out on the roads because of other drivers, but because of the presence of every law enforcement officer in town.

This Tuesday at Johnny J's was unusual in another way. We start arriving at the designated meeting locations anywhere from between 4:30 - 6:00 PM. In the summer months we usually arrive earlier than in the late winter when two of the Geezers, Fergie, and Spike become Snowbirds in Florida. However, on this day most of us showed up earlier. Spike was helping me (Joebo) move furniture at my Penguin condo, so we arrived at JJ's when we were done with what we were doing. S. B. was next to arrive as he was on vacation for the day, and he was visiting a sick friend. Fergie joined the group as he was in the area earlier, and saw some of our cars in the parking lot. R. B. was next followed by Billy Bob.

    We were also visited by our newest retiree, and friend of the Geezers, Krisko. She recently retired from the Goodyear Corporate office where she was employed by an outsource co. She was previously employed by a Goodyear affiliate in Buffalo, NY, but she was transferred to Akron when the company was absorbed into corporate.

    JJ's has
Specials
on food every day of the week. On Tuesdays the Special is
$1 Tacos,
1 LB of Crab
Legs for $11.99,
and
1 and 1/2 Pounds for $15.99
. Most of us ordered the tacos. I believe that they still have
Free Fries
if you sit at the bar all week long with the exception of the weekend.  For pictures from the evening go to our
PHOTOS
link.
    A couple who we know, also from Goodyear, just happened to stop in to JJ's on this nite. It was Pam and Russ Hartline. It was good to see them, but we were not too pleased to find out that they were leaving for Las Vegas the next day. Wasn't that a move title? We hope that they won big.

    It was also voting night for the meeting locations that we will be going to in December. We always vote on the last nite of the current month where we will be going the following month. Sounds easy enough, but this month it was a long drawnout process.

    As sometimes happens after a vote is taken we end up in a tie for some of the places to go. We then have a second vote. Only this time there was another tie . After another vote ended in a tie, R. B., our Entertainment Director did something similar to what a one-time head football coach for the Cleveland Browns, Romeo Crennel did when he couldn't decide which quarterback to start. He didn't flip a coin like Crennel, but R. B. wrote down numbers on a pieces of paper and he had Fergie draw one out.

    The votes were tabulated and the Schedule has been posted on the website. We also have two informal meetings on
Christmas Eve
, and
New years Eve
days. Go to the actual
SCHEDULE
link for an explanation.  
    We are scheduled to meet at The Grille on E Waterloo Rd in south Akron Wednesday, December 3.