This is a Monthly Newsletter. Articles, Pictures, and Happenings are all listed one one Page for the Current Month. Page Down to see all of the News in the order that it happens!


This page was last updated: May 31, 2014
GEEZERS NITE OUT MAY 5, 2014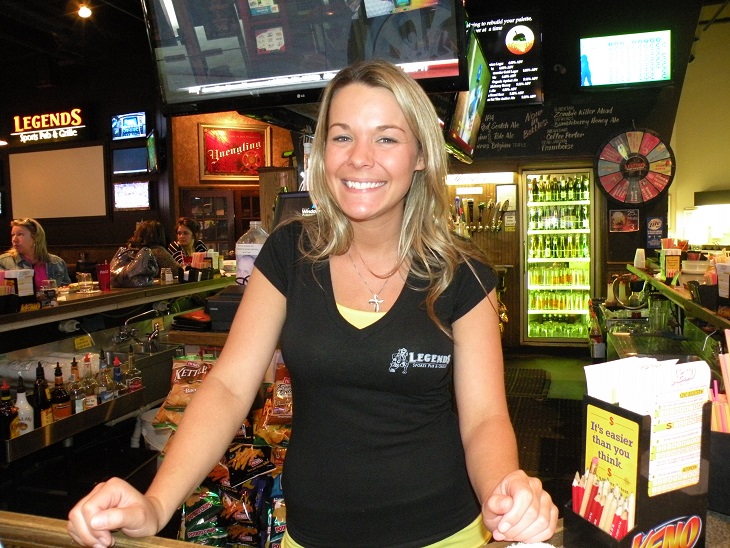 We met for Geezers Nite Out on this week at Legends Sports Pub on a Monday to celebrate Cinco de Mayo. Legends has a party every year to celebrate this day which is not even a holiday in Mexico. Just another day to celebrate. 

Pictured to the left was our bartender for the evening, Brittany. Since this was a Monday, one of the other bartenders who usually waits on us (Hand and foot) Tricia, was not there. But Brittany did a great job of taking care of us once she figured out what we were all about. Or did she?

It was not crowded when we arrived before 5:00. The party was to start at that time.  

Later on in the evening it was a packed house. We were very fortunate to be able to get seats at the bar, except for
S. B.
He happened to sit next to a patron who was talking his ear off. We all ordered from Legend's New
MENU
. But when he received his food his new friend kept talking to him the whole time that he was trying to enjoy it. The guy was treading on thin ice, because S. B. does not like to engage in a  conversation while he is eating. There is a picture of the two sitting next to each other on our
PHOTOS
page along with other photos from the evening.
Legends provided Free Chips & Salsa to munch on. Also for drinks they offered 99 Cent Margaritas. Also the 23 ounce drafts were only $2.00. During the week Legends offers a different Food Special each day. Monday it was the famous Bulldog Burger. It was voted Best Burger in the area by Beacons Best survey. It was on special for $3.99. The regular price is $6.99. Spike, The Forester, and I (Joebo) all ordered one.

R. B. didn't get the burger, but he stunned us all by ordering the SW Chicken Wrap.

We saw two celebrity look-a-likes. S. B. saw a couple of people who looked like celebs. There was one guy who resembled Spike Lee, and a lady who could pass for Beyonce. However, we did see someone who our bartender looked like. We were watching a Cleveland Indians game on TV, and the roving reporter for STO looked a lot like Brittany. See pics below.

The game was tied 0-0 in the 7th inning, but the Tribe ended losing to the Minnesota Twins 1-0.

STO, who broadcasts most of the Indians games, has a roving reporter by the name of
Katie Witham
. She was interviewing someone who was up in a lodge. I took a couple of pics of her off of the TV, and afterward I thought, hey, she looks like Brittany or Brittany looks like her!. Take a look below and also go to our
PHOTOS
page.
Next Wednesday, May 14, we will be meeting at a new place in Fairlawn. It is called Ray's Place, and it is located in the building that formerly housed the Winking Lizard. So we have actually been there before, but when is was a former business.

Krisko, a friend of the Geezers has been to the first Ray's Place in Kent, and is excited about this new location.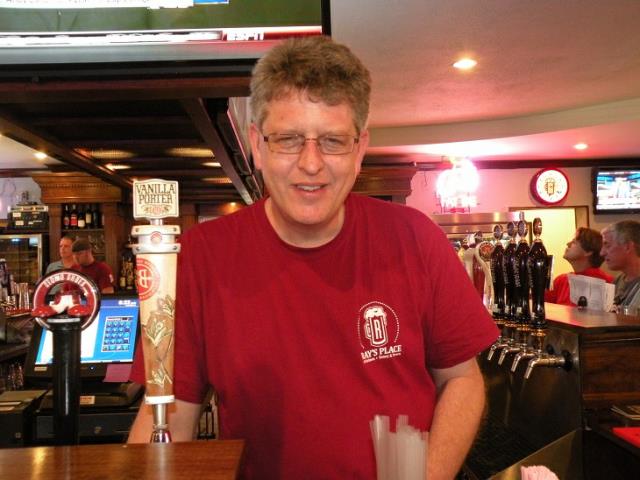 GEEZERS NITE OUT MAY 14, 2014

The Geezers Nite Out on this nite was held at a new business in Fairlawn called Ray's Place. If you are wondering if it is connected with the historic location in Kent, the answer is yes!

To the left is a picture of one of our bartenders for the evening. He is not just any bartender. When we told him we had a website he said that he also has one where he shows you how to make the
Drink Of The
Day
. It is
Shaunthebartender.com
. One more thing, he's a
Bill Clinton
look-a-like.
The owner is actually a guy named,
Charlie
. He was nice enough to stop by and talk with us. Go to our
PHOTOS
page to see pics.
It has been raining in the Akron/Fairlawn area for the last few weeks or so. In fact we had tornado warnings on Monday, May 12. I received several Emergency Alerts on my iPhone. They said: "Tornado Warning in this area till 8:45 PM EDT. Take shelter now." Got another one later on that extended the "all clear" to 9:30 PM. It was pretty scary.

One of our local Weather Forecasters, Betsy Kling, on WKYC TV was on the air for hours sending people in and out of their basements.

So on Wednesday, people were still a little jittery. Most of the day was fine, but around 3:00 PM things began to change. When I drove from home in south Akron around 4:15 PM I ran into a deluge when I headed west out to the Fairlawn area. There was driving, whipping, swirling wind and rain until I reached the White Pond Rd exit of the interstate. It rained most of the nite.

You would think with weather that nasty, we wouldn't have had a good turnout of Geezers. However, it was the exact opposite. We had one of the biggest turnouts that we have had this year. Fergie, and Spike (Swish) are back from Florida. Our foreign Geezer, "Buddmann" Bud Dulin is in town from Germany. Then we had two of our friends who we know from our late Geezer, Dan Powell. They are Krisko, and Betty Boop.

and we were still missing Mr. Lobber, and the Candyman. It was a great time.

Ray's has an excellent menu. As far as I could see there is anything on it that you could want. Except pizza. I didn't see pizza, but it might have been there.

I ordered a Corned Beef sandwich, and I also ordered onion rings. When I received the sandwich it seemed small to me, and I was glad that I ordered the O-rings. However, the corned beef was piled high, and it was very filling and delicious.

Drumstir had burger which Ray's is famous for. Drumstir said it was OK.

It looked like Krisko, Spike, and R. B. ordered the wings. I did not get a report on that. But they looked satisfied.

S. B. and Fergie enjoyed a Chicken Wrap which looked very tasty. And Buddmann ordered a Pulled Pork sandwich.

Billy Bob surprised us all by ordering a monster burger called the Mo-Fo Burger. You have to see the pic of it on our photos page. 

Pictures of that one, and some of the others are also on our
PHOTOS
page.
Ray's has a large selection of foreign beers and IP's on tap. They also have some domestic beers on draft. Ray's is located in the same building that formerly housed competitor, Winking Lizard. I don't see a formal website on the Internet so I can't give you more specifics about the beers and menu. The place has been been spruced up a bit, but not that different from the Lizard.

So Ray's has enough beers on tap to satisfy almost any real beer lover's taste, and the food that we sampled was excellent. Ray's should become a very popular place in Fairlawn.

The only thing that the Geezers were concerned about was the absence of any female bartenders. Nothing against Big Shaun, but if you have been on our website before you can see that we like to take pictures of the ladies behind the bar. There were plenty of ladies waiting on tables, but none behind the bar.

Next week our Geezers Nite Out will feature the Phabulous
Phantom Band
on a
Thursday night, May 22
, at
6:30 PM
, in a hall attached to the
Houston Pub
on Houston Rd in Norton. Go to the
SCHEDULE
page to see the exact address.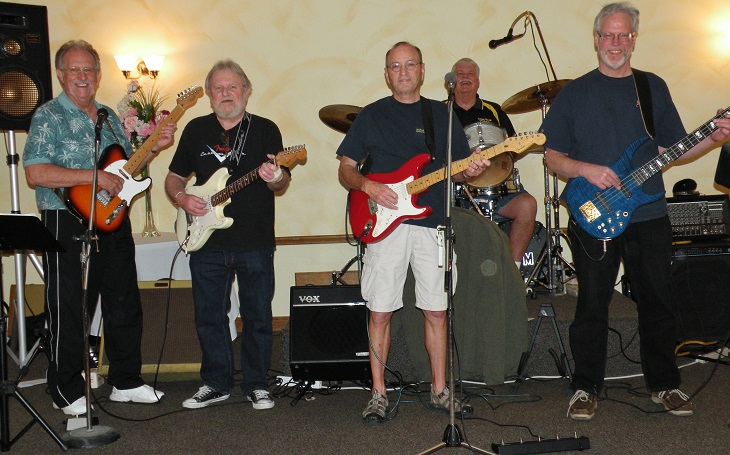 GEEZERS NITE OUT/SPRING FLING With The PHANTOM BAND

Geezers Nite Out for the week of May 18th was held on a Thursday evening on May 22 at the Houston Pub Hall on Houston Rd in Norton. It was the brainchild of "Big Daddy" Dan Minier, after some prompting from "Happy" Hank Inman.

During the inception of this event we had no idea when and where we would play. Big D was in Florida, and on his return to the area (Columbus) he only had a small window in which he would be able to play, as he would be heading up to where that team up north plays when he left Columbus.

We had not played for over a year and missed Christmas 2013 for the first time since 2006. The problem we had is that we had nowhere to play. Our lead guitar player, and vocalist, Hank, said we should have a spring party. Big Daddy had knee surgery a few months earlier, and he hadn't played drums in over a year. The chances of this happening were Slim and None, and Slim left town.

Then a person who has absolutely no musical talent came into the picture. The Geezers Entertainment Director R. B., also know as Gary Dannemiller to Goodyear, had a project he was working on where he needed some temporary workers, preferably former Goodyear employees. It so happens that Gary had Big Daddy in mind.

Big Daddy accepted the position with Goodyear working for Gary. But he didn't know when he was going to start. However, he knows the owner, Charlie, of a restaurant/bar in Norton called the Houston Pub on 3069 Houston Rd. They have a hall attached to it that can be available for parties, and wedding receptions. .

We wanted to have it on a Wednesday in conjunction with a Geezers Nite Out which are normally always held on that nite. Charlie told Big D that we could use the hall in May on either the 1st or 3rd Wednesday. But Big D was still not sure when he was going to start working back at Goodyear for Gary.

As it turned out Big Daddy started working after the first Wednesday so it was then that it was established when, and where we would play.

However, there was one more glitch in the plan. Charlie had booked the hall for a paying customer. So instead of Wednesday, May 21, both the Geezers Nite Out, and the Phantom Band Spring was rescheduled for a Thursday, May 22, 2014.

Charlie asked Big D what kind of crowd we expected. We had no idea who would attend from those we invited. We still don't know how many were there, but almost everyone who we invited was there. The bar became crowded rather quickly. It took some time for the attached hall. But at one time during the course of the evening, it was a packed house.

As one person on Facebook described it, it looked like "old home week"! There were around 16-20 large tables in the hall and they were all taken. The bar also remained crowded.

Among the crowd were some other musicians who we know and played with before. Jack Bishop, currently a member of The Out of Sequence Band (Along with Cheryl Clatworthy, and Chuck Lyons) came up and sat in for Wooly Bully. All of the members in the Phantom band at one time played with Jack in the Oldies But Goodies Band.

Three members of the Legends Band, Roger Hendrix, Tom Evans, and Tony Fanizzi all came up and did a few numbers with Big Daddy, and Hank Inman.

Also there, was a well known singer/musician from the area Gary Parker. He was the lead singer, and guitarist for the 60's, 70's band The Counterpoints. It was good to see him.

When I arrived home from this Geezers Nite Out there were a ton of pictures posted by people who were there indicating what a good time they had. Usually it's only me (Joe Buz) who posts picture on the Geezers Nite Out page of FB. So it was quite a nice surprise. Everyone who we talked with seemed to like The Houston Pub that night, and said that they had a great time, and want to do it again.

We want to thank everyone who came, and who gave us the momentum that we received to do our best.

Wednesday, May 28, we will be holding out official first Geezers Nite Out of the year at the Patio Party at The Galaxy in Wadsworth. 

GEEZERS NITE OUT MAY 28, 2014

The Geezers Nite Out on this nite at The Galaxy did not start the way it was expected to. Normally we usually show up there during the warmer months around 4:35 PM.

However, there was a unexpected event that started the day out early. Our good friend, and Florida Geezer, Jimbo Fish was in town for a serious matter as his brother was having brain surgery. It was also his B-Day.

I received a phone call from him around 2:30 PM, and he said that he was in town, and he wanted me (Joebo) to meet with him and Spike(Swish) at the Grille on Waterloo down the street. So I did. We had a great time since we haven't seen each other for awhile. Spike has seen him during the winter as he has a place in Florida also. Swish is a Snowbird. Jimbo is a Floridian. He is originally from Akron, but he headed south about 8 or 9 years ago.

Spike and I had a good time reminiscing with Jimbo, and celebrating his B-Day. I bought him a card, and some (losing) Instant Ohio Lottery tickets. He could not join the rest of the Geezers later on at the Galaxy because he had to go out with family for his birthday. It was good to see him.

The party then moved to
The Galaxy Patio Party
. Only this time we were celebrating Spike (Swish's) B-Day. Due to the fact that his B-Day was during the week and we all had a lot of things going on we sort of forgot about it at the time. It was actually on
May 18
. There was no excuse because we do have a
B-DAYS
Link on our website. ike and I arrived a little late after being with Jimbo earlier.
Fergie
, and
S. B.
were already there. As soon as we arrived Fergie laid a card in front of Spike for his birthday. Fergie gave him five instant lottery tickets that were losers. I gave him a $10 ticket while we were at The Grille, and he didn't win anything on that one either. I also gave Jimbo a $10 ticket and he won nada.
The Ohio Lottery Commission
should start making sure that more people win small amounts of money than that One multi-millionaire winner.
However, S. B. casually walked over and handed Spike some $10 Times Instant tickets, and Spike won $2 X 10 or $20. Yeah, he is Mr. Lucky! We call him!

It was also voting nite for the meeting places that we will go to in June 2014. Our Entertainment Director, R. B., prepared a ballot before he left for vacation. He is the ultimate Manager. He had his wife, Brenda, kids, and other friends rented a house on the beach in Hilton Head, S. C. So he gave Spike a ballot before he left. The vote was taken as usual, and as usual there was a tie. It was a three way tie between Jerzee's, Johnny Malloy's, and Dusty's.  And, as usual, I was outvoted by the Dusty's Lovers.

The results have been tabulated and they will be posted on the SCHEDULE page as soon as R. B. returns from S. C. and he affixes the individual dates that we are to are attend each one.

WONE radio was there with their #1 DJ, TK O' Grady. The live band on this evening was called Spicy Rhyme. They were a 3-piece combo with a female singer, a guitarist, and a sax player. The drums, and bass were sequenced. Reminds me of another local band? This band had terriific vocals, but you really the drums.

Pictures from the nite including The Grille ar available on out
PHOTOS
page.
I have no idea where we will be next Wednesday, June 4, but I can tell you that it won't be The Galaxy since we were just there on May 28. The schedule will be posted on the website as soon as it is available.

The winners on Wednesday nite were: Johnny J's, The Galaxy, Legends Sports Pub, and Dusty's Yacht Club.