This is a Monthly Newsletter. Articles, Accounts, and Photos are all listed on One Page for the Current Month. Page Down to see all of the News as it happens.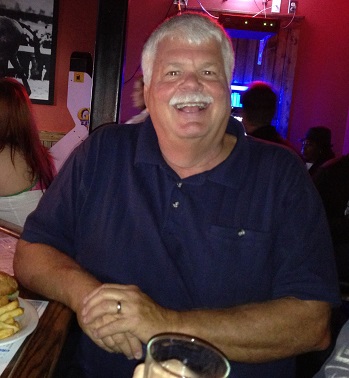 "BIG DADDY" DAN MINIER TO HAVE SURGERY

I just learned Wednesday, 9/4, that one of our Geezers, Big Daddy, will have Quadisep surgery this Friday morning 9/6/13.

I also talked with him today, and he said that it is not a knee replacement, but they are going to cut on him.

For those of you who don't know Dan that well he is another retiree from the Goodyear Tire & Rubber Co. And he is also drummer, and vocalist for the Phantom Band.

He is also due to have a torn Miniscus repaired after he recuperates from this surgery.

GOOD LUCK BIG GUY!

This page was last updated: September 29, 2013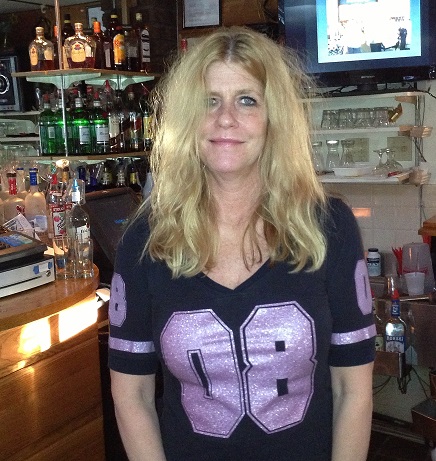 DUSTY'S LANDING ~ YACHT CLUB - Portage Lakes - September 4, 2013

This is going to be short and sweet. I am getting ready to head down to the Hollywood Casino in Columbus on Saturday to celebrate my birthday.

OK, I could have really just copied over the Newsletter from the last time we were at Dusty's, but there were a couple of differences.

Here's what happened. Spike, Fergie, and I (Joebo) were first to arrive followed shortly thereafter by Drumstir.

A little later S. B. came in, and (This part is different) gave me a present and a nasty B-Day card! The present was a box of "Double Maduro" cigars. They have to be twice as good. Thank You S. B. but the birthday isn't until next week.

Then, on qu, R. B. came strolling in. Believe it or not we all got seats at the bar.  

Then around 6:00 PM Billy Bob walked in.

Then Karen, pictured above, ordered a Pizza. Then we ate pizza.

Then Drumstir challenged Karen to a game of darts. Karen won, as usual.

that's about it.

Oh, yeah, we usually see a Celebrity Look-A-Like during our weekly meetings. However, this time one of the customers turned the tables on us. (It was hard to get up). A customer said that he thought Spike (Swish) looked like Richard Dreyfuss. What do you think? (See Below)

Gotta go. We will be back at The Galaxy (Again) to celebrate 3 birthdays this time on Wednesday, September 11. Electric Mud will be there too, along with S. B.'s buddy from WONE, TK O'Grady, and the Patio Party Crew behind the bar.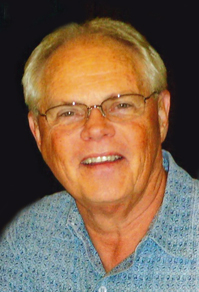 For those Ohioans who live out of town or are just unaware our good friend, fellow Goodyear associate, and talented musician and singer Donald (Donnie) Guinter passed away last Thursday, September 5.

There was an obituary in the
Akron Beacon Journal
on Sunday,
September 8, 2013
which is also available online at
www.Ohio.com
.
I will have a Remembrance Page on the website for Donnie with pictures from a surprise birthday party for me back in 2010 at Dusty's Yacht Club.

Look for when his picture appears at the bottom of the
HOME
page and click on it to see it. It will take me a day or two.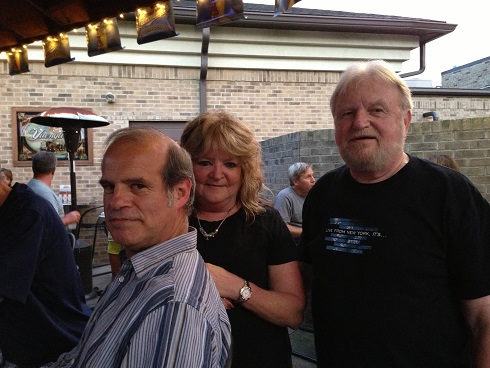 THE GALAXY PATIO PARTY - Wadsworth - September 11, 2013

The Geezers Nite Out Wednesday 9/11 was held at one of our fave summer meeting places. It was their Wednesday Patio Party.

It was also a Birthday Party for two of the Geezers and their friend.

The birthday "persons" are L-R, R. B.,(9/12) Krisko (9/13), and Joebo (9/10). Joebo and R. B. have been celebrating since last Saturday (9/7) in Columbus at the Hollywood Casino.

Our bartenders were
Jesse
and
Theresa
. Look for pic of them, the cupcakes, and the Geezers on our
PHOTOS
page!  
Krisko brought a dozen low-cal "peanut butter" cupcakes for the birthday "persons", Geezers, and the Patio Party Crew. They were excellent! Kris saw a couple of friends there, and gave them a couple. S. B. (Skinny Boy) abstained, and Fergie took one home for his wife, Brenda! Brenda, did you ever get that cupcake? There were only 3 left at the end of the evening so we gave those to the bartenders. See pics on the PHOTOS page. 

We did see a couple of Celebrity Look-A-Likes! S. B. saw a blonde fuzzy-headed guy who he said looked like Sammy Hagar. Krisko saw a guy who she thought looked like Johnny Carson (From the side)! I agreed with both of them!

During the summer months out on the Patio, The Galaxy has WONE at 7:00 PM for an hour, and then a band at 8:00 PM. On this day it was Electric Mud. They sounded very good with a full sound and they only had 3 pieces. Pic on PHOTOS link.

Well the Birthdays are over now. Thank God! It has been a rough week. Next Wednesday, September 18, we will be at Legends Sports Bar & Grille in Green.  Hope to see you there.

The following Wednesday,
September 25
, we are going to make a change in the
SCHEDULE.
Our Florida Geezer
"JImbo" Fish
, will be in town then. He will be staying with his brother in Springfield. Our entertainment Director, R. B., has decided to change the meeting from another visit to
The Galaxy
to
Johnny J's
.
Those of you who remember Jim please stop by to say Hello!

LEGENDS SPPORTS PUB & GRILLE -Green - September 18, 2013

Our Geezers Nite Out at Legends on Wednesday (9/18/13) did not fail to live up to our past history there.

Everything started out quiet, and laid back as usual, but by the end of the night it was chaotic after receiving some shocking news.

Pictured to the left was our bartender for the evening, Tricia. she is in the running to be picked as the No 1 Bartender in Beacons Best contest. She told us that the results will be announced on Monday, September 23. GOOD LUCK TRICIA!

When I (Joebo), Fergie, and Spike first arrived we were not all able to sit at the bar where I was at. So we moved to a table adjacent to the bar, and close to the "popcorn" machine.

Just as we were settled into our new surroundings, three seats opened at the bar. So we immediately went back over to where we were minutes before, and I ended up sitting in the same seat I was at when I first arrived there.

After the other Geezers filtered in we eventually ended up all sitting at the bar.

We were talking about a shooting that occurred earlier in the day, around 8:30 AM near a Rally's on E Waterloo Rd.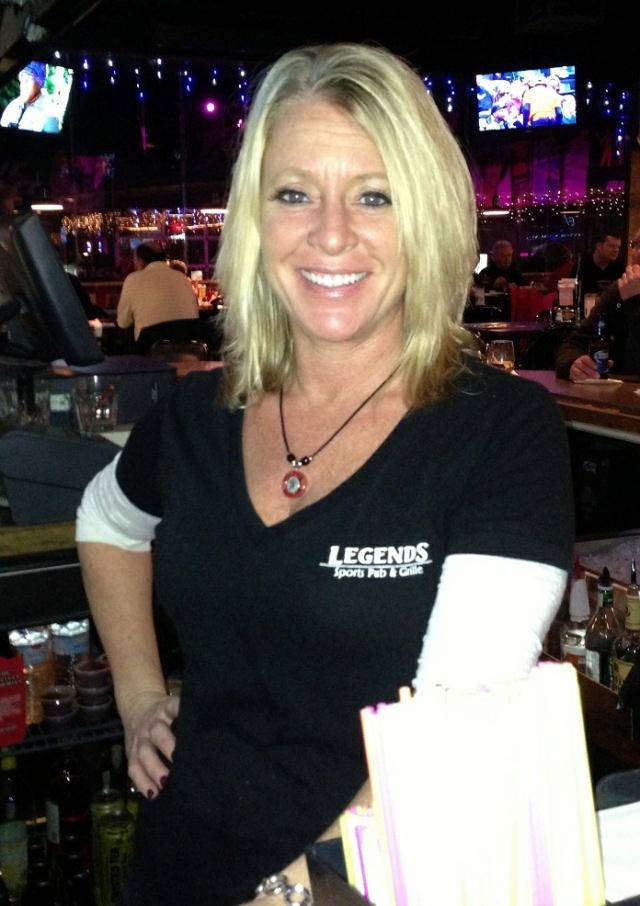 On the Wednesday of our Geezers Nite Out around 10:30 AM I went over to the Giant Eagle on Waterloo Rd by Guy's Party Center. As I entered the parking lot I could see a large number of police cars with their lights flashing across the street. There was a yellow "poice" tape in front of the bushes on the sidewalk on the Giant Eagle side. There were sawhorses blocking Waterloo Rd at the intersection of Brown St., and there was a police car blocking the Waterloo Rd exit of Giant Eagle.

I went into the store and got what I needed, and left. As I was leaving the police were taking down the yellow tape from the bushes. I had no idea what had happened, but I knew it ahd to be something Big! When I arrived at home I immediately signed onto the Internet on the computer. On Facebook I saw a story already there about a murder at the intersection of Brown & Waterloo. In the article posted it related that a car pulled up to the light with another car pulling up next to it. Shots were fired into the first car, and the driver, and found unresponsive.

Pretty scary!

We saw an ad on TV for Sprint about a zombie asking about the Unlimited for Life guarantee. It was very funny. I then looked down at the end of the bar, and I saw a man who looked a lot like the zombie in the ad. He had a hat on and kept looking strait ahead. I was going to try and take a picture, but as soon as I was able to isolate him, he was gone! Disappeared in thin air! I WONDER????  

Billy Bob usually arrives late (anytime after 6:00 PM) due to his travel for his job. But on this nite he was a No Show!

Next week we were supposed to go to The Galaxy, Again. But our Florida Geezer, Jimbo Fish, will be in town for it so our Entertainment Director (E.D) R. B. decided to change it to Johnny J's in Springfield which is closer to where Jimbo will be staying while he is in town.

So next Wednesday, September 25, we will be meeting at Johnny J's.

BEACON'S BEST #1 BARTENDER - "NIGHTLIFE"!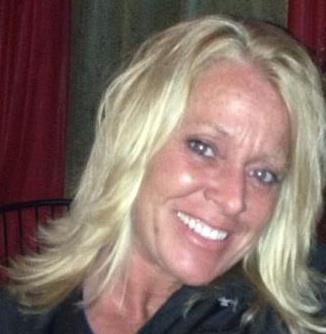 Yes, she finally did it! She is Tricia, one of the bartenders at Legends Sports Pub & Grille in Green, OH. She was voted as the #1 Bartender under the Nightlife catergory in the annual Akron Beacon Journal Beacon's Best contest.

Beacon's Best rates the Best of anything you can think of. The catergories were Arts & Entertainment, Shopping, Pets, Night Life, Health & Fitness, Beauty, Food & Dining, and Professional Services. This enompasses a lot fo different professions. And Best Bartender in the Nightlife catergory was on by Tricia.

Legends also won for Best Sports Bar in the Nightlife Catergory. So it was a Win/Win situation there.

I believe that Tricia finished in Second Place last year in 2012. But this year she is numero uno thanks to her customers and the Geezers!

CONGRATULATIONS TRICIA! HARD WORK DOES PAY OFF!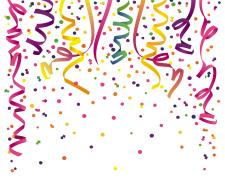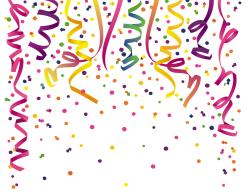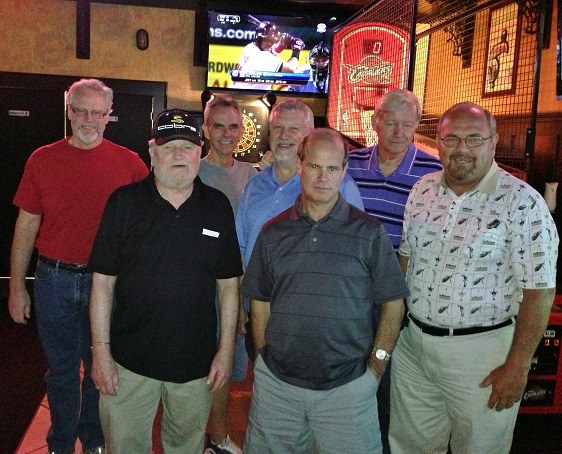 JOHNNY J'S PUB & GRILLE - Springfield - September 25, 2013

Wednesday, September 25 the Geezers had a Geezers Day/Nite Out! It was because of our Florida Geezers, "Jimbo" Fish, being in town for a High School Reunion. I believe East High School.

On Wednesday afternoon, precisely 1:40 PM Jimbo, Joebo, R. B., and Spike (Swish) teed off for one of their very rare "Grudge Matches"!  Jimbo now lives in Homosassa, Florida so the four of us do not have the opportunity to play together that often. The last time that we played in Akron we were rained-out after about 6 holes. We have played two or three times in Florida together since Spike has a winter home there during the winter. The result of the match was a "Tie". Team Jimbo/Joebo against Team R. B./Spike. However, we are bound by Geezer rules not to divulge that actual individual scores.

The match was played at Firestone Public Golf Course adjacent to the North course at Firestone Country Club.

After the golf match the four of us headed for our regular Geezers Nite Out at Johnny J's Pub & Grille in Springfield. Jimbo is staying along with his wife, Karen, at his brother's home during his visit which is near JJ's!

The picture above was taken by one of the bartenders at JJ's. Thanks to her. OK, here it is. The faces that go with the "nicknames"!

Front Row, Left to Right: Joebo, R. B., and Jimbo.

Back Row, Left to Right: S. B., Billy Bob, Spike, and Mr. Lobber.

Johnny J's has a Happy Hour on Wednesdays that rivals none. First of all if you are sitting at the bar you can order "Happy Hour Fries". Meaning FREE! And it is quite a generous order for each person.

Also from the start of Happy Hour until 9:00 PM they offer 1/2 Price Appetizers. They are also generous portions, and the Chicken Tenders are very popular, and filling. (Both Fried and Grilled)

It was also voting nite to vote for the meeting places for the month of October. There was a a 3-way tie for three locations that necessitated another vote. The results have been tabulated by our Entertainment Director R.B., and they will be posted on the SCHEDULE page shortly.  

R. B. and Billy Bob think that they saw the "Winking Lizard" Look-A-Like! At one meeting in Montrose at the "New" Winking Lizard we saw a customer at the bar who resembled the Lizard Logo! This may have been the same guy. We'll never know.

Next Wednesday, October 2, we will be meeting at one of our old meeting places from years ago. It is now called The Grille, on Waterloo Rd across from Guy's Party Center, and Giant Eagle. It was formerly the Tap House, and Scorcher's before that. Scorcher's original owner, Russ, is now back running The Grille.

Hope to see you there.