This is a Monthly Newsletter. Articles, Pictures, and Happenings are all listed on one page for the current Month. Please Page Down to see all of the News in the order that it happens. 

This page was last updated: January 9, 2012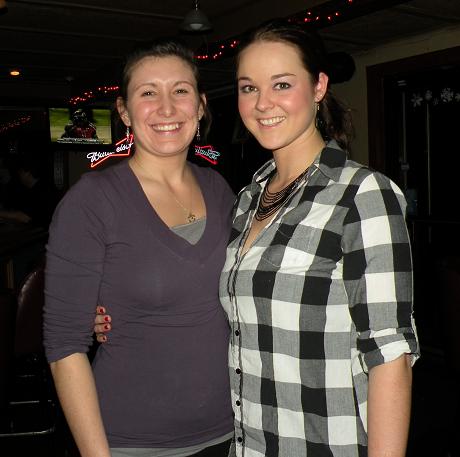 The first Geezers Nite Out of 2011 was held at Legends Sports Pub in Cuyahoga Falls near Stonehedege Bowling Lanes on E. Cuyahoga Falls Ave on JAN 5 .

Our bartender for the evening was Darah, on the right, pictured with Maddie, a server. We sat at a table, which is uncharacteristic of us, and Darah, and Maddie made sure that we were taken care of sufficiently.

We didn't exactly have a big turn out, due to our Florida "snowbirds".

The Geezers who were there were J.Bo, Nicko, Billy Bob, R. B., and Mr. Lobber. My cuz Rick, stopped by to pay us a visit. He works in nearby Tallmadge. His brother Wayne, a good friend of the Geezers passed away on Christmas day this year. Our deepest sympathy go out to him and the rest of the family.  

Spike,
Fergie
,
Mr. Warmth
, and
The Jerry
(
Jerry's Cor
) are the snowbirds in different areas of Florida.
Drumstir
is also down there for a week on his sister's yacht. Yachta Yachta Yachta! 
Some of us ordered from Legends excellent menu. I had a chicken wrap that was scrumptious. I don't see it on there menu, but you can ask for it if you are interested. It may have been
Hawk's Grilled
Veggie Wrap
with Chicken. 
Click Here
to check out the complete Menu. 
This Legends is a unique place with a horseshoe bar, and tables for dining. It has only been open as Legends for 5 or 6 months. Before that it was a Country Kitchen that most of the Geezers knew too well. It's a comfortable place to  stop for a drink or for a meal.

Next Wednesday, JAN 12 we will be back to the scene of the Goodyear Christmas party with the Phantom Band, at Just One More in Gala Commons off of Rt 224. Hope to see you there.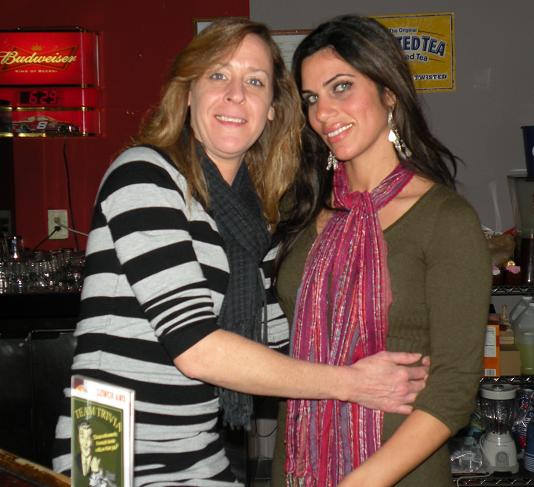 Yes, we were at Just One More (JOM), one more time, for our Geezers Nite Out on Jan 12 in Gala Plaza.

To the left are two of the bartenders who served us on this night. L-R are Michelle, and Navene. Michelle was there when we first arrived, and Navene took good care of us the rest of the evening when Michelle left for the day. But we wouldn't let Michelle go until we could get a picture of her since we didn't get one on DEC 22 when the Phantom Band played there for our Geezers Nite Out, and the Goodyear Christmas party. 

The Geezers who were there on this blustery nite were Big Boi, J.Bo, R.B., Billy Bob, and Mr. Lobber. It wasn't snowing that much on his nite, but it was cold, and windy. However, it didn't stop us from stopping out.

Our meetings are every Wednesday nite. And it just so happens that JOM has some enticing specials from 4-7 every Wednesday. They offer $1 domestic bottles, and domestic pints of beer. Also they have $1 burgers to go along with the beer. And these aren't exactly sliders. They are a pretty good piece of meat on great tasting deli buns. On this nite they also were making baskets of Poppers for $5. There were 10 in a basket, and they were great. I have a feeling that JOM will be voted in every month during the winter months.

We were also celebrating another B-day. What's new? This time it was for the Big Boi. He never did say which one it was, but he is no longer the youngest Geezer. We are not exchanging cards this year for the first time. It was getting a little expensive considering that we were also including instant Ohio Lottery tickets in the envelope with the card. Most of the tickets were losers,and it seemed like there was a B-day every month. Of course some of the original Geezers who were friends long before the Geezers began will still exchange them as they so desire. Big news! 

We want to say Hello to any of our snowgeezers down in sunny Florida who may be checking the website whenever they have time from their busy schedule. They are Spike, Fergie, Mr. Warmth, and The Jerry. Drumstir was down in Ft. Lauderdale for a short stay, but he just returned back to winter in Ohio Wednesday night.

Just One More is under new management, and the place is very rustic, and comfortable. They have great food, and a relaxed atmosphere. You have to stop in sometime, and tell Michelle, and Navene that The Geezers sent you.

Next Wednesday, January 19, we will be down in No Canton at Fox And Hound on Everhard Rd. just passed Belden Village Mall. Hope to see you there.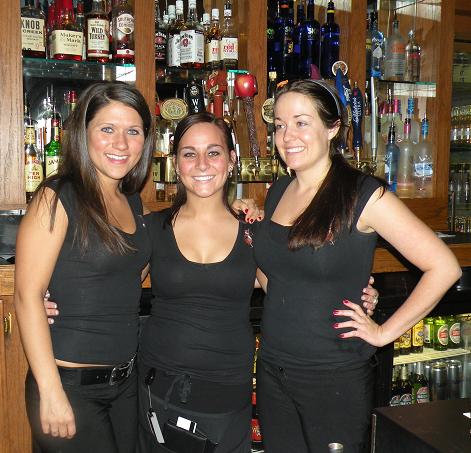 The Geezers were back at the sports pub Fox And Hound on Everhard Rd in No Canton for their Geezers Nite Out on Wednesday, JAN 19.

Pictured to the left are (L-R) Marci, Laura, and Alexis. Marci, and Alexis were our bartenders for the evening, and Laura is a server. Janet, the day bartender, was behind the bar when we first arrived.

Those Geezers who ventured out on this cold windy night were Nicko, Big Boi, J.Bo, Candyman, and R. B. Billy Bob emailed us some lame excuse about having a meeting at 7:00 P. M., but he didn't say with whom!

For some reason we were still celebrating Big Boi's B-Day (1/13). the drink specials at Fox and Hound that night were wheat pints for $3, and house margaritas for $4.

However, on the drink menu they have a super-big margarita called called the Kryptonite 'Rita. You can see it, and the ingredients in several pictures below in the Photo Gallery.  R. B. saw the bartenders making one, and he thought that it would be a fun thing to surprise the Big Boi with one for his B-Day which was last week. R. B. did this right after Big Boi said he was done drinking!

Most of us ordered from the Fox and Hound excellent menu. I got the soup, and salad, Mr. Lobber ordered the fish, Big Boi had some mean chili that he calls Jalapeno Chili. So that's all that he needed to top it off was the Kryptonite 'Rita.

R. B. also had an interesting item form the menu. It is called the Black Forest. It is a large Bavarian Pretzel stuffed full of meat, and things. There is a pic of that also below with what goes in it.

The name of a deceased friend came up during the course of the evening. It was a familiar name to some of you, Jerry Bunts. Most of the Goodyear Geezers knew him or of him. We were wondering how long ago it was that he left us. Well I knew where to get the answer. I called his good friend, and fellow Geezer Jerry Eck who is a snowbird down in Florida. Lucky him! I asked him about Jerry, and he went and got the actual obituary from the Akron Beacon Journal. Bunts passed away on August 19, 1996.  He was going to travel to Las Vegas the following week to get married.

Despite that serious moment we had a great item at Fox And Hound, and it may become a regular stop on our schedule. Next Wednesday, January 26, we will be at another one of our fave stops, the Brick House on Howe ave in the Falls. Hope to see you there.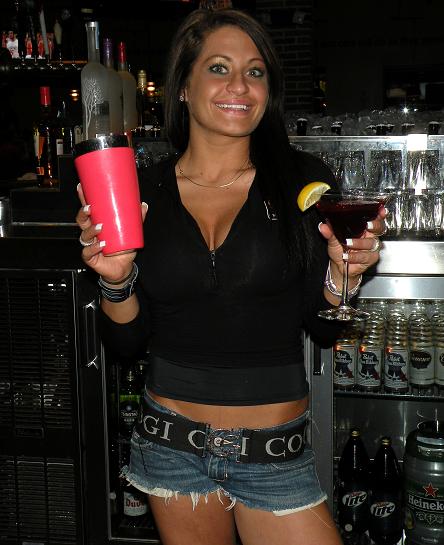 The Geezers Nite Out on Wednesday, January 26,was held at the Brick House on Howe Ave in front of the Target Store.

Our bartenders for the evening were
Tina,
pictured to the left, and
Emily
when we first arrived. However, it was a slow night, and Emily left. However you can see her pics on the
Bartenders
link/Brick House.  We will have some pics of her below in the
Photo Gallery.
The Geezers who were there were Nicko, Drumstir, BFB, J.Bo, R. B., and Billy Bob. Our Snowbirds are still down in Florida, and they will be there for quite some time. 

We talked to the Manager about what plans the Brick House has for the Super Bowl in a couple of weeks. One thing that they are going to have is their they have leather recliners in a certain area available for private service. This area has your own personal TV's along with the recliners. I don't know what the normal prices are for this area is but for the Super Bowl it is $100 a chair. But for that you get one Hamburg, a $20 gift card, and a beer caddy. They will also have $1 domesic bottles, $2 drafts, and $4 wine for everyone.

Most of the Geezers ordered off of the Brick House menu. I had my fave Beefed Up Steak Salad which is a salad of greens with chunks of broiled steak. Big Boi decided to get the Fish & Chips even though it wasn't Lent or Friday. Besides that he's not Catholic. It looked good. Drumstir had the House Cheeseburger. He didn't like it! Not sure what the others had, but I'm betting that Billy Bob had a cheeseburger too.

It was also our voting night for the meeting places for
February
. The results have been tabulated, and they will be posted shortly on the
SCHEDULE
page. However, there were a few shenanigans going on during the course of the vote. There were only six of us there due to the snowbirds in Florida. As is sometimes the case we had only one place with 4 votes. It was a "Pick" 4 month. (4 Wednesdays).  R. B. is a practical joker extraodinaire. There was a 5 way tie with 3 votes each so we all had to vote again on the ties. We had to vote for 3 places out of the five which were
The Galaxy
,
Jerzees
,
Johnny Malloy's
,
Dusty's Landing
, and
Just One More
. The winners will be posted on the Schedule page. But when R. B. handed me the ballot with the final totals it had listed one of the winners a place that has since become an unpopular choice with us. However, when he didn't get the reaction that he expected he showed me the legitimate winners. Real funny!
We didn't see any"celebrity" look-a-likes Wednesday night like we usually do. But we saw one fellow who resembled Fergie, one of the Geezers who is in Florida. And we did get a pic this time. Check it out in the Photo Gallery below.

We're not sure yet where we are going to watch the Super Bowl on Sunday, Feb 6, but next Wednesday, Feb 2, we will be back at one of our fave places, Legends Sports Pub & Grille in Green to see one of our fave bartenders, Tricia. Hope to see you there.