This is Monthly Newsletter. Articles, Pictures, and Happenings are all listed on one page for the Current Month. Please Page Down to read all of the News in the order that it happens.

LEGENDS SPORTS PUB & GRILL - January 4, 2012

The Geezers met at Legends in Green for the first meeting of the Happy New Year 2012. Surprisingly, the place was almost empty when we first started arriving. Usually, around 5:00 P. M. it is hard to find a seat at the bar. Our bartender, Tricia, speculated that people were still getting over a big holiday hangover.

R. B. was late in arriving due to some year end problems with the infamous outsource company ACS. It's hard to believe, but Income Tax time is coming up sooner than you think. TV and radio adds for Income Tax will be replacing the Christmas adds for the next four months.

For the 3rd time since I have been taking pictures with my Nikon digital camera I forgot it when I left Wednesday night. The thing is that I didn't even take one picture. I had it hanging on a peg under the bar railing. I called Legends as soon as I arrived home and talked with Christie, the bar Manager. She sent Tricia out from behind the bar to where we were sitting and she retrieved it. Christie said that she was going to take some naughty pictures of Tricia with it until I picked it up the following day. I did pick it up Thursday afternoon, but to my dismay there were no pictures taken on the camera!

Wednesday, January 11
, we will be at one of the newest stops on our Schedule,
The Tilted Kilt
in No Canton on Dressler Rd. 
Two of the Ohio Geezers are now in place down in Florida. Taking into account the weather that we have been having lately they couldn't have picked a better time.

Spike (Swish), and his wife, Kathy, left way before the snow hit on December 23. They spent the night in Savanna, GA and arrived in Homosassa, Florida to temps in the 80's. However, as of the date of this article, JAN 5, 2012,  it is supposed to be down to 38 degrees, but up to 70 on Friday.

Fergie, long with his wife, Brenda, arrived in Tampa (Bahama Breeze) on Thursday, December 29. At that time it was around 68 degrees. He called me from one of our fave eating establishments where R. B., the Big Boi, and J.Bo make their yearly super Bowl trip at the Bahama Breeze just across the causeway in Tampa. Fergie was heading to their condo in Clearwater. The temp was to be 45 degrees on the evening of 1/5 with a high of 70 on Friday, 1/6.

The Geezer trio (R. B., Big Boi, and J.Bo) have not decided yet if they are going to make the trip to Florida in February.      

This page was last updated: January 29, 2012
Drumstir's wife, Cindy, was going to be in Las Vegas the weekend of Jan 6-8. She is a flight attendant for United/Continental Airlines. They have already been to Amsterdam, and Hawaii twice in 2011, and they recently just returned from a cruise at the end of the year.

So understandably, Drusmtir was getting cabin fever. So he decided to fly out to Las Vegas, Saturday (1/7) and spend some time with Cindy. They were going to enjoy Vegas on Sunday (1/8) and fly back the following Monday. It must be nice!


UPDATE TO DRUSMTIR IN VEGAS 

Drumstir (Denny) ended up EVEN in Vegas.  As indicated in the article below he flew to Vegas last Saturday, JAN 7 to meet his wife Cindy, who is a Flight Attendant for Untied/Continental Airlines. He arrived there as planned from Cleveland, but just as he arrived his wife called him, and said that her flight was canceled due to mechanical problems, and she wasn't coming to Vegas.

Drumstir was still in the airport so he checked at the desk, and there was a flight leaving in a matter of minutes  for Cleveland on the same plane. Resisting the temptation to spend the night in Vegas he got on that flight, and returned to Cleveland. He was in the Vegas airport for 41 minutes.

The good news?  He didn't LOSE! 

THE TILTED KILT SPORTS PUB - January 11, 2012

The Geezers Nite Out for Wednesday, January 11, 2012, was held at The Tilted Kilt Sports Pub on 5075 Dressler RD in No Canton, OH.

It was the perfect place to celebrate the Big Boi's birthday. His birthday was actually on the following Friday the 13th of January. Another weird coincidence. We voted on the meeting places for January back at the end of December. So the fact that the Kilt was voted in, and scheduled for this particular day by R. B., our Entertainment Director, was just meant to be.

Dougie (Big Boi) was attended to by a large number of Kilt Girls, but the Kilt Girl for our table was Amanda K. Evidently there are a lot of Amanda's at the Kilt in No Canton so she adds a "K" to the end of her name. Amanda was very attentive to our needs, and arranged for the other girls to do their thing to celebrate the Big Boi's B-Day. The Happy Birthday wish for the birthday boy doesn't happen until the subject finishes dinner.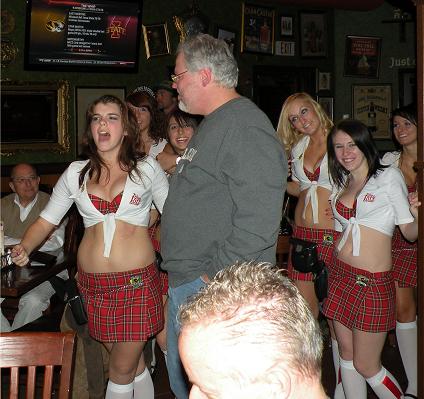 At that moment the Kilt Girl for her table gives the signal to the other girls, and as soon as she can round them up they all march over to the table with a special birthday treat. Dougie said later that it was a bowl of warm hot chocolate poured over a scoop of vanilla ice cream on top of a cookie.

Once a picture is taken of the birthday boy with all of the girls one of them announces "Attention Tilted Kilt" to the guests in the dining room area. Since we were near the bar in this case they took the Big Boi into the main dining room. She then tells the customers that she is going to count to "three". On three everyone in the place within hearing distance screams HAPPY BIRTHDAY. They don't sing it or do any other silly things. It is quite simple, but to the point.

We have more pictures from the evening on the
GEEZER PHOTOS
page.  
The popular item from the
Kilt Menu
this evening was
Fat Bastard's Meatloaf Sandwich
. It is named after the heavy character played by
Mike Meyers
in one of the
Austin Powers
movies.
Gary
, Drumstir's son,
Drumstir
, and the Big Boi had this delicacy. There is a picture of one of the plates in the
Photo Gallery
on the
GEEZER PHOTOS
link. 
Dougie is also a Martini drinker, and I got him a birthday card referring to a "Clean House", but a "dirty Martini". And, you guessed it, I had Amanda K bring him one.

It was a good time had by all at one of the areas newest Pub & Eatery. With all of the girls that they have running around this place I don't know how they came up with the slogan "A Cold Beer Never Looked So Good"

Next Wednesday, January 18, we will be at The Galaxy Sports Bar off of RT 224, and RT 94 in Wadsworth. We hope to see you all there. (Except for the Snow Birds.)

THE GALAXY - WADSWORTH- January 18, 2012

The Geezers Nite Out on Wednesday was at The Galaxy in Wadsworth. It was a cold night. The day before it was 50, and this Wednesday it was around 25. What a difference.

Wednesdays during the winter are Ladies Night with DJ TK O'Grady from radio station WONE. The weather change had something to do with the turnout for as long as we were there, because it wasn't very crowded. It may have been later on, but it was past our bedtime when we left.

Our bartender, Jenny, was celebrating a birthday, but she wouldn't tell us which one. One of the Patio bartenders in the summer, Michelle, was there for a short time to help out once more people arrived during the dinner hour.

The popular item from the Galaxy Sports Bar
Menu
was the
Oven Roasted Turkey Wrap
.
J.Bo
,
R.B.
, and
Billy Bob
all enjoyed it. The
Big Boi
must have been thinking of Florida because he had the
Fish Sandwich.
(Center cut cod)
We did see a celebrity look-A-like. It was a fellow who resembled the infamous 1972 Deliverance movie star Ned Beatty. I think this guy had the Prime Rib Special not any pork. OK, we just had a plug for The Galaxy, Ned Beatty, and the movie Deliverance. 

Two more Patio girls were working the floor at The Galaxy this night. Shauna, and Leslie. It was good to see them as we usually do when The Patio is open for business.

Next Wednesday, January 25, we will be at one of our fave meeting places and the Home of The Phantom Band, Just One More Bar & Grill in Gala Plaza.  On Wednesdays they have $1 Burgers and Domestic Bottles.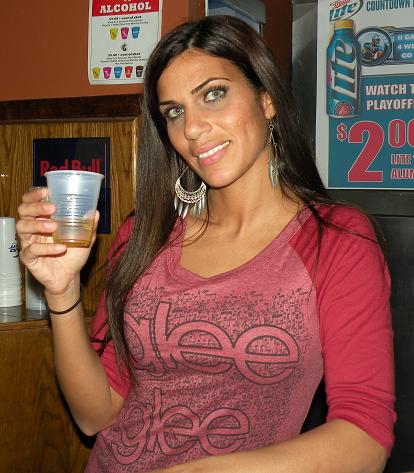 JUST ONE MORE BAR & GRILL - GALA COMMONS - January 25, 2012

For another time the Geezers met at Just One More in Gala Commons on Wednesday January 25.

Our bartender for the evening, Neveen, is pictured to the left. The day bartender, Michelle, left at 5:00 P. M. when most of the Geezers were arriving. Both Neveen, and Michelle have stayed with Jen, the owner, during the time that they were closed due to a misunderstanding with the previous owners.

Most of the Geezers took advantage of the $1 domestic bottled beer, and burgers. The Head Chef is Bill, and he has a storied past. But for this article we will keep it short. They also have a lot of other tasty items on their fine menu. The dollar items are good from Monday thru Friday till 7:00 PM.  Drumstir also tried the Chili, and Billy Bob had the Reuben. 

As far as chili goes Neveen recommended the Chili House in Cincinnati and Lexington, Ky.

I am not taking a roll call any longer for the Geezers meetings, but our Entertainment Director, R. B., has a new nickname as we all do. It seems that there has been some business nicknames assigned to different situations, and associates. The result. R. B. is now called "Big Motha" at the Goodyear. OK, whatever! 

It was also voting nite. During the last meeting night of the month we vote for the meeting places that we will be going to in
February
2012
. The results will be posted shortly on the
SCHEDULE
page.
Next Wednesday, February 1, we will be meeting at The Basement in No Canton on the corner of Portage St., and and Whipple Ave. Take the Portage St. exit off of 77 south.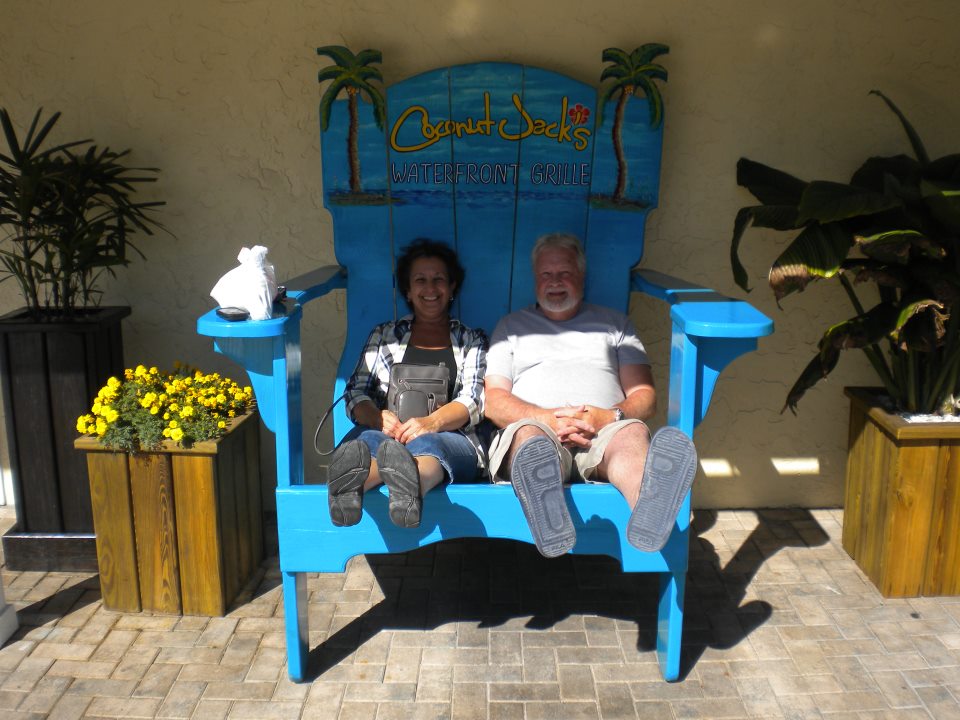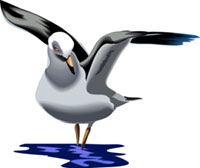 R. G. (Archie) and Mary Lou Stein, pictured above, are enjoying their winter in Florida. However, times must be a little tight as they could only afford to buy one lounge chair............Sandi Brubach celebrated a B-Day last Monday, 1/23, while in Florida. But she wouldn't tell us which one. She left a little hint in a Face post that it might be the Big Six-O!.....Some of us talked with Spike (Swish) last Sunday while watching an NFL playoff game at Johnny Malloy's. He has to spend the Super Bowl week babysitting his Mom who is staying with his sister who lives in Florida. But he said that he plans to be back for St. Patty's Day.....Fergie, and Brenda are in Clearwater working relentlessly on the condo that they purchased at the end of 2011...........The Jerry (Jerry's Corner) is spending his winter in Akron, as far as I know, for the first time in many years. He sold his trailer after his stay last winter. I'm sure that he misses it.....And "Big Daddy" Dan Minier is in hibernation. Not a peep out of the Big Bear........No winter trip for R. B., the Big Boi, and J.Bo this year for the second time in a row. Anybody know a good place to watch the Super Bowl in Akron?