This is a Monthly Newsletter. Articles, Pictures, and happenings are all listed on one page for the Current month. Page Down to see all of the News as it happens.

WINKING LIZARD - Fairlawn, OH - January 2, 2013

Our first Geezers Nite Out was held for the second time at the Winking Lizard on Ghent Rd across from Summit Mall. However, they will be moving up the road sometime in the near future. I heard near the Chipolte Grill.

On this night it was mighty cold. I checked with Siri on my iPhone5, and she said: "It is pretty cold in Akron........" and displayed a 5-day forecast on my screen. It was "19" degrees. Pretty cold!

Pictured to the left is one of our bartenders for the evening, Mandy. she was very busy when I attempted to take a picture and she was on the move when I finally took it. She only had time for one!

The Lizard has 107 bottled beers available each day, and 27 or 28 draft beers. We were in the mood to try all of them, but we settled for a few.

The Big Buddha (S. B.) likes the IPA's. (Which stands for India Pale Ale). What is coincidental about this is that in his job he deals with people from India on a daily basis. On this night his fave was Fat Heads - Headhunter IPA.

R. B. started off with the safe Stella Artois. He ordered it in a draft, and most places have this. Later on he ordered his fave Kentucky Bourbon Ale (Draft). It is an ale that is aged in bourbon barrels.

I (Joebo)started off with my old "stand by" Guinness. Most people believe that it is a powerful beer, but it has the least alcohol percentage of any foreign beer. It is also low in calories. I also tried Great Lakes Dortmunder that I was not particularly fond of.

I believe that Billy Bob tried one called Goose Island Nut Brown Ale. On Wednesdays, the Lizard food Special is 1/2 Slab of Ribs for $7.99 which he also tried.

The rest of us ordered a Large Deluxe Pizza. We all had a menu to check out, and R. B.'s had one with a blank plastic cover. Being the "joker" that he is he told us that HE was going to order the pizza. When Mandy came by he opened the blank page, and said (Pointing to nothing): "We'll have the Diet Deluxe Pizza." You had to be there!

As you know two of our group are now down in Florida being Snow Birds. Spike and Fergie. Fergie drove down with his wife Brenda a few days after Christmas. He usually gives me a "friendly" cell phone call telling me that he has arrived save and sound from...the Bahama Breeze, not far from the Tampa Airport. He never wanted me to worry! But it seems that he is always waiting for his food order when he calls indulging in a cocktail. This year I didn't get a call, and I later found out that Brenda became ill on the way dow,n and when they got there they went straight to the condo and she went to bed. However, she is doing fine now.

Even with the frigid temp outside we had an enjoyable evening at the Lizard. We will most likely be back there often the rest of the year whether they move or not. Next Wednesday, January 9, we will be at Legends Sports Pub & Grille in Green.

This page was last updated: January 26, 2013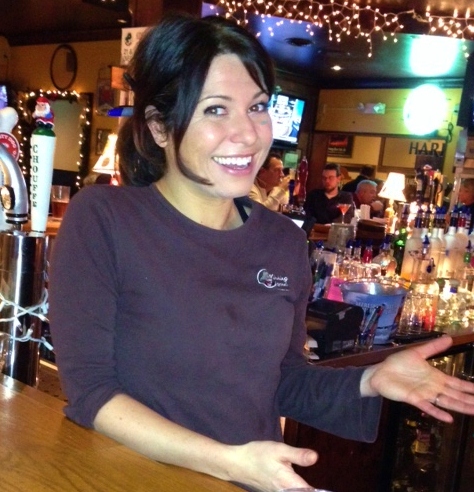 LEGENDS SPORTS PUB & GRILLE - Green, OH - January 9, 2013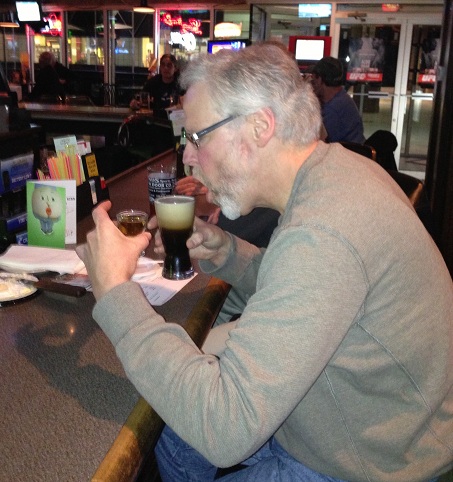 It was another "Special" Geezers Nite Out at Legends last Wednesday nite, January 9. We were celebrating S. B.'s (Dougie) B-Day. He has had a lot of nicknames over the years, BFB, the Dancing Bear, the Big Boi, and lately Big Buddha. Let's just say, that since he last lost 70 pounds, S. B. stands for "Skinny Boy"!

His actual birth date is/was
January 13
, but we were celebrating it this nite. One of our fave bartenders,
Tricia
, was helping us out. We asked her to get something "small" for "skinny", and she didn't disappoint. Go to the
PHOTOS
link to see pictures of the "cake", Tricia, and more pictures from the evening.
It just so happened on this nite that there was another bartender who was training with Tricia.  And it just so happens that the Geezers know her very well. It was Amy, who we know from the Tap House on Waterloo Rd, formerly Scorchers. Pictures of her with Tricia are also on the PHOTOS link. 

Most of us ordered from Legends excellent
Menu
. I (
Joebo
)was trying to eat somewhat healthy. I had the
Turkey Club Wrap
with regular chips. S. B. enjoyed a
Cobb Salad
with...
CHICKEN
. He really splurged because of his B-Day! Pics of those too are on the PHOTOS link.
We did see a couple of Celebrity Look-A-Likes. We  saw a guy who we have seen there before, and R. B. thinks he resembles "Fat" Elvis. And as usual at Legends we saw none other than "Sweet" Lou Holtz!

An interesting thing happened this evening also. Our "Class Clown" R. B. has an annoying habit of writing Love Notes to the bartenders on certain Geezers' bills once they leave. It was a busy night, and Tricia was not too pleased with his shenanigans. So she blurted out in a fit of rage "Jack Ass" to him when he pushed her envelope. I guess it didn't sit too well with him because you will have to go to the PHOTOS link to find out what he did to his bill. This was a good one "Big Al"! Check it out.

It was a great nite and a lot of fun celebrating S.B.'s B-Day! Next Wednesday, January 16, we will be meeting at the New Firehouse on Tallmadge Circle. Hope to see you there.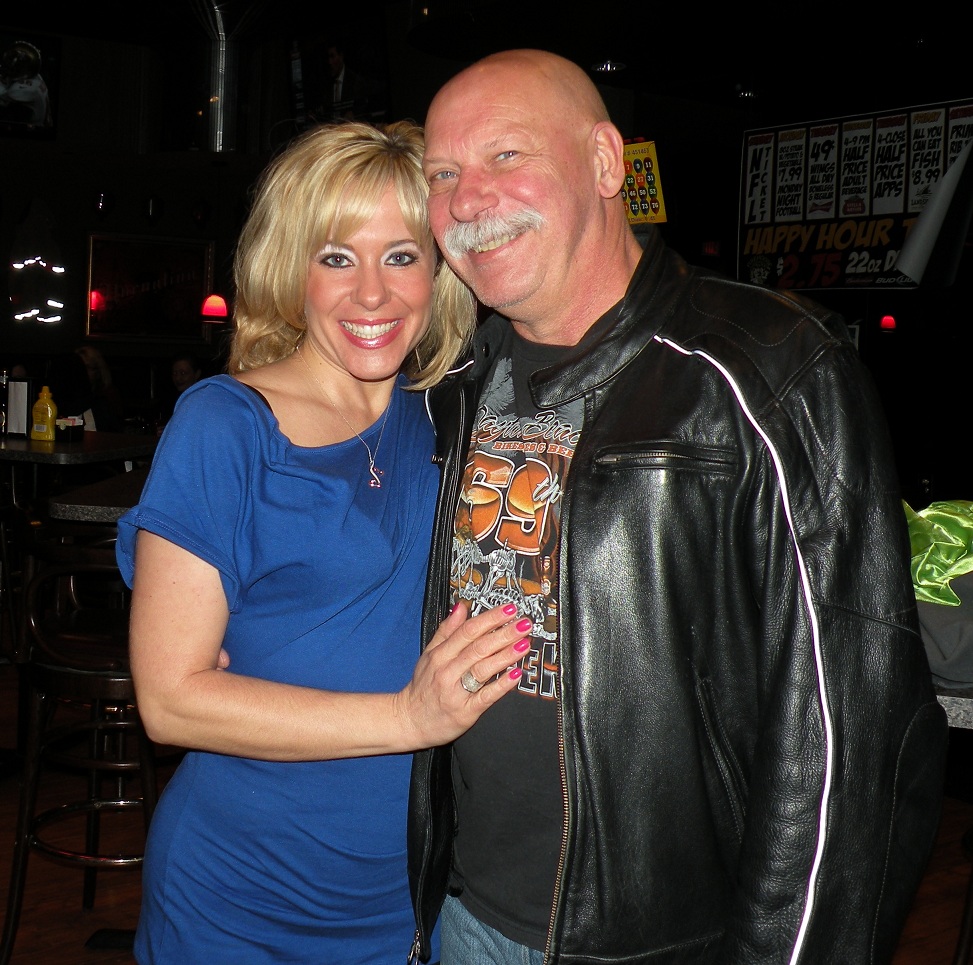 FIREHOUSE GRILLE & PUB - Tallmadge (Circle) - Ohio - January 16, 2013

It was a strange nite at our Geezers Nite Out at The Firehouse on Wednesday, 1/16. First of all, I was there early on this evening. But early isn't the word! I sat there for an hour before another Geezer showed their face.

In came S. B. (Skinny Boy) about an hour or more after I arrived. He had been "working out" at the Natatorium in the Falls. After already losing 70 pounds, I'm sure that was not a priority on this nite.

Later on (Approximately around 6:00 PM) R. B. came sauntering in. But, before he joined us he just had to talk to a couple of people that he knew. He knows everyone.

And then Billy Bob made his usual entrance at his normal time. He works anywhere from Wadsworth to Aurora, OH so his arrival is always up in the air. That is his usual time. 

Pictured above are
Jenny
and
Charlie
. Charlie is on the right! Charlie works with S. B. at Goodyear. Jenny we know from when she was a bartender at
Johnny Malloy's
behind Chapel Hill. She was one of our faves. So much so that we made her our
Bartender of The Month of September 2006
. She is also on the
Jerry's Corner
page as one of his
Corvette Girls for JULY 2006
. So she is very popular in this area.
The reason we put Jenny and Charlie's photo on the website is two fold. First of all we know, and like them.

Secondly, we were not able to get pics of the bartenders on this nite at Firehouse. However, Jenny is one of the Firehouse bartenders. Just not on this nite.

We usually take at least one picture of a female bartender each week wherever we go for our website. It is our style. Our persona. It's what makes us different from other similar web sites. And there are a lot of them. However, on this nite the bartenders were too busy. That's what I was told, to take the time to get the three bartenders together to pose for one photo. They have on other nites. But we understand that they get very busy, and the customer comes first. Wait a minute. Aren't we customers?

Our bartenders for that evening were Britney, Jesse, and Eran. Eran is new to us. but when I asked her for a pic she was a little leery. I think that she thought I was a "creeper'!

We all ordered from from Firehouse's menu.  S. B. was eating healthy, and ordered the Chicken Breast Salad. He said it was good. I ordered the Grilled (Chicken) Cobb Salad. The menu indicates that it has Feta cheese on it. I ordered it WITHOUT Feta cheese. One of the bartenders, I can't remember which one, took both of our orders. She did so without writing anything down. As I said, S. B. enjoyed his meal. I could only eat a few bites, and I experienced some serious heartburn while I was eating it. So I stopped and put the rest in a box to take home. On the way home and for the rest of the evening I still had heartburn, and after I did get home I was eating Tums like they were candy. I don't know this for a fact, but I have to believe that there was Feta cheese on it. I had the same feeling for the rest of the night as I did when I ate a Turkey Wrap with Feta cheese on it at another restaurant. In that case I forgot to tell them not to put it on. Just sayin'!

Needless to say I never ate the rest of it the next day.

The reason we did not have a good turnout Wednesday night, and for most of the winter, is that a couple of our Geezers are Snowbirds in Florida. Spike (Swish) is down at his winter home in Homosassa, and Fergie is at his place in Clearwater. Also, the Phantom Band drummer "Big Daddy" Dan Minier is in Port St Lucie for the winter.

Drumstir is also a frequent flyer during the winter months. He visits his sister, Patty, on her yacht at Ft. Lauderdale Florida now and then, but spends most of his time in Ohio. He also joins his wife, Cindy, in Las Vegas quite often. She is a flight attendant for United Airlines. The Candyman is back in the area for the winter. He spends the summers at his condo on Cawtawba Island up at the Big Lake. But neither were there Wednesday as they consider North Akron too far out of the way to drive since they live near Canal Fulton.

Every week we usually see a celebrity look-A-like, but this week we did not. However, we did see a look-A-like. However, it was a guy who resembled Billy Bob in every way. He was tall, thin, gray hair. Perfect!

Next Wednesday, January 23, we will be at another one of our fave meeting places, Johnny J's in Springfield. On Wednesdays they have "Free Fries" for their bar customers, and 1/2 Price Appetizers. Hope to see you there.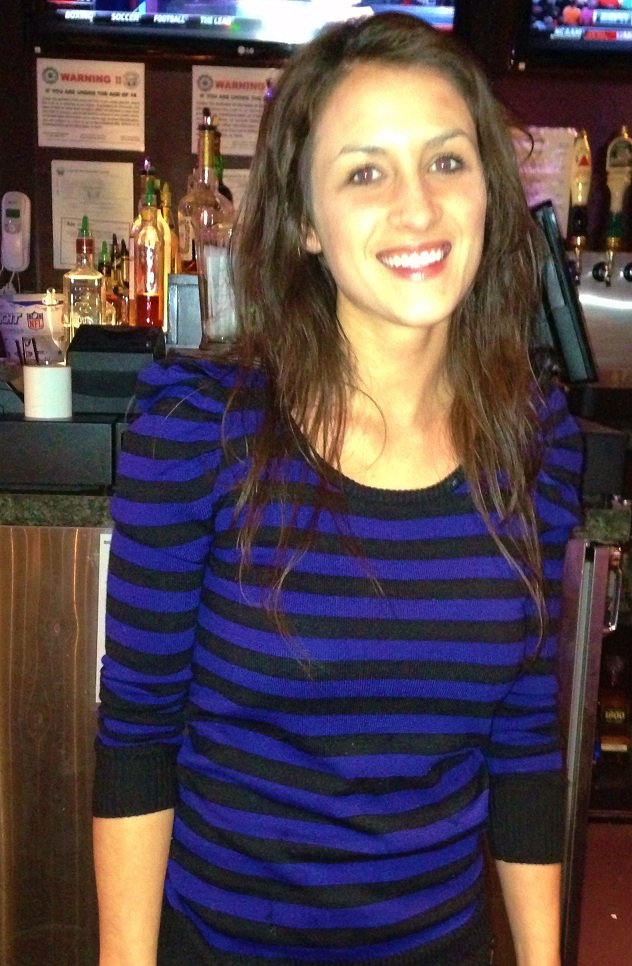 JOHNNY J'S PUB & GRILLE - January 23, 2013 - Springfield, OH  

Brr! It's 14 degrees outside...is what Siri told me on my iPhone5 at 6:54 PM on this Wednesday evening when I called her up. At 6:54 AM on this day (1/23) it was 3.2 degrees. And on Thursday (1/24) at 6:54 PM it was 12.9 degrees. Brr is right. We have been having one cold spell. Are the Browns in the Super Bowl or something like that? It's pay back from last winter.

In fact we were sitting inside the front door at Johnny J's with our coats on. There is a double-door entrance, but with people coming in and leaving it got a little chilly in there.

Pictured to the left is one of our bartenders for the evening, Felicia. We usually sit at the bar when we meet on Wednesday evenings. Here at JJ's they have a rather large bar, and enough bartenders to handle it. The only thing Felicia did wrong was bring us 3 bottles of Yuengling Light when S. B. motioned for her to bring us another round when the Candyman ordered another one. However, the three of us were not drinking the same thing. We drank' em though!  Other than that she was very accommodating, and friendly.

We usually see one or more celebrity look-a-likes when we meet, but on this nite we saw two people who were being themselves and no one else.. Russ and Pam Hartline walked past us at the bar on the way to a table, and said Hello. We know them from Goodyear. They are still there!

The Candyman made a surprise showing making the trek in the frigid temp all the way from Clinton. Drumstir was in Vegas again with his wife Cindy. I received a couple of texts from him, and it didn't sound like he was winning!  Spike, and Fergie are the two lucky ones. They are down in Florida being the snowbirds that they are. Some of us will be joining them at the end of next week for a few days.

Most of us ordered from JJ's full
Menu
. What most of those who did, took advantage of the
1/2 Price
Appetizers
. You can make a meal out of those, and mix & match.
R. B.
ordered two items that being
Chicken Tenders
, and
Jalapeno Poppers
. He offered me one of the poppers which I ate. But before I did I took a picture of it. Speaking of Goodyear earlier, it looked like one of their Blimps. I took a picture of it which you can see on our
PHOTOS
link. I really should have saved it, and put it on eBay.
I ordered the Build-A-Burger. It is one of  the featured items on the menu. However, I did have an unpleasant day on Thursday, but it probably wasn't from the burger. I must have picked up a stomach virus. There is a new virus going around now called the Vomit Virus from the UK. It effects the stomach with symptoms of vomiting, and diarrhea. Mine consisted primarily of the latter!

Some of us also had Free Fries earlier, which is a Happy Hour special for those patrons sitting at the bar.

Next Wednesday, January 30, we will be meeting at Dusty's Landing Yacht Club on Portage Lakes. We may be be back to the Lakes sooner than we think as we hear that On Tap has purchased the building that The Harbor was located in. However, we heard that it won't be operational until this Spring sometime. Perfect!