This is a Monthly Newsletter. Articles, Pictures, and Happenings are all listed on one page for the current Month. Page down to see all of the News, and photos in the order that it happens.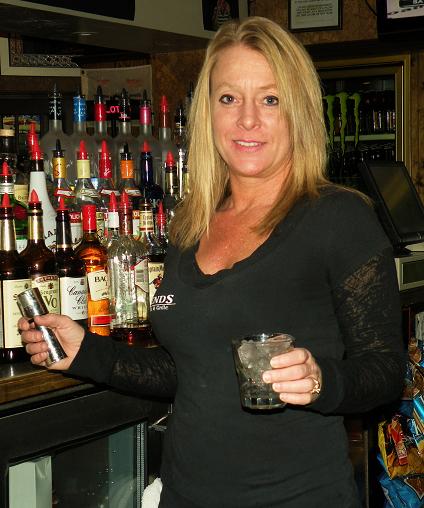 ANOTHER FUN NITE AT LEGENDS!

It never fails! Somehow something unusual happens when we meet at Legends. More on that later.

But our frist meeting for the month of March was at Legneds Sports Pub in Green. And one of our fave bartenders, Tricia, was behind the bar. We also go way back with the day bartender that day, Misti, who we know from our nites at Kevin O'Brian's on S. Main St in Akron.  

The Geezers attending the meetign were Kenny J, R. B., Billy Bob, Drumstir, Big Boi, and J.Bo.

As usual Legend's Happy Hour consisted of $2 domestic bottles, $3 Imports, $2.50 well drinks, and $2.99 Long Island iced Tea along with Bonelss wings for 40 cents each. However, Lengends has just embarked on something new. It is half-price selected Appetizers till 7:00 PM. Some .ffo the Geezers took advantage of the appetizers, and some ordered from Legend's excellent menu.  

There were also some big political doings in Legend's back room. When I say political I mean that The Mayor of Green was there, and his opponent along with a large contingency of local officials, constituents, and a live Jazz band with electric guitar, stand-up electric bass, sax, drums, and keyboard. We don't know who they were.  It was quite impressive, and we were trying to figure out a way to sneak back there, but they had a few podiums set up in front of the door checking off names of invitees, and everyone who went back there had to wear a name tag. There is always something going on in that back room.

As usual we did see some celebrity look-a-likes, and even some Geezer look-a-likes. For example I saw a young lady at the bar who resembled Tiffany Coyne, a model on the New Let's Make A Deal show with Wayne Brady. And then we saw our friend Monty Shriner, who we think looks like Uncle Fester from the Adams Family. He was a childhood friend of mine, and my neighborhood bud, Jim Harpley who is now living in Nashville, TN. Then the Big Boi told Tricia that he thought she was a Jennifer Anniston look-a-like. I think he was drinking Martinis! Kidding! Also we saw an "older' gentlemen who some of the Geezers were yelling Voigle (Candyman) at.  And then there was a fellow sitting at the end of the side of the bar that we were at who looked a lot like Drumstir, but he had a mustache. Then R. B. just had to chime in and say that he saw another senior with a younger girl who resembled Charlie Sheen. But he said because of his age he called him "Bishop Sheen". This goes way back. You have to be a Geezer, and Catholic to know who Bishop Sheen was.

Needless to say we had a good time again at Legends. R. B. was having a real good time. Let's just say that he was having a little fun with Tricia remarking about some of her duties behind the bar. He even wrote a little innuendo on the bottom of his bill. Tricia being the consummate professional that she is took it very lightly. I have some pics of some of these goings-on in the
PHOTO GALLERY
. Check them out.
Next Wednesday, March 9, we were scheduled to meet at Johnny Malloy's Sports Pub. However, we found out that Legends is planning a big party for Fat Tuesday, March 8, the day before Mardi Gras and Lent. They were advertising 99 cent Margaritas, and a "beads" contest. Our Entertainment Director, and "class clown", R' B. decided to change our night next week from a Wednesday, and Johnny Malloy's to TUESDAY, and Legends for Fat Tuesday. It was also discussed, and agreed upon by the Geezers in attendance. So dig around in your drawers (Bureaus & Dressers) for any stray beads that you may have collected. Hope to see you back to Legends on March 8.     

This page was last updated: January 9, 2012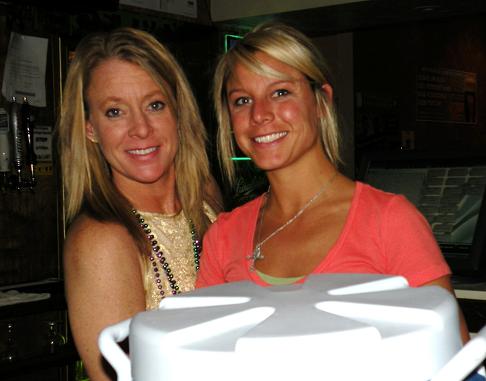 No, we weren't in New Orleans, but there was a ton of stuff going on at Legends Sports Pub in Green for the Tuesday edition of Geezers Nite Out on March 8.

Our two bartenders for the evening, yes TWO, for that raucous crowd were (L-R) Tricia, and Haley. The place was packed for Fat Tuesday, but there were only two bartenders this evening, and they did a bang up job. Of course the Geezers who were sitting at the bar didn't make it any easier for them. Those Geezers were Drumstir, Big Boi, J.Bo, Candyman, R. B., and Billy Bob. 

Radio station
Q92,
Canton's Hit Music Station, was there in force for part of the evening with plenty of beads in hand. I tried to take a picture of one of the females at the station desk, but she said that she was having a bad "hair day" or something to that effect. But I took a pic anyway which is in the Photo Gallery on the
Geezers Nite Out Photo Gallery
. If you look closely the radio station photog was standing right by the reluctant radio hostess.
R. B. pulled one of his disappearing acts when he left us to visit with some of the infamous "Fazio Group" who worked together at the now defunct Fazio grocery stores years ago. However, he did rejoin us before the end of the evening.

The specials for this event were 99 Cent Margaritas 4-9 PM, 1/2 off Appetizers 4-7 PM, Jambalaya Soup (Which I didn't have any of), 6" & 12" Shrimp or Clam Po Boys, and a 12" Combo Poboy. They had it all.

While we were there that night The Ohio State University had a press conference with President Gordon Gee, VP & Athletic Director Gene Smith, and Jim Tressel, head football coach.  It was reported, and admitted to by Tressel that he knew his players were selling memorabilia months before they were punished, and he did not report it. He received a 2 game suspension, and a $250,00 fine from the university. It remains to be seen if the NCAA will add more to the a penalty. But President Gee said that Tressel is not in jeopardy of losing his job. Time will tell.

You can see the top of a white, and blue large thermos in the pic of the bartenders where the 99 Cent Margaritas were stored before being served. There was such a large crowd there that there was a rumor that the bar ran out of them, but somehow they kept reappearing. I really wish they would have run out of them now.

The crowd was a mixture of all ages. There was a group of young girls who sat at the end of the bar near the front door. One one of them had a "bee-hive" hairdo and she resembled British singer Amy Winehouse. We also was another girl in the group who had a 50's bouffant do. Is the "old" style coming back?

Well, Fat Tuesday may be over, but next Thursday, March 17,  the Geezers will be celebrating another party day, St. Patrick's Day. We will be at Just One More starting at 1:00 PM in the early afternoon with the Phantom Band. Yes, that's right, the band is going Irish! The band is scheduled to play until 5:00 PM. We hope to see you there sometime during that time. Just One More is starting off the day/morning with Kegs 'N Eggs at 6:00 AM. I know we won't be there then, but hey if you want a good breakfast stop in, and come back later to hear the band and take part in the celebration. After all it's St. Patty's Day!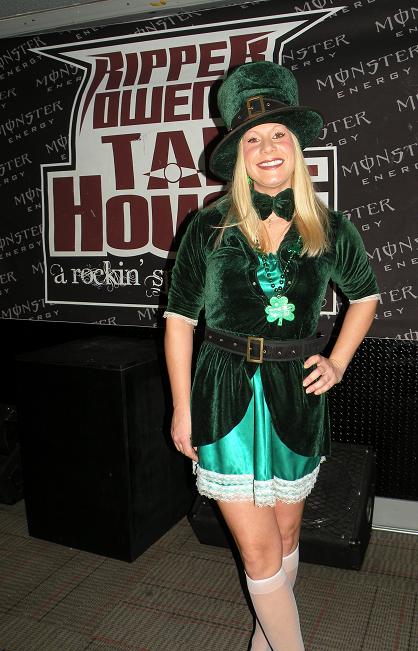 O'GEEZERS DAY OUT FOR ST. PAT

Well, the Geezers finally ended up somewhere for St. Patty's Day. The place was not as planned up until a week ago, but it turned out to be a bit o' honey!

You see the Phantom Band (Geezers Band) had been hired to play at Just One More in Gala Commons for a St. Pattys' Day party from 1:00 - 5:00 PM on March 17. That was also going to be the location for the Geezers meeting that week. However, due to an unfortunate set of circumstances the place was closed down. So we had to find a new place to go along with the band's following. About 4 or 5 people. The lucky winner was The Ripper Owens Tap House on Waterloo Rd. in South Akron. As it turned out  we made the Right Call!

Pictured to the left is one of the proficient bartenders there,
Amy
. She was joined with a cameo by
Tabitha
,
Amy II,
Amanda,
and
Christi
. They were all decked out in Irish apparel. We took pics of them, and we will have them posted on the
Geezers Photos
link on the HOME page shortly.
The O'Geezers there were "welcome back Cotter" Spike, and his son Robo. Spike just returned from Florida less than a week ago, and he brought back some of that weather.

Also there was J.Bo, Big Boi, Mr. Lobber, Billy Bob, Candyman, and R. B.  R. B. invited a couple of his friends from the past. One was named Ron, and the other I'm not sure about. We'll say Scott. R. B. Ron, Billy Bob, and Scott were sitting at the bar. The rest of us were at a table that was only meant for Two. Kidding. Anywho, R. B. abandoned us for a period of time as he has done in the past with the Fazio "group". Inside joke! Later on in the afternoon one of our friedns, Krisko (From Goodyear), stopped by to wish us a Happy St. Paddy's Day on her way to the west side of town. I just happened to have a woman's green wig with me which she became attached to. I had a "bag of tricks" you could say.Picture in the Geezers Photos. It was good to see her.

The Tap Hosue had all kinds of Irish food, but the Big Boi had a burger. And Spike and Robo had some appetizers. Robo may have eaten a Reuben. (That's Irish I think). Anyway they did have the proverbial "corned beef & cabbage", but I had some simmering in my crock pot at home.

Later on in the day/evening a band set up, and began playing. We assumed that they were an Irish band. But with a name like the Traveling Johnsons the odds weren't too good. There were two of them. Guitar, and bass guitar. The bass guitar player had a small bass drum attached to his foot with a tambourine attached to the pedal. They played soft rock, but while we were still there they did play an Irish tune. They weren't too bad.

There was a good turnout all day at the tap Hosue, and they did have a Free breakfast earlier in the morning we heard. But it really got crowded later on, and it was time for the Geezers to head home, and let the young kids have their fun.

Since we did not go anywhere else other than the Tap House, next Wednesday, March 23, we will be meeting at The Basement down the street on Waterloo Rd. as scheduled. Hope to see you there.

We took a ton of pics at the tap House, and those pics will be on the Geezers Photos page ASAP.

HAPPY ST. PATTY'S DAY!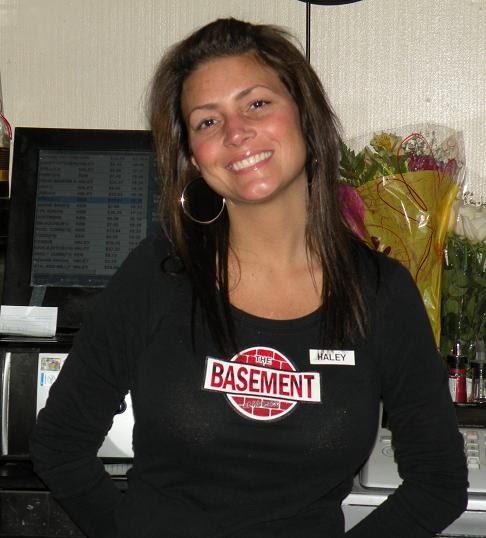 It is "Spring Break" for the college students in Florida, but the Geezes here in Ohio are not getting any kind of break. The only thing we can do until Spring truly arrives is to try and enjoy our Geezers Nites Out as we did at The Basement on Waterloo Rd. in south Akron Wednesday nite, March 23.

Our bartenders for the nite were
Haley
, pictured to the left, and
Kenny
, who you can see in our
GEEZERS PHOTOS
link.
The Geezers who were there were Spike, Big Boi, J.Bo, Candyman, Kenny J., R. B., and Billy Bob. We welcome back one of our Florida snowbirds, Spike/Swish who was also back in time for St. Patty's Day at the Tap House. Mr. lobber (Dick Laber) called off due to a 13 year celebration for the kidney transplant he gave to his nephew Scott who is an ER doctor. Avery good thing to celebrate. CONGRATULATIONS to Dick and Scott.

All of the Geezers have nicknames, and Haley picked up on that. She voluntarily told us that she has a nickname too. She said that she used to be called "Cotton" when she was a little tyke. She had white soft hair. So naturally we had to report that on the newsletter. She is now one of us, but definitely not a Geezer.

Most of the Geezers took advantage of the "Philly Special" on Wednesday. All philly-type sandwiches were half-price until 7:00 PM. The sandwiches are not small by any means. Heck, Candyman even had to ask for a doggy bag, and he doesn't even have a dog. This special I assume is every Wednesday, and on Fridays they have a generous fish dinner "special" for $5.99.

It was not very crowded earlier, but if you blinked there were a lot of customers later on from the time that we got there around 5:00 PM. Also, they have a dart league on Wednesday nights.

We were watching the Cleveland Cavs game against the New Jersey Nets while we were there. The Basement has a ton of flat screen TV's to watch anywhere you sit, and personal ones at soem tables. The guys had me taking pics off of the TV when the Cavs were ahead since they don't win very much anymore. But they were ahead by "one point' most of the night. So needless to say I took a lot of basketball pics. Check out the Geezer Photos link to see some of those.

Due to the fact that we went to the Tap House for St. Patty's Day, and Legends twice (Once for Fat Tuesday) in March we had a dilemma of where to hold our Geezers Nite Out for next Wednesday, March 30. We had two locations that were voted in at our meeting at Just One More on February 23. At this moment Just One More is still not open. Check their Facebook page to see updates on the reopening. Anyway because of St. Patty's Day, and Fat Tuesday we had Johnny Malloy's, and The Brick House as two locations that were actually voted in for March that we still had to go to in one nite. Wednesday night at The Basement we had to decide which place we would go to. Our Entertainment Director, R. B. decided to use another one of his "scientific" methods to determine the winner. He just asked each Geezer in attendance to pick a number between 1 and 2. After all of us had picked a number (except him), he said the result was that Johnny Malloy's was No 1, and got the majority of guesses. However, that's like asking someone to give you a number between 1 and 10, and only you know the number.

So being the EG (Exalted Geezer) that I am I have made this decision. Next Wednesday, March 30 go wherever you want to go between the two locations. Either go to Johnny Malloy's or The Brick House, and see how many of the Geezers join you there. Whichever has the least members can move to the other place if they so choose. Let's make a little game of it. This will be the first time that we have ever done this, but both of the locations had legitimately been voted in so this is the only fair way to do it that I can see.

Hope to see you somewhere on Wednesday, March 30.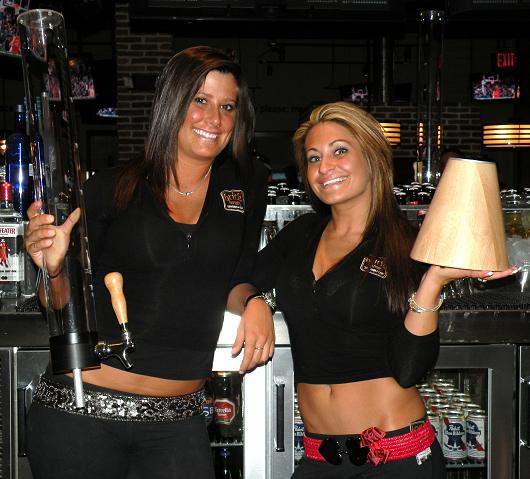 WEATHER DICTATES LOCATION

We had an unusual Geezers Nite Out Wednesday, March 30. Due to two holiday occasions the meeting places that were voted on the last meeting in February were in peril.

Since Lent and Easter were on the horizon the Geezers found out at the meeting on March 2 at Legends Sports Pub that they were having a big Fat Tuesday party on Tuesday March 8. So we changed the meeting place for that day to Legends again.

Then due to an unfortunate set of circumstances we ended up at the Tap House for St. Patty's Day. It wasn't the fault of the Tap House, and we did end up having a good time. We were supposed to meet at Just One More with the Phantom Band, but the business was closed down due to a $500 fine owed by the previous owner.

So the dilemma was where to go the last Wednesday of the month on March 30?

Johnny Malloy's, and the Brick House were voted in at that last meeting in February so we had to decide which one to go to. Since they were both in close proximity I decided that we should leave it up to each Geezer to go where he wanted. I imagine that we would have all ended up at Johnny Malloy's, and that is probably what would have happened. But on that day (3/30) we had an unexpected snowfall. This baby came down fast, and covered the grass and roads. For starters that happening might have eliminated some of the Geezers who were planning on going out that night. Spike, and I (J.Bo) went to the Brick House early around 4:30. I wanted to have their Steaked Up Salad that is very good. We were going to drive up to Malloy's after the meal. R. B. was up at Malloy's. He was there around 5:00 PM for about 45 minutes, and no other Geezers showed up. So he headed down to the Brick while Spike, and I were preparing to leave for Malloy's. During all of this the Big Boi was at the hospital visiting his mother-in-law who had an emergency appendectomy operation. If it wasn't for Spike seeing R. B. as he was leaving they would have missed each other. However, the three of us ended up together at the bar.

The Big Boi had the fortitude to stop at the Brick after he made a drive-by at Malloy's. Not seeing many cars in the parking lot there he ended up at the Brick with us. Billy Bob arrived later, and he went to Malloy's first. That place had a sparse crowd so he came down to the Brick, and the five of us stayed there without anyone else arriving. However, I believe that if it wasn't for the snow that evening, and the Big Boi's hospital visit we all would have ended up at Johnny Malloy's.

Our bartenders for the evening were Jen, and Tina pictured above. We met Jen for the first time, but we know Tina from a few visits before. Tina is going to school to become a High School Guidance Counselor. I wonder if I can go back to high school?

Last Wednesday, March 23, at the Basement the Cleveland Cavs were playing a game on TV. The Geezers had me take pictures of the score on TV while the Cavs were ahead. Well, they were ahead or tied most of the game. They ended up losing in overtime. This Wednesday the Cavs were on TV again, and at one point they were ahead so the Big Boi told me to "take a picture" while they were ahead. Well, this time it didn't last that long. They lost! Early!

The vote for the meeting places was taken this Wednesday nite after R. B. thought that his was going to be the only vote while he was alone at Malloy's. But after he came down to the Brick House, and the others trickled in we did have a legitimate vote. The results were not easily tabulated as we had a couple of ties to vote on. It drove our
Entertainment Director
(R. B.) crazy after having a bad day at work...again. However, we did resolve the situation, and the results are posted on the
SCHEDULE
page.