This is a Monthly Newsletter. Articles, Pictures, and Happenings are all listed on one page for the Current Month. Page Down to see all of the News in the order that it happened.

Well it was more White than anything else, but the Geezers Nite Out Wednesday, Feb 2, was held back at Legends Sports Pub & Grille in Green after a brief hiatus. Don't ask our bartender Tricia, pictured to the left. She will tell you that it was more like 6 months. I'll have to check the Archives on that.

The postman's creed is that neither snow, rain, nor heat nor gloom of night stays those couriers from the swift completion of their appointed rounds. Well Wednesday was probably one of those days for the mail carriers, but it was also one of those nites for the Geezers. Wednesday, 2/2, was probably the worst winter storm this year. Yet the Geezers Nite Out happened! We have never been snowed out (Knock on Wood). One time in 2010 there was just me (J.Bo), R. B., and Baldo at the Tap House (Scorchers), but we did have a meeting. Below are the Geezers who braved the cold weather, and bought their appointed rounds!

The male men there were Big Boi, Drumstir, J.Bo, R. B., and Billy Bob.  There was a lot of ice, and snow wherever you looked with piles of plowed snow blocking a driver's view of the road, but they were actually in good shape. At least on the expressway. There was a good crowd at Legends early in the evening. I guess some people in Ohio are not intimidated by the weather that they have lived in all of their lives! Geesh!

All of the Geezers who there there ordered from Legend's full
Menu
. Yes, we do actually eat dinner. What?  Legends has Salads and Sandwiches named after popular sports figures. Like the
Andretti
(Mario) Italian Grinder, and the
Ty Cobb
salad. I had the
Hawk's
(AJ?) Grilled Veggie Wrap with Chicken. Drumstir had a cheeseburger. R. B. had
Otto's
(Graham) Shaved Roast Beef dipped in Au Jus. The Big Boi passed on a burger, and had the
Koufax
(Sandy) Rueben with a side of Whitey's Chili, and Billy Bob tried the Boneless Wings which were on Special for 40 cents. The drink special was $2.99 Long Island iced tea. The Happy Hour(s) each day offers $2 Domestic Bottles, $3 Imports, and $2.50 well drinks.
The only complaint I heard was from Billy Bob who ordered a draft Killians. However, there was an alien object in the bottom of the glass. When we asked Tricia about it she was stunned to find out it was the tap "stopper" that is placed on the tip at closing. It just so happened that no one was drinking Killians until Billy Bob ordered one, and the stopper which is black dropped into the glass unbeknownst to Trish. No big deal! But we did look our food orders over real good when we got them! Joke! Food was great.

Legends is having a Super Bowl party on Sunday, 2/6 just like every sports bar in town.  For $25 you can watch the game, and enjoy a buffet with chicken wings, pizza, and a variety of goodies along with specials, and prizes. They prefer that you buy the tickets in advance so they know how much food to prepare.

Note: If anyone finds any unattended snow Skis please see Tricia, the bartender! (Inside Joke)

Next Wednesday, Feb 9, we will be back up to the Falls to Johnny Malloy's Sport Bar behind Chapel Hill Mall. Hope to see you there.

This page was last updated: February 16, 2012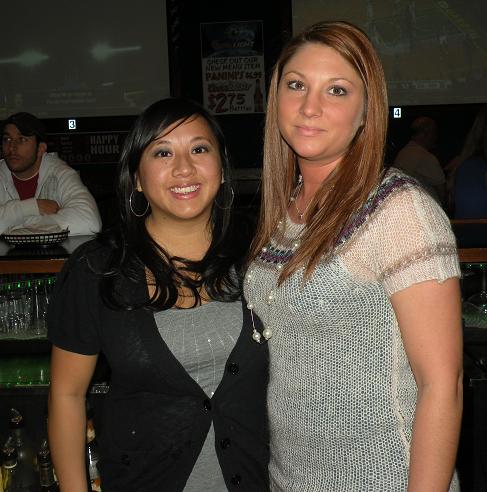 Deja Vu at Johnny Malloy's

If you think that you have seen this picture before you are correct. Pictured from l-r are Darlene, and Jen our bartenders for the Geezers Nite Out at Johnny Malloy's Sports Pub behind Chapel Hill Mall on Wednesday, December 9.

The reason I am using this picture is that for only the second time since the website began back in 2005, and I took over the photography, I forgot my camera! I guess that I get a demerit for that. There is nothing wrong with the photo, and these are the two bartenders who took care of us for the evening. But it wasn't taken on this night. It was actually taken during our visit on 12/08/10. Darlene suggested that I use the camera on my phone. Those pics are in the gallery below.  

The Geezers who braved the cold temps were Nicko, J.Bo, R. B., Billy Bob, Big Boi, and Kenny J. The Big Boi didn't arrive until 6:47 PM due to the fact that he had to attend a meeting at Goodyear that was scheduled for 5-6 PM. Since he was all stressed out when he got there he ordered a large Bud Light draft, and an order of Wimpy Burgers! Yep, the Big Boi "wimped-out"!

The food special that evening was a medium pizza and 10 wings for a special price. I believe it was $9.99. Billy Bob's son, Scott,  who is a lawyer showed, up since he was in the area, and they had the pizza & wing special. Of course the Big Boi had the Wimpy Burgers. I ordered a Chicken sandwich that was very good. Nicko ordered a basket of the Home Made chips. And they were definitely home made since they were too hot to eat at first. However, later on Nicko, and I ended up each ordering a large pizza to go with up to 5 toppings for only $10. I was going to get a small pepperoni, but Darlene was nice enough to tell us that for $2 more we could have an extra large one. I'm not sure what the others had.

Darlene and Jen took good care of us all night long. There was another bartender working with Darlene when we first arrived. Her name was Theresa. But she left when Jen arrived. Darlene was working our end of the bar so she was giving us preferrential attention. We were kidding with her when she told us her name was Darlene. We said that we thought she called us darling. So we were well aware of what her name was. But for some ungodly reason Nicko blurted out "Hey, Stace" (short for Stacy) when asking Darlene for a menu. We don't know where that came from, but it was the laugh of the night.

I was the second one to arrive, and I saw Nicko sitting at the end of the bar where we usually sit. We kept hearing sounds coming from a partition behind the TV that sounded like someone fighting. If that was the case we weren't sitting in "good seats". However, we found out that there are mini baskets behind the partition that customers shoot basketballs at to see who can come up with the best score. A competitive bar game that has been around for quite some time.

We enjoyed our evening at Johnny Malloy's, and we want to thank Darlene, and Jen for taking care of us so well. Next Wednesday, Feb 16, we will be at The Galaxy in Wadsworth. Hope to see you all there.

Below are the photos that I took with my Cell Phone on the suggestion from Darlene. Once I got started I didn't want to stop.

Click on the Pics to Enlarge!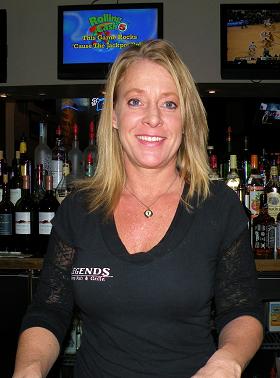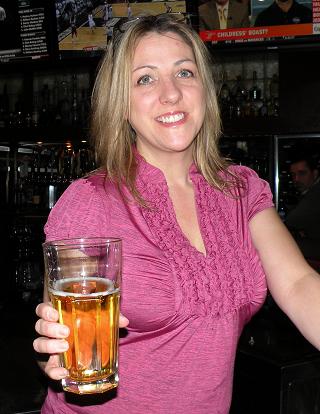 The weather has taken a surprising turn around the week of February 14, St. Valentine's Day. The Geezers Nite Out that Wednesday, Feb 16 at The Galaxy in Wadsworth. During the summer, and warmer months the Galaxy has a beautiful patio open with a huge bar, tables for eating, and an area for musical entertainment. This week it was warmer than the fridgid temperatures that we had at the beginning of the month, but it was not warm enough for the patio to be operational even though we kidded about it with Shawna, a waitress in the sports bar that night, who works the patio bar during the summer.

Pictured to the left is Theresa, who was our bartender for this evening, and who also works the patio bar during the season.

Marie, another one of our faves was working the bar earlier, but she was on her way to the Holiday Inn for a Happy Hour when we arrived. Below is a photo of her leaving for next door.

The Geezers there were J.Bo, Big Boi, Kenny J, Billy Bob, Candyman, Drumstir, and R. B. We also had a surprise visit by Big Daddy. We took a picture of Candyman, and Big Daddy for proof that the two were there since they haven't made it to the meetings very often the last year. We also found out that Big D is in the process of selling his house to move into one of of his other two "estates" in Michigan, and Florida depending on the season. More later.

Most of the Geezers ate from Galaxy's excellent menu, even R. B. Big Daddy was on a leash after his wife Barb, dropped him off while she went shopping. Normally Big D only has one drink, and then leaves shortly thereafter. He had a little more time this night since he lives in  nearby in Norton. Billy Bob actually lives in Wadsworth, and Drumstir and the Candyman live in Canal Fulton, and Clinton respectively, which are in near proximity of each other. The Big Boi lives the farthest away in Cuyahoga Falls.

Speaking of the Big Boi, all of a sudden a "light bulb went off in his head", and he asked Theresa for a Bloody Mary. After seeing Theresa's creation I (J.Bo) thought it was a good idea so I ordered one also. And they were beautiful! We took a picture of one below in the Photo Gallery. The Galaxy did have drink specials. They had 16 oz Miller Lite or Bud light for $2, and the same in the 23 oz size for $3. Also they had Bud bottles for $2. But not Bud "Light" as the Candyman found out the hard way.

We ended up having an enjoyable evening even though some of our fellow Geezers are still snowbirds down in Florida like Spike, Fergie, and Mr. Warmth. However, their time is running short as the winter weather is showing signs of breaking, and even baseball season is just around the corner. Spring training has begun in Florida, Arizona, and California. So it won't be long now till we will actually be on the Patio at The Galaxy for our Geezers Nite Out.

Next Wednesday, Feb 23 we will be at Just One More in Gala Commons off of Rt 224, which was the site of the DEC 22 Goodyear Christmas party with the Phantom Band. Hope to see you there. $1 brews, and burgers!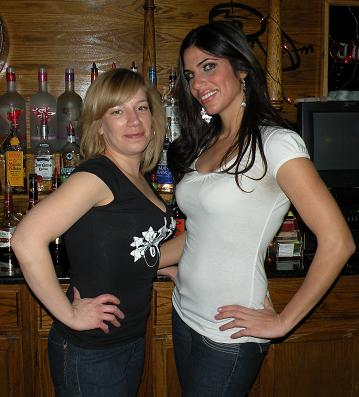 The Geezers Nite Out for Wednesday, February 23, was held back at Just One More (JOM) in Gala Commons off of RT 224.

Pictured to the left are the owner of JOM Jen (Left), and our bartender for most of the evening, Naveen. Naveen took good  care of us throughout the evening.

The Geezers who braved the cold snowy weather were the Big Boi, Candyman, Nicko, R. B., and J.Bo. Billy Bob sent out an email stating that he had to miss the meeting due to his nephew, and family coming in from out of town. We are sure that he had a great time with them. Our snowbirds are still in Florida, but their time down there is running out. We actually have almost another month of winter as of the date of our meeting. The official first day of spring is March 20.

One of the reasons that JOM gets voted in by the Geezers is their $1 domestic bottles, and $1 burgers which just happens to be on Wednesdays, the days that we meet each week. The burgers are meaty, and pretty filling with deli style buns. And during their Happy Hour 16 oz domestic draft beer is $1, and the 23 ouncers are $2. Everyone had the burgers, and the Candyman even had an order of poppers. They have an excellent kitchen there.

It was also voting night for the meeting places for
March.
Hard to believe. As sometimes happens we had a four-way tie, which necessitated a vote-off. However, there were two places that tied again. So our
Entertainment Director
, R. B., used a scientific method to break the tie. He flipped a coin! The results have been tabulated, and they will be posted on the
SCHEDULE
page shortly. Just One More was voted in again, and is scheduled for
March 30
. However, there is an outside chance that the
Phantom Band
maybe asked to play on
St. Patty's Day
morning at JOM as they are having a party that will begin with breakfast at 6:00 AM. If that happens then we will add the
Brick House
on March 30. If it doesn't then we will announce where we will decide to go St. patty's Day, and post it on the Schedule page. Also, whatever happens we will be celebrating St. Patty's Day on a
Thursday
that week only. Stayed tuned! 
We usually see one or more celebrity look-a-likes on Wednesdays, but this week we saw some familiar local faces instead. Jamie, manager at Tap House stopped by, said hello, and bought us a round of $1 brewskies. We also saw Al Lopez, who owns an establishment nearby called Simone's. He was formerly a partner at Legends Sports Pub in Green.

It was also dart night at JOM Wednesday. There was a dart league competing in the back room. JOM also has pool tables, and a loft overlooking the many dart boards.

If that wasn't enough there was a DJ who set up shop for a Name That Tune competition. By the time we left the place was hoppin'.

Next Wednesday, March 2,  we will be at Legends in Green (For sure). Hope to see you then, weather permitting! 

Go to the
PHOTOS
page for pics from this nite.