GEEZERS NITE OUT ~ Newsletter

This is a Monthly Newsletter. Articles, Pictures, and Happenings are all listed on one page for the Current Month. Please Page down to see all of the News, and photos in the order that it happens.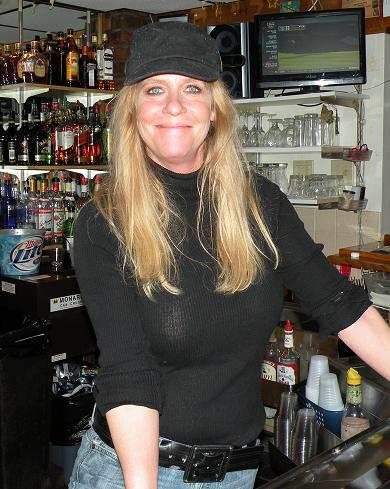 The Geezers returned to Dusty's Landing for their Nite Out on Wednesday, April 6, after a four month hiatus.

As usual behind the bar was one of our fave bartenders,  Karen. She always cooks up something for her customers, and that Wednesday night it was Italian Wedding soup.

We had a good showing of Geezers, and they were Drumstir, Spike, Candyman, J.Bo, Big Boi,Mr. Lobber, R. B., Mr. Warmth, and Billy Bob. Spike, and Mr. Warmth were two of our group who were snowbirds down in Florida. they recently returned along with The Jerry (Jerry's Corner). Mr. Warmth was his usual bad self! Billy Bob recently returned form a weekend trip to Chicago not missing a Geezers Nite out.

Drumstir made a trip to the dentist to close his "gap". Picture of the result is on in the
Geezer
Photos
for April 6.
A popular game at dusty's is the ring toss. It consists simply of swinging a ring on a string hoping to land it on a hook against the wall near the fireplace. Karen is the champ at it, and she can usually do it on one toss. The big Boi has said that he has also done that before, but I never saw it done.

Pictures of the Big Boi, Mr. Lobber, and Mr. Warmth attempting to match Karen's accomplishment are also on the Geezer Photos link for April 6.

We had a mild scare after we got there. Karen cut her finger, and she didn't have a band aid to cover it. So Spike came to her rescue, and ran out to his car to retrieve a trusty Goodyear first aid kit. That was the excitement for the evening.  

Mr. Warmth turned the Indians game on TV. I believe that Karen was having trouble finding it. .We normally wouldn't care, but they are on a hot streak, and in First Place!

A friend of the Geezers, Niki, stopped in to see Karen. We go way back with Niki, who's real name is Nury. We used to run in to her at various stops during the month. Usually places that had Karaoke. She also used to come and listen to the Phantom Band. She is an accomplished singer along with being a top notch hair stylist. She used to cut my hair (J.Bo) years ago. She is originally from Venezuela. So I used to call her the Venezuelan Singing Hairdresser. There are pictures of Niki with some of us in the Geezer Photos link for April 6.

After all of this excitement the Geezers began to filter out. But before we could leave R. C. (Not to be confused with R. B.), the owner, stopped in with his ski equipment that he uses to walk in the evenings. Check the photos.

Next Wednesday, April 13, we will be meeting at a place that has been gaining popularity within the group, The Basement on Waterloo Rd. Hope to see you there. 

This page was last updated: January 9, 2012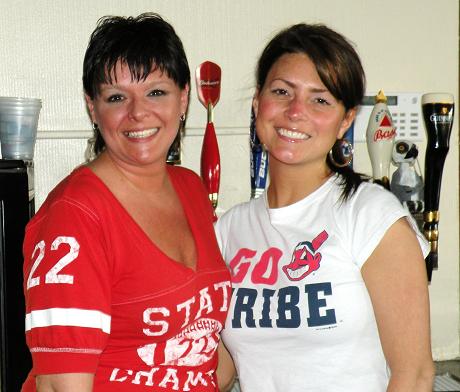 INDIANS NOT IN THE BASEMENT

The surprising Cleveland Indians are in First Place in the American League Central as of the Geezers Nite Out meeting Wednesday, April 13. But the Geezers were in The Basement on Waterloo Rd in south Akron.

Just take a look at Haley's T-Shirt , and you can see how the "fever" has spread rampantly. Yes, that is our bartender Haley on the right with the day bartender, Sheali. Some of the Geezers go way back with  Shalie. They used to work with her Mom, Merrilyn, at Goodyear. Merrilyn used to bring her into the office every now and then. It's a small world. Also behind the bar was Kenny from The Basement on Manchester Rd on the Lakes.

The Geezers there were the Candyman, J.Bo, Spike, Big Boi, R. B., and Billy Bob.

We all ordered food from the Basement's excellent menu. As is the case on Wednesday nights, all of the Philly sandwiches are half off until 7:00 PM. Most of us ordered one except I tried the Fish Sliders which were very good. They have different types of Phillys such as the Italiano, Chicken, Gyro, and the Regular which we tried. They were delicious. We played a little joke on the Candyman. He couldn't finish the whole sandwich (They are big) so he asked for a "To Go" box. When he went to the restroom we got an empty one, and put it in it's place. The Candyman touched it a few time after he came back, but for some reason didn't suspect anything. The Big Boi couldn't stand it any longer so he told him what was up. He blamed it on ME! Moi? No way!

It must have been Candyman night because the subject got around to gas prices. Candy has a condo on Catawba island on Lake Erie, and he has a pleasure craft that he uses during the summer. However, he said that he doesn't plan on taking the boat out much this year. For some reason he was blaming Cuba for our gas shortage. Or our reluctance to barter with that country. The gas prices are predicted to soar this summer. So what else is new?

Haley is getting used to our nicknames after we have been there now a few times. But one that she still struggles with is Swish (Spike). She calls him "Swiffy"! Not too "swiffy"! I'm sure she will have it handled the next time we come in.

Next Wednesday, April 20, we will be back to on our fave places The Brickhouse on Howe Ave in the Falls. Hope to see you there.

Go to the
GEEZER PHOTOS
link to see more pics from Wednesday night.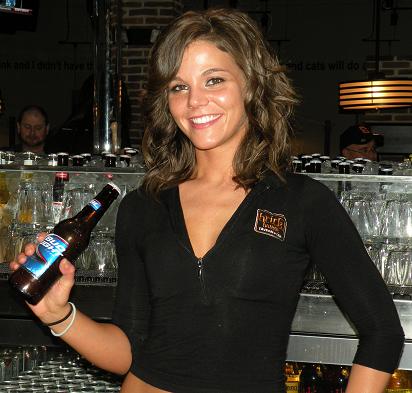 Yes, there was beer at the
Brick House
on Howe Ave in the Falls for our
Geezers
Nite
out on Wednesday,
April
20
. But there was also
Maddie
serving it, plus an array of food on Brick House's unique menu. Maddie was behind the bar when we first arrived, and she was joined later on by
Jen,
pictured on the HOME page with Maddie, and on the
GEEZER PHOTOS
page. 
There was also a lot more going on that evening besides the beer and food. We had one of the largest, and  unusual mixture of Geezers, and friends turn out than we have ever had.

For starters all of our snowbirds from Florida are now back.

Swiffy (Spike), Fergie, The Jerry (Jerry's Corner), and Mr. Warmth (Stan the Man) were in that category.  J.Bo, Big Boi, R. B., Billy Bob, and Mr. Lobber were the other regular Geezers.

Most of the Geezers work or used to work at Goodyear. Another former Goodyear Associate who used to work with The Jerry, and the Big Boi, Dick Walker, was there along with his wife Dianne. Dick has visited the Geezers before at Johnny Mallory's a few times. It was good to see them.

And the highlight of the evening was when one of the website's biggest fans, Al, "just happened" to be at the Brick House on one of our meeting nites with his wife Joanne. Al was in hiding, and told his waitress to send a Corona Mexican beer over to R. B. Well, we were all amazed. Who was it?  He is a close friend of R. B.'s, who says that Al always reads these articles on the site to see what we are up to. Al, and Joanne also visited us up at Johnny Malloy's a year or so ago. It was good to see them. See a pic of them also on the Geezer Photos page. And just remember, Big Al knows what is going on at all times!

As we stated before, The Jerry, of Jerry's Corner is one of the Snowbird Geezers in Florida. He has a page on our website with various pictures from Florida such as
Hooters Girls
, and
Corvette Girls
from Akron. He had a lot of comments concerning the Brick House such as the restrooms, and girls with tattoos. Go to
JERRY'S CORNER
to see what he had to say.
Most of us ate from the Brickhouse's excellent menu. I had the Stead Up Salad which I highly recommend. Billy Bob had the Pretzel Sticks that looked very appetizing. The Brick House has an upscale menu, but they give you the value of food for what you spend. I recommend the Steaked Up Salad. Stan the Man had the Burger Sliders which looked very appetizing. I also have had the "Meatloaf" sliders before which are very good also.

But we all had a great time, and it is  a fantastic place.

Next Wednesday, April 27 we are scheduled to go to the Tap House on Waterloo Rd in south Akron. However, The Galaxy website indicated that they would be ready to open the bar out on The  Patio if the weather is conducive. The forecast is for temps in the 70's, but with rain for that nite. So most likely we will be at the Tap House on Waterloo Rd. If there is any change we will post it on the SCEDULE on that day. Please check it.

Hope to see you somewhere April 27.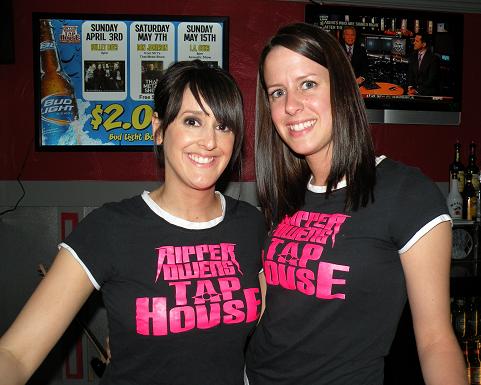 The Geezers Nite Out Wednesday, April 27, at "Ripper Owens" Tap House on Waterloo Rd in south Akron was more of a "cook out" or "cook-IN" than anything else.

The Tap House has a Special every night during the week. On
Wednesdays
(Geezers Nites Out) they have a
12 oz
Strip Steak
with
Salad
,
Baked Potato
, and
Garlic Bread
for $7.99. It is a heck of a
good deal
, and another reason to go the Tap House. The meal was enjoyed by
Drumstir
,
Spike
(Swiffy), and
Fergie
. Check out the Tap House excellent
Menu
. I (
J.Bo
) had a
House
Salad
with broiled chicken strips. I highly recommend that also. The rest of the Geezers there were the
Candyman
,
Big
Boi,
R. B.
, and
Billy Bob
.
Our bartenders for the evening were Jenna, and Amanda pictured above. Christi was there when we first arrived, but she left at  6:00 PM. Besides that no matter how much I try she won't let me take a picture of her. Some of the Geezers frequent the Tap House on their own, usually on the weekend, and are familiar with Jenna, Amanda, and Christi who always take good care of us.

Besides eating we did vote for the meeting places for
May
. The results will be posted on the
SCHEDULE
page shortly.
Below is a couple of pictures of the 12 oz Strip Steak dinner that Spike was about to enjoy. I wouldn't let him touch it until I took some pics of it.