This is a Monthly Newsletter. Articles, Pictures, and Happenings are all listed on one page for the Current Month. Please Page Down to see all of the News in the order that it happens.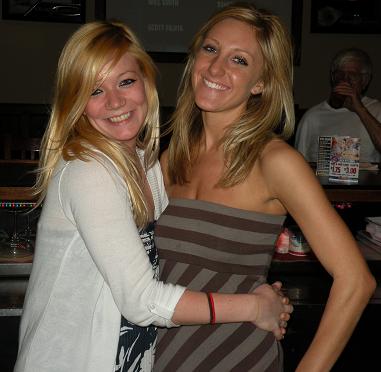 JOHNNY MALLOY'S SPORTS PUB - AKRON - May 2, 2012

The first Geezers Nite Out meeting of May was held Wednesday, May 2, at Johnny Malloy's. Some of us started to arrive around 4:45 PM. At 4:54 PM it was 62 degrees.

The next day, Thursday, May 3, at 4:54 PM it was 87 degrees. We are having a "heat wave". In fact it is supposed to be in the 90's at Churchill Downs for the Kentucky Derby. 

Pictured to the left are two of our bartenders from Malloy's. On the left is Valerie. She was working during the day on this Wednesday. Pictured with her is Chelsea. They took very good care of us.

There was a good turnout on this night, and the last of the "snowbirds", Fergie, was there. He arrived back in town last Sunday, April 29 after about 4 months in Clearwater. Maybe he brought the hot weather back with him.

We have a picture of him and others on our
PHOTOS
page.  
This page was last updated: June 15, 2012
In the upper right hand corner of the above picture you can see a gray haired guy with a glass to his mouth. We thought that he was a celebrity look-a-like of the character "Lurch" on the TV series the Addams Family. But that is not the whole story. After a few of us were there he told Chelsea that, he, and the five Geezers who were there at the time were the only guys in the bar who don't dye their hair. What? Of course we didn't understand what he was talking about! I was a blonde as a baby, and now it is turning back that way. I can't speak for the others.

We also did see a non-celebrity look-a-like. You could say a Geezer look-a-like.
Spike
said that a guy who was also sitting across us at the bar, near where the Lurch-a-like was sitting who resembled
The Jerry
Jerry's Corner
. I tried to take a pic with my cell phone camera, but it was a little far away. The camera on my 3G phone isn't that great.
Anyway, this guy had his head down looking at his smart phone with his glasses down on the end of his nose. The familiar Jerry pose, and yes, another gray hair!

Most of the Geezers took advantage of the special that Malloy's has on Wednesdays which is a Medium two topping Pizza and 10 wings for $10.99 from Gheppetto's next door. When my friend Tennessee Jimbo visits it's on his list of places we have to go for the pizza and beer. Spike and I (Joebo) split an order. Fergie placed a single order, and (He said) that he was going to take some home to his wife, Brenda. Billy Bob also placed a single order, and he was going to take some home for himself. It's an offer you just can't refuse!

The popular discussion of the group was Cinco De Mayo, and the Kentucky Derby both of which have already happened while you are reading this. I had a complete article ready for publication on Friday (5/4), but part of it was deleted due to a system malfunction.

Some of the Geezers attended a Kentucky Derby party at
The Galaxy
on Saturday, May 5. We will have pictures from that on the
MEDIA
page shortly.
Next Wednesday,
May 9
, we will be at one of our fave stops on the
SCHEDULE
,
Just One More Bar & Grill
for our
$1 Burgers, and Beer.
come out and say Hey to
Jen
, owner.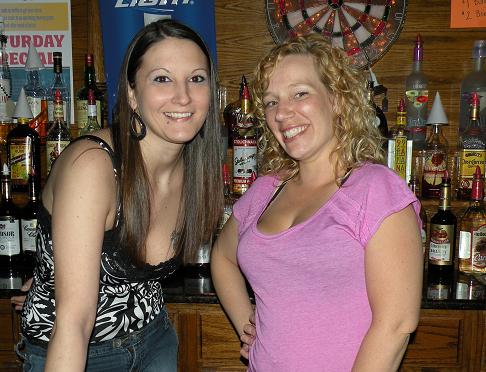 JUST ONE MORE BAR & GRILL - Springfield, OH - May 9, 2012

More Big News from Just One More! We'll get to that in a minute. But first of all pictured to the left is owner, JEN on the right, with her newest bartender C. C.

Back on April 4th I posted an article on the Newsletter that Jen recently got married to her long time Bo the Saturday before. It was Breaking News. Not much else could top that story. But on Wednesday night Jen came up with more Breaking News. She gleefully announced to us that she is going to have a baby! She already has a son, but evidently she wanted Just One More! CONGRATULATIONS JEN!

We saw something interesting on the ole blackbaord at J. O. M. They have jello wrestling  there! 

Yes, Jello Wrestling! On the first Saturday of every month. Where you ask? Jen told us Wednesday that they clear out the tables and chairs and put a lined frame on the floor. Then they fill it with Jello, prepared by one of their experienced chefs, and have some girls in bikinis go at each other. Sounds interesting. Not sure of the time. Stop in and check out the blackboard.

As usual most of the Geezers enjoyed $1 Burgers, and $1 Domestic Brews. Of course they have a full menu to choose from. But it's a tradition now that we must have the burgers. Mad Cow or not! However, Michelle, the day bartender told Fergie that they had Cream of Broccoli & Cauliflower soup of the day. So Fergie tried some of that besides the burgers.

Sometimes you feel sorry for yourself until something happens that makes you realize how lucky you actually are. We were sitting at the bar enjoying our evening, and someone tapped me on the shoulder. It was a man holding a business card with a ballpoint pen attached. He was selling the pens for $1 because he was def. The card explained that and on the back was the silent alphabet. I gave the guy $2. Big Deal. Some of the Geezers did not. It just goes to show you no matter how bad you think things are they could be worse.

But this little incident did not deter us from having a good time. Jen was as warm and friendly as ever, and we met C. C., the new bartender who was also fun, and very accommodating. We found out that C. C. recently had her car repossessed and she needs to get a ride to work, the store, and everywhere that she needs to go. If anyone has an older car that they want to sell at a reasonable price stop in to J. O. M. and let her know.

Spike had a desire for a nightcap, but couldn't decide what to get. Jen to the rescue again. He indicated what kind of liqueur that he was looking for so Jen created a drink that she thought he would like. It is called
Pa
Chata
. Spike gave the thumbs up sign. I have been sworn to secrecy, and I cannot tell you the ingredients. Stop in and see Jen, and ask her for a
Pa Chata.
Only at Just One More. Just maybe she will tell you how to make one. We have a picture of the drink along with others from the evening on our
PHOTOS
page.
Next Wednesday, May 16, we are scheduled to meet at Dietz's/Dusty's. Dietz's Landing and Dusty's Landing. Yes, they are owned by the same people. We will meet at Dietz's first and then those of you who want to can go to Dusty's can later on.

However, just to play it safe, please check the 
SCHEDULE
page next Wednesday to make sure that there are no changes.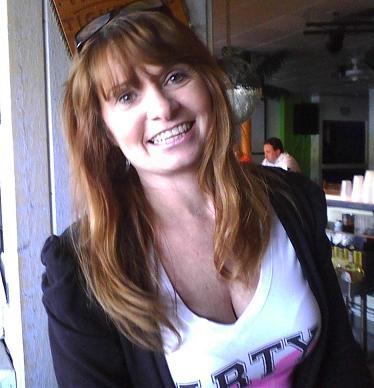 DIETZ'S/DUSTY'S LANDING - Portage Lakes - May 16, 2012

Our Geezers Nite Out for May 16 was held at two different places on Portage Lakes. However, the temperature at Dietz's at 5:54 PM on that day was 61.1 degrees with the wind speed of 21.9 MPH with cloudy skies down at the dock bar. Needless to say it was not very comfortable.

However, our bartender was Laurie, pictured to the left, was very friendly, and it didn't seem like the weather bothered her too much. As more of us arrived, she sort of wondered what was going on. Then when she was leaving for the day we  explained to her what we are all about, and took this picture. We met Laurie for the first time.

I have to apologize, because I was taking the pictures with my cell phone. In fact every picture you will see on the
PHOTOS
link was taken with my cell camera. The picture on the
HOME
page of
Lauren
was taken back in 2010 with my Nikon digital camera which, on this night, I had left in my car because of the weather.  Lauren was working at the inside bar where
Fergie
and I (
Joebo)
moved to, to grab something to eat.   
We met Lauren over at Hook Line & Drinkers at the outside patio bar before they remodeled it. She is now upstairs at Dietz's which Fergie and I soon found out. The rest of the Geezers left for the second part of our meeting for Dusty's Landing. Both locations are owned by the same people.

The bartender at Dusty's,
Karen,
is someone who we know very well. We have been meeting there since back in
2007
when Karen was the
Bartender of The Month f
or
March 2007
. She used to cook several different side dishes for her customers such as soup, chili, and several other Italian dishes. She also instituted a "
personal Pizza
". However, now most of the time, she orders out for a few pizzas to satisfy her customers. So the Geezers who didn't stay at Dietz's longer ate
free pizz
a at Dusty's.
At Dusty's they have a new computerized dart game that most of the Geezers were playing after I arrived. The Candyman had just left. I missed him. After Fergie and I ate dinner at Dietz's, Fergie left for home.

The bar at Dusty's on Wednesday nights reminds me of the the bar in outer space in the movie Star Wars. Maybe the customers don't look horrible or disfigured in our eyes, but they are different.

The following for the most part is coming from R. B. First of all, we saw a Bob Wyatt look-a-like at both Dietz's and Dusty's! Scary! (Not a celebrity) Then there was a guy who came in with a straw hat who R. B. called "Crocodile Dundee". There was also a "friendly" fellow sitting at the end of the bar that R. B. called "The Mortician." (Mr. Quigley) Ewww!  And also, there was a group of Italian older gentlemen, who come in for a couple of drinks now and then. R. B. calls them the "Italian Mafia".  If you saw them, you would know what he meant.

So there are some characters who come into this bar, and this was only ONE night for only a couple of hours. There's also the guy who brings his harmonica in and serenades the customers, and drinks wine.

And...there was another friendly guy who came in who Karen called "Sonny Bunny". He seemed like a nice guy. And after R. B. placed a piece of hair, that he calls "a piece" on his head, mimicking one of the customers, Sonny Bunny bought us all a drink. He was cracking up!

Karen has quite a menagerie here at Dusty's. If you are up for the unknown stop in and have a piece of pizza on Wednesday night.

Next Wednesday, May 23, we will be at one of our fave stops at Legends in Green. They do have a refurbished patio if the weather is conducive. See you there.

LEGENDS SPORTS PUB - Green, Ohio - May 23, 2012

We started our Memorial Day weekend on Wednesday, May 23, at Legends in Green. At 5:54 PM the tempeature was 79 degrees. the tempertures for the enitre weekend are supposed to get into the 90's.

Pictured to the left is Tricia, our bartender for the evening. We first met her back in 2005 when we first started coming to Legends. And we keep coming back. One of our fave stops on our schedule.

As is usual on Wednesday nites during the summer the food "Special" was the summer must-have of
Ribs
. A half slab of ribs was only $6.99. Most of the Geezers ahd them. Even
R.
B.
who said that they were meaty. We have some pics of the ribs, and the guys chowing down on them on our
PHOTOS
page.
We also have a photo of Tricia wearing her Cleveland Indians gear. She was wearing it the whole time the Indians game started while we were there. She usually wears a Cleveland Cavaliers jersey during their games, and I kidded her about being bad luck to them as they usually lost. Because of that I asked her where her Indians jersey was. She said: "Duh...and showed me her Baseball Earrings, Wahoo necklace, and Bracelet. My Bad! Well, the Indians won that night, and they keep on winning. So Tricia is going to have to wear these items for good luck every time she works during an Indians game. 

Since the Indians game was on the TV's we were talking about them. If you know anything about sports you know that they are in First Place in the Central Division. They did the same thing that theya re doing now last year, and ended up fizzling out. Since we are Geezers, we have been around for a long time, and we have gone through a lot of different seasons with The tribe. I am old enough to remembered "The Catch" by Willy Mays off of Vic Wertz in the Polo Grounds in New York during the 1954 World Series. The Indians had the most wins ever by any Major League team (111), and...you guessed it...they were swept 4 games in a row. We know enough not to get too excited about the Indians. That's why this cry baby stuff about the fans not coming to the games is ludicrous.

As usually happens on most of the Wednesday nites that we meet we saw a celebrity look-A-like. This time it was a guy who looks a lot like former Notre Dame football coach, and now an ESPN football analyst Lou Holtz. We also saw him on our last visit to Legends on April 25. However, this nite he was sitting very close to us. our E. D. (Entertainment Director) R. B. was highly amused by the resemblance of this guy to Holtz. We even had Billy Bob, and his son, Scott, find a photo on Google with their iPhones, and showed it to Tricia. She knows the customer, but she had no idea who Holtz was but she played along. It was a fun experience but I don't know how Lou....er...a...I mean this guy who looked like Lou, felt about it. He didn't stay long.

We were also talking about the new Horseshoe Casino in Cleveland that some of the Geezers went to for Spike's (Swish) B-Day on Friday May 18, 4 days after the Grand Opening. We went up early in the morning, and we were parked in the parking deck, inside the front door, and using our Total Rewards card by 11:45 AM. After about 4 hours we went next door to spankin' brand new Tilted Kilt, and I had the Kilt Girls say: "1, 2, 3...Happy Birthday". They don't sing it. they have everyone in the immediate area say it. But after that it was too late to head back home during rush hour so we went back in the casino for more to let the traffic thin out.. Both times that we went we walked right in without waiting in a line. But I wouldn't say that it would be that easy if you were thinking about going up there anytime. So...how did we do? What happens at the Horseshoe, stays in the Horseshoe.

Next Wednesday, May 30, we will be back to on of our fave summer stops, The  Galaxy, in Wadsworth for the first time out on the Patio with live entertainment. I just hope that there is no forecast for rain, as we have been subjected to that more often than we'd like to admit. But don't let that stop you. Come out and join us. it is Da Bomb!   


THE GALAXY PATIO - Wadsworth, OH - May 30, 2012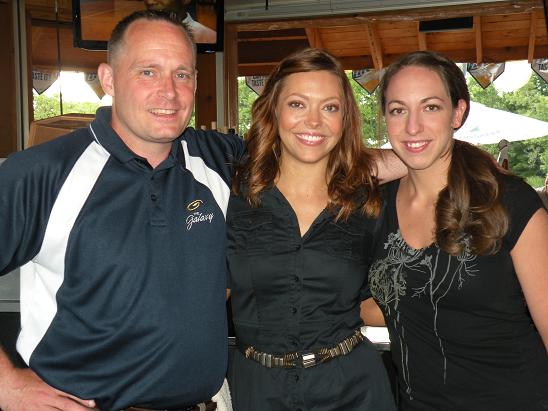 Maybe the "Jinx" was broken!

Wednesday evening out on the Galaxy Patio it was a very comfortable, sunny Geezers Nite Out. The temperature at 4:54 PM when most of us were there, was 73 degrees, wind speed of 13.8 mph with gusts of 23 mph. It might have been a little windy, but there was no rain in sight. We have been known for bringing the rain with us when we meet at The Galaxy in the past.

In the picture from left to right, are three of our bartenders Mike, Shauna, and Jesse.  Some days Mike is a bartender out on the Patio and others a Manager in the Sports Bar.

The Galaxy
MENU
for the
Patio
and
Sports Bar
is always improving and ever-changing. For example they have a New Burger Menu called Circle L BURGERS. You can even
Build Your Own
. However, none of the Geezers ordered from it except for
Drumstir
. He was having a little low sugar problem and he needed to chow down on a Big Burger ASAP.
The rest of the Geezers were trying to eat healthy as they all had the Oven Roasted Turkey Wrap except for the Big Buddha who ordered his fave Chicken Caesar Wrap. They are all tasty items from the menu. Check it out above!

If you haven't been to The Patio at The Galaxy before in the summer months they have live music every Wednesday night along with
DJ's
from radio station
WONE 97.5
. The band for this Wednesday was one of the most popular at the Galaxy and throughout the state of Ohio. It was
Colin Dussault's Blues Project.
  They sounded great and they have quite an ensemble of musicians in the band. Dussault plays the harmonica quite well. For some pics go to our
PHOTOS
link.
We were surprised to see the Candyman (Voigle ) there. He spends most of the summer up at his condo on Catawba Island. He had to make a trip over to Maryland to see his son who resides there.

We mentioned before that most of the Geezers were attempting to eat healthy from the menu, but right after they did,Spike, J.Bo, and the Big Buddha lit up cigars. Since they were outside it was about the only place that they could smoke them. Mike (Bartender) was saying that Ohio now is trying to ban smoking outdoors. Where will it stop?

The beer "Special" for the evening was 23 once draft Miller Lite for $3.25. The bartenders were even serving them in "real" glasses that they acquired from the Sports Bar. Spike had his usually Miller 64 and T-Juice. Most drank their favorite. Some of us had a nightcap before departing. Bombay Sapphire was a "popular" name.

As usual we saw a couple of celebrity look-a-likes. One was a regular there who resembles Harpo Marx, and smokes cigars like Groucho. The other was a friend of Harpo's who resembled Indy race car driver Mario Andretti.

And last but not least it was voting nite for the meeting places that we will be going to for the month of
June
. The results are posted on the
SCHEDULE
page. We will be going to two "Special" events in June.
On Thursday we were lucky enough to be rewarded with a Party from
Fox And Hound
in North Canton through
Allstar Brew Cub
that some of us joined at the Sports Bar. They have invited 10 of us to enjoy some free food and pool on the date of our choice. We had to go with
Thursday, June 14,
due to other commitments during the month. Please make sure that you advise us on
www.geezersniteout@aol.com
if you plan to attend. We must have 10 people.
Also on Thursday June 21, we will be going to Hacker's Grill for their Rockin' On The Range  party outside of the restaurant near the driving range for the Firestone Public Golf Course.

This will be the first time that we will have had two meetings on a Thursday during the same month.

.

Next Wednesday, June 6, we will be outdoors also at Jerzee's Sports Grill out on the deck.