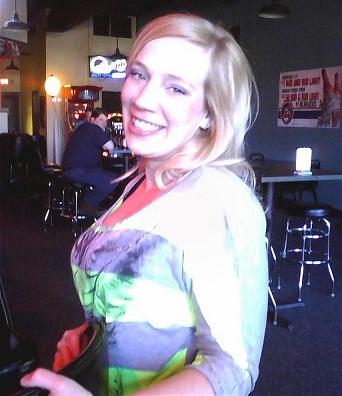 The owner of one of our favorite stops on the
Geezers Nite Out Schedule
,
Just One More
(JOM), recently tied the knot.
I had my Income tax done at Thompson Accounting (Tammy) in Gala Plaza, where JOM is located, and I was either going to stop there after I left Tammy and cry in my beer or celebrate. Well, thanks to Tammy I did the latter.

I hadn't had lunch so I thought that JOM would be a good place to do that. They have an excellent Menu, and cooks. Michelle, one of the day bartenders, works on Wednesdays, and Wednesday, April 4th, was the day that I was there.

Pictured to the left is Jen, the owner of JOM. I found out after I arrived there from Michelle, that on Saturday, March 31, she was married to her long time Bo in the Gazebo at Springfield Lake. 

As the story goes, Jen's Pastor said that he was available on that Saturday. They had their license, but they were contemplating the day. Even the place. The courthouse downtown was a possibility. But it all came together, and Jen said she ran into the bar and told everyone that she was getting married in 5 minutes, and that anyone who wanted to could attend. I don't remember who Jen said was there, but I believe that Michelle was. I have a picture of Michelle below. I was really not prepared for taking pictures so the pics that you see are from my cell phone camera which is only 3G. So they are not the best quality. But Jen, her employees, and the bar are.

Jen knows about our website, as our band,
The Phantom Band
(Geezers Band) has played at JOM during the
Goodyear Christmas
celebration for a few years. Go to the
MEDIA
page for 2011 to see last year. I have imported pictures from those nights. Also their are pics from our Geezers Nite Out visits on the
PHOTOS
pages. Jen really didn't want me to put her picture on here or relate recent happenings from her personal life. That's Jen being Jen. But I told her that I was a Journalist (I lied) and this was Big News. So here it is.
Stop in to Just One More and wish Jen well. And incidentally, our Geezers Nite Out for Wednesday, April 11, will be held there. Stop in and say Hi to Jen and The Geezers.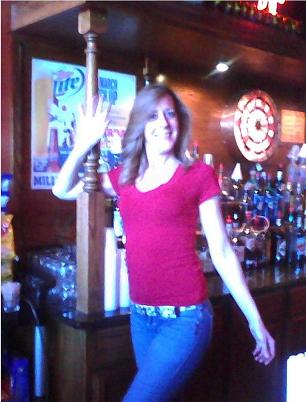 Michelle says: "Come up and see me sometime!"

This page was last updated: April 29, 2012
This is a Monthly Newsletter. Articles, Pictures, and Happenings are all listed on one page for the Current Month.  Page Down to see all of the News in the order that it happens.

The Geezers Nite Out, Wednesday night, April 11, was held at Just One More Bar & Grill. We found out that there will be a Pig Roast held there this Saturday, April 14.There will be Two Pigs. It will cost you $10 a plate and they will have $5 pitchers.

More on the Geezers Nite Out meeting including pictures to follow shortly.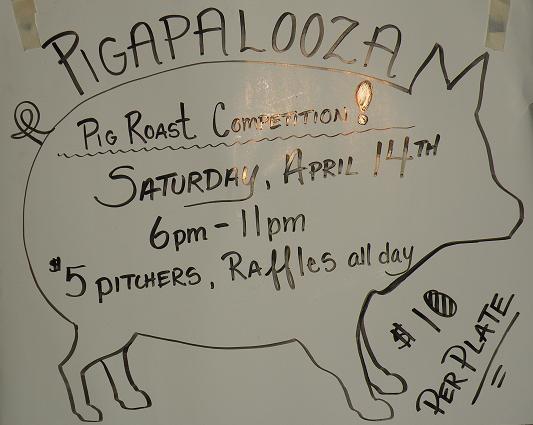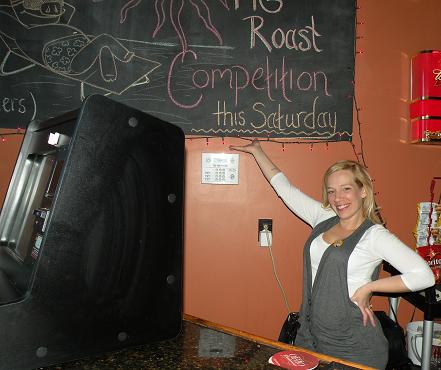 JUST ONE MORE BAR & GRILL - Gala Commons -  April 11, 2012

Jen is saying this lil' piggy (on board) went all the way to Just One More (JOM)  on Saturday, April 14, to join another lil piggy. .

The Geezers Nite Out on April 11, was held at Just One More if you haven't guessed that by now. Unbeknownst to us they were planning a big Pig Roast on that day. It sounded like it would be a blast.

When some of us first arrived at JOM Michelle (Not pictured) was behind the bar. She is the day bartender. After she left we were taken care of very well by Jen (Pictured), the owner. In the photo she is pointing out the sign etched on the huge blackboard of coming events and Specials behind the corner of the bar. 

See pics on our
PHOTOS
page from that nite.
Jen and Just One More have been getting a lot of attention on our website lately. We could almost call the Newsletter the Just One More Newsletter. However, there is a reason for everything, right? I (Joebo) had my income tax done on April 4 at Gala Commons as I indicated on the Congratulations article below. On that day I found out that Jen got married on March 31. I stopped in to JOM to celebrate getting money back, and as it turned out, Jen's wedding. This was a big news story (To me) so I just had to write it up.

And then it just so happened that the following Wednesday,
April 11
,  JOM was on the
Schedule
.
So this is the article about that nite. That's when we found out about the
Pig Roast
on Saturday,
April 14,
from 6-11 PM. This article is a little late, but I previously put a picture of the sign giving all of the info. I hope the weather holds up, and a good time is had by all. 
Again, most of the Geezers took advantage of the $1 Domestic Bottles, and $1 Burgers. You just can't beat the price. Of course JOM has many other regular items on the menu that are prepared by their talented, and experienced chefs.

Speaking of talented, JOM has their own
DJ Pauly D
. He is
DJ Rich
. He is a nice guy and very versatile. He does
Karaoke
,
Name That Tune
,
Dance Music & Videos
. He is available for Birthday Parties, Weddings, Class Reunions & Clubs, and he Specializes in
"Jimmy Buffet" Tribute
parties. He was telling me about it, and it is worth looking into and sounds very elaborate. I will have his card on the
HOME
page soon. Until then Rich can be found at
330-324-6386.
Also there is a photo on the PHOTOS page.
Next Wednesday, April 18, we will be meeting at The Basement of North Canton on the corner of Portage & Whipple.

THE BASEMENT OF NO CANTON - Cor Of Portage & Whipple - April 18, 2012

...neither snow, nor rain, nor gloom of night stays these Geezers from the swift completion of buying their appointed rounds...

Well, it happened again! Back on December 14, 2011 the Geezers Nite Out was to be held at the newest sports bar in Northeastern Ohio, The Tilted Kilt. We had to drive from Akron south to near Belden Village. It just so happened that there was a minor accident near Massillon Rd. that had traffic backed up for miles.

Spike, and the Candyman were able to avoid the parking lot. Spike came down before the accident happened and the Candyman came via the back roads from Clinton (Not the President). But the rest of us were caught up in the traffic jam.

Wednesday, April 18, it happened again. Only this time the back up started near the access road to 77 South near Main St. I left my condo in that area before 4:30 PM, and I didn't arrive to The Basement until almost 5:00 PM. The Big Buddha, and Mr. Lobber ran into the same mess.

There is always so much traffic on 77 South anywhere near rush hour that one little glitch can back traffic up for miles. The traffic was, as they say, like a parking lot. Once I reached the point of the cause of the back up there were just two cars pulled over to the median with the drivers standing there talking. It didn't look like either car was damaged, and there we no police there yet. Years ago they widened the interstate to accommodate more cars, and it did help. But there is nothing that they can do about the drivers of the cars.

One of our fave bartenders, Haley, was behind the bar when we finally arrived. She works days and leaves at 7:00 PM. She is pictured above. Just as we previously reported that the owner of Just One More, Jen, was recently married, Haley will do the same next year. We met Haley when she was working at The Basement on Waterloo Rd. in Akron.

The evening shift brought
Alex
, and
Angi
in to relieve her. We have pictures of them plus another of Haley in a gallery on our
PHOTOS
page.
We found out during our visit Wednesday night that Kenny, who worked at, and help create, all three of the Basement locations (Akron, Portage Lakes, and North Canton) is now in Sagamore Hills (Near Macedonia) doing his thing again. After the Sagamore location is up and running he will become the Manager there.

Spike (Swiffy) was at the No Canton meeting. He arrived back from Florida on March 15, just in time for St. Patty's Day. Fergie, the last of the Snowbirds, will be returning to Akron on, Saturday, April 28. 

Next Wednesday, April 25, we will be meeting at The Galaxy in Wadsworth. We understand that The Patio is not scheduled to be Open, but there will still be a Ladies Night with WONE 97.5 radio in the Sports Bar.

Also, it will be voting nite for the meeting places for May 2012. So if you want to go to a certain place or you don't want to go to a certain place be there to vote.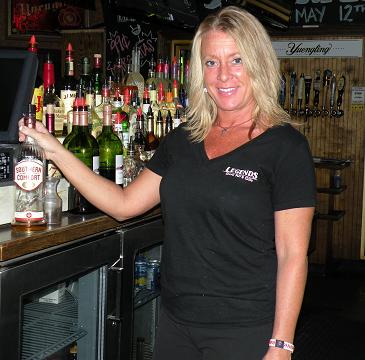 LEGENDS SPORTS PUB & GRILLE - Green, Ohio - April 25, 2012

The last time that the Geezers Nite Out was at Legends was on March 21 of this year (2012). At 4:54 PM it was 79 degrees.

Wednesday nite (4/25) at 4:54 PM it was 37 degrees. We had The Galaxy in Wadsworth scheduled, but there was another problem other than the weather why we didn't go out there.

Of course The Patio wasn't going to be open, but also part of I-277 East, which connects with RT 224 is closed. We could have gotten out there, but not back the same way.

Pictured to the left is one of our fave bartenders, Tricia. She works most Wednesdays, and a couple of other nights. Her Birthday was on April 15. Happy Birthday Tricia. She also recently returned from a trip to Florida.

Billy Bob just returned from Key West on Tuesday night at 11:00 PM. He went to work Wednesday morning and showed up for Geezers Nite Out on this night. We'll give him an Atta-Boy for his effort!

We had various topics of conversation, one being the NFL Collegiate Draft. There has been quite a bit of remodeling done at Legends inside and out. The patio has been remodeled, and there have been renovations made by the main bar including new HD TV's. The last time we were here most of the improvements had been made including the new TV's. However, they didn't have one at the end of the bar by the door. This night it was in place. They had the channel set to ESPN and there was a special Draft Show before the actual draft starting on Thursday April 26 to Saturday April 28. Of course all of us arm-chair quarterbacks had all of the answers for the professional sports analysts

We also saw a couple of Celebrity Look-A-Likes (Don't we always?) We saw one guy sitting at the bar who was the spitting-image of the famous Notre Dame coach, and ESPN football analyst Lou Holtz. I mean this guy looked exactly like him. I wish that I would have been able to take a picture.

We also saw a guy on ESPN who looked like American Idol winner Taylor Hicks. I was also unable to get a pic of him. We then had a conversation about some of the successful, and unsuccessful Idol winners.

Hicks and Ruben Studdard have not been heard of much since they won. Kelly Clarkson has been doing very well and in demand. But Carrie Underwood has outdone them all. First of all she is a songwriter, and 2012 Billboard named her Country Music's reigning Queen.

And to top it off her debut album Some Hearts was certified seven times Platinum, and since FEB 2006, is the fastest selling debut album in Nielsen SoundScan history. Since March 2011 it is the best selling country album of the last 10 years. (WikipediA) One thing I hesitate to say is that the nasty Simon Cowell said on air one night that he predicts that she will out sell all of the Idol winners. What a guy.

Spike's son Rob was celebrating the fact that on Friday, April 27, was his last college class. He will be graduating on Saturday, May 5 with a degree as a Paralegal. He already has a job opening lined up that he will be filling after graduation. CONGRATULATIONS ROB!

Wednesday (4/25) was also voting nite for the meeting places that we will be going to in
May 2012
. It almost didn't happen as our
Entertainment Director,
R. B.
, had neglected to create a ballot for us to use. Pressure is nothing to this executive at Goodyear. He created the tiniest ballot of all time right on the spot using a stickem note. A record. The votes have been tabulated and the results will be posted on the
SCHEDULE
page by
May 1
or before.
R. B. wasn't done for the evening. He was driving Tricia crazy by crumbling up napkins, and placing them in a napkin holder. Tricia would grab the crumbled up napkin and throw it away as she walked by. R. B. would then crumble up another napkin and put it in the holder. This kept going on for quite sometime until he could see that Tricia was getting a little irritated. And only to make matters worse he was trying to make it look like the Big Budha (Dougie) was doing it. But Tricia knew better, and when I took a picture of R. B. actually doing it, and she saw it, he was BUSTED. However, it didn't keep him from writing a love note on the bottom of Dougie's bill to make it seem like he wrote it. Yes, we may be old but we are still kicking.

For more pictures taken during the evening go to our
PHOTOS
link.
Next Wednesday, May 2, we will be meeting at Johnny Malloy's Sports Pub behind Chapel Hill Mall. Hope to see you there.