GEEZERS NITE OUT ~ Newsletter

This is a Monthly Newsletter. Articles, Pictures, and Happenings are all listed on one page for the Current Month. Page down to see all of the news, and photos in the order that it happens.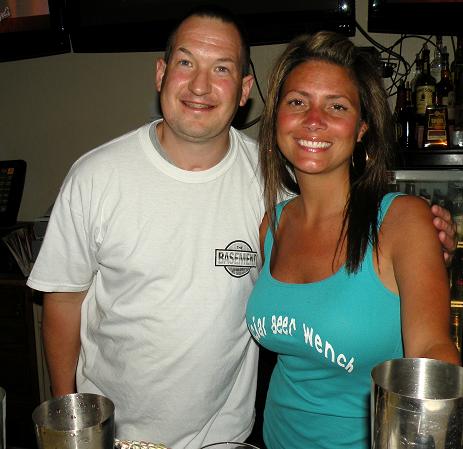 BACK IN THE BASEMENT...AGAIN!

We just can't seem to get out of
The Basement
. But with Bartenders like
Haley
, and
Kenny
(Pictured), who cares? When we first arrived the day bartender,
Mary
, was serving us. There is a pic of Mary in the
GEEZER PHOTOS
for
June 1
along with an interesting array of others that you should see. The Basement is located at 255 E. Waterloo Rd in south Akron.
Needless to say the Geezers Nite Out for Wednesday, June 1, was back at one of our fave meeting places.

There was a good turn out which included the Candyman, Fergie, J.Bo, Big Boi, Spike (Swiffy), Drumstir, and Billy Bob. The Candyman is usually a staple on Catawba Island during the summer months, but he showed up Wednesday night to see if he could wrangle a B-Day card out of one of us.

And I (J.Bo) fell for it, and got him a card with $5 worth of Instant Lottery tickets. After a shaky start he ended up winning $4. His actual birthday is next week on June 8. 

The Big Boi was wearing the Basement T-Shirt that he won in a door prize last Friday (May 27) when some of us went to the Basement for their 7 Year Anniversary party (By Invitation Only).  "Mr. Lucky" also won a $25 gift certificate. However, he shared that with the rest of the Geezers AFTER he had a Bombay Sapphire Martini (up). Haley concocted it to perfection! A couple of pics of that are also on the GEEZER PHOTOS page.

Our Entertainment Director, R. B., was not at the June 1 meeting. He was hard at work at The Goodyear cleaning up any lose ends in preparation for his trip with family to Hilton Head, S. C. He was scheduled to leave for the drive down to S. C. around Midnight Saturday morning. By the time your read this he will be lounging in the sun on the beach. Why that Sun of a.....Beach!

Most of the Geezers who were there Wednesday ordered from The Basement's excellent Menu. They have an excellent variety of quality food from Wings to Full Meals. The HOT item of the nite was their different varieties of Philly sandwiches for half-price till 7:00 P. M. on Wednesdays.

Next Wednesday, June 8, we will be meeting out on the deck at Jerzee's Sports Grille at 1019 E. Turkeyfoot Rd in Green. The weather forecast is sunny and 84 degrees. Hope to see you there. 

This page was last updated: January 9, 2012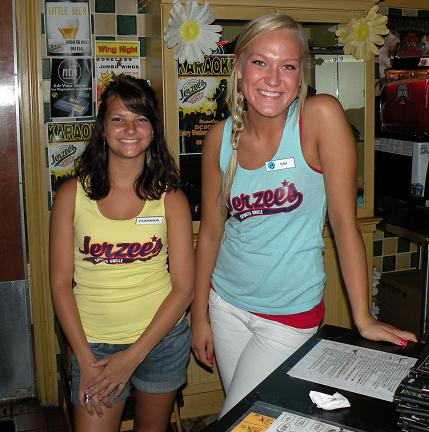 It was another Birthday celebration at Jerzee's Sports Grille in Green for the Geezers Nite Out on Wednesday, June 8.

When anyone first arrived each Geezer entered thru the Patio/Deck. The early birds not seeing any other Geezers filtered inside. I don't know how many times this happened , but there were 7 of us there so it must have happened that many times.

They Geezers who were there were Spike, Fergie, Drumstir, J.Bo, Mr. Lobber, Billy Bob, and Mr. Warmth. Our Entertainment Director, R. B., was in Hilton Head for vacation so he was not in attendance. The Big Boi also called off (Internet) with some flimsy excuse about some out of towners. Not sure what that was about. Billy Bob's son, Scott, also stopped by. He is a lawyer. So I guess if we would happen to get into any legal trouble we can say that we must first talk with "our lawyer". Our bartender for most of the evening (Inside) was Marissa. There is no pic of her.

It was a warm nite, and by the time that we started taking pictures she was drenched, and declined to be photographed. "Maybe next time, darn"...she said. So in lieu of the main bartender's pic we took a picture of the Hostess' at the door,
Hannah,
and
Sam
(L-R). Most of us ordered something to eat from Jerzee's
MENU
inside. Everything was
just the way we like it
.
After we ate some of went outside to the Patio Bar. Spike, and I (J.Bo) had cigars with us, and we ahd to go otuside to smoke them. What we found out there was a different world! When we were inside everything was laid back, and air conditioned. Outside on the deck it was humid and noisy! What we walked into was Karaoke World.

There were not enough seats at the bar for all of us to sit together so we went to a table out on the deck. Before we went to the table we saw one of our fave Karaoke Pros, Nury (Niki). Nury goes way back with the Geezers to El Charro's in south Akron, and the last couple of years at Dusty's Landing when they had Karaoke. She is an accomplished hairdresser, and singer. She is from Venezuela hence the nickname Venezuelan Singing Hairdresser.

Out on the deck was Spike, J.Bo, Mr. Lobber Fergie, and Mr. Warmth to start off. After Fergie left Billy Bob and his son Scott joined us. The reason for the party atmosphere was that it was Fergie's B-Day. We don't know which one it was, but he is getting up there. He was being taken care of in the Birthday Fashion, and his fashion of choice was Bombay Sapphire whatever that is! I know that it is expensive.

The Karaoke was actually very good. There were a lot of Karaoke Pros who volunteered to show off their talents (Not in South Beach). The company that was running it was D. C. Sight & Sound. Dave Cordi is the owner, and he was there with his wife Vicky. both of them are accomplished singers. Also, Vicky, wnet to high school with Nury. Small world. They will be at Jerzee's every Wednesday, and at Menches at the Shops in Green on Massillon Rd on Fridays. We have one of their cards on the HOME page.

We also have a few pictures from the evening on our
GEEZER PHOTOS
page.
Next Wednesday, June 15, we will be at Johnny Malloy's behind Chapel Hill. Hope to see you there.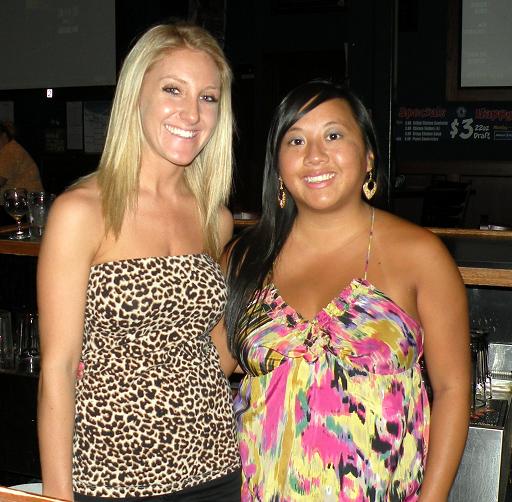 The Geezers Nite Out for Wednesday, June 15, was a Deck Party at Johnny Malloy's behind Chapel Hill Mall. Malloy's, Geppetto's, and Anheuser Busch collaborated to put on this spectacular bash.

Pictured to the left are Chelsea (L), and Darlene, bartenders at Malloy's. Darlene was working days that day, but she was going to attend the deck party as a guest. It ran form 6-8 PM. Chelsea worked inside the rest of the evening. 

The tickets were $15 and they had to be purchased in advance, and there was a limited number sold. I (
J.Bo
) originally bought 5 tickets on my own on the previous Friday.
Crazy Richie
also bought a ticket. I sent out emails to the Geezers advising them of the situation. Some responded and the tickets went fast. There were others who wanted to attend, but the event was sold out. However, due to some finagling by
The
Jerry
(
Jerry's Corner
), and some begging we ended up getting two more Geezers in.     
There was a total of 8 Geezers who were able to attend the party. They were J.Bo, Crazy Richie, The Jerry,
Fergie
,
Spike
, the
Big Boi
,
R. B.
, and
Mr. Lobber
.  We heard that two of the Geezers who live in Wadsworth, and Canal Fulton,
Billy Bob
, and
Drumstir,
respectively, decided to stay closer to home by going to the
Patio
at
The Galaxy
. Drumstir was going to take some photos, but he forgot his camera. I took photos at Malloy's and they will be posted shortly on the
GEEZER PHOTOS
page.
The Deck Party was also a "beer tasting" of 7 different Anheuser Busch flavored beers. The first beer that we sampled was Bud Light Lime. Next, was Hougarden, (A Belgium Beer) beer. The Big Boi's brother, Dave, in Iowa loves this beer. Next was 312 - Goose island. (312 is the Area Code for Chicago) There are no spices in this type. Next, was Shot Tap Raspberry Wheat. This was a very tasty, sweet brew. Next, was Wild Blueberry. The name tells it all. It tasted like blueberries. Next, was Landshark. I think that we have all heard of this beer. The affable  Jimmy Buffet had something to do with this beer at one time. And the best was saved for last. Stella Dorius. This was a very tasty brew with a tantalizing bouquet,

While the beer tasting was going on we were being served a 3 course meal. Geppettos started out with an appetizer that the Geezers called "corn puffs". There is a picture on the Geezer Photos page. Next we were offered hot wings with the choice of 3 different flavors. I think that we settled on a "dry rub", "hot", and "barbeque". The main course consisted of barbequed ribs, corn on the cob, and a chicken fillet along with a portion of pasta. You had your choice of a pasta topped with Alfredo sauce, and shrimp or a red pasta sauce. Most of us had the shrimp. I chose the latter.

Needless to say we all had a great time. Annheuser billed it as the Deck Spectacular, and it was. We had our full share of food, and we were able to taste some unique beers, for the most part, that we have never tried. There was a representative from the brewery who came around, and explained some of the history of the flavors, and what to expect. 

We want to thank Steve, and his wife Pat for the wonderful experience. It was a very enjoyable time even though the weather could have been a little more friendly. It was very windy out on the deck, but at least it was not wet. Everything that we had to eat on the deck is available daily at Geppetto's next door. I must say that those were mighty good ribs. I will be back at Malloy's to have more.

Next Wednesday, June 22, we will be at another one of our fave sports bar Legends Sports Pub & Grille in Green. They also have a deck. Hope to see you there.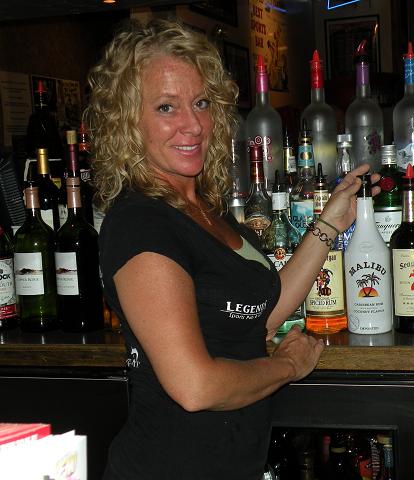 The Geezers Nite Out for Wednesday, June 22, was held at Legends Sports Pub & Grill in Green.

As usual our bartender for the evening was Tricia, pictured to the left. The Happy Hour Specials from 11AM - 7PM from MON - FRI are $2 Domestic Bottles, $3 Import bottles, and $2.50 Well drinks.

While we were there the Cleveland Indians game came on the many TV's throughout the place. During the game Travis Hafner (The Haf as we call him) hit a Home Run, and the Indians ended up winning the game.

But also on Wednesdays the Appetizers, until 7 PM are Half-Off. So it was Haf-On, and Half-off!  

The Geezers there were J.Bo, Drumstir, Spike, the Big Boi, Fergie, R. B., and Billy Bob (Mike). Later on Mike's son, Scott, (our lawyer) stopped in to grab a bite to eat. And also one of our temporarily absent summer golf Geezers, Nicko, and his wife Ro stopped in.

Everyone, eventually ended up eating from Legend's excellent
MENU.
  Legends has a full menu, but one of the unique features is the names for their hamburgers. For example there is the
Slammin Sammy Burger
. The
Tiger Swiss Burger
.    
There is also the Cribbs Quesadilla Burger. Pete Rose Burger (with a Fried Egg), Agassi Turkey Burger, and the T-O Big Dawg. The Big Boi had the Tiger Swiss burger. 

He also brought coupons from a Coupon Book for buy-one get-one free on any entree from the menu. He had a number of those which he passed out to the rest of the Geezers. J.Bo, and Drumstir ordered off of one of the coupons, however Drusmtir became ill and had to leave and took his meal To-Go. The problem was that Tricia had to put the food order on one bill. And the fact that Drusmtir had to leave compounded the problem. However, Tricia, and Drumstir figured it out, and he left me enough cash to cover his food and drinks. The Big Boi, and Fergie also ordered off of one of the coupons. It was a good deal, but paying the bill at the end of the night can be a little complicated.

R. B. has a unique way of pronouncing the Greek wrap called a
Gyro
. He pronounces it Gee-ro! (With a hard G) The correct Greek pronunciation is "
yeah-rohs
". It's not
Ji-roh
either. When R. B. ordered it Tricia said: "What?" Anyway we all got a big laugh out of it. Besides that his original nickname is
Garo
. Quite a coincidence. There is a picture of
Garo's Gyro
on the
GEEZER PHOTOS
page for
June 22
along with other pictures from the evening.
Next Wednesday, June 29, we will be at one of our fave summer stops The Galaxy in Wadsworth out on the Patio with Live Entertainment, and radio station WONE. Hope to see you there.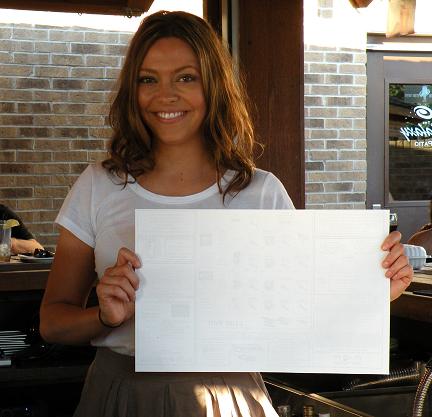 SUMMER IS A GO AT THE GALAXY

There was not even a hint of rain at the Geezers Nite Out Wednesday, June 29, out on The Patio at The Galaxy in Wadsworth. Since we only go to The Galaxy, as a group, once a month during the summer months, we have had our problems with the rain. but on 6/29 it was a beautiful nite out.

Our bartenders for the evening were
Shauna
, pictured to the left,
Theresa
, and
Mike
. The message that Shauna is holding is for the
Big
Boi
(Dougie) who had his knee scoped on Monday (6/27). He is out of commission for at least a week. I also have pics of Theresa, and Mike on the
GEEZER PHOTOS
page.
The Geezers there were Mr. Lobber, Fergie, J.Bo, Drumstir, Spike, R. B., and Billy Bob. Later on two friends, Krisko, and Betty Boop stopped by. They live near the west side of Akron, and The Galaxy is just a hop, skip, and a jump for them. It was good to see them. The weather brings everyone outside.

One of the bartenders at The Galaxy, Darla, who is usually working on Wednesday nights when we are there was there that evening. However, she has been under the weather for the last few months, and she had been on a leave of absence. She is now doing fine, and will be back to work by the time that you read this. However, she will not be working Wednesday nights. She will be there on Thursdays instead due to geographical constraints. But since she was at The Galaxy Wednesday night we talked her into letting us take a picture which we will have posted on the Geezers Photos page. 

Almost everyone ate from The Galaxy's excellent
Menu
. The Galaxy is quite a conglomeration. The menu that you will see when you click on the above link is for the
Sports Bar & Patio
. They also have a main Dining Room, Wine Room, Cafe Market & Carry Out, and a Banquet Center. It is quite a sight to behold. Check it out.
The entertainment for the evening was radio station 97.5 WONE was there with DJ TK O'Grady,      and his crew followed at 8:00 PM with a band called Turned Up who played live music. I love the name. As most of you know I (J.Bo) along with the Big Boi play in a band (Phantom Band). We have always been accused of playing TOO LOUD! You know what the saying about that is don't you? Well, I loved this band because they were Turned Up when they started playing. Touche! By the way the band was terrific! There are pics and a short vid-clip on the Geezer Photos page.

This was also the last Wednesday of the month which meant that it was time to vote for the meeting places for the month of July. The results will be posted on the
SCHEDULE
page.