GEEZERS NITE OUT ~ Newsletter

This is a Monthly Newsletter. Articles, Pictures, and Happenings are all listed on one page for the Current Month. Page down to see all of the News, and Photos in the order that it happens. 

The Geezers Nite Out last week was a steak-out, and this Wednesday, May 4, the Geezers Chickened-Out!

The meeting this Wednesday was held at Jerzee's on RT 619 off of S. Arlington St. Our bartender for the evening was Rachel (In the blue top) pictured with Renee. Renee was working the deck, but we used her to get a picture of Rachel before she knew what we were all about.

Jerzee's has a Chicken Dinner Special on Wednesday nights which we were lucky enough to take advantage of. For $6.99 you get 4 pieces of chicken, Jo-Jo's, and cole slaw. Quite a few of the Geezers ordered that, and they all enjoyed it.

We had quite big turnout Wednesday night. The Geezers there were J.Bo, Crazy Richie, Fergie, Spike, the Big Boi, Mr. Lobber, the Candyman, R. B., Billy Bob, and Kenny J.

Crazy Richie was one of the original Geezers, but he has not been around for quite sometime. When he heard that we were going to have our meeting at Jerzee's he wanted to come and join us for the Erie Island Rub wings, which are da bomb. Jerzee's was formerly Cleats. Jerzee's has the best wings around. But the chicken dinner for $6.99 was something else.

I mentioned that there was a big turnout. We usually sit at the bar when we meet which some of the Geezers are not fond of. (Maybe 1) Anywho, with 10 Geezers showing up, we had the large bar at Jerzee's pretty full. It was so full (How full was it?) that R. B. had to call me on his cell phone to relay something to me on the other end.

Kenny J., one of our former Goodyear associates, doesn't make it that often to the Geezers Nite Out meetings. When I saw him walk into Jerzee's I thought that there  might be a reason that he came was there. At first he was quite dossal. But then as the evening progressed he pulled out a photo of of his "new plane"! Yes, that's right, an AIRPLANE! Well, it's not exactly "new"!

Kenny has been taking flying lessons for about a year, and I'm sure he suspended those during the winter months. However, he shocked us all by telling us that he bought an airplane. It is a
Cessna
. That is all I know about it. however, he did bring a picture which I took a picture of with my camera. It's not the best, but check it out on the
GEEZER PHOTOS
page along with a few other pics from the evening..
We usually go to Jerzee's during the summer as they have a great deck with a bar. However, it was a little cool this Wednesday night. It is actually open all year long, as they have a protective plastic around the bar.

Next Wednesday, May 11, we are scheduled to be at Dusty's Landing on the Lakes.

This page was last updated: January 9, 2012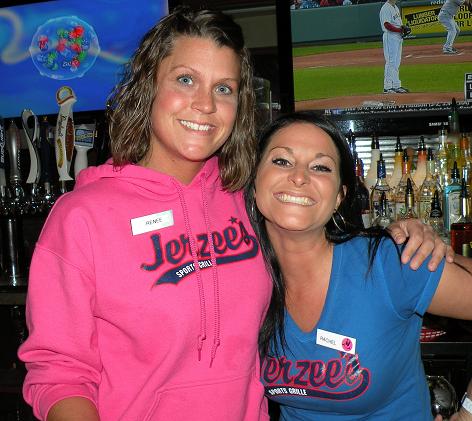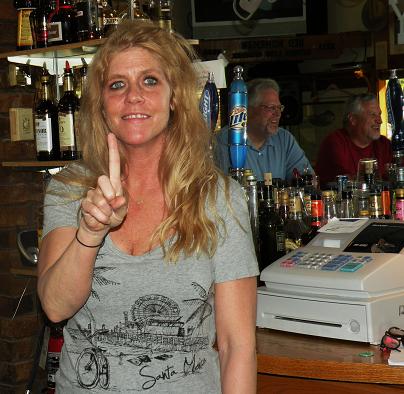 Karen, bartender at Dusty's Landing, on Portage Lakes, pictured to the left, is one of our favorite bartenders. But what she is signifying in the photo is that she swung the ring on the hook in one try. It's a long story. More later on that.

First of all, the Geezers Nite Out for Wednesday, May 11 was held at Dusty's. It was an interesting evening to say the least.

The Geezers who there that evening were Spike, Billy Bob, Big Boi, J.Bo, R. B., Fergie and Drumstir.

We had a visitor, and Ronald Regan look-a-like, Warren Ferrell. Warren is my (J.Bo) brother in law who lives with my sister Lynda in Tucson, Arizona. He came home for a special occasion, and to see his kids who still live in the area. Warren lives in a housing community in AZ who hold regular Texas Hold 'Em poker games every week. His nickname is the Gamblin' Man. He has won quite a few tournaments so he must be an accomplished player.

However, his big challenge Wednesday night was swinging a tiny ring on a string onto a tiny hook on the wall. This is one of the things Dusty's is famous for, and almost everyone has tried it at one time or another. Karen called it the
Bimmany Ring
. Going back to Karen she has accomplished this feat on the first try many times. Her secret? "Stare at the hook"! Most people take quite a few times to do it. In fact Karen challenged the Big Boi to make it in 7 tries. He didn't do it, but he has done it on 3 tries before, and 2 tries that evening later on. It took Spike six. Warren did try it. Not sure if he did it, and how many tries it took him. To see pics of his attempts, and the entire nite go to the
GEEZER PHOTOS
tab.
Warren also brought some CD's that he received from a DJ. There were tunes from the 40's up to the 50's & 60's. There were some big hits by Hall Of Fame singers, and bands. He brought them to show to me, but it would have been nice to hear them on Dusty's CD player which Karen usually always has playing with Oldies tunes. However, it was not working that night.

Then an unusual thing happened. Someone at the bar ordered a drink of a coffee flavored vodka called Vincent Van Gogh espresso.  Spike saw the flashy bottle, and decided to try it. He has coffee, and Bailey's on occasion at Dusty's. Then he tried a liqueur called Disaronno which is similar to Amaretto. Then he tried them as a Combo. The Big Boi thought he would try it, and a new drink was created. I don't think that they have a name for it except the "combo". But I'm sure that someone has tried that "combo" at one time or another. The unusual part of it is that the first time I was introduced to the Van Gogh espresso was in Tucson, Arizona with Warren during a visit a few years ago when we went out to dinner with my sister Cathy for Lynda's 70th birthday. At that time it was a new product on the market, and the bartender let us sample some. 

As Warren was leaving, Wednesday night, I told Karen that I thought he looked like Ronald Regan. She knows about our nicknames. But she she called him "The Prince". So be it. He will be leaving on Sunday (5/15/11) for Tucson. He will most likely be ready to go back after all of the rain that we have had.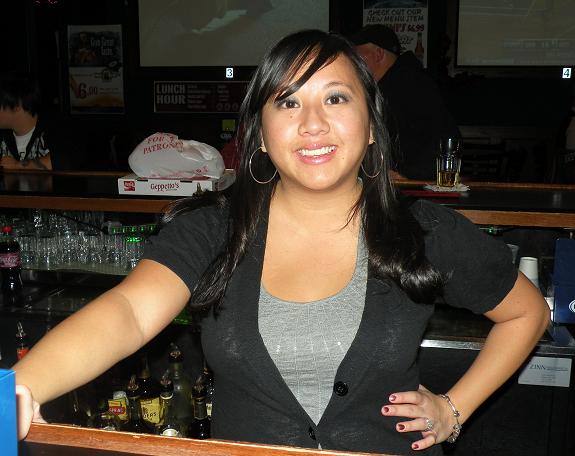 GEEZERS IN GOOD HANDS AT MALLOY'S

Although the Geezers Nite Out at Johnny Malloy's Sports Pub on May 18 did not have quite the usual turnout, due to a few no-shows, and some of the Geezers being out of town celebrating Spike's B-Day, the Geezers who were there were in good hands.

Pictured to the left is a file photo of one of our fave bartenders at Malloy's, Darlene. AKA "Steff" (Inside joke). She always takes good care of the Geezers whenever we are there. There was also another bartender there who we have seen before, but not on our regular nite out, Chelsea. We normally see some customers at our various meeting places who resemble celebrities. In this case there is a celebrity, Madonna, who looks like one of our bartenders. So we had a celebrity look-alike as one of our bartenders.

The Geezers who did attend were the Big Boi, Billy Bob, and Mr. Warmth. A former co-worker of the Big Boi for the Security "Group" at IBM, Larry Silineus, stopped by for a short time.

My snitch...I mean, source, for this article was the Big Boi. In his exact words: "Had a pretty good time." I don't know. I unfortunately wasn't there.

Big Boi said that Mr. Warmth had a camera, and took some pics of the evening. So far none have surfaced in the Geezers Nite Out email account. When, and if they do I will post them on the
GEEZER PHOTOS
page.
Wednesday, May 25, we will be heading out to Wadsworth to The Galaxy. We are hoping that the rain swill stay away that night. It is scheduled to be the first night of bands out on the Patio. "Kick-Off" night with The Woovs.

Keep your fingers crossed. Hope to see you there. 

If it does rain we will be in the Sports Bar.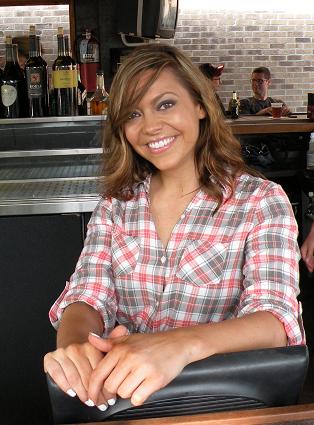 We were out on the Patio Bar at The Galaxy in Wadsworth for our Geezers Nite Out Wednesday, May 25, having a good ole time when all of a sudden a Monsoon let loose.

We could see the sky losing light, and it didn't take long before it was as dark as night with the wind and rain swooping in. The outside crew must have practiced shutting down the bar, and tables just like a grounds crew at a baseball park putting the tarp on the field. It didn't take them long to get the place secured.

I braved the elements long enough to take a few pics before I came inside which I will have posted on the
Geezer Photos
page.
To the left is one of our bartenders for the evening, Shauna. She ended up inside at the Sports Bar after the storm hit. She was joined with Theresa, and a bartender (In training) Leslie when they were altogether outside.

We had a pretty good turnout of Geezers despite the threatening weather. They were Drumstir, Fergie, J.Bo, Big Boi, Spike, Billy Bob, Mr. Lobber, and R. B. 

This Wednesday was going to be the initial night with a band, "Kick-Off" night, out on the Patio. In fact the band The Woov had their instruments, and PA equipment in the general area where the bands set up. But as the brunt of the storm hit, and we were hightailing it inside I glanced back there, and they had everything cleared out, and packed up.

Most of the Geezers ordered from The Galaxy's excellent
menu
before the storm hit with full force. But some of us had to scramble to pay our tabs before we went inside.
One other thing that we did accomplish outside was voting for the meeting locations for
June
. There are
5
Wednesdays in June. The results will be posted on the
SCHEDULE
page shortly.
It seems that we have a
thing
with the rain! We have been going to The Galaxy for the last 3 or 4 years, and we especially like the party on the Patio on Wednesday evenings during the summer. For the first couple of years the weather has been fine almost every Wednesday when we had it scheduled. Then last year (2010) we started running into rain almost every Wednesday we met there. I detailed on the Newsletter for
July 2010
the number of occurrences that we experienced inclement weather out on the Patio. Of course we don't, and can't go every Wednesday so when we do go it is a case of hit or miss. However, this Wednesday was one of those (partial) misses. 
Next Wednesday, June 1, we will be heading back to The Basement on Waterloo Rd.

Hope to see you there.