This is a Monthly Newsletter. Articles, Pictures, and Happenings are all listed on one page for the Current Month. Page Down to see all of the News in the order that it happens.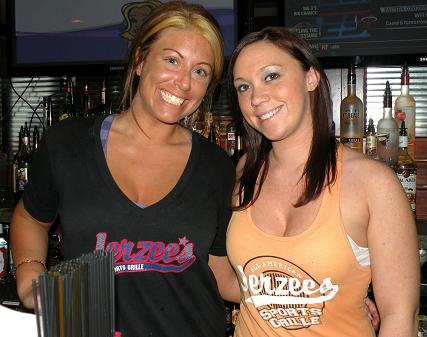 JERZEES SPORTS GRILLE - Green - June 6, 2012

The first Geezers Nite Out for June was held at Jerzee's where they have an outdoor bar on an enclosed deck. When most of us first arrived the bar was full so we went inside to eat until some seats opened up outside.

Pictured are two of our bartenders for the evening. From the left is Michelle, and Ashley. Ashley was our bartender inside Jerzee's, and Michelle was outside at the deck bar. They both were very friendly and took good care of us Geezers.

Jerzee's has very good food. When we were heading outside to the deck people were waiting in line to have dinner there. The deck also has tables and chairs to accommodate diners. 

The Big Buddha, and Drumstir had something that I had never heard of at Jeerzee's before. It was the Chicken/Apple Wrap (W/Cranberries). I (Joebo) had a simple Turkey Club Wrap. Mr. Lobber had a very good looking Chef Salad, and Billy Bob enjoyed a Reuben.

We finally made it outside to the bar on the deck. Dougie had a cigar that he brought with him. There is smoking permitted outside. I used to smoke cigars regularly, but now I only usually buy them when I play golf. Jerzee's used to sell them out on the deck but no longer do. Dougie lit up, and there was a guy sitting next to me who was smoking one also. After he heard me ask Michelle, the bartender, if they sold cigars he asked me if I wanted to smoke one. He said that he would go out to his car to get me one. I told him to forget about it, but he actually did go get me one. It was a very good cigar and I enjoyed it very much. I offered to give him money for it but he refused. I did buy him a drink before he left. I guess there are really nice people in this world.

It was a very comfortable night out on the deck. At 6:54 PM is was 71 degrees. The bar area can be covered with roll up curtains in case of rain, and the tables have umbrellas. They also have picnic style tables near the bar.

Next week we are scheduled to meet on a
Thursday
,
June 14
, at
Fox & Hound Sports Bar
in No Canton for a
Free (Food) Party
. The sports bar is collaborating with
Allstar Brew Club
for a promotion that the Geezers were lucky enough to be chosen to attend. The only stipulation is that we must meet is provide
10
warm bodies. If you plan to attend please advise us by
Wednesday, June 13th
at our email address which is
Geezersniteout@aol.com
This page was last updated: July 7, 2012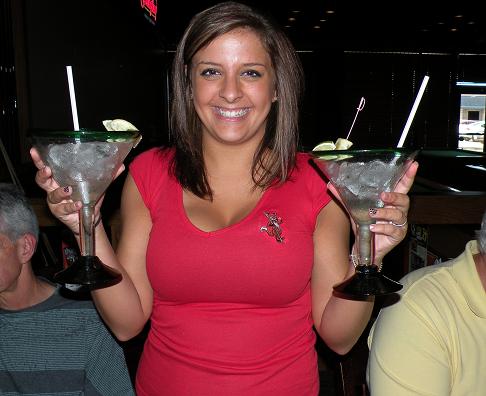 FOX AND HOUND ENGLISH PUB & GRILLE - No Canton, OH - June 13, 2012

This was a Special Geezers Nite Out, held at a special place on a special day, a Thursday.

We normally hold our meetings on Wednesdays, but due to the fact that we won a Free Party at Fox & Hound thru the Allstar Brew Pub we had to change the day to accommodate everyone.

You can join the Allstar brew Club at Fox, and when you do so online you will get $10 off of your bill.

They will also send you offers for other specials.

One of them was a chance to win a Free Food Party which we did. In return we would be given free food, and two hours of free pool at the many tables that they have.

When we arrived, we were led to one of the side rooms. This particular room has tables and chairs, many TV's and pool tables. They reserved three tables for us each with four chairs at each one. There was a long table set up that would hold our food. They brought out colored taco chips and salsa, 50 wings, and three pizzas. There was no drink minimum, but they wanted us to have 10 people or more. We made it to 8, and that must have been good enough. We want to thank Rob (Spike's son) for coming all of the way down to No Canton to help us enjoy the food. There was a wreck on the Interstate (What's new) so some of us had a hard time getting down there. We were scheduled for 5:00 PM. That's when most of us meet throughout the year, but for this event, I should have made it for 6:00. My Bad!

Some of us took advantage of the free pool.
Drumstir
and the
Skinny Buddha
had a heated match going. Buddha was calling his pockets (Where he was trying to sink the ball), and he was
DOING IT
! Drumstir couldn't believe it. We changed Buddha's nickname to
Minnesota "Skinny"
after the legendary
Minnesota "Fats"
. But Skinny has lost about
35 pounds
on "his" diet. We have pics on on our
PHOTOS
link.
Billy Bob
also challenged Skinny. The results of that match are unknown. Spike and his son Rob also played with the free time that we had left.
Next week we will be meeting on another Thursday, June 21. Another "Special" day. We will be a Hacker's Bar & Grill next to the Clubhouse of the Firestone Public Golf Course at 600 Swartz Rd for Rockin' On The Range. It will be outside of Hacker's on the range in a tent with Live Music. It's the first time we have been there for this event, but they did it during the summer last year and the reviews that we heard were favorable.

Come on up!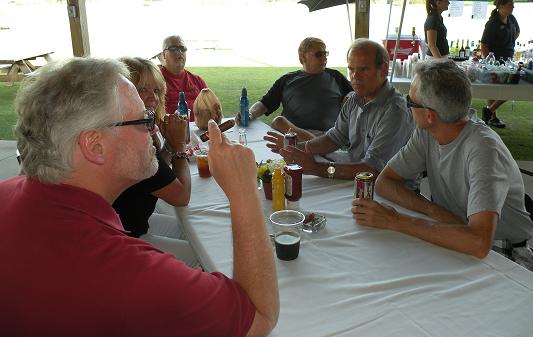 HACKER'S BAR & GRILL - On Firestone Public Golf Course -  June 21, 2012

The Geezers Nite out meeting at Hacker's Bar & Grill for their first Rockin' On The Range this summer was on the second Thursday in a row in June. It was the brainchild of our Entertainment Director, R. B. (Garo) to embellish the enjoyment of our summer meetings.

Every Thursday, starting on the nite that were there, June 21 thru Thursday nite August 3, Hacker's will have a different band out on the driving range every week behind the restaurant, They also have a bar and a grill with a choice of delicacies. 

They have a full bar with with Bud & Bud Light along with Yuengling. Off of the grill they offer Hamburgers, and Brats for $6.00. And Buffalo Chicken for $7.00. You receive a garden salad, potato salad, and baked beans with whatever you choose. The beer is only $2.00 in 16 oz bottles and cans. 

When we first arrived we met inside since the bar wasn't open yet on the range. it brought back memories of when the Geezers used to meet at Hacker's every Wednesday night for a couple of years. We got to say Hello to the day bartender, Ruthie, who we used to have a lot of fun with, and involved discussions about the Cleveland Browns. As more of the Geezers arrived we moved outside for the rest of the evening.

The band was fantastic. They were tight, and the sound was well balanced. The lead singer was Mary Ellen who could really belt out a tune, and who also had a lot of stage presence even though she was out on a driving range. They covered a large number of current hip hop songs, and a few old standards such as Crazy, by Patsy Cline, and Down Under by Men at Work with Mary Ellen featured on the piccolo.

The band was comprised of Mary Ellen Indre, Lead & backing vocals; Rod Massey, Lead guitar; Fred Sickels, Drums; John Livigni, Bass guitar; and John Bodeker, Keyboards. They all sang.

The Big Boi, and I (Joebo) know Fred, the drummer. He played with us a couple of times with the Oldies But Goodies Band. Big Boi also know John, the bass guitar player. Small world!

For pics of the band and more from the evening go to the
PHOTOS
link.
My cousin Andy, and his wife Jeannette were there, and sat at our table for a short time. See a pic of them also on the Photos link. They met at Hacker's where they were both working.

We also saw a celebrity look-a-like. When don't we? It was a guy with rather long locks who the majority of us thought looked like Fabio "I Can't Believe It's Not Butter" (Lanzoni).

This week we will be back to a Wednesday nite, June 27. We will venture out to Wadsworth to meet at The Galaxy Patio. The temperature is forecast to be 82 Degrees and Clear. The band will be Electric Mud. also WONE will be there at 7:00 PM.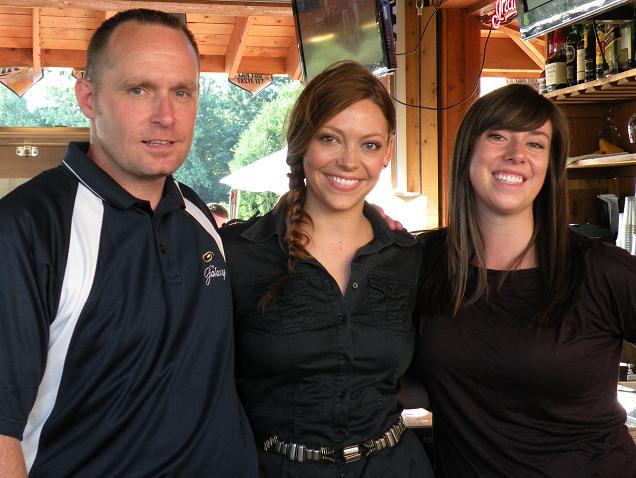 THE GALAXY - PATIO - Wadsworth (RT 94 Exit) - June 27, 2012

~SPECIAL EDITION~ GOOD LUCK SHAUNA

Yes, it was another Geezers Nite Out at The Galaxy Patio in Wadsworth last Wednesday on the above date. It was a balmy 84 degrees with clear skies. What could go wrong?

We (Geezers) have been known to bring the rain with us when we meet at The Galaxy on our Scheduled nite. However, this was a
Perfect Nite!
Not quite. For one thing it was one of our fave bartenders,
Shauna
, last Wednesday nite. (Friday June 29, was her last nite). We are sorry to see her leave, but we wish her all the best in her future endeavors. She is heading West (L. A.). She is a very accomplished artist but we are not sure that her profession is taking her out there. Good Luck Shauna. Go to our
PHOTOS
link to see pics of Shauna,
Mike
, and
Becka
(Above), and others from the evening.
As is usually the case on Wednesday nites, TK O' Grady was there with the rest of his WONE (97.5) staff. They were scheduled to be there at 7:00 PM and they were. Every Wednesday out on the Patio there is a live band who performs starting at 8:00 PM. Unfortunately, TK had to announce that the scheduled band, Electric Mud, was stuck in traffic in Ashland, and that they would not be able to make it in time for their performance. Spike said that their name now is just MUD!

However, the competent staff at The Galaxy started the wheels in motion to replace the entertainment for the evening. TK announced that there would be a DJ arriving shortly to fill in. As we left for the evening the DJ was up and running. So No Rain, but No Band.

We saw a few look-a-likes that were not all in the celebrity vein. We saw one gentleman, who unfortunately resembled the embattled ex-football coach at Penn State, Jerry Sandusky. Also, a regular at The Galaxy was there. We always thought that he looks like Harpo Marx (Younger readers ignore this.). And not meaning to rub salt into the wounds of Cleveland Indians fans, we saw a big guy who could have been a Kevin Youklis twin. For the ladies, he is a (Right handed power-hitting) baseball player who was traded from the Boston Red Sox to the Chicago White Sox. (The White Sox are in the Indians' division.) But I guess Cleveland wasn't interested! D'OH!

We seem to attract
Roller Derby Girls
. Now why is that? We were approached by and chatted with two ladies from the
NEO Roller Derby.
A couple of years ago we met a bartender at
Johnny Malloy's
in the Falls,
Trish
, who was also a roller derby girl. The girls from NEO did not want to talk about that. Anywho, check out their pics also on the PHOTOS link.
Click Here
to view the NEO Roller Derby website.
It was a good nite despite the missing band, and the soon to be missing bartender. It was good to see Shauna and we wish her well. Next Wednesday is the 4th of July so we will not be meeting. However, there is some good news because we will be back at HACKER'S for Rockin' on the Range on Thursday July 5th. It was voting nite for the meeting places for the month of July, and our Entertainment Director,

R. B., had some more surprises for us with his attachments to the ballot. Ask him about it. Not fit for print!

Go to
SCHEDULE
to see the results for the entire month of July.