GEEZERS NITE OUT ~ Newsletter

This is a Monthly Newsletter. Articles, Pictures, and Happenings are all listed on one page for the Current Month. Page Down to see all of the News in the order that it happens.

This page was last updated: January 9, 2012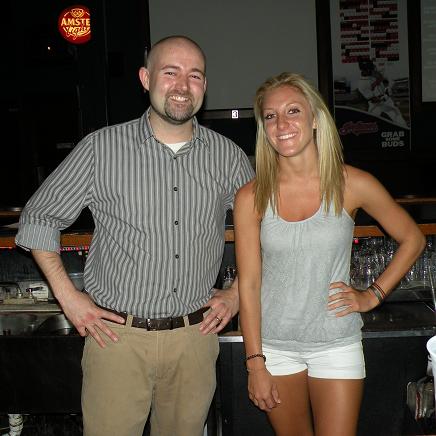 Our first Geezers Nite Out for the month of July 2011 was at Johnny Malloy's Sports Pub behind Chapel Hill Mall. It is one of our fave stops on our tour.

It was very hot, and humid outside. A month previous we were out on the deck for the Anheiser Busch Deck Party, but we decided to stay indoors because of the heat.. Hey, we're Geezers!

Pictured to the left are our bartenders for the evening, Tom, and Chelsea. Chelsea is on the right! This is the second time in a row that we have had a male & female bartender as the featured bartenders on the website.

Heather was out at the deck bar, and Denise was working the day shift, but scooted out of there quickly after her shift ended to attend a Cleveland Indians baseball game. The Indians beat the NY Stinkees 5-3 that night. Justin Masterson pitched 8 shutout innings.

We have another pic of Chelsea with Heather below.

The Geezers who braved the humid temperatures were Fergie, Mr. Lobber, J.Bo, Spike, the Big Boi, and R. B. The Big Boi missed last Wednesday, (6/29) at The Galaxy due to a minor operation on his knee. He came limping in at Malloy's however. He is doing fine, and Malloy's is only a few blocks away from his home in Cuyahoga Falls.

Most of the Geezers ordered from
Geppetto's
fine
MENU
next door. They supply the food to Malloy's. The Special of the day was a
Two Topping Pizza
, and
10 wings for
$9.99
. Mr. Lobber and I ended up ordering that after much debate.
Spike had his jar of tomato juice as usual. The other day he was out to the Upper Deck without it, and he paid the price. For some reason in the last few years he has been developing headaches when he drinks alcohol. But pouring tomato juice in his beer seems to help. What? Tomato juice in beer? Try it. You'll like it.

Next Wednesday, July 13, we will be at Dietz's on Portage Lakes. Hope to see you there.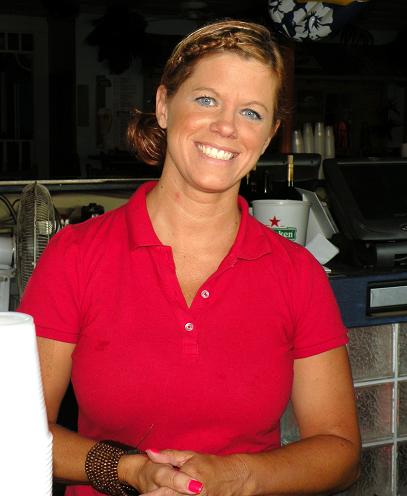 The Geezers Nite Out for Wednesday, July 13, was held at Dusty's Landing II, and Dusty's Landing on Portage Lakes. (Dusty's II is actually Dietz's. They have the same owner.)

Our bartender for the evening was Kelly, pictured to the left. Kelly formerly tended bar at The Harbor, but she wanted me to quote her as saying: "I jumped ship!" We were glad.

Behind the bar was a sign that was a takeoff on the famous Goodyear logo with the

winged foot. Only in this case it is "Beer" Instead of "Year", and the winged object is a beer. Pretty clever!. Legal? Billy Bob, ask your son Scott about that. (Our lawyer) 

The Geezers at Dusty's II were
Big Boi,
Billy Bob,
Drumstir
,
Joebo
, and
R. B.
  We all ate from Dusty's/Dietz's II
Menu
. They have a good, and interesting variety of food. click on Menu, and then page down.
Drumstir, and I (J.Bo) arrived later than usual. Drumstir is installing new bathroom cabinet for me. The cabinet is slightly used which I bought from one of the Original Deal Bros, Fergie. We spent all day Tuesday, and most of the afternoon Wednesday working on tearing out the old, and putting in the new.  (Slightly used). We didn't think that we were going to finish in time Wednesday afternoon to make it to the Geezers Nite Out, but we did about an hour late. Some of the Geezers never made it to Dietz's Landing II at all.

Since we were at Dusty's Landing II some of the Geezers decided to go down to Dusty's Landing (the original) to see one of our fave bartenders, Karen. I had some chores to run, and put out the trash after I arrived home. Drumstir went home. But R. B., Billy Bob, and the Big Boi went to see Karen. I have nothing to report from Dusty's Landing I other than to say What Happens at Dusty's Landing I Stays at Dusty's Landing I. Besides that, I wasn't there.

Next Wednesday, July 20, we will be back at one of our fav summer stops, The Galaxy Patio in Wadsworth. Hope to see you there.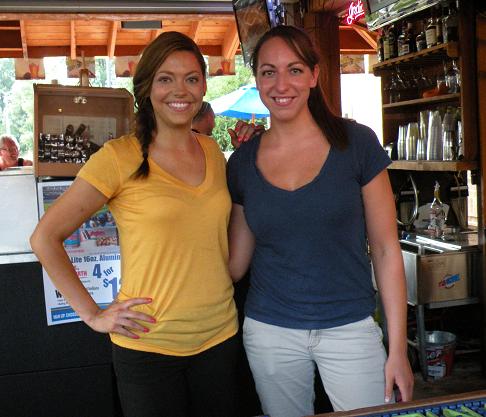 Well, if it isn't raining, it's TOO HOT! How hot was it? It was SO HOT that I saw a dog chasing a cat, and they were both walking! Badda Bing!

The Geezers Nite Out for Wednesday, July 20, was held at the Patio of The Galaxy in Wadsworth. When you are outdoors there is no guarantee of what the weather is going to be like even with the weather forecasters predictions.

We usually meet at The Galaxy out on the Patio as a group once a month during the summer months. For awhile we were running into rain on most of those nights. But there wasn't a drop of rain last Wednesday. In fact a shower or two would have been welcomed. As you are aware a large portion of the country is under a "heat dome". Huh?  So Wednesday it was brutal.

Just ask Shauna (Yellow), and Jesse, pictured above. They were two of the bartenders for that evening. As soon as they stepped outside they said that they were sweating. In fact they felt so uncomfortable that they at first refused to pose for pictures. However, by us threatening to forget to leave a tip, they relented. It was a tough job, but somebody had to do it. Theresa also showed up later on to work the sauna bar.

Just to give you an idea of how HOT it was on the Patio if you were not there or outside, at 7:53 PM, about when the band started, it was 87 Degrees, 71 Dew Point, and 59% Humidity. At 8:53 PM it was (Only) 83 Degrees, 74 Dew Point, and 74% Humidity.

The Geezers there who were drinking plenty of liquids to keep from being dehydrated were
Fergie
,
J.Bo
,
Drumstir
,
Spike
, the
Big Boi
,
Mr. Lobber
,
Billy Bob
, and
R. B.
  Most of us ate from the
Sports Bar &
Patio
Menu.
Check it out. The Big Boi had his signature
Caesar Chicken Wrap
. His signature used to be a little larger. Spike, and I (J.Bo) each had a
Galaxy Burger.
Spike had the "Secret Sauce" (And plenty of it), and I didn't. However, Drumstir, and Billy Bob shared a huge plate of
Nachos.
It looked "mavelous"!
As I reported earlier Shauna and Jesse were like 'sweat hogs' behind the Patio bar. Of course they looked cool. (Play on words). Shauna knows us from way back so she knows that she can clown around with us. So she kept coming over to the bar in front of us, doing like a "chicken dance". (Airing out her pits) And she drew the response that she was looking for. Whenever she raised her arms In unison we would go "No, No, No, No, No"! She got a big kick out of that. And she even sent Jesse over to us to "air" her feelings! Phew!

The band for the evening was the Woovs. Yes, that's right, The Woovs. They had a sign up in front of them at the bandstand , but we, being the Geezers that we are, couldn't read it! The band was HOT, and they sounded good also. Radio station WONE was also there in full force with DJ TK O'Grady. The big Boi's bud!

Our current Entertainment Director, R. B., will not be able to attend our meeting for Wednesday, July 27, at The Basement on Waterloo Rd. He will be in Tennessee on company business for Goodyear, his current employer. Because of this we voted for the meeting places for the month of August 2011. We usually vote for the meeting locations for the next month on the last meeting of the current month. But since R. B. was going to be out of town we voted this Wednesday night. As occasionally happens there was a four way tie that had to be voted on again. However there was a little skullduggery going on with this re-vote. There are 5 Wednesdays in August. R. B. prepares a ballot every time we vote. This time he had 13 entries on the ballot with one of the locations listed Twice, which was The Galaxy. He listed them as Galaxy - 1 week, and Galaxy 2nd week. This is totally against the rules of our charter to begin with. So if going to The Galaxy two weeks in the month of August happened to get voted in due to some manipulation of the vote, it is not legitimate. After a second vote to break the tie resulted in another tie, a surprising discovery of an error in the voting by the two subjects involved in  the discrepancy changed their votes causing the tainted results. These results will not be posted until next month, but they are subject to audit by an independent company.

As I said above even with R. B. out of town next Wednesday, July 27, we will be meeting at one of our fave meeting places, The Basement on Waterloo Rd. We hope to see you there.

You can see more photos from The Galaxy at the
GEEZER PHOTOS
page for July thru December 2011 .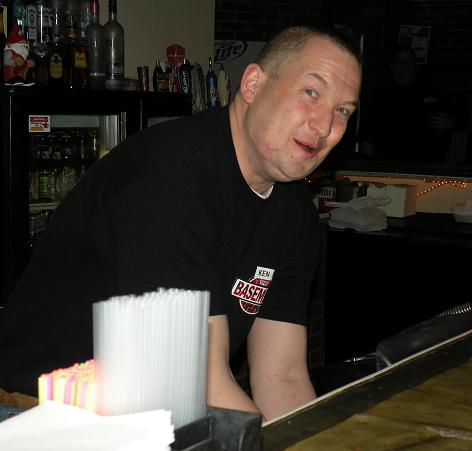 CONTROVERSY COOKING AT BASEMENT

The Geezers Nite Out on Wednesday, July 27, was held at one of our fave meeting places, The Basement on Waterloo Rd. in south Akron. We'll get to the main controversy later.

First of all our bartender for most of the evening was Kenny. Kenny is a good guy, and an excellent bartender, but we were expecting Haley, and Kenny. More on that later. Kenny is pictured to the left from a file photo. No pics were taken that night. That's another story.

When we first arrived Mary, the day bartender waited on us. There is a pic of her on the HOME page. That was a file photo also. 

We also had a slew of no-shows. But the Geezers who were there were Fergie, Spike, the Big Boi, J.Bo, and Billy Bob. Mr. Lobber had sent me an email indicating that he will not be able to attend the meetings for the next two weeks.    

Drumstir had an emergency with his cat, Tom Cat (yes, that's his name). The cat had to be admitted to the Canton Veterinary Hospital overnight due to being poisoned. The authorities are looking into it. The Vet said that he was lucky. I'm sure that Tom doesn't feel that way.

R. B., our Entertainment Director was on assignment in Union City, Tennessee for Goodyear. The plant is closing it's doors, and there are some lose ends that need to be attended to. Also, Big Daddy (Dan Minier) the drummer for the Phantom Band was also there to aid in the closing even though he is retired.

Getting back to Haley, this was the second Wednesday that we met at The Basement that she was not there. This particular night she was at the New Kids on The Block/Backstreet Boys concert. I suspect that the "New Kids" aren't that "New" any longer. However, younger than the Geezers. One other time she was at another concert. Some country singer. All that I can say is that we will be at the Basement again on August 17th. We hope to see Haley, and Kenny that nite.

The primary controversy that evening was that one of the highpoints on Wednesday nites at the Basement is the have half-price Philly sandwiches until 7:00 P. M.  It is a good deal , and a good sandwich. However, I (J.Bo) did not want one. Even though the Philly's were half-price I was craving a hamburger. The Basement also has very good build-your-own burgers. Well, Fergie was beside himself. Why would I order a burger for the regular price when I could get a Philly at half-price, he exclaimed! This goes way back to a good deal on a laid out Olds Cutlass that he fanigeled for me many years a go.

I mentioned that we did not take any pictures last Wednesday night. We usually take a few of the bartenders, and the surroundings to post on the website. However, for this night we didn't. That led me to leaving my camera behind that I had down at my feet. Fortunately I live close by so I went back to retrieve it. A customer had already turned it in during that short period of time, and Kenny had it behind the bar. Another close call.

As you may have surmised this was a newsletter about Nothing. It takes quite an imagination to pull this off. It's a tough job, but somebody's got to do it.

One note about actually Something is that Kenny told us about the New Basement on the corner of Portage St. and Whipple Ave in North Canton. He said that it will be opening in approximately 30-60 days. I would go with the 60 days if I were you.

Next Wednesday, August 3, we will be at The Galaxy again in Wadsworth. Hope to see you there.