This is a Monthly Newsletter with Articles, Pictures, and Happenings all listed on one page for the Current Month. Page Down to see all of the News in the order that it happens with the Newest First.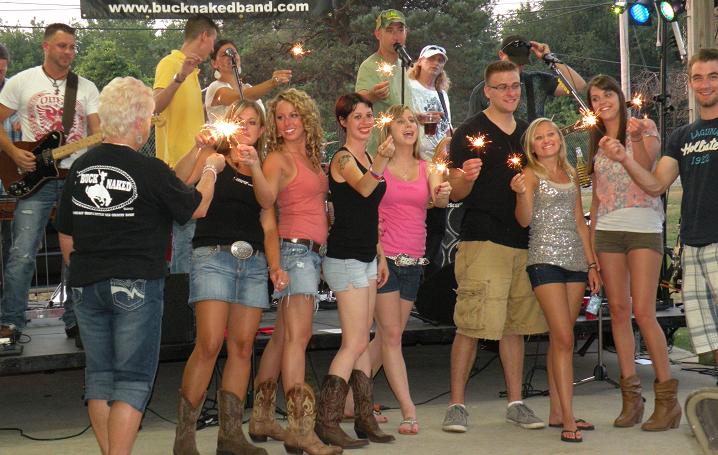 HACKER'S BAR & GRILL -
Christmas In July
On The Range - 7/5/2012

Yes, it was Christmas in July at the
Geezers Nite Out
at Hacker's Rockin' On The Range the day after the
Fourth of July
.
Santa Claus
was even there, and the
Buck Naked Country Band
was providing the entertainment, along with
Christmas Ale
, a holiday brew. I never saw any, but I guess they had some available. Above, the band is celebrating the Fourth with some of their following and family. It was quite a night. See more pictures of the band, Santa, and the crowd on our
PHOTOS
page if you haven't yet! For the Buck Naked Band website
Click Here
. They were a very good professional sounding band in the Ohio area.
I have been forgetting to bring Fergie's B-Day card since after the meeting at Jerzee's on June 6. I brought it on June 6, and he wasn't there due to a family emergency. His actual born date is June 9. I couldn't find it last week for Hacker's. Every time I would bring the card after June 6 he wasn't there, and every time he was there I forgot to bring the card. I found it the other day, and I WILL bring it next Wednesday, July 11, at Legends Sports Pub in Green. He'd better be there!

The set up for the party was different from when we were there on June 21. On this nite (7/5) the band was set up at the north end of the driving range with their backs to Swartz Rd..The bar was set up east of the band to their left on the grass, and the grill was a little south of the bar. The bar and grill switched places from when we went on June 21. And the band was against the windows of Hacker's. Too loud? It worked out well this week, and the band was very good.

Hacker's has a full bar set up, and the food is cooked on an outdoor professional grill. You have your choice of burgers, brats or chicken  along with a salad of greens, potato salad, baked beans, and more.

We meet every Wednesday at a different establishment, which is voted upon on the last meeting of the current month for the following month. During most of our meetings we usually run into a celebrity look-a-like. This time we didn't see a celebrity, but we did see a gentleman who resembled one of our members we call "Crazy Richie." See if you can find him on the Photos page.

We were sitting at a table next to the mother of two of the band members. I believe her name is Jeanine. Her one son Kevin is the lead singer, and Mario is the lead guitar player. It just so happens that an acquaintance of The Geezers that we have talked with at The Galaxy has a daughter, Caitlin, who is dating Mario (lead guitar). Small world.  I hope that I got all of the names right. I apologize if I did. But I had a bunch of names written down in my notebook in no particular order with very few clues of who they actually belonged to.

Hacker's will be back to "business as usual" next Thursday, July 11. The Geezers will be at Legends as we mentioned above. .

This page was last updated: July 28, 2012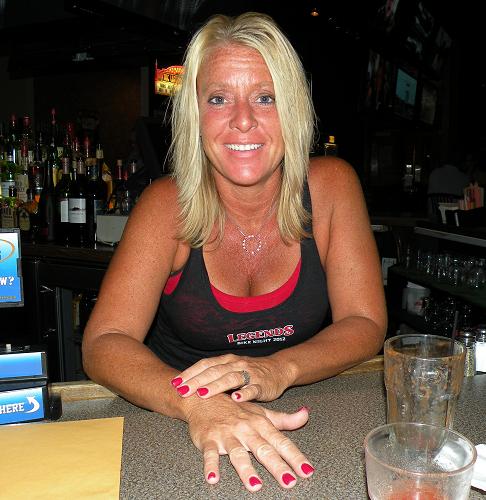 LEGENDS SPORTS PUB & GRILL - Green, OH - July 11, 2012

Yes, the Geezers Nite Out on Wednesday, 7/11/12, was held at Legends Sports Pub in Green, Ohio. It was NOT in South Beach (Made famous by LeBum) even though the bartender, Tricia, looks like that's where she has been. 

Tricia has a pool in her back yard that for the last 20 years or so was a hit or miss deal. But this summer, which started in the spring, it has been similar to The South Beach. At 5:54 PM Wednesday evening the temperature was 86 degrees on this night.

The highlight of the evening was the big billiards match between the robust Minnesota "Skinny" (Dougie), and the dimuitive Micki "The Stick".

This was all brought about by our publishing pics of "Skinny" (Dougie) cleaning house at a recent visit (June 13) to Fox & Hound Sports Pub in No Canton.

The Geezers were lucky enough to win a free food party at the Fox via a contest with
Allstar Brew
Club
. One of the perks we received was the use of a pool table in the game room for two free hours. The
Big Boi
(Dougie) proceeded to put on a clinic against
Drumstir
where he was making just about every shot and calling his pockets. I posted a picture from that night on
Facebook
referring to his prowess on the pool table that evening. The Big Boi's graduating class at
Springfield High School
meet every so often at Legends. Micki, an alumnus, seeing the Facebook post thought that this was a good opportunity to challenge Dougie to a 2 out of 3 match. It didn't take long. In fact after two games the Big Boi was history. For more pics from that evening go to our
PHOTOS
page.
The food Special for the evening was again the delicious half-rack of Legends Ribs for $6.95. Most of the Geezers took advantage of that good deal. Drumstir was having a little fun with R. B. while he was eating his order. It seems that there are a couple of different ways to eat ribs. There is Drumstir's way: "grab 'em with both hands, and eat 'em up like an ear of corn". And then there is R. B.'s way: "Daintily cutting into them with a knife, and eating them with a fork."  I guess the latter is a little less messy, and saves on napkins! (Inside joke. Ask R. B. about the napkin holder.)

When we first arrived at Legends we met inside because of the impending billiards challenge. At that time there wasn't much of a crowd on the deck. After the pool match we stayed inside as there was some kind of special party going on out there, and the patio became the place to be. However, it was a lot cooler inside. 

We did eventually have a celebrity sighting. It was none other than the semi-regular Legends customer who resembles Lou Holtz, the legendary Notre Dame football coach. This guy could be his twin.

Next week we have a small change to the Schedule. We are going to
flip flop
Wed,
July 18
with Wed,
July 25
. On
July 18
we will now be going to
The Galaxy
, and on
July 25
it will be
Just One
More
. the change has already been made on the
SCHEDULE
page.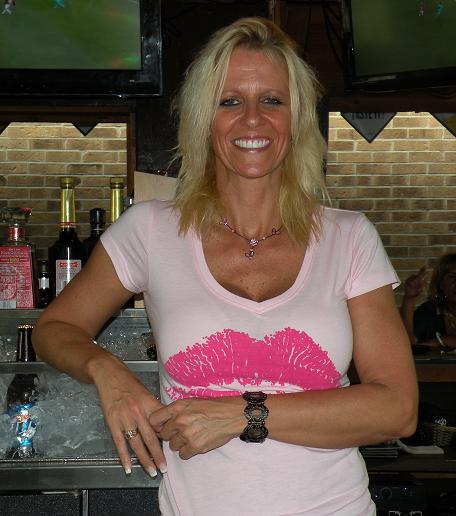 THE GALAXY PATIO - Wadswoth, OH - July 18, 2012

No raindrops were falling on our head at the Geezers Nite Out at the Galaxy Patio Wednesday nite. There was plenty of rain to go around on this day, but none came around Wadsworth. At least not by The Galaxy.

In years past they almost hated to see the Geezers come to the Patio. Especially one year it rained enough to shut down the outside bar and send the band inside. It seemed like we were rainmakers. But this year has been hot, humid, and dry. I heard on the NBC national news on Thursday, (7/19), that some forecasters have predicted that this could last until Halloween. October 31? I sure hope not. At 4:54 P. M. It was 91 degrees. At 11:54 P. M. it was 73 degrees.

The bartenders were
Darla
(Pictured),
Mike
, and
Theresa
. Go to our
PHOTOS
page to see more pics of the bartenders, the band, and Geezers..
The band for Wednesday nite was Jacob & The Good People. They are from Atlanta. The reason I know that is that they announced it about 10 times! They were a good band however. They had good balance, vocals, harmonies, and instrumentation. The Big Boi noticed that the bass player was using a 6 string bass. Most electric bass guitars only have 4 strings. You usually find a six string bass in a jazz band. I found it very interesting that they did a version of an Amy Winehouse tune. 

We had a guest visit us all the way from California. It was none other than that great lead singer, and bass guitarist for the Fabulous Elites, Jon E. Hop. (Jon Hopkins) I (Joebo) was in a couple.of bands in the 60's in Kent, OH, and one of them was the Elites. Jon was the lead singer and bass player. The other members were Ronnie Helfrich, drums, Rodney Mishler, sax, and Dale Becket (Lead guitar). I was the keyboard/rhythm guitar player. Jon was born and raised in Akron, and he went to East High School. He moved to California, went to school, and he ended up as the former DA of Lakeport, California. He's back in Ohio for family reunion. He is staying in Rittman. He stopped by the Galaxy to say Hi, and deliver some reel to reel tapes of the Elites that I sent him for conversion to CD.

We usually see one or two celebrity look-a-likes during our weekly meetings. But this Wednesday we saw a bunch. It usually happens out at The Galaxy. Here's the list. First of all there is a regular that we think looks like Harpo Marx. If you don't know which one of the Marx brothers that was or who the Marx brothers were you are too young!

Then we saw an attractive girl with black hair in Pigtails. We called her Pocahontas. There was a guy who sat next to me that the Big Boi said looked like Kevin Youklis. (Former Boston Red Sox ballplayer now with he Chicago White Sox). We also saw a guy sitting at the end of the bar that we usually sit at (We got booted) who looked like the professional golfer Jim Furyck. I also saw a blonde girl who resembled the Grammy Winning country artist Taylor Swift.

Then (Unfortunately) we saw a man who resembled that scum-bag Jerry Sandusky. We wouldn't even have mentioned it, but he was a dead ringer. Enough said.

I don't take pictures of anyone unless I ask them first so this would have been an impossibility to get all of these people to comply.

We also had a toast to our good friend, and fellow Goodyearite, Phantom Band member, and Geezer Dan Powell. Dano, as we called him, passed away on July 12, 2005. Every July 12 we used to have a toast to him along with a picture, that his girlfriend at the time of his death, Kris, gave to the Big Boi and I that was taken with a "clown nose" at Larry's Main Entrance.

We have been a little lax with that over the years. We used to bring his picture every year. But we did have a toast to him on this Wednesday nite.
Dano...Rest In Peace
. (Look for his pic on the
HOME
page.
Next Wednesday, July 25, we will be meeting at one of our fave meeting places, Just One More Bar & Grill in Springfield off of RT 224 in Gala Commons. We like this place because they have $1 beers and $1 burgers. How can you beat that? Hope to see you there.

.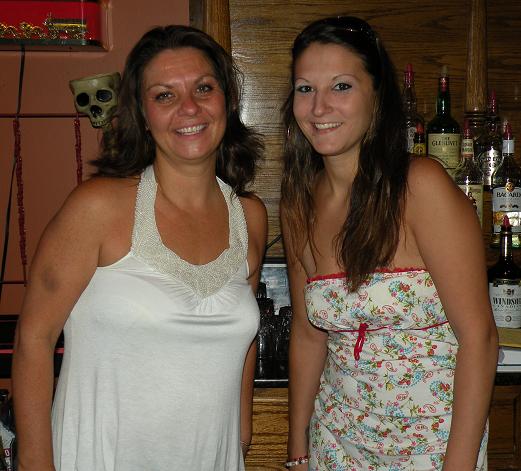 JUST ONE MORE BAR & GRILL - Gala Commons - RT 224 - July 25, 2012

Yes, we held our Geezers Nite Out at Just One More last Wednesday, 7/25/12. Yes, we ate $1 burgers, and drank $1 brewskies. Yes, everything seemed the same. But, No, Jen wasn't there. It was not the same place.

Sound confusing? Yes, we were confused. It was something like a scene out of one of those Twilight Zone TV shows.

Here's how it went down. When we drove up to the bar it said Just One More outside. The place looked the same inside. However, there was a different bartender behind the bar. It was not Michelle, the day bartender at J. O. M. who we used to see when we first arrived there. The bartender who was there we found out was Lena.

After she took our orders we asked Lena if Jen, the owner, would be coming in tonight. She said: " I don't know her!" Doo doo doo doo! This was getting weird now! I thought that maybe we should go outside and come back in again. Lena is on the left in the picture above. That is C. C. next to her. C. C. was working at J. O. M. when Jen was the owner. We were a little surprised to hear about the change of ownership since we haven't been there for a couple of months due to our summer schedule.

However, as we said in the beginning of this article, they still have the $1 burgers, and $1 beers. Most of the Geezers took advantage of that Special. However,
Mr. Lobber
waited a little too long to place his order as the cutoff for $1 burgers is 7:00 PM. But that didn't bother him. He said that he was still going to order a burger. He asked Lena what "Everything consisted of on their burgers?" Lena, without thinking said: "If you come down to the end of the bar I'll show you EVERYTHING." Enough said. I'm not sure exactly what all he got on it, but it looked like EVERYTHING!  Go to our
PHOTOS
page to see the finished product.
Also, the DJ, DJ RICH, is still spinning the discs. He was there Wednesday with an associate, Jay. They are available for B-Day Parties, Weddings, Class Reunions, & Clubs. One unique service available, and  different than most DJ's are their Jimmy Buffet Tribute Parties. He can be contacted at 330-324-6386.

It was also voting nite for the meeting places that we will be visiting in
August
. The results of that vote have been tabulated by our Entertainment Director,
R. B.
,and they will be posted on the
SCHEDULE
page shortly. There 5 Wednesdays in August so everyone had to vote for five locations. Because there are 5 weeks
The Galaxy
, one of our fave summer stops, was on the ballot twice. Galaxy, and Galaxy (2nd week). It got voted in both times. So we will be going there twice in August which doesn't normally happen on months with 4 Wednesdays.      
Next Wednesday, August 1, we will be meeting at two places. However, they are Dusty's Landing I & II or as listed on the schedule, Dietz's/Dusty's. Both places have the same owner. Hope to see you there.