We have one page for Newsletters for each Month of the Year. Please Page Down to view all of the News as the Current Month Progresses. Go to the Bottom of the Page to see the Newsletters for the Previous Month.

This page was last updated: October 1, 2010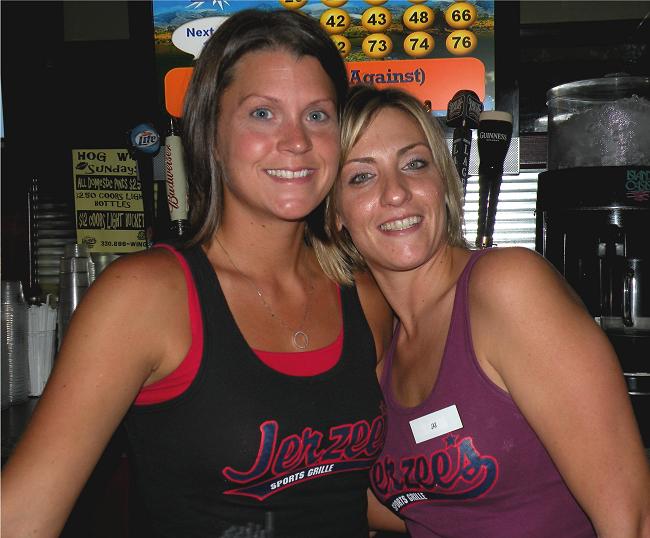 JERZEE'S PASSES TEST - GEEZERS APPROVE

Pictured above are two of our bartenders for the evening, from (L-R) Renee, and Jax. Jax, who works days, was on her way out when we took this photo.  She is there during the week whenever my cleaning lady kicks me out, and she serves me for lunch. Also she works the patio bar on Sundays. Renee is there all of the time. (Joke) They both did a great job taking care of all of the Geezers needs.  Also from time to time were were helped by Shawna when Renee wasn't available. There is a pic of her, and Renee below in the Photo Gallery.

After some of the Geezers left we moved to the patio bar with Renee's approval. When we first went outside there were not enough seats available at the bar for all of us. We sat at a table, and Marlene waited on us. See a pic of her and Mr. Warmth below. When seats opened at the end of the bar we then moved. There, Becca took care of us. Very good care! There is also a pic of her below.

Before we moved to the patio, and while all of the Geezers were there, most of us ordered food off of Jerzee's excellent menu. Big Boi had the
Philly Burger
, Fergie ordered the
Bacon
Cheeseburger
, Drumstir had the
Personal Cheese Pizza
, and I (Joebo), and Mr. Warmth (Stan) got the
Erie Island Rub Wings
. OK, Big Boi loved his Philly Burger, but he will eat anything. Isn't that like Mikey? Mikey! Billy Bob? Speaking of Billy Bob he had a burger out on the patio. Stan, and I love the Erie Island wings. They are Da bomb. You have to try them! Only thing is, I only ordered (6), and Stan got (12). He was going to take (6) home. I'm sure that you can guess what happened to them. And Drumstir has been raving about the Personal pizza even now. He said it's the best one of that variety that he has ever had. Renee said that on Thursdays there are pizza Specials.
Click Here
  to check out Jerzee's full menu.
R. B. showed up a little later than usual, and he brought back the "Old Days" when we used to meet at Hacker's every single week. Back then an outsource company by the name of ACS was in the process of taking over the pension, and medical benefits departments. He used to come into Hacker's after heated sessions with the people from ACS and recount his trials and tribulations. He was fighting in Goodyear's behalf and he did his best to protect hem until the takeover was effective. It has been nip and tuck ever since, and he is embroiled in another conflict with them due to their proposal for an offshore project. It took a brewskie to settle him down. Stay tuned!

As most of you now know we had to make a schedule change for the next two weeks. We are still going to the same places except on different dates. Next week, August 11, we will be at The Galaxy in Wadsworth. And on August 18 we will be at Dusty's Yacht Club on Portage Lakes with a Special Performance from The Phantom Band. I sent out an email to most of you advising of this change, and it was not surprising that Mr. Warmth took exception to it. Change is not always good.

Marlene, one of the patio waitresses advised us that there is a new Jerzee's opening near the Hall of Fame bridge in No Canton. We will keep you updated on that.

Hope to see you all next week, 8/11, at The Galaxy.

Click on Pics below to Enlarge. Then click on Next or Prev Pics

The Geezers Nite Out for Wednesday, August 4, was held at Jerzee's Sports Grille on RT 619 in Green for the first time. Some of the Geezers have been to Jerzee's before but the group as a whole had not. However, the ones who have were sure that the rest of the group would approve. The Geezers who approved were Drumstir, Fergie, Spike (Swish), Kenny J., Joebo, Big Boi (Dougie), R. B., Mr. Warmth (Stan The Man), and Billy Bob.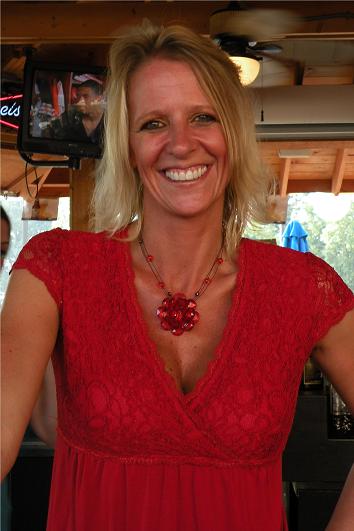 HOT TIME AT GALAXY - NO RAIN!

It was another hot and humid Nite Out for The Geezers Wednesday, August 11, at The Galaxy in Wadsworth. But this summer when hasn't it been hot and humid in northeastern Ohio? However, there was no rain as has been the case more often than not when the Geezers meet there.  When I arrived home there was evidence that it had rained some in south Akron.

The Geezers who were in Wadsworth were Spike, Joebo, Big Boi, Billy Bob, and R. B.  One of our long lost friends, Krisko, made an appearance. She has been working the late shift, and has not been able to attend for a while. Then another mutual "ole friend" of the Geezers from Goodyear just happened to be there that evening for a business dinner. It was Ron Coleman who many of us go way back with.

Pictured to the left is one of our bartenders for the evening,
Darla
. She was joined by
Shauna
, and
Theresa
who were pictured with Darla on the
HOME
page. 
Shelly
, who made a few trips outside, was in the cool Sports Bar .
Wednesday night is
WAG Night
(Wed At Galaxy).
WONE
& Friends
with DJ
TK O' Grady
are there along with live entertainment. This night the band was
Jacob and the Good People
.  They were a very good band playing a variety of music. Check them out on
Facebook
. The Patio is open 7 days a week during the warmer months of the year.
Click Here
to go to The Galaxy website.
We mentioned that our friend Krisko was there. She used to date our dear departed friend
Dan Powell
who we lost on
July 12, 2005
. Every year at a Geezers Nite Out meeting we have a toast to "Danno" around that date. This year we have been waiting for the right time. Last night with Kris there was it. We had our yearly toast to Danno. It is still hard to believe.  Click on Danno's pic on the
HOME
page to see some pics of his better days.
As usual we saw some look-a-likes. We usually refer to them as "Celebrity", but they were all not that famous. For example we did see a fellow sitting at the end of the bar who resembled another friend of ours, Joe Brubach.  Most of us know Joe threw Sandi. Then we did "sort of" see a "celebrity" look-a-like. The hostess out on the Patio, Big Boi thought, looked like Daryl Hannah. He said that she looked like her daughter! That is a stretch. We do not have any photos of the fist two, I don't want to get punched out! It's too bad because Spike thought he saw one guy sitting at small table behind us who resembled R. B. Of course this guy was a little younger, and he had a mustache, like R. B. used to have! However it was unanimous that R. B. had "more" hair! 

Next Wednesday, August 18, we will be at Dusty's Yacht Club on Portage Lakes for a summer party. The Phantom Band (Geezers Band) will be playing.  We were actually scheduled to meet at Dusty's on Aug 11, however due to some scheduling problems we had to change it to Aug 18. We hope to see you all there.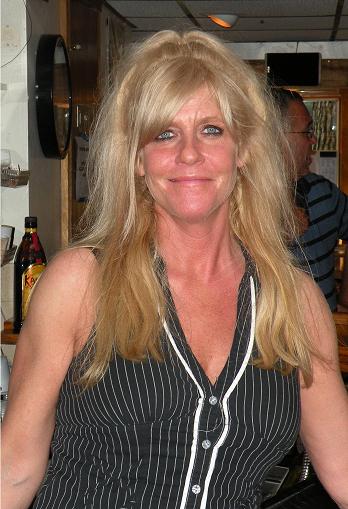 What do you get when you cross Dusty's Yacht Club, a Geezers Nite Out, and The Phantom Band on a Wednesday night? You get a party at Dusty's on August 18 with The Phantom Band supplying the entertainment signaling the end of Summer as we knew it. It's not officially the end of Summer, but there are only 10 days left in August as of the writing of this newsletter. The actual first day of Autumn is September 22.  

The Geezers who were there this Wednesday were of course Joebo, Big Boi, Big Daddy, and Hankie Pankie in the Phantom Band. The rest of the group was Drumstir, Fergie, Spike, Billy Bob, Kenny J., and R. B.

There were also a ton of our friends, some  from Goodyear. There were R. B.'s two sidekicks, Vicky, and Sharon. Two of our "groupies" Linda and Jed Derhammer. Gayle, and Duane Hamilton, and friends, and Pam Bender's (Dougie's wife) relatives. No Pammie! Also, Spike's son Rob stopped by after a round of golf.

Pictured above is Karen, one of the bartenders at Dusty's, and also the instigator of this August fling. Karen works Tuesday, Wednesday, and Thursday nights. And she also works every other Sunday. She does more than just bartend, as Dusty's does not have a kitchen to provide food from a menu. Karen goes out of her way to make a little something for her customers (And Geezers) to carry them over. This Wednesday she made Vegetable Soup. And it was scrumptious. Not your ordinary garden variety. She is also know for her Sloppy Joe's, Chili, and many Italian dishes. And she books the entertainment, which  is how the Phantom Band was reunited. 

If you are reading this, and you were there Wednesday, August18, The Phantom Band thanks you! It is always good to see familiar faces when the band plays. We have a lot of fun, and enjoy playing for you, and hope that you enjoy it. Well, I guess you wouldn't be there if you didn't. Now.....to those people who weren't there.....LOL! (Kidding) We were told one time by one of the owners of the Katmandu where we used to play for Goodyear Christmas parties, that we were a FUN Band. And we hope that we can get everyone together and have a good time.

It will be year in September that we first "jammed" at Dusty's, and after that Karen asked us back periodically. It was September 16, 2009 that we played the first time. It is uncanny that Karen has asked us back for Wednesday, September 15, almost one year to the day. So we are going to bill it as The Second Annual Dusty's Jam. We hope to invite back the musicians who have sat-in with us in the past, and any other ones who would like to attend. So spread the word about the jam session at Dusty's on September 15.

Next Wednesday, August 25, we will be at one of our new stops on the schedule, the

Brick House on Howe Ave in the Falls. We hope to see you there.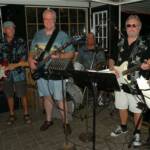 THE HOUSE THAT BRICKS BUILT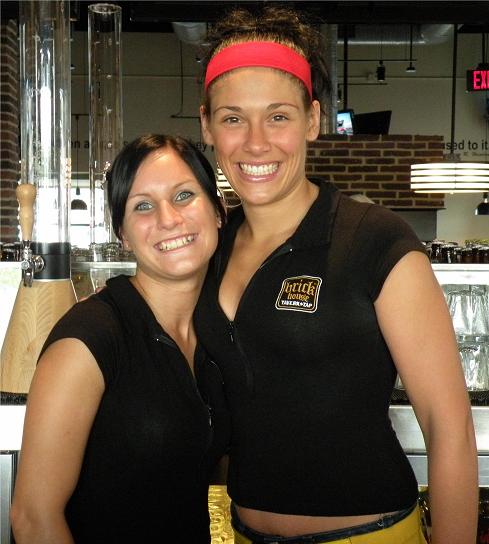 Needless to say The Geezers made their monthly Nite Out visit, Wednesday, August 25  to the Brick House at 581 Howe Ave near Chapel Hill Mall.  We have been making it a stop on our schedule since it opened in June of 2010.

The Geezers who arrived at different times throughout the course of the evening were Joebo, Crazy Richie, Swish, Big Boi, R. B., Billy Bob, and Mr. Lobber.

Pictured to the left on the right is one of our bartenders for the evening
Jenna
. Pictured with Jenna is
Amanda
. She has served us before, but she was on her way home after working the day shift. The other bartenders were
Katie
, and
Kirsten
. Katie is pictured below with Jenna in the Photo Gallery, and Kirsten was pictured in the Newsletter for
JULY
, and
JUNE
. There are more pics in the Photo Gallery below.
It was also voting night for the meeting places that we will go to in
September
. The vote was held, and the ballot tabulated by our Auditor, R. B., and the results will be posted on the
SCHEDULE
page. However, as is usually the case, there was some controversy. When marking the ballot Big Boi doesn't use check marks next to the location he is voting for. He draws hyergliphics or writes something in the block that he chooses. The Bartenders are usually curious to see what we are doing. It just so happened that Big Boi wrote something a little risque that was not meant for the bartenders eyes. But Jenna happened to get a hold of the ballot, and all heck broke loose at the bar. However, we think that we got the matter straightened out. You'll have to ask Big Boi, one of the Geezers or Jenna to find out exactly what he had written.
Most of the Geezers ordered food from the Brick House's excellent and intriguing menu. They have some items that you don't normally find on other menus. Like "
Meatloaf sliders
" with meatloaf patties, and a layer of mashed potatoes. They have a burger with a "fried egg" on it, and the burgers come on a square bun resembling a brick.
Click Here
to go to the Brick House website, and check out the Menu.
We did see a look-a-like at the Brick House Wednesday evening. It was not a celebrity, but it was a guy who looked like a friend of ours from Goodyear, Bob Wyatt. And yes, the guy was "too goofy"!

Jenna, pictured above will also start working at another one of the Geezers stops called the Tap House (Formerly Scorchers) on Waterloo Rd in L.A. (Lower Akron) She will be working part time on Fridays during the day, and Saturday nights. Stop in and see her and tell her that the Geezers sent you.

Next Wednesday, September 1, (it's been a long month) we will be meeting at The Galaxy in Wadsworth. Hope to see you there.  The band out on the Patio will be DC Flux starting at 8 PM.