Please Page Down to View all Newsletters for the Current Month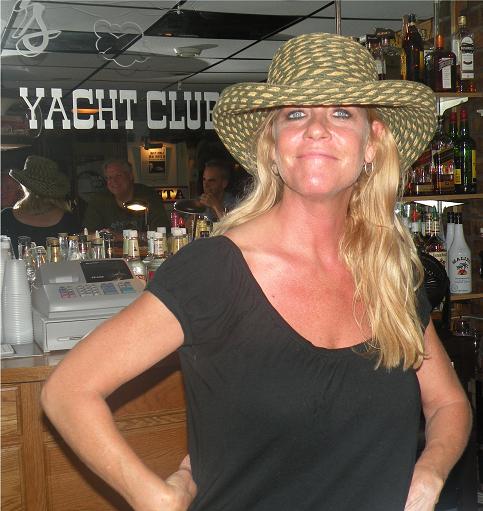 WHAT HAPPENS IN DUSTY'S GOES ON THE WEBSITE

As you can probably tell from the picture above the Geezers Nite Out was back at Dusty's Yacht Club on Wednesday, July 7. However, according to R. B. our Entertainment Director, it was really July 6. We'll discuss that in more detail a little bit later on.

Pictured above is one of our fave bartenders,
Karen
. She was one of our
Bartenders of
The Month
back in
March 2007
.  Karen works at Dusty's on Tuesday, Wednesday, Thursday, and every other Sunday. Dusty's doesn't have kitchen to serve food off of a menu, and that is one of the reasons that Karen makes food for her customers on most days that she works. The last time we were there before this Wednesday, she was also make Personal Pizzas which she instituted. 
Wednesday, it was Stuffed Peppers without the peppers. well there were peppers in the concoction, but it was mainly Spanish Rice, and plum tomatoes. It was her "secret" recipe. But it was delicious. 

New Nicknames: we have a couple of nickname changes for a couple of the Geezers. Mike, formerly known as Mikey will from this day forward be called "Billy Bob". Big Buoy (Dougie), said that he thinks he looks like Billy Bob Thornton. Juice, formerly known as Swish, Bob, and Dan has asked to be called by another one of his nicknames, Spike. It's a long story.

So, here is the list of those Geezers who were present Wednesday nite. Kenny J, Big Buoy, Joebo, Spike, Fergie, Drumstir, Stan The Man, Billy Bob, and R. B.

I have something scribbled in my notebook about Idaho. somehow the Idaho quarter came up, and BFB said something about it to her. Then she was going around saying Idaho! Or was it I-DA-HO? Also there is a joke connected with it in some way. You'll have to ask BFB. 

What we alluded to earlier in theis article was the fact that Garo has his days a little mixed up. At the end of every month we vote for the meeting places for the following month. We voted June 30 at the Brick House, and R. B. tabluated the votes, and assinged dates to each meeting place during the next month. Without checking the ballot I posted it onto the website. We meet on Wednesday nites. The only problem is that R. B. had written Tuesdays dates next to all of the palces. It did cause a little confusion, but thanks to Krisko, and Fergie we (I) corrected it. I was an auditor once too!  

Karen also brought up the fact that she warts the
Phantom Band
(Karen's Band) to play there again sometime soon. The women in the straw hat below in the Photo Gallery,
Debbie
, with BFB, was there with a friend from Mesa, Arizona. Since we were talking about the Phantom Band playing Debbie called her friend over to talk with us who was a singer in big name bands all over the country. Her name is
Christine
. She also plays keyboards.  She is now a flight attendant. She said that she would like to fly back, and sing with us when we play at Dusty's. She can travel wherever she wants for practically nothing. So we are not promising anything, but we may have a surprise for everyone when we do play. We will let you know when. Next Wednesday,
July 14,
we will be at
The Galaxy
in Wadsworth. Come out to the patio and say Hi to
Galaxy's Angels
behind the bar with Live Music at 8PM by the
Fabulous Voices Band
. Hope to see you there.      
This page was last updated: August 3, 2010
Click on Pics to Enlarge, and then click on Next or Prev Pic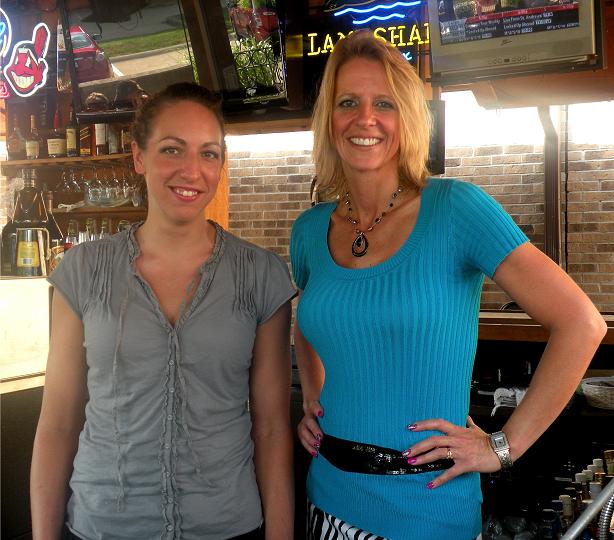 HOT TIME AT THE GALAXY, AND NO RAIN

For only the second time in four months (Visits) it did not rain at our Geezers Nite Out, Wednesday, July 14, at The Galaxy in Wadsworth. And I was true to my word when I,Joebo, guaranteed in a letter to the rest of the Geezers that it wouldn't. It was a very warm evening. It was in in the upper 80's, but it wasn't as humid as it has been in the past few months.

During the summer we meet at The Galaxy on a particular Wednesday at least once a month. On  April 28 it rained, and the patio bar remained closed for the duration of our visit. On the Grand Opening of the Patio on May 26 we were able to sit outside with the Colin Dussalt's Blues Project furnishing the entertainment. On June 23 it rained cats and dogs before we even got to the Galaxy. Our Florida Geezer, Jim Fish, was in town, and we attempted to play golf that day only finishing 7 holes. By the time we arrived at The Galaxy they had the patio bar boarded up. We ate dinner inside, and by that time it cleared up, and we did end up outside again. 

The Geezers who made the trip out to Wadsworth, 7/14, were Drumstir, Spike (Swish), Kenny J, Big Buoy (Dougie), Billy Bob, R. B., and me (Joebo). 

Our bartenders at the patio bar were Jesse, and Darla (Pictured Above), and Shanna. Shelly who usually works the patio was at the Sports Bar inside. 

The band for the evening was The Fabulous Voices, and they were! I have some pics posted below in the Photo Gallery of the band.  Note: I had a problem with my digital camera that evening, and the pics are not of the best quality. Maybe it was the weather? But they were a very good band.

WONE, 97.5, was there again with DJ TK O'Grady, and his staff with contests and prizes.

Most of us ordered from Galaxy's fine menu. I had half of a Cob Salad with grilled chicken. It was da bomb!  Big Buoy, and Billy Bob both had the Caesars Chicken Wrap. Drumstir went all the way, and had the Prime Rib Special that they serve on Wednesday nights. Kenny J had a Big Buoy fave, The Galaxy Burger.  We all sent our compliments to the chef as usual.

Every Wednesday that we meet we seem to always see a celebrity-look-a-like. Sometimes we take a picture, but most times we don't, as we usually ask the person if we can take their picture before we do. On this night we saw a lot of celebrities (Look-a-likes).

Take for granted one of the bartenders, Shanna, who Dougie thinks looks like Angelina Jolie. We have a file photo of her below in the Photo Gallery. We also saw one fellow who we have seen at the Galaxy before who resembles Drew Carey. (File photo below) The other look-a-like we were not able to capture (On camera).  R. B. thought he saw someone who looked like  Barbara Eden from the hit TV series "I Dream of Jeannie". R. B. thought this woman resembled her because of the way she had her blonde hair piled on top of her head. Below in the gallery is a pic of "Jeannie" to remind you how she looked. (No comparison photo available)

Also, while we were at The Galaxy enjoying the pleasant evening listening to the band, I received a cell call from one of our "original" Geezers, Crazy Richie. He was out shopping near where he lives, and he saw a possible new addition to our meeting places every month. It is either a totally new establishment or a remodeled one that will be opening soon. It is located on E. Market St near the RCA Rubber Co on the way to Goodyear.  He did not have the name of the place, but he said that it looked "good". It had a brick  facade, and he saw a large patio out in the back. It sounds like a perfect place for the Geezers. Crazy also discovered one of our fave places during the winter, and big games, Johnny Malloy's Sports Bar behind Chapel Hill. Thanks Crazy.

Next Wednesday, July 21, we will be going to Legends Sport Pub in Green. This place also has a patio in back along with the regular main bar, and another bar in the party room. We like to go to Legends to visit with one of our fave bartenders, Tricia. Hope to see you all there. Again, I apologize for the quality of the photos below. Looks like the ole' Nikon digital is going to have to go into the shop, and the back-up Olympus will be pressed back into service.   

Click on Pics below to Enlarge. Then click on Next or Prev Pic.

It was a hot, and humid nite with scattered thunderstorms at the Geezers Nite Out at Legends Sports Pub in Green. That sounds like a typical weather forecast so far in Northeastern Ohio for the summer of 2010.

It was a good turn out with the following Geezers in attendance. Kenny J, Drumstir, Spike, Big Boi, Joebo, R. B., and Billy Bob.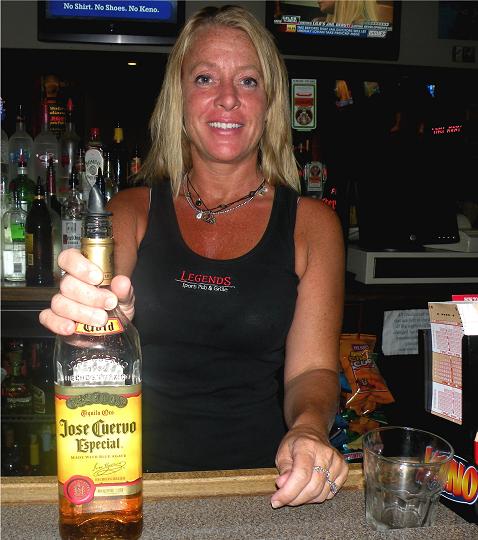 Tricia, as usual, was the bartender, and she is one of our  fave Wednesday Nite Out bartenders. She is pictured to the left. This article was entitled Hot Dog for a reason which  you will find out about at the end of this article, and the pics below. No, she is not a "hot dog", but she was amused by my order for one.       

Most of the Geezers ordered from Legends excellent food menu. Spike (Swish) had the Boneless Wings. Big Buoy had the Rodeo Burger which was on Special. Drumstir had some kind of Wrap. I had the T-O Big Dog. And that is where the discrepancy comes in about the orders. R. B. ordered the Roast Beep Dip. Don't ask! And Billy Bob (Mike) had the Buckeye Burger. He really wanted the LeBron (Burger), but he had better judgement in ordering that. Go Bucks, Billy Bob.

The reason that there was a "situation" about Joebo's hot dog, and R. B.'s Roast Beef sandwich was that I got the T-O Big Dog instead of the Big Signature Hot Dog. It is advertised as the Biggest Hot Dog in the World. A1/2 pound All Beef Black Angus hot dog with fries.

I (Joebo) decided to get the
T-O Big Dog
even though I don't care for the player (
Terrell
Owens
). R. B. just ordered the
Roast Beef Dip.
I didn't want a huge hot dog, and asked Tricia about the size. That was the "worst" person to ask. She sort of "just laughed". Really funny! I told her I didn't want the big one, and she said: "because you would feel uncomfortable?" Now what did she mean by that? So when I got the "Big Dog" It wasn't very BIG.  It wasn't even 6 inches! The BUN was Bigger. Then they brought out this "humongous" roast beef sandwich for R. B. (Roast Beef. R.B. Get it?) We have pics below for a comparison. It was really funny. Except for me. But the Big Dog turned out be a very good hot dog, and it was "grilled". Just like a cook out. lol! Anyway check it out below.  It's jsut another example of how "size doesn't matter". And I would highly recommend either the
T-O Big Dog
or the
Roast Beef Dip.
Click Here
to See Legends' Menu. 
We did see a Celebrity-Look-A-Like. It was a young couple that one of the Geezers automatically named John & Kate (Minus 8). Sorry, no picture.

We did not make it out to the deck in back for the second month in a row do to several of those "possible" thunderstorms.

Next Wednesday, July 28, we will make our second visit to the Brick House on 581 Howe Rd in Cuyahoga Falls. It is a one-of-a-kind place and we enjoyed it immensely back on the opening week on June 30. Hope to see you all there.     

Click on Pics to Enlarge. then clcik on Next or Prev Pic.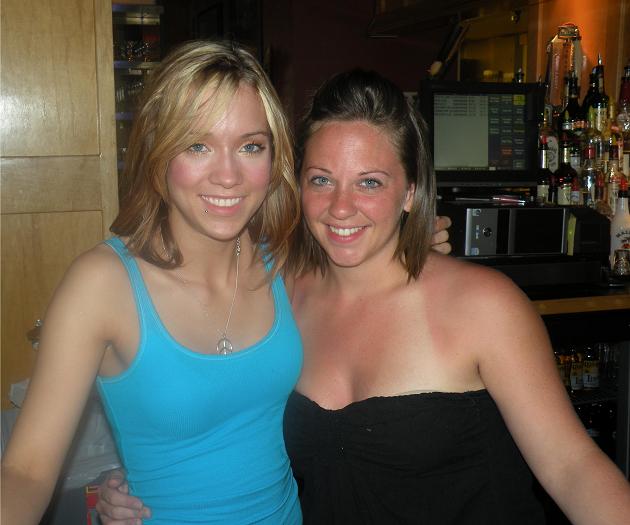 My first stop of the evening for Geezers Nite Out on Wednesday, July 28, was down in The Valley in Liberty Commons at Brubaker's Pub. The rest of The Geezers were at the Brick House in Cuyahoga Falls. The reason that I was not with them was to visit with Donna Rosonna Donna who was back in town after a year's absence. Donna left the area for an offer that she couldn't refuse in Memphis, Tennessee. She was getting back together with her friends from Matco Tools.

I am talking about Donna Miner. The tag "Rosonna Donna" comes from the days when she was the female crooner for The "Original" Phantom Band.  Back in the 70's Gilda Radner created a character on Saturday Night Live called Roseanne Rosannadanna. Donna had coal black hair  just as Radner had during her run as Roseanne. So we gave Donna the nickname "Rosonna Donna". I didn't think that she liked it, and long after The Phantom Band transformed into the Oldies But Goodies Ban Donna created a screen name of Rosonna19.

Her talent runs in the family as her daughter Rachel is an accomplished singer learning to play the guitar. She auditioned for American Idol in Nashville Saturday, July 21 only to be caught up in the turmoil of a complete Idol facelift.   

II mentioned earlier that this Wednesday was also a Geezers Nite Out. Donna knows most our group from Goodyear when she worked in the Tax Department. And most of the members of the "original" Phantom Band also worked at Goodyear. The members were our dear departed friend Dan Powell, Doug Bender, Dante Tropea, Donna, Rick Cincurak, and me (Joebo).  We used to play at a bar down the street called Katmandu for unofficial Goodyear Christmas parties every year or for any reason that we could come up with. Those were great times.

It was great to see Donna and her former associates from
Matco Tools
. The last time I saw all of them was for Donna's going away party at
Johnny Malloy's
in May of 2009. I took some pictures back then, and I took some this time. You can see the photos from May 2009 on our
MEDIA
page for 2009. I took the photos back in 2009 with my backup camera which weren't of the best quality. This time had my #1 camera, but unfortunately it needs a tune up so these pics are not the best that the Nikon Digital camera can do either. But they are below in the
Photo Gallery
if you want to look at them.
It was a good time, but I couldn't stay very long at Brubaker's because I also had to attend the Geezers Nite Out in the Falls. The article following is covering my time at the Brick House. Brubaker's is a unique place with two bars, and it has a beautiful patio in the back. During Happy Hour domestic 16 oz. draft beer is $2. Serving us were the bartenders Calin, and Crystal pictured above.

Check out the photo gallery below, and the following article from the Brick House also held on Wednesday, July 28.

Click on Pics to Enlarge. Then click on Next or Previous pic.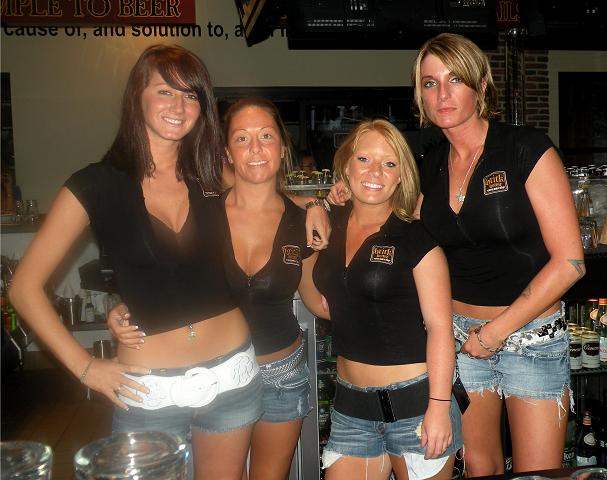 RAINY WEDNESDAY NITE AT THE BRICK HOUSE

It's Wednesday. It's a hot summer nite. It's going to rain? Right? You got that right! 

After I left Brubaker's in The Valley I joined the other Geezers at the Brick House in the Falls on Wednesday, July 28, for the scheduled Geezers Nite Out.  While I was in Fairlawn the weather seemed fine. Maybe a little humid. But after I (Joebo) arrived at the Brick House there were two torrential downpours. It seems like Wednesdays have been the day for rain all summer long as we experienced quite a few of those out at The Galaxy in Wadsworth.

The Geezers who were at the Brick House when I got there were Big Boi, Billy Bob, Fergie, and R. B.

Our bartenders were three of the ones from our visit on
June 30
, plus one that we never met the last time. Pictured above (L-R) are
Emily
, 
Cynthia
,
Kelly,
and
Kerstin
. Kelly is the one that we met for the first time.
Since July 28 was the last Wednesday in the month of June we had our vote for the meeting places that we will go to in August.  R. B. is our Entertainment director, and he prepares the ballot, and  tabulates the votes. He is also known as a practical joker. Only in his case it is "impractical". I called him from Brubaker's and told him that I was on the way. I wanted to make sure that I would get there in time to vote. That was a big mistake. He knows me to well! I am a Virgo, and when the vote doesn't go the way I like I give him some flack about it. So knowing that I was a short distance away he hurriedly made up a "fake" ballot on a napkin. That in itself is not unusual because he has done this many times in the past. Now he has a printed ballot made up every week. The Geezers there handed me the fake ballot, and then waited for my reaction. I mean he had some places voted in solid that we all aren't too fond of. Of course he had a couple of our faves just to make it look realistic. Well, after they got their laughs they gave me the real ballot. And on top of that it didn't matter what I voted for since all of the places were unanimous without my vote. Pretty funny! Ha Ha!

Big Boi (Dougie) came out of his shell that evening! He was imbibing in all kinds of different foreign beers. One that R. B. took exception to. It was called Dead Guy Ale, the Boi also had a bottle of Pete's Wicked Ale, and a "short" Guinness. R. B. thought that the Dead Guy Ale was some kind of contact from beyond of his dear departed friend, Scott, who passed away a couple of months ago. That in itself would have been understandable. But R. B. wanted to take the bottle to the wedding reception of the son of Billy Bob Saturday nite, and tell all of the people who knew Scott that:: " This is what Scott's drinking now!" I guess we all have to handle our mourning in different ways.

Like I said above,  shortly after I arrived at the Brick House the sky turned black, and mother nature let loose with a nasty downpour. If that wasn't bad enough when the rest of us were ready to leave it happened again. So we couldn't leave! Darn! We finally did though.

Most of us also ordered food from the Brick House unique menu.  Fergie left shortly after I got there, but he ordered the Chili. It was 91 degrees outside before the rain hit, but it was cool inside. He loves his chili! Dougie had the Prime Rib sandwich with fries. Billy Bob had a Cheeseburger, and they serve it on a brick size square bun. I had the Meatloaf Sliders. Yes that's right, sliders with square meatloaf on the buns. It is is really unique, and in the fact they had a layer of "mashed potatoes" underneath the meat. They also come with barbeque sauce, but I passed on that. If you haven't been there you should give it a try, but be aware that you will have to see waitresses dressed like the girls in the above photo. It's a tough job, but somebody's gotta do it.

Next Wednesday, August 4,  we will be going to Jerzee's on the other side of S. Arlington St. on Rt 619 (1019 E. Turkeyfoot Lake Rd.) Most of us have been there before, but not as a group. Hope to see you there.

Note:
The results of the vote Wednesday nite have been posted on the
SCHEDULE
  page.