This is a Monthly Newsletter. Articles, Pictures, and Happenings are all listed on One Page for the Current Month. PAGE DOWN to see all of the News in the order that it happens.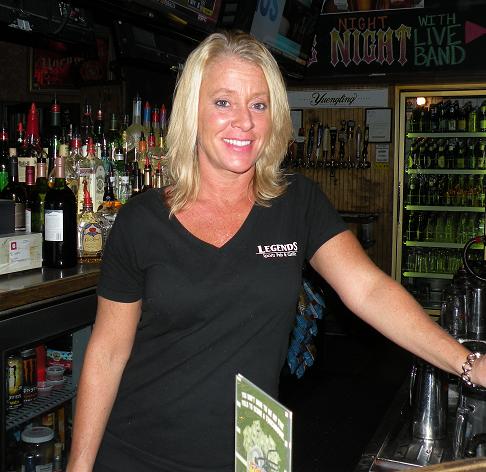 LEGENDS SPORTS PUB & GRILLE - Green, OH - October 3, 2012

It must have been a full moon or maybe because it's October, and Halloween is just around the corner, but it was another strange nite at Legends Sports Pub for our Geezers Nite Out.

Of course I was talking about the Geezers because there was nothing strange about our bartender for the nite, Tricia, pictured to the left. It's a good thing that she has known us for awhile or maybe she would think that we are a little strange. (Don't say it)

We were sort of celebrating Drumstir's B-Day. The actual date is October 11, but as is his custom he leaves town. He and his wife, Cindy, were going to go to Hawaii (Again), but the "roller coaster" seats in American Airlines sort of put a damper on that. So instead they "have" to go to Aruba. HAPPY BIRTHDAY In Aruba.

Time "flies" by In more ways than one, 

This page was last updated: November 3, 2012
It seems that "flies" have an insatiable appetite for Drumstir. Every time we meet at an outdoor bar or patio, such as the Galaxy in Wadsworth, Drumstir is constantly swatting flies away from him. It even happens "inside" as it did at Legends Wednesday. He has even gone so far as to ask the bartenders for a fly swatter. What else can we say. IT Happens!  

We want to also congratulate Billy Bob for becoming a grandfather for the "first time". Last week it was R. B. who celebrated a 3rd grandchild being born. He is a veteran. He and Spike. (He quit counting). So Congrats to Mike (Billy Bob)

Three of us were trying to eat "healthy" this nite. The
Big Boi
, Drumstir, and I (
Joebo
) ordered salads from Legends fine
MENU.
The Big Boi started it off with a Gyro Salad. I personally think he ruined it by putting that Gyro "sauce" on it, whatever it is. (Yuck)

Drumstir followed that up with a Chef Salad. He was complaining to Tricia about the lack of tomatoes in it. She checked, and found out that tomato is not an ingredient in their Chef Salads. Strange (There's that word again.)

I had the Cob Salad with Steak. It was very good. But I think that the steak offset the healthy benefit. They also offer it with Chicken. 

The Big Boi is still on his diet, and is losing weight rapidly. But he did imbibe with a Crown (Royal Crown) on the Rocks.

Most of the Geezers are former Goodyear associates. R. B. is involved with the benefit and pension departments. It seems that the "direct deposit" for Retiree Pension checks did not make it to their respective banks on October 1. So he was hearing it from some of us after he had a rough couple of days dealing with the aftermath.

And it just wouldn't have been a Geezers Nite Out at Legends if two Celebrity Look-A-Likes didn't stop in before we left. Two of the guys who often visit Legends Uncle Fester from the Munsters TV show, and "Sweet Lou" Holtz the Living Legend from Notre Dame came in shortly before we left.

Next Wednesday,
NOV 10,
we will be back for the "Second time" to one of our new stops on the
SCHEDULE
,
The Firehouse
on Tallmadge Circle.
We have just been informed that on DEC 7, the Phantom Band will be performing there in all of their glory. Please pass the word, and come on out. That's December 7, not Nov 10.

P. S. The pic below is R. B.'s tab from Wednesday night. As you know he waits until the Big Boi leaves, and then writes love notes on his bill to the bartenders so that they think he wrote it. This time the Big Boi waited around until Tricia, the bartender, took his paid bill to the cash register. R. B. asked for it back, but Tricia wouldn't do it. She told R. B. to write on his "own bill". At that moment a light bulb went. on in his head. Below is what R. B. ended up doing with his bill. (He told me NOT to black out anything.) Kids!


FIREHOUSE GRILL & PUB - Tallmadge, OH (On the Circle) - October 10, 2012

Pictured above from L-R are the Big Boi, Spike, Joebo, Courtne (Bartender at Firehouse-Tallmadge), Jimbo Fish (Florida) , and Fergie. 

The Firehouse on Tallmadge Circle is becoming one of our fave meeting places during the cooler months of the year. And Wednesday nite, 10/10/12, was even better. One of our long lost Geezers, Jimbo Fish, who now resides in Florida year round, was in town for a wedding and to see his ailing brother. Just look at the picture above and you can see his tan exuding.

Our bartenders for the evening were the ones who were their when we were at the Firehouse last on
September 19th
. They are
Jamie
,
Brittany,
and
Courtne
. Brittany and Courtne are sisters. And Courtne is a budding actress/singer who has been in some big-time movies. Go to the Newsletter for
September
to read more about her.  It was a very busy nite, and the girls were very busy, but they made sure that we were taken care of very well.
It's a small world. Jimbo hasn't been out with the Geezers in Akron for a number of years. Yet while we were at the Firehouse he ran into a couple that he knew.  Nothing new for Jimbo. They were
Pam
and
Tim Mattingly
. (Famous last sports name) Jimbo knew them from the
National City Bank
, and I even had dealings with Pam. Naturally I had to take a picture of the trio which you can find on our
PHOTOS
link.
Also there are more pics of the bartenders, and Geezers there.

Most of the Geezers ate from Firehouse's excellent Menu. Jimbo ordered a Turkey Club Sandwich. He was one of the first ones to order. Brittany came to each of us one at a time and took our orders. The food starting coming out the same way. After after everyone else had their meal Jimbo was still sitting there famished. He finally had Brittany check on it, and a few minutes later his order was in front of him. They made the wrong guy wait. But he said it was "just the way he liked it" after he was done.

As most of you know the Big Boi and I (Joebo) play in the Phantom Band with "Big Daddy" Dan Minier and "Happy" Hank Inman. We were booked to play at the Firehouse on Friday, DEC 7, from 9:30-1:00. While we were there the Big Boi took it upon himself to talk to the owner/manager about the band possibly playing there on DEC 21 for the Goodyear Christmas party as we do every December on Goodyear's last day worked. We didn't get the gig for DEC 21 but they booked us for another gig on Friday Jan 25. It was a nice try, but worth the effort after all. We give the Big Boi a Big Atta-Boy!

Well it was a good evening, and great to see our long lost Geezer, and friend, Jimbo.He will be leaving Saturday, October 13th. Some of us will see him again when we go down to Clearwater, Florida in February for the Super Bowl. Fergie, and Spike are snowbirds who will already be down there when R. B., the Big Boi, and I join them for a few days.

Next Wednesday, October 17, we will be at Johnny J's Pub & Grille in Springfield, OH near E. Waterloo Rd, and Canton Rd. Hope to see you there.

JOHNNY J'S PUB & GRILLE - Springfield, OH - October 17, 2012

The frost may be on the pumpkins with Halloween just around the corner, but summer was trying to make a comeback for our meeting on Oct 17. The temperature at 4:54 PM on this Wednesday was 71 degrees. At noon on the following day (10/18) it was 56 degrees with rain. Fall is bac!.

We lost two members for this meeting but added one. Fergie is down in Clearwater, Florida for a couple of weeks as a warm up for when he, and Brenda spend the winter there. The Big Boi called off due to out of town company.....he said. And Drumstir returned from a week in Aruba with his wife Cindy.They were going to go to Hawaii, but the fiasco by American Airlines made them change their plans. He was going to be gone one way or the other since he wanted to be out-of-town for his B-Day which was Oct 11. A personal tradition. The Candyman has been up at his condo on Catawba Island at the Big Lake all summer. He is due back in November. So from this point on we won't be in full force until next spring.

We started off the night with orders of
Free Fries
. On Wednesdays
Johnny J's
(JJ's) offers free french fries to customers
at the bar.
We sit at the bar! On top of that on Wednesdays they have
half-price appetizers
until
9:00 PM
. What most of us did was pair up and order two appetizers to split.
Spike
was there, but he abstained since he had a late brunch. Altogether we sampled
Chicken Tenders
,
Jalapeno Poppers
,
Cheese Quesadillas
, and
Reuben Rolls
. Check out their
MENU
.
R. B., Spike, and Billy Bob, along with a few of their former bowling team mates, were also out of town, but only for a few days. They went on their Annual Fall Trip. They started doing this as a group many years ago when they used to head down to Columbus for Ohio State games. (The tailgate part) They visited Cincinnati, Kentucky, and Indiana with a short stop at the New Hollywood Casino in Columbus. The weather farther down in southern Ohio was conducive enough for them to work in a round of golf too. Needless to say a few casinos also came in to play.

Next Wednesday, October 24, we will be meeting at The Basement in North Canton on the corner of Portage St, and Whipple Ave. We will be glad to see one of our fave bartenders, Haley.

The following week,
October 31
, which is officially
Halloween
, we hope to find a place nearby that is having a Halloween party. Check the
SCHEDULE
link that week to see where we decide to go.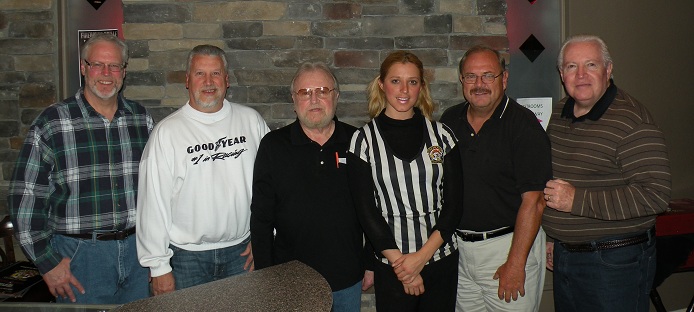 THE BASEMENT - N.Canton, Ohio - October 24, 2012

The Geezers Nite Out meeting was held at The Basement in N. Canton on 10/24 for the first time since April 18, 2012. since then a lot of things have changed. First and foremost one of our fave bartenders, Haley, is no longer there. We talked to the bartender who waited on us, but she didn't even know who Haley was or had heard of her when we asked if she was still working there. So that was actually an answer to our question. NO!

Also, Kenny, who was Managing the N. Canton location at one time with Haley working the bar, has since left to open and Manage the Sagamore Hills, OH location. (Near Macedonia). It had been a while since we had been there, but it seemed to us like we were at a place we hadn't been at before. We even celebrated our Christmas Eve Day get together there in 2011.

On top of that we were missing a few of our regular Geezers. (Not to say any of us are regular or ever will be.) R. B., our Entertainment Director was on his way to Lawton, Oklahoma for Goodyear. They have a plant there, and I (Joebo) was there many years ago with the Goodyear Auditing Department on assignment from Akron when they were building the plant. A lot of connection there.

Fergie, one of our Florida snowbirds, was down in Clearwater, Florida for a couple of weeks to "tidy-up" things for when he and his wife, Brenda, spend the winter there.

The Candyman is still up in his nest on Catawba Island near Sandusky (Not Jerry), OH. He will be back in November. Only a few days away.

So needless to say the turnout was not as usual.

Most of us ate from The Basement's Menu, which is the same at the other locations In Akron on Waterloo Rd, and two locations off of Manchester Rd. The "Special" for Wednesdays is $5.00 Phillys. They have many different varieties. Spike ordered one of those. They also have different size orders of Sliders. Drumstir ate two of those. The Big Boi had an order of Sauerkraut Balls, and I had 9 wings. All Basements are noted for their "double grilled" wings. Billy Bob walked in as we were getting ready to leave. He works all over the state, and always arrives after 6:00 PM. Needless to say he didn't stay to eat there, but he ended up out at The Galaxy in Wadswoth out on the Patio with Theresa and Darla behind the bar.

The Big Boi arrived with his laptop in tow, and he would not be separated from it. He even took it into the bathroom with him, and if it wasn't him, we would have been a little concerned. He often works from home, and he has some confidential information from work inside that machine. He guards it with his life when he brings it home.

This is usually the part where I tell you where we are going the next Wednesday Nite Out. But as of this writing, we do not know where we will be going for the "
Official
"
Halloween Nite
on
October 3
1. We will be making a decision shortly, and we should have it posted on the
SCHEDULE
link the early part of next week.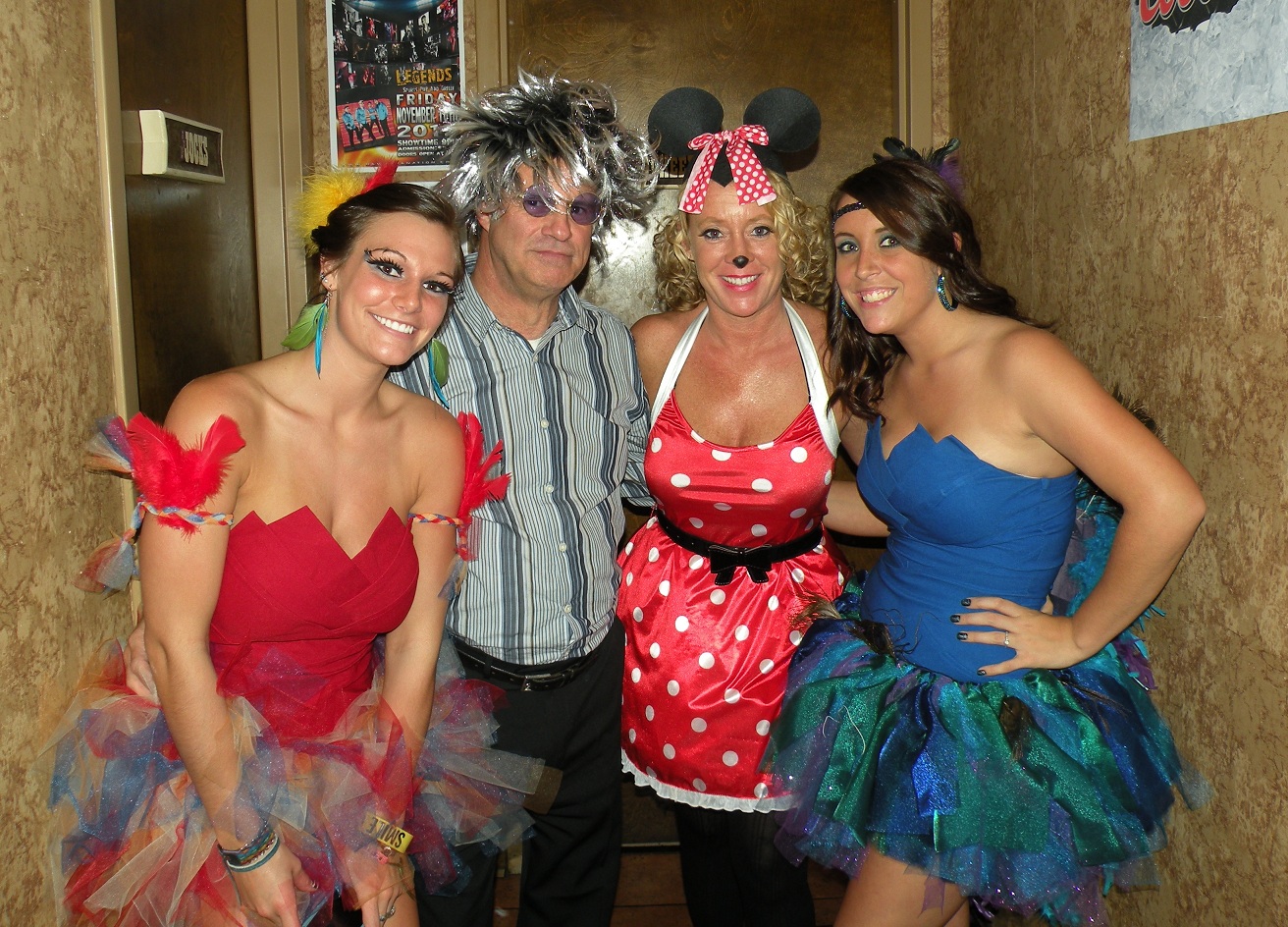 LEGENDS SPORTS PUB & GRILLE - Green, OH - October 31, 2012

We hope that everyone had a Happy Halloween. We had a great time at our Halloween Geezers Nite out at Legends Sports Pub in Green.

There was no real party going on since Legends' signature party was held on Friday, October 26. But this Wednesday the bartender,Tricia, as Mini Mouse, and two of the waitresses, Maria on the left as the Parrot, and Stacy on the right (Blue) as the Peacock. But we are not sure who that is in the gray wig!

During the time that we were there a few people were there in costume. Also, I (Joebo) brought a few items to play around with.

There was our usual crew of Geezers there, but we did have a Special Guest. We had the Big Buddha, Spike, Drumsitr, Billy Bob, R. B., and Joebo. But one of Joebo's band mates from back in the 60's Bud Dulin from Germany was there for a visit. Bud and J.Bo used to play in a band called The Sudds at The Kove in Kent, Ohio. Right next door at JB's were Ritch Underwood and The Joe Walsh playing with a band called The Measles. Joebo, and Bud played with Jim Paulis, Terry Ray, and Jon Hay. Jim was my (J.Bo) cousin, and I ended up working with Jon Hay's cuz Mary Ann at Goodyear. It's a small world!

Fergie had just returned from a couple of weeks in Florida the day before, and he couldn't make it. The Candyman is still "lost at sea" in Port Clinton.

We had to sit at a table for this encounter. We usually are able to sit at the bar and give the bartender, Tricia, a hard time. I'm sure that she missed us, but we were very lucky to have the Parrot, and the Peacock to wait on us. Go to the Geezers
PHOTOS
link to see pics of them, Tricia, and the rest of the Geezers, and others.
Needless to say our "class clown" had to come up with one of his unique puns. We mentioned that Bud was there from Germany (Dusseldorf). Well R. B. had just recently arrived and he had some business to take care of first. He said to Bud that he was "European", and then he said that "I'm a peein!" D'OH! 

It was also voting night for the meeting places for November . (Hard to believe) Our Entertainment Director, R. B., was not prepared for the vote, but as Managers, and Soldiers do, he improvised. Wrote on a napkin! As often happens there was a tie between two places. We then voted on the tie, and there was another tie. As our E.D. sometimes does he left it up to the bartender, Tricia, to decide since Legends was already voted in. 

The results of the vote will be posted shortly on the
SCHEDULE
page. Next Wednesday,
November 7
we will be meeting at
Johnny J's Pub & Grille
in Springfield, OH near RT 224 and Canton Rd.