This is a Monthly Newsletter. Articles, Pictures, and Happenings are all listed on one page for the Current Month. Page Down to see all of the News in the order order that it happens.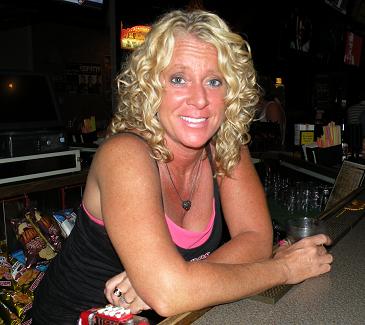 LEGENDS SPORTS PUB & GRILLE - Green - September 5, 2012

The Geezers Nite Out at Legends on 9/5/12 was very interesting, and a little unusual at the time time.

Pictured to the left is Tricia, who was our bartender for the evening. She was not unusual. Just her regular vibrant accommodating self. She is also in the running for the Akron Beacon Journal's "Beacons Best" contest for Best Bartender. The voting has ended, and the results will be posted in the Beacon Journal on Monday, Sep 24th.

When we first got there a guy at the bar was playing/betting the Ohio Lottery Keno game. He was playing quite often, and he said that he won some, and lost some. He was pretty serious about it. In fact he was still there playing when we all left.  

What was even more unusual that evening was that R. B. brought out his "Piece". It is a hair piece/fall(?) that he purchased a few years ago during one of our Super Bowl weekend trips to Clearwater Beach, Florida. During the winter some of our Geezers leave the area and become "Snowbirds" in Florida. So we have been going down to Florida to see them, watch the Super Bowl, and get out of the bad weather for 4 or 5 days.

Even though he is a little hair-deprived, why R. B. bought the hair piece we're not sure, but he brings it out every once in a while to add a little excitement to the evening. On this nite he placed it inside of the menu that
Spike
was using to decide what to eat. He then placed it on the bar with "hair in". When Tricia picked it up she freaked-out. There are more stories about it that you will have to ask R. B. about. But we do have a few photos of the incident posted on our
PHOTOS
page if you haven't already seen them.
From Legends excellent
MENU
we made the following choices. R. B. had his usual
Gyro
(Guy-ro),
Billy
Bob
chose the
Ribs
that are on Special during the summer months.
Drumstir
was eating healthy trying the
Chef Salad
. The
Big Boi
had the
Veggie Wrap
, and I (Joebo) just had a bowl of
Chili
. I had a late brunch before I left for Legends. As usual everything was
Just The Way We Liked It
.
We also saw an unusual number of Celebrity Look-A-Likes. We saw people who looked like Beetle Bailey (From the Comics) , "Uncle Fester" from the Munsters TV show. The Joe Pesci, and the incomparable Sweet Lou Holtz.

Next up, The Galaxy Patio on September 12.  

THE GALAXY PATIO -Wadsworth, OH - September 12, 2012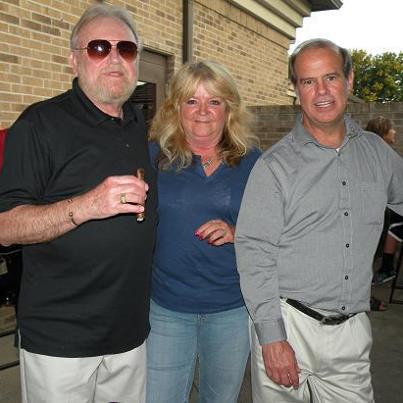 It was a Birthday Bash, and probably the last time that we will be meeting out on the Patio at The Galaxy.

Pictured to the left are Me (Joebo), Krisko, and R. B. out on the Patio on 9/12.  It was actually R. B.'s B-Day that day. Mine was on 9/10, and Krisko's was on 9/13. So we decided that it would be a good place, and time to celebrate all of them. We had a great time, and it was good to see everyone. Krisko also brought another friend of The Geezers, Betty Boop.

There are more pictures of all of us including the bartenders, and band on our
PHOTOS
page if you haven't already seen them.
The bartenders were Theresa, Jesse, and Megan. We go way back with Theresa before we were even coming out to The Galaxy to the Patio parties. Jesse, and Megan are new to us. But they all took very good care of us during our B-Day celebration. 

The band for the evening was Liquid Sky. They were very good. They had a well balanced sound (Outdoors) with great vocals and instrumentation. We would recommend listening to them the next time they are at The Galaxy or wherever they play. Look for them on Facebook for a schedule.

As usual TK O'Grady was there with WONE/97.5 with prizes and contests.

It was a pleasant September late afternoon and evening. When we first arrived at the Patio bar there were customers sitting where the Geezers usually do. Unfortunately, where we had to sit, was in the sun. At 4:54 PM with the sun out it was 78 degrees. It got down to 64 at 9:54 PM. We eventually were able to move to our regular seats at the bar.

We did see one Celebrity Look-A-Like according to the Big Boi. He pointed out a guy near the bar who looked like one of the famous Coneheads on the old Saturday Night Live back in the 70's with Dan Akryoid. However, this Conehead was wearing glasses.

As I said before we all had a great time, and it was good to see all of the Geezers, and friends who were there. We also want to thank anyone who gave us a card, Instant Lottery Tickets and/or gift. I understand that Krisko was the Big Winner. Ask her.I did hit $5 on the ticket that the Drumstir got me. R. B. received some tickets also, but we haven't heard the result of those. 

Wednesday, Sep 19, we will be going to a new meeting place for a change. It is the New Firehosue Grille and Pub on the circle in Tallmadge where Bumpas Drugs used to be. Come and check it out with us.

This page was last updated: September 30, 2012
FIREHOUSE GRILLE & PUB - Tallmadge, OH Circle - September 19, 2012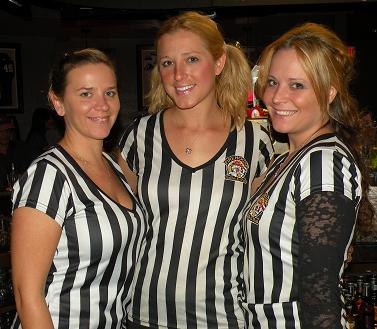 The Geezers Nite Out Wednesday, 9/19/12, was held at a New meeting place. We have stopped at other Firehouse locations before. One on Market St. by Goodyear, and another out near Uniontown on Canton Rd.

We have been at the Tallmadge Firehouse before, but that was when it was in a different location. It was not far from the circle, it's present location. It was heading west toward Brittain Rd, and my dentist! Ouch!

Pictured to left are our bartenders for the evening. Two of them we know from the former Tallmadge location. They are from R-L, Britany, Courtne, and Jesse. Britany and Courtne are sisters. There is more to know about Courtne which we will expound upon later. She has an extensive theatrical background.

We were pleasantly surprised by the appearance of a few ladies that we know who were also out for a Nite Out. In fact one of them
Fergie
knows quite well. It was his wife
Brenda
. She was there with a group who know each other either from working at
Goodyear
or the
Goodyear Ski Club
. And one of the ladies,
Nada
, is the wife of fellow Geezer,
Mr. Warmth
. It's a small world! Go to our
PHOTOS
link to see pictures of all of the girls together, the bartenders, and others who were there that evening.
All of the different Firehouse locations are known for their $1 Burger. Not just a "slider". It's a pretty good size burger. Also on this Wednesday, 9/19/12, All drinks (Beer, Wine,Alcohol) were 1/2 Price. We believe that they used to offer a $1 Beer, but we couldn't refuse this special offer. 

However, most of us bypassed the $1 burger for items off of the menu. I (Joebo)  ordered and intriguing item. It was a Ham, Egg, and Cheese wrap, and it was very tasty.  I believe that the Big Boi had the Crispy Chicken wrap. Fergie had the Patty Melt which looked very inviting. Spike ordered Buffalo Chips (Not that kind), and whatever was on them was piled high on his plate. R. B. wasn't sure what he was eating. According to him it was "some kind of Mexican dish." I believe that Billy Bob knowingly ordered a Chicken Quesadia wrap. Ask him. And as usual when anyone cooks anything for us it was "just the way we like it."

We also ran into a couple of other people that some of us knew. One was Charlie Denny who works with the Big Boi at Goodyear. We also saw Charlie at the other location when we were there in 2009. He also stops in for a while to hear the band whenever the Phantom Band plays. The Big Boi and I are members of the band. We gave our card to the Manager at the Firehouse, and she came over and talked with us. She said that she will "call us."

Sitting at the bar with Charlie was
Jenny
. We know Jenny from when she was a bartender at
Johnny Malloy's
near Chapel Hill. We were so impressed with her that we made her our
Bartender of The Month
for the month of
SEPTEMBER2006
. She is also featured on
Jerry's Corner
as one of his
Corvette Girls
for July 2006. We have a current pic of her with Charlie and a friend also on the
PHOTOS
link.
We did see a Celebrity Look-A-Like. Both the Big Boi and I saw a lady who came in with a mate or friend who resembled Penny Marshall, a now famous director, who used to star on the TV hit series, Laverne and Shirley.

Speaking of Penny Marshall and celebrities, The Firehouse has one working for them. I mentioned earlier that Courtne had some theatrical experience. That is putting it mildly. She is an Actress/Singer. and she has been in some big time movies. She was in 25 HILL, CONTAGIAN, 3 DAY TEST, and she appears at the Funnyside Dinner Theatre. She is a member of the International Alliance of Theatrical Employees (IATSE), and she graduated from college with a degree in Theatre. We were impressed. My niece, Kristen, is living in L. A. and she is an inspiring actress/bartender too. She graduated in 3 years from "The" Ohio State University. Quite a coincidence  

We were very impressed with the new Firehouse in the service, food, and the building itself. It is surrounded with a comfortable (sports bar) decor with plenty of TV's for viewing your fave sports games. The building is quite a conglomerate also. It boasts a huge kitchen, and banquet rooms. We are not really sure what else they have available there. But it is worth a look see.

Next Wednesday, Sep 26, we will be meeting at a relatively new location (Opened in Nov of 2011). It is Johnny J's Pub & Grille in Springfield near RT 224 and Canton Rd. Hope to see everyone there.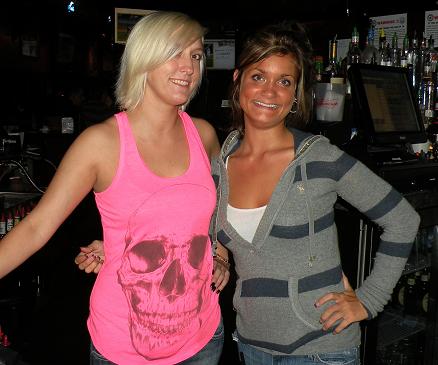 JOHNNY J'S PUB & GRILLE - Springfield (RT 224) - September 26, 2012

During the summer it was 85-90 degrees every day with clear skies, and humid temps. Now it's September, and it is raining every day. We almost had a drought this last summer. No problem this month.

We have started our indoor winter schedule, and Johnny J's was a perfect place to start.

To the left are two of our bartenders for the evening
Kaylie
on the left, and
Amber
.  Amber was pictured in our Newsletter for
August 22
. 
they are hard workers who aim to please. Even Geezers.

We started out the evening with Free Fries. Yes, if you are sitting at the bar you can place an order for fries at J.J.'s at no cost. Not sure if this is all week.

We had some BREAKING NEWS Wednesday nite after R. B. arrived. He became a Grandpa for the 3rd time. His daughter, Michelle, gave birth to a bouncing baby boy earlier in the day. He was given the handle  Mason Allen. Allen being the middle name of R. B. Congratulations Old Man! 

Another unusual thing happened on this evening. J.Bo (Me) and Fergie actually agreed on something. I am a staunch Democrat and even though Fergie is a registered Democrat he is a supporter of the Republican candidate for President of The Untied States, Mitch Romney. So neither one is politically correct.

However, they did agree on something that may cause another debate with the other Geezers. They both agreed that the real Cleveland Browns are in Baltimore. The Baltimore Ravens should be the Baltimore Browns.

The Cleveland expansion team should have had a new name, new colors, new everything including cheerleaders. We think that was a big mistake. And what caused this conversation? Jim Brown. He has been in the sporting news lately. Send him to Baltimore. That's where the records belong. Grrrrr!

We did see a Look-A-Like, but not quite a celebrity if you don't count Tony Fanizzi and The Good sounds, and The Phantom Band being Big Time. It was a guy who looked like "Big Daddy" Dan Minier. This guy was BIG. Big Daddy is a fellow Geezer and the drummer for the Phantom Band albeit now living in Meeshigan!

Unfortunately we were not able to legally take a pic. However, we do have photos from the evening on the
PHOTOS
link.
It was also voting nite for the meeting places that we will be going to in
October
. That is hard to believe. We did have a tie which necessitated a re-vote. The results will be published on our
SCHEDULE
page shortly.
Next Wednesday, October 3 will be held at one of our fave places, Legends Sports Pub in Green. Rumor has it that we will have a "Surprise Guest" from the past!