GEEZERS NITE OUT - Newsletter

This page was last updated: November 26, 2010
The Geezers Nite Out on Wednesday, November 3 was held at a new meeting place that has been open for a relatively short time under a familiar name. We were at Legends Sports Pub & Grille on E Cuyahoga Falls Ave in the Falls. It is located near Stonehedge Bowling Lanes. We try to go to at least one different place every month if it gets voted in. We heard about this new Legends from one of our fave bartenders from years back, Rhoda. She lives in the area. 

We met her when she was working at Scorchers, now the Tap House,  in south Akron. In fact most of the places that she has been working at for the last few years were in or near south Akron. She was supposed to start working at this Legends, and we thought that she was going to be there this Wednesday. That is why we added it to the ballot when we voted, and why it was voted in. However, there was a miscommunication, and she wasn't there. I later found out from her via text messages that she will be there on Tuesdays, and Thursdays.

However, we were taken care of at the bar quite nicely by Heather, on the right, in the picture above to the right. She didn't want to take a pic by herself so she grabbed Jillian, one of the servers, to be in the pic with her. She got a kick out of us, and she was trying to keep up with our "nicknames" when she was entering our tabs and taking our food orders into the computer. 

Most of the Geezers ordered from Legends fine menu. I never heard any complaints except for me. I ordered the "Old Fashioned Club" sandwich. And it was "Too Big"! lol! There is  story behind that , but we won't go into it right now. But what I ate was delicious. I took the rest home for lunch the next day. Spike ordered a "big" hot dog. And it was "big". I took a pic of it that you can see below.

There was a good turn out at the new Legends. It has only been open as Legends for a couple of months. It was formerly a pancake house. No one knew the name. Those Geezers who were there were Spike, Big Boi, Fergie, Kenny J, J. Bo, Billy Bob, Mr. Lobber, and Mr. Warmth. We were surprised to see  the last two Geezers there. Mr. Warmth (Stan) informed us that he had some minor surgery, and wasn't able to attend the last few weeks.

R. B. our Entertainment Director, who was partially responsible for our visit to Legends, was not there. He is on a business trip for Goodyear.

We all agreed that this Legends was a comfortable, quaint place. It wasn't very crowded when we first got there around the 5:00 hour, but later on became pretty busy. Like I said, it has only been open as Legends for a few months so it should help once people find out about it.  

Next Wednesday, Nov 10, we will be back at the Brick House on Howe Ave near Chapel Hill Mall. We are coming back there this month a little earlier than we normally have been upon request.

Hope to see you there.  

This is a Monthly Newsletter. Articles, Pictures, and happenings are all listed on one page for the Current Month. Page down to see all of the News in the order that it happens.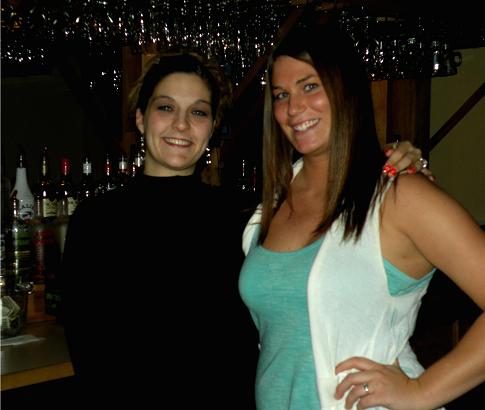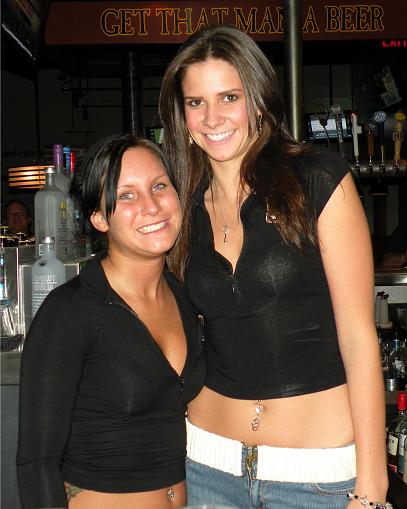 Yes, the Geezers celebrated another B-Day at their Nite Out Wednesday, November 10, at the Brickhouse on 581 Howe ave in Cuyahoga Falls near Chapel Hill Mall.  It was not only a B-Day celebration, but also a homecoming for one of members, Baldo aka Bubba. Still not his real name. He has been in Atlanta for several months, and made his return just in time to celebrate his B-Day with his fellow Geezers. (Actual date 11/12/10). It was his first time at the Brickhouse.

He was welcomed there by our bartenders for the evening, Amanda (L), and Katie pictured to the left. Katie is the resident Sandra Bullock look-a-like. Fergie also thinks that she looks like the sister of a lady that he used to date at Goodyear. His former girl friend's name is Karen and her sister is the infamous Debbie (Cabe).  Some of you Goodyear people may remember her.

The other Geezers there were
Spike
,
R. B.
,
J.Bo
,
Drumstir
, and the
Big Boi
. Drumstir made the trek all the way from Canal Fulton.  We will also be in the Falls agian next Wednesday,
November 17
at
Johnny Malloy's Sports Pub
. Most of the Geezers ate from the menu as usual. I'm not sure what Baldo had, but he usually gets wings wherever we go. Fergie had the
House Cheeseburger
that doesn't sound like much but it comes in a bun and meat patty shaped like a brick what else. I had the
Meatlof Sliders
. Drumstir had  what is called the
Kobe
. It has nothing to do with
Kobe Bryant
of the L. A. Lakers. (I don't think) The menu says: 100% ground
Wasgyu
(Whatever that is), Balsamic carmelized onions, and a Knot brioche bun. Huh? And Big Boi had the Red Chili burger. Not sure about Spike, and R. B.
Click Here
to view the whole menu.
Amanda, and Katie were very freindly and a lot of fun. They posed for pics for us some of which we have posted below. Katie complained that we didn't have any pics of her on the website. We did have at least one, but when we tried the first time that we were there she went home sick, and she was not working the bar another time. However, I went out of my way to take more pictures of her this nite, and they will be on her own page. Go to the
BARTENDERS
page for 2010 to view them.  
Hope to see you next Wednesday at Johnny Malloy's.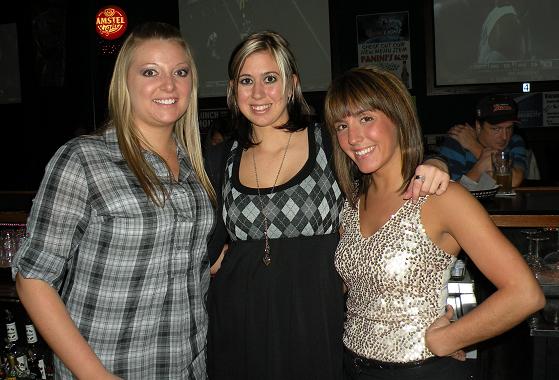 JOHNNY MALLOY'S............AGAIN?

Some of The Geezers decided to go up to Johnny Malloy's Sports Pub behind Chapel Hill Mall to watch the Cleveland Browns football game with the New York Jets Sunday, Nov 14. It just so happened  that we voted in Malloy's for one of our Wednesday night meetings. So after a great time on Sunday we went back again to Malloy's for our Wednesday Nite Out on November 17. Malloy's has something like 13, 100" TV's! On Sunday they had the Browns game on the majority of the TV's, but they also showed other NFL games including the Chicago Bears, and Cincinnati Bengals playing their separate games against other opponents. I saw a few fans with Chicago Bears jerseys.

Two of the bartenders Wednesday who were there Sunday also, and waited on our table, were  Christie, and Katie. Pictured above are Ericka (L), Lisa, and Christie. Katie was there earlier. She worked the day shift. Also joining them Wednesday was Meghan. She is in a picture below with Christie in the Photo Gallery below. It was hard to get them altogether at once. 

We had one of the best turn outs of the year this Wednesday night. Those Geezers who were there were Fergie, J.Bo, Baldo, Big Boi, Crazy Richie, R. B., Mr. Lobber, Billy Bob, and Kenny J. What a group! Most of the Geezers ordered from Geppetto's fine menu. Geppetto's is located next door, and connected to Malloy's. A friend of mine visiting from Tennessee, Jim Bob, said that he thinks that they have the best pizza that he has ever had, and he was a world traveler with the Air Force. A popular Wednesday special item on the menu was a one-topping large pizza with 10 wings for $9.99.

Baldo is back from Atlanta, and he is still here! So we took a pic of him while he still is which will also be in the photo gallery below. Billy Bob, sporting a tan,  just returned from a week in Key West. You don't want to know anymore than that.

We did see one celebrity look-a-like. It was a guy who looked like a "young" Tommy D, a good friend, and fellow Geezer who is not able to make our Wednesday meetings.

A good time was had by all. Next Wednesday, Nov 24, Thanksgiving eve, we will be back to the Portage Lakes at Dusty's Landing to see one of our fave bartenders, Karen. Hope to see you there.  

HAPPY THANKSGIVING everyone!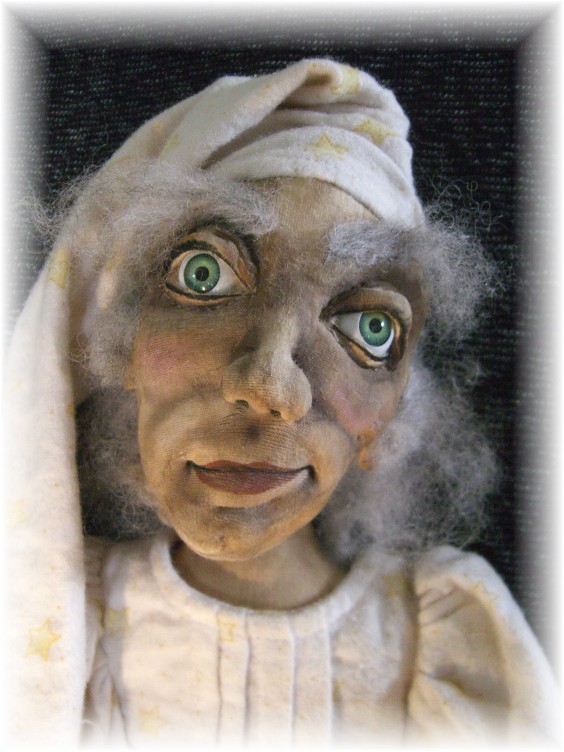 WE GOT SCROOGED!

BAH HUMBUG! Those are two familiar words around Christmas! We all know that they belong to Ebeneser Scrooge. It was his reply when anyone would wish him a Merry Christmas.

Our last Geezers Nite Out for the month of November (11/24) was held at Dusty's Landing on Portage lakes. We were indirectly told those two words when we asked Karen, the bartender, if The Phantom Band can play there again this year for the annual Goodyear Christmas party as we did in 2009. As soon as we asked her that, Karen went into a tirade about how loud the band was back in September for my surprise B-Day party (Humbug)! Her customers were upset about the noise, and told her about it. So, fans, The Phantom Band will not be playing there for Christmas! Bah Humbug!

Stay tuned as we are in the process of finding another place and we will keep you posted on the website.  

The Geezers who were there were Spike, J.Bo, BFB, R. B., Billy Bob, Kenny J., and G2.  G2 is Gary Sutherland, another ole friend from Goodyear. He stops around now, and then but he usually plays cards on Wednesdays. Because of the holiday there was no game. It was good to see him. There is a long story behind his nickname!

Karen usually makes a hot dish on Wednesdays for her customers. The meal of choice this week was Sloppy Joe's!  I was told that they were delicious, and everyone at the bar was gobbling them up. (No pun intended).

Karen has a penchant for reciting cute or catchy words. She asked R. B. how he was doing, and he said: "Wonderful!" I (J.Bo) said out loud the German word for it, 'Wunderbar'! Karen heard it and kept saying (In her own language) "Voonderba" over and over. And then she called R. B. "Mr. Voonderba". Of course he didn't know what she was talking about!

We also voted for the meeting places for
December
, and the
SCHEDULE
will be posted shortly. Dusty's did get voted in, however, it was scheduled for
Dec 22
since that is the last day worked for Goodyear people before Christmas, and we were counting on the Phantom Band playing there that nite. If the band finds another place to play we will then post it on the schedule. Until that time we will keep it
To Be Announced
. If we aren't going to play anywhere then we don't want to go out to Dusty's on Dec 22. We will find out where the Goodyear crowd is going, and let you know. Got that?
But next Wednesday,
December 1
, we will be at another new meeting place called
Fox and
Hound
in No. Canton. It is a franchise British Sports Pub. Some of the Geezers checked it out the nite after we went to
Roosters Wings
on Dressler Rd. It is a cool place, and they have separate rooms on both sides of the bar called
Brownstown
, and
Steelers Country
. We are also planning on going there for the Browns/Steelers game on
Jan 2, 2011
.
We hope that everyone had a HAPPY THANKSGIVING, and hope to see you on Dec 1.