This is Monthly Newsletter. Articles, Pictures, and Happenings are all listed on one page for the Current Month. Please Page Down to read all of the News in the order that it happens.

This page was last updated: March 31, 2012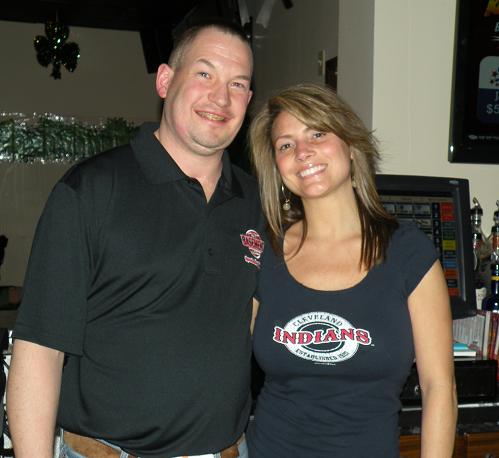 I don't know if that dreaded groundhog, Punxatony Phil, saw his shadow this year or not. The tradition every year on Groundhog Day, Feb 2, is that if the famous groundhog sees his shadow and returns to his hole there will be 6 more weeks of winter-like weather.

There is also a weather saying: "If March comes in like a lion, it will go out like a lamb."  There is no saying about what will happen if March comes in like a lamb. However, we have had lamb-like weather here in northeastern Ohio all winter long.

So no matter what the groundhog did it hasn't been that bad up to this point. I think that we can take 6 more weeks of this.

What does this have to do with our first meeting in March? Absolutely nothing! But it was our first meeting for March.  

THE BASEMENT - NO. CANTON - March 7, 2012

Our bartenders for the evening were Haley, when we first arrived, Kenny, Manager, and Alex. Haley, and Kenny are pictured above. There is a picture of Alex, and Kenny below this article. Haley and Kenny once worked together at The Basement on Waterloo Rd in Akron. Alex just returned from Florida as you will see in the pic.

The Geezers main topic of discussion was about the Cleveland Browns Collegiate Draft coming up in April. We were talking about will they or won't they go after highly touted quarterback form Baylor, RG3. Well, as of the writing of this article (3/11/12) there is nothing more to discuss. The Washington Redskins made a pre-draft trade with the St. Louis Rams who have the second pick. The Redskins gave away three first round picks, and a second round pick. The deal was announced on Friday, March 9, but it won't be subject to approval by the NFL until 4:00 PM on Tuesday, March 13th when Free Agency begins.

Those of you who opposed a trade up by the Browns to get Robert Griffin should be happy. Now they can go draft a "burner" receiver with no one to throw him the ball. Way to Go Browns. Always second best.

Most of the Geezers ordered food from The Basement's excellent menu. R. B. had the Kaluger wings "double-grilled" which is one of the many specialties there. These wings along with the different variety of Philly sandwiches are two of the most popular items available at all of the different Basement locations.

Next Wednesday, March 14, we will be back to Just One More Bar and Grill located off of E. Waterloo Rd in Gala Commons.  

HAPPY ST. PATTY'S DAY on March 17th.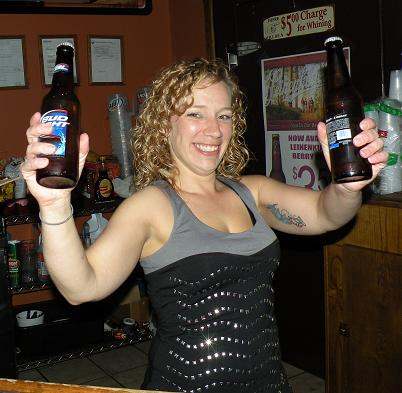 JUST ONE MORE BAR & GRILL - Gala Commons - March 14, 2012

Three days before St. Patty's Day, we held our meeting at Just One More, one of our fave stops. They will be celebrating the Irish holiday on Saturday starting with breakfast in the morning. With St. Patty's Day being on a Saturday most places will be celebrating it all weekend.

Pictured to the left is Jen, the owner, and bartender. Of course she does have help.

She has Michelle, the day bartender, and Neveen, and Becky. Unfortunately Neveen is rescuing her brother from a family business dilemma. Until her return Jen is doing what owners just "gotta do" to keep the business running smoothly.

Speaking of the "business", Jen is embarking on a new venture in the same place. For right now it's a secret, but there are big doins comin to Just One More. I know nothing!

As for The Geezers it was a pretty uneventful night.

However, we did take advantage of the $1 burgers, and $1 domestic bottles. I neglected to note above that Jen has a very experienced and classy cook, Bill. He is in the picture with Jen on the HOME page. Just One More has an excellent menu, and it is about to change for the better. Stay tuned.

The topic of discussion with The Geezers was again the Cleveland Browns NFL collegiate draft, and Free Agency. That was a discussion that was going nowhere! Just like the team! Mike Holmgren, President, and Tom Heckert, General Manager have been successful in this business before. We have to trust that they know what they are doing? Don't we? Nah!

Next Wednesday, March 21, we will be at Legends Sports Pub & Grille in Green to see another one of our fave bartenders, Tricia. Hope to see you there.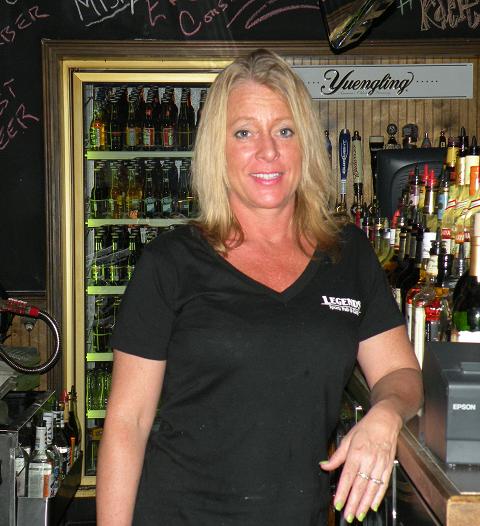 LEGENDS SPORTS PUB & GRILLE - Green - March 21, 2012

It was a Hot One at Legends, Wednesday, for the Geezers Nite Out. The outside temperature on 3/21 at 4:54 PM was 79 Degrees. The average temp is 49 Degrees. But it was cool inside.

Legends has gone through some renovations. The most notable is the wall has been torn down. The bar used to have an enclosure with TV's on both sides above. But they got rid of that, and they have installed spanking new HD TV's on a rack over the middle of the bar. The only problem that we saw was that at the end of the bar, near the front door, where we were seated, they didn't have a TV. We brought that to their attention, and we were notified on Facebook That a new TV has been purchased and will be installed this weekend in that part of the rack. Can't think of everything!

Pictured to the left is one of our fave bartenders,
Tricia
.  We have known her, and she has had to put up with us since 2005 when she was one of our first
Bartenders of
The Month
. (December 2005)
We pick a good nite, Wednesdays, to go to Legends. Besides their regular Happy Hour prices they have some tantalizing Specials. One special that a few of The Geezers took advantage of was the Half-Rack of Ribs for $6.99. The Big Boi, R. B., Billy Bob, and I (Joebo) took advantage of it. The ribs are meaty, and delicious. (No, we don't get paid for this! We pay THEM.)

As far as the Happy Hour drink specials Legends also had Long Island Iced Tea for $2.99 along with their normal $2 domestic bottles, and $2.50 well drinks until 7:00 PM. However, one of us, R. B., is a member of the Mug Club, and he got preferential treatment with the Big Mug. Ask about a Membership!

Drumstir was in rare form. He started off the evening by showing us an autograph that his wife, Cindy, got from one of her passengers on a flight from L. A. to Cleveland. She is a Flight Attendant for a major airline. Sitting in First Class (Where else?) was none other than The Joe Walsh of Eagles, Barnstorm, and James Gang fame. Cindy ended up getting his autograph which the Drumstir was flaunting.

Walsh was born in Wichita, Kansas on November 20, 1947. He moved to Columbus, Ohio with his family, and attended High School in New Jersey. He then attended Kent State University while playing in a band called The Measles with Akron area musician Ritch Underwood. You know the rest.

However the tone of the conversation quickly changed when Drumstir began talking abut
Doomsday
on
December 21, 2012
according to the
Mayan calendar
.  The calendar ends on December 21, 2012. At that time there is supposed to be a reversal of the Earth's magnetic field, along with severe solar storms ending the world as we know it. However,  there is a
NASA
Scientist who is skeptical about the "hoax", he calls it. He has an article on Skeptic.com that may dispel any fears that you may have. His name is
Dr. David Morrison
of NASA. In his article he states: "The hoax originally concerned a return of the fictitious planet
Nibiru
in 2012, but it received a big boost when conspiracy theory websites began to link it to the end of the Mayan calendar long count at the winter solstice (Dec 21) of 2012." To read more go to his article on
Skeptic.com
where he answers 20 questions from the public submitted online to a
NASA website
.
The Cleveland Indians were playing a Spring Training game on STO which should have lightened the mood. However, from what we could see, it was not too entertaining as they lost 5-3 San Francisco Giants. starting Ubaldo Jimenez looked better, but he was not firing bullets. Most news media say that he, and Carlos Santana (Not the guitar player) are the keys to the Tribe's up and coming season.

Well, this newsletter got a little long because I got a little wrapped up in some history, and the future. But next week we will be meeting at one of our newest stops, Johnny J's in Springfield. This will be the last meeting in March so we will be voting for the meeting places that we will be going to in April. Hope to see you all there.  

P. S.
For photos from the eveing to see more of what went on go to the Geezers
PHOTOS
page.
       (If they are not there please check back as they will be imported shortly)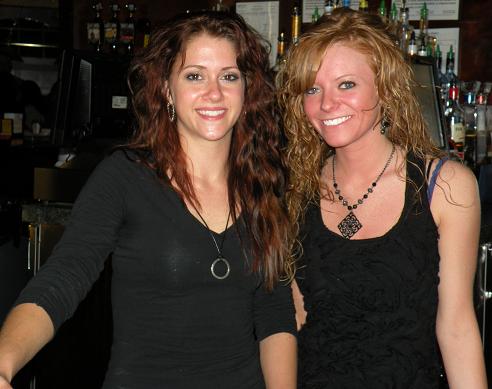 JOHNNY J'S SPORTS PUB & EATERY - Springield, OH - March 28, 2012

The Geezers Nite Out on Wednesday, March 28, was held at one of the newest stops on our Schedule. Johnny J's opened approximately in November of 2011. It is a unique sports bar similar to the Johnny Malloy's franchise operation. JJ's has two other locations in the Akron area. One on Manchester Rd in the Portage Lakes area, and another in Liberty Commons in the Valley on the west side of town.

Mandy (L), and Taylor are two of the bartenders who were serving us on this night. They were very accommodating by letting us take a picture of them, and they took good care of us.

We have another pic of Mandy on the
PHOTOS
page from the last time that we were there.
JJ's has a great Happy Hour. A couple of the food items are Free Fries, and half-price Appetizers. The Geezers took advantage of both of these offers.

At the time that we were at JJ's the Mega Millions was up to $500 Million. Before the drawing Friday night it was up to $640 Million. As of the time of this newsletter (03/31/12) it appears as someone has won it. I haven't checked my ticket yet because I doubt that it was me. Anyway, the Big Boi, and Drumstir got together at JJ's and picked some numbers to play. They went over to a machine to post the numbers. The Big Boi is supposed to be a computer guru, but he had to come over and ask The Jerry (Jerry's Corner) to help them out since they were experiencing some technical difficulties. Both Jerry, and the Big Boi worked together in the Goodyear Data Center until they were sold to IBM. They were counting on winning, but I haven't heard a word from them today (SAT 3/31). But SOMEONE did win somewhere. The Mega Millions is played in quite a few states so the chances are Slim. And he left town!

We did see a Celebrity Look-A-Like. I thought there was a guy sitting at one of the booths hooked to the bar who looked like one of the Seinfeld creator, Larry David, of HBO fame. However, some of the others thought that he was too overweight to be him. Hey, it's called a LOOK-A-LIKE. Not a BODY DOUBLE!

It was also voting night to pick the meeting places to go to in
April
. The results have been tabulated (Cough) and the results will be posted on the
SCHEDULE
page on April 1. However, instead of an election it was more like a
Cleveland Browns
collegiate draft. They picked WHO? if you are a Browns fan you know what that means. However, it was authorized by our
Entertainment Director,
R.B.
so it is official (Cough).
Be sure to check the
PHOTOS
link for a few additional photos that we took that night. One of four Snowbirds,
Spike
(Swish) is back from Florida, and he was at Johnny J's. He was back in town earlier, but became ill after
St. Patty's Day
. That
Green
Beer will do it.
Check the Schedule to see where will will be going on April 4th. Three days after April Fools Day!