This page was last updated: December 27, 2014
This is a Monthly Newsletter. Page Down to view all of the Current News as it happens.

Geezers Nite Out - The Grille on Waterloo - South Akron

It was a quiet nite at The Grille for our first GNO for the month of December. I was over at my Penguin condo cleaning out more stuff. I arrived later than usual around 5:20, and Fergie, and Spike were the only ones sitting at the bar. S. B. came in close to 5:30. A little later R. B.strolled in, followed by Billy Bob.

Our bartender for the nite was
Niki.
Kristi, the day bartender, was just leaving. Niki is getting used to us, and she is even starting callign us by our "
real
" names. To see a pic of Niki, and the rest of the goings-on that nite go to our
PHOTOS
page.
The main topic of discussion was about the Cleveland Browns' NEW quarterback controversy between a bland Brian Hoyer, and the flashy Johnny Football (Manziel). There were pros and cons expressed on both sides over the decsion Mike Pettine, head coach, made to start Hoyer for the Indianapolis Colts game Sunday, 12/7. It was more SHOCK than anythign else, as it was almost a foregone conclusion that Manziel would get his first NFL start after his performance against Buffalo Bills last week when he entered the gmae in the fourth quarter after Hoyer was ineffective. All of the Cleveland sportswriters were surprised, to say the least, that he wasn't going to start Sunday after all.

Many think that Hoyer is being given a tryout to keep his job. I predict that he will not do well. Especially against the Baltimore Colts fien tuned machine.

We often see celebrity look-a-likes during our Wednesday meetings, and mention them here. Someone who resembles a celebrity. We didn't see anyone on this nite, but we did hear someone who sounded very much like "Rocky" Sylvester Stallone. He was sitting at the bar extension which was behind me to the right so I never did see him. I think it would have ruined it. So we heard our first sound-a-like.

The Geezers all ate from The Grille's Menu. It will soon change, as there is a new owner. Our good friend, Russ, decided to sell the whole kit & caboodle to a Japanese group. Bartender, Niki, told us that there will be a new menu coming out in about a month. Probably in 2015. They already do ahve egg rolls on the current menu. We are interested to see what other dishes that are added.

From this menu however, I ordered a Club Wrap. (Picture on the PHOTOS link). S. B. ate a Cajun Shrimp Pita, and Spike enjoyed his fave Buffalo Balls. Stay tuned.

Next Wednesday, December 10, we are scheduled to meet at Legends Sports Pub & Grille in Green.

Geezers Nite Out -  Legends Sports Pub & Grille - Green

It was not very crowded when I arrived at 5:30 at Legends. I was over at my former condo finishing some things up. Drumstir and Spike were the only Geezers sitting at the bar. The place wasn't very crowded. I guess that was an omen of what was to happen.

There was a disc jockey setting up his equipment. He was wearing a Cleveland Browns jersey with LEBRON and #23 on the back. This could have become a precursor for what we were in for. We didn't pay too much attention to it at the time.

On my way to Legends in Green I heard two 911 calls on the radio. One was by J T. Barrett, quarterback for the Ohio State Buckeyes. He said something like: This is J T Barrett. My ex-girlfriend is here and won't leave.

Then they played the 911 call of his ex-girlfriend. She said something like I am J T Barrett's ex-girlfriend. He was throwing me across the room. Choked me, and put his forearm across my neck. 

I heard something about it on the news later on. But all that I can say is that it is a good thing that he broke his ankle, and can't play against Alabama on New Years Day. GO BUCKS!

All of us ate from Legends
MENU.
Drumstir had
Quesadillas.
Spike had
Chicken Fingers
. I had a
Turkey
Club Wrap
. And
S. B.
had a
Veggie Wrap
with chicken. Pictures of some of the food, and others from that night are on our
PHOTOS
page.
We were also watching the Ohio State Buckeyes basketball game with a school named the High Point Panthers. The game was close for the first five minutes, but the final score was OSU 97-43.

OK, back to the DJ. This guy, Mighty Mike, just didn't spin records. He began by playing some laid back music. Then he turned up the volume and started a  boisterous Trivia Contest where he had people chose sides and log in with controllers. It was very annoying. It would go on and on. Then he would take a break. And all of a sudden, there it was back again. A sign in the bathroom read that the so called Mighty Mike would be there Every Wednesday. I will tell you right now, if HE is, the Geezers will NOT be.

Judge for yourself. You might like it.

Next Wednesday, December 17, we will be at Ray's Place on Ghent Rd across from Summit Mall. This was the former location of the Winking Lizard now in Montrose.  

We are saddened to announce that the sister of our good friend, fellow Goodyear Associate, and former lead singer in the Phantom Band, Donna Miner, has passed away on Friday, December 12.

Debra Lynn Lewinski was 59 years old. We want to extend our deepest sympathy to Donna, and her family.

ONE LIFE LEAVES. ANOTHER ENTERS!

We are happy to announce that the daughter of our Entertainment Director, R. B. (Gary Dannemiller), Michelle, has given birth to a healthy baby boy on, Friday morning, December 12, at 2:30 AM. 

The baby boy was named Colton. Gary said, like the ex-QB for the Cleveland Browns, Colt McCoy.

It was touch and go at the beginning of the birth, but everything ended up very well. This is Gary's fourth grandchild. He is getting old.  

We want to congradulate him, Brenda (Wife), Michelle, and the rest of the family. Cigars will be in order.

Geezers Nite Out - Ray's Place - 25 Ghent Rd - Fairlawn, OH

I arrived at Ray's around 4:00 PM. Quite earlier than our normal 4:35 arrival time. My cleaning lady was there for the monthly deed, and I had many errands to run after I left. One of them was to drive to Medina to turn over my keys to the Penguin condo, the sale of which was to have been completed on that day.

Since I was at Ray's early, and not having eaten anything until that time, I ordered a meal which consisted of a cup of Chili and a Corned Beef sandwich.

Spike was the first to show up about 4:40 PM. Still early. Our good friend, Krisko, arrived next with her Christmas cookies. She bakes them, and brings them every year during our Christmas meetings.

It usually worked out that we would meet at the new Winking Lizard in Montrose. And one of the bartenders there, Mandy, would usually end up waiting on us. Krisko would bring the cookies.

Mandy, including all of the other bartenders and waitresses, would enjoy them. Especially Mandy.

However, since we met at a  different place this year, Krisko brought a large dish of cookies, and also a Special plate for me to take to Mandy at the Lizard. Ray's was not crowded at first, but then more customers came in for private work parties. And it became pretty crowded. However, the Geezers did not eat many of the cookies, and neither did the bartenders and waitresses at Ray's.

So I had a bright idea for S. B. to take the large plate of cookies over to an area where the customers brought their children, and offer them some. It was not a popular move as not many of the kids took any, probably due to the "don't take anything from strangers" message that their parents drummed into them. Well, we tried!

I am writing this on Saturday, DEC 20. I am going to meet some family at the Winking Lizard on Tuesday December 23, and I was going to take the cookies that Krisko made up for Mandy, and the rest of the cookies that the Geezers didn't eat for the rest of the help there.

Our E.D. R. B., sent me a text Friday that  said he had time to meet me at the Lizard. So I said I would meet him there. While there Mandy came in. I asked her if she was going to be there Tuesday, and she said NO. And when I asked her what nites she would be there she said that she would be off for the next week. Her Holiday Hiatus.

So, needless to say, I found it necessary to hightail it back home and get the cookies. I don't live that far away, but the traffic in Montrose at Christmas time is horrendous. So I gave Mandy her cookies from Krisko, and brought the other dish for the rest of thehelp which they enjoyed very much.

Isn't that a happy Christmas story?

Getting back to Ray's Place, most of us ate from their MENU. They do have great food. I had a Corned Beef sandwich, and a cup of Chili before the rest of the Geezers arrived. Krisko had a Gyro which had generous portions of lamb in it. S. B. had the Grecian Salad, and it was a mountainous pile of greens topped with a generous portion of gyro meat.

The topper was the meal Billy Bob ordered. It was the Meat Loaf dinner that came with a salad. It looked so good, and also had generous portions of meat, mashed potatoes, and gravy. I thought that there was no way this also "skinny boy" was going to eat it all, but he did. 

For pictures of some of the food, and other happenings that evening go to our
PHOTOS
page.
We were watching a Cleveland Cavaliers game on the wide screen TV in front of us. The Cavs were doing great against the Atlanta Hawks, and in fact leading at the beginning of the game by 8 points after the first quarter. Then everything went haywire and the Cavs ended up losing 127-98. Head coach, David Blatt, said that it was embarrassing. But you have LeBron!

OK, next week. The regular GNO meeting will be held on Tuesday, DEC 23, at The Basement on E Waterloo Rd in the evening. Then the next day, DEC 24, Christmas Eve Day, some of the Geezers will be meeting at The Grille also on E Waterloo Rd as we have been doing so for the last few years on this day.

Everyone is welcome to join us if they wish.

If we do not se you on next Tuesday or Wednesday we want to wish everyone who reads the GNO website a MERRY CHRISTMAS!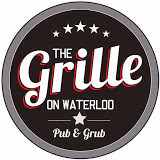 It's NOT really Breaking News, but I figured this is the only way I could get people to read my articles.

However, there is some News in this one. The Geezers met at The Grille on Waterloo on Christmas Eve Day as we have been doing for the last 9 or 10 years. It has not always been The Grille.

The building of The Grille on Waterloo has housed a lot of different clubs. A couple of years ago it was known as The Tap House. It has been a lot of different businesses over the years. When I wasn't a Geezer, and some of you weren't even born, it was known as Dianne Kimberly's.

Russ, who owned the building and created The Grille on Waterloo opened one of, if not the first, Scorchers in the state of Ohio in Firestone Park. The business flourished, and was very lucrative for him. It started a trend of Scorchers all over Northeastern Ohio.

But then Russ took a hiatus, and began leasing the building out to other businesses. I can't remember them all. After the last business there, The Tap House, left Russ took over, and opened The Grille on Waterloo.

For the last year or so it has been a comfortable place to go with an interesting menu. The Geezers frequented the place now and then for Geezers Nite Out, and some of us stopped there for a couple of hours during the week. 

As I said earlier, the Geezers were there on Christmas Eve Day for our Annual celebration. Russ, the former owner, sold the building, business, and parking lot to an Asian group. They took over a few weeks ago on a Friday, and everything has stayed pretty much the same since.

But one of the bartenders told us (On condition of anonymity) That there will be a new Menu next year. Also, after the other Geezers left me sitting there alone when they all left, I happened to strike up a conversation with the new owner, Linda.

It was nice to meet her, and tell her about the area. She said that she was going to change the name, and  after some prodding she told me that she was going to change it to The Firestone Park Grille. So it would be still the Grille, but with Firestone Park before it, which is where it is located.

I began to tell her about Kevin O'Bryan's on south Main St, and that it used to be called the Firestone Park Cafe. I tired to convince her to change it to that, but she wasn't too enthused about it. Or maybe The Firestone Park Cafe II.

I guess that we will just have to find out what it will be called next year, but if she has her way it will still be the Grille.