This is Monthly Newsletter. Articles, Pictures, and Happenings are all listed on one page for the Current Month. Please Page Down to read all of the News in the order that it happens.

THE BASEMENT OF NORTH CANTON - February 1, 2012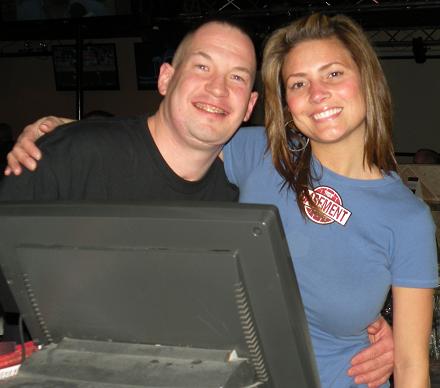 The first Geezers Nite Out for February of 2012 was held at The Basement in No Canton.

Pictured to the left is the architect of the No Canton Basement, Kenny, along with the day bartender, Haley. Haley formerly worked with Kenny at The Basement on Waterloo Rd in Akron. She was one of our faves. She is now a permanent fixture during the day in No Canton. We were pleasantly surprised to find this out on this particular Wednesday nite. After Haley left for the evening, Alex, and Kenny took care of us the rest of the evening. 

The Basement was featurign a new beer from Budweiser.  It was called Bud Light Platinum. They were giving away a free sample. The alcohol content is suppsoed to be 6 %, but that is hard to believe.  

We also ordered from the Basement's excellent menu. All of the locations have excellent food, and I believe that the menus are basically the same. I ended up having a burger. They have the Build-A-Burger option on the menu. Add just about anything you want. 

We did see a Celebrity Look-A-Like while there. It was a lady with a short haircut, and a red & gray scarf who  the Big Boi thought resembled Annie Lennox of the Eurythmics. R. B. called her the "scarf lady"! 

The atmosphere picked up a notch when three girls came in celebrating something. One of them was wearing a tiara so we assumed it was a birthday. They were later joined by a couple of guys who must have been part of the party wherever they were coming from.

Drumstir's son Gary was also there with a buddy of his. Gary stopped over to see us for a while. He said that he tried some of the Basement chili. Of course it wasn't as good as his dad's, but Gary said it was OK.

On a more serious note we were glad to see Mike (Billy Bob) there. His Dad passed away the night of our previous meeting at Just One More on January 25. He went to bed that night, and never woke up. Only way to go! We want to extend our deepest sympathy to Mike and his family.

Next Wednesday, February 8, we will be going to Legends Sports Pub & Grille in Green off of Massillon Rd. It is one of our fave meeting places along with Tricia, the bartender.

GO G-MEN

This page was last updated: March 3, 2012
LEGENDS SPORTS PUB & GRILLE - February 8, 2012

The Geezers Nite Out was held at one of our fave meeting places, with our fave bartender. Tricia was behind the bar as she is every Wednesday night. Here daughter is a student at "The" Ohio State University.

The drink special from 11 - 7, during the week, of $2.00 domestic bottled beer, and $2.50 well drinks was as usual along with $2.99 Long Island Ice Tea. But the food special was
1/2 slab of Barbequed Ribs
for $6.99.
Billy Bob
took advantage of that. And
R. B.
had his usual Gyro (Guy-ro)! Check out their
Menu
!
We also did see a celebrity look-a-like! According to the Big Boi, he saw a guy walk in who resembled Mark Shapiro, President of the Cleveland Indians.

There was a pretty good crowd at Legends later into the evening. The Cleveland Cavaliers were playing on one of the many TV's strategically placed throughout the place. The Cavs ended up winning, and it just occurred to me that I don't remember Tricia wearing a Cavs jersey. Last year, and the year before when the Cavs were playing while she was working the Cavs would LOSE. Maybe she is using a different psychology this year since they won. If you see Trish ask her if she wore a Cavs jersey Wednesday night.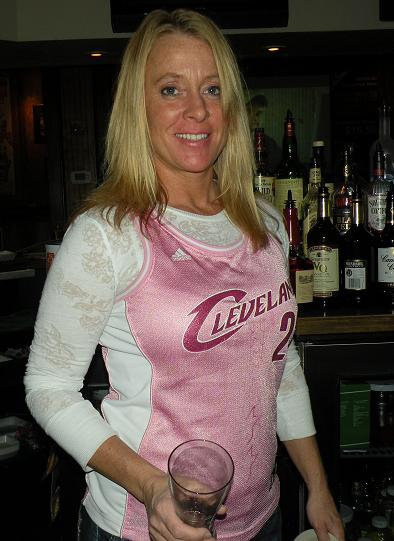 Next Wednesday,
February 15
, we will be at a new meeting place. It is called
Johnny J's
located near the bowling alley that used to be called the Coliseum in Springfield. The actual address is posted on the
SCHEDULE
page of the website. Some the Geezers have been there already and it comes highly recommended. Hope to see you there.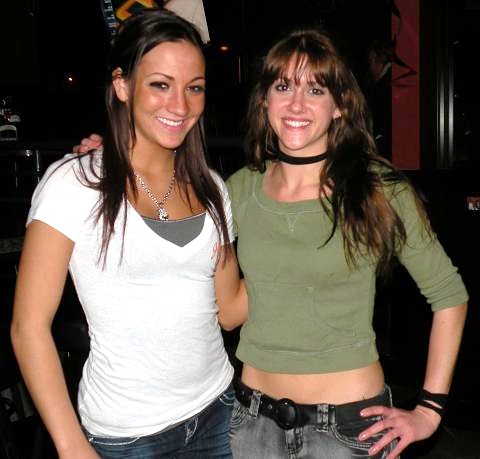 JOHNNY J'S SPORTS PUB & EATERY - Springfield - February 15, 2012

Johnny J's was A-OK Wednesday nite for the Geezers Nite Out on February 15. Some of the Geezers have been there before, but it was the first time that the group had been there together.

Pictured to the left are two of the servers on the floor. From L-R is
Rachel,
and
Mandy
. They are
going to be
two of our faves! We also were served at the bar by
Katie.
  A picture of her along with a few others will be posted on the
GEEZER PHOTOS
page. There were also a number of male bartenders who were attending to our needs earlier in the evening.
What we were surprised, and pleased about is that JJ's has Free Fries during Happy Hour. At least they did on Wednesday. Also they were offering 1/2 Price Appetizers until 9:00 P. M. They are doing their part to help the economy during these trying times.

JJ's has a very interesting
MENU
. Check it out. They also have 2 other locations in the Akron area. One is on the west side of town in
The Valley
on Weathervane Lane, and the other is located near Portage lakes on Manchester Rd. by Nesmith Lake. 
One of the pics on the Geezer Photos page is that of the Nachos that R. B. ordered to take advantage of the 1/2 priced appetizers. There were about 7 of us there at one time, but there was plenty of it to go around. The pic looks like a volcano. Check it out.

JJ's is a new place, and I doubt that they have built up a cliental yet of what you could call "regular customers." One of the bartenders told us that they have only been up and running only since November 2011. But a strange woman came in wearing a long black coat, and a floppy gray hat with (yes) a scarf acting as if she ahd been there before. R. B. called her the "hat lady". If you remember a few weeks ago at The Basement in No Canton R. B. was intrigued with the "scarf lady". This hat lady sat next to Billy Bob and that seemingly was not a problem. But she started right in on interviewing him. He told us later on that she was a "free lance" writer. You have to watch those free lance writers! She was asking him if he was married, and numerous personal things. Billy Bob was contemplating ordering dinner, and he didn't especially feel comfortable with her there so he moved. I imagine that the woman was a loner, and she needed to talk with someone. She talked with a couple sitting next her after Billy Bob left. Then on her way out she stopped to chat with Mr. Lobber. Being the nice guy that he is he did talk with her for a short time. I feel sorry for people like that, but they shouldn't impose on others unless they start the conversation first. Well, that was our excitement for the evening.

We did see a Celebrity look-a-like. There was an attractive young lady sitting at the bar with some friends who Drumstir thought looked like Tiffany Coyne. You don't know Tiffany Coyne you say? Well, she is the top (and only) model for the new version of Let's Make A Deal on CH 19 from 10 - 11 AM during the week. Check it out when you retire.

We had enjoyable time at Johnny J's and we definitely will be back. Most of the Geezers have been there before, and I haven't heard anything bad about it yet.

Next Wednesday, February 22, the Geezers Nite Out is scheduled to meet at Dusty's Landing at Portage Lakes. But next Tuesday is Fat Tuesday. So make sure that you check the SCHEDULE next week as we may make a change to attend the Fat Tuesday party at Legends as we did last year.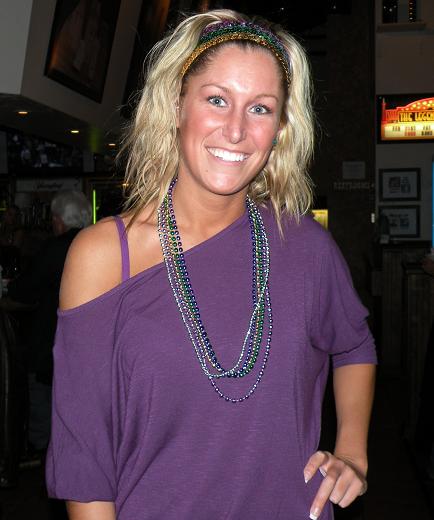 LEGENDS SPORTS PUB & GRILLE - Green - February 21, 2012 - Fat Tuesday

For the second year in a row we made a change to our routine of Wednesday evening meetings to attend a Fat Tuesday party at Legends Sports Pub in Green.

We did experience another change for this big night. We usually sit at the bar for most of the places we meet at. However, on this night we were relegated to a table since the bar was full. In fact, we put two four seat tables together since we didn't know how many members would be attending. As it turned out we had more than enough room.

Our server for our table is pictured to the left. Her name is Brooke. However, we found out that is a nickname. Her given name is Brooklinn. (Not Brooklyn). She said that she ran into so many problems in her line of work with that handle, that she shortened it to Brooke. Or at least somebody did.

Anyway, at one point there was 7 of us at the table. Brooke took our orders for drinks and food, without writing anything down, and she had all of the tabs right on when, one at a time, we cleared them out. Legend's has a good one here. They'd better treat her right!   

Legends had a number of food and drink specials for Fat Tuesday. There were 99 cent Margaritas along with their regular Happy Hour drinks of $2 domestic bottles, and $2.50 well drinks. The food specials were Po Boy sandwiches with a ton of fries, and Jambalya. Also they had Pizza Soup. I guess that could qualify as Cajun.

There was a funny anecdote with Brooke. When Billy Bob arrived we told Brooke that we called him that because he looks like the movie star Billy Bob Thornton. We asked her if she knew who he was. She said that she thought Thornton is Angelina Jolie's FATHER! Of course we had to correct her and tell her that he was married to Jolie at one time. What was up with that? Of course John Voight is Jolie's father.

We missed being at the bar and seeing one of our fav bartenders,
Tricia
. She was very busy Tuesday night, but she did have
Bri
back there to give her a hand. I did make my way over to the bar to take a picture of both of them. Go to the
GEEZER PHOTOS
page to see the photo of them, another of Booke, and of
Christi,
and others.
Later on in the evening Christi Nichols from radio station 97.5 WONE along with Brad Russel from promotions arrived to pass out beads and mingle with the customers. She has a morning show with Tim Daugherty from 6:00 to 10:00 AM. She spotted us right away when she arrived, and came over to chat with us. She gave us some beads, and key chains and she was very pleasant. Our first impression was that she was enamored with us. We told her about the Geezers, and gave her one of our business cards with our email address. She told us that she would give us a shout out at 8:45 AM the next morning. We were really enthused.

I woke up early on the following Wednesday morning to hear what she was going to say. Almost at the exact time (8:45) she told Tim that she wanted to say hello to some guys that she met at Legends the night before. She started out by calling us "Old" Geezers. She also said that she "felt sorry for us" so she came over to talk to us. That was not what I was expecting her to say. But she did say that we gave her a business card so we must meet quite often. And she did announce our email address on the air that is printed on the card.

I had mixed feelings about this, but I assume that she was being facetious!

During the summer we run into another WONE DJ, TK O'Grady out on the Patio at The Galaxy in Wadsworth.   

We did see a celebrity look-a-like. It was a woman who resembled the 6 time Grammy Award winner Adele from England. Incidentally, I heard on the radio this morning that Adelle gave the "finger" at an award show in London when she was rushed off of the stage when her acceptance speech was a little long. Really? Later on she said that she meant that toward the Producers, and not the fans.

We had a great time at the Fat Tuesday party at Legends, and we look forward to coming back again next year. Wednesday, February 29, we will be meeting at Just One More Bar & Grill in Gala commons off of RT 224 in Springfield. If it was last year it would be March 1! We have a Leap Year!

Stop by and say Hi to Jen, Michelle, and Nevene.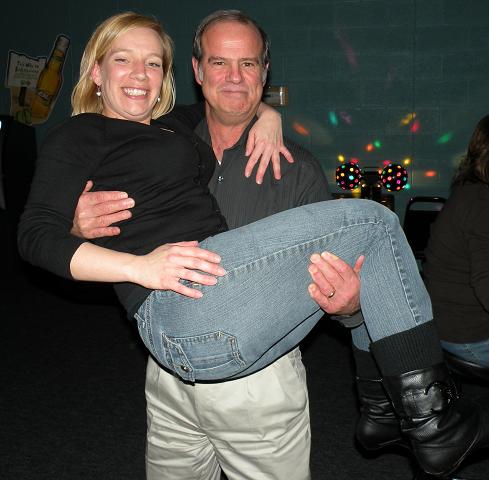 JUST ONE MORE - GALA COMMONS - February 29, 2012

We stopped into Just One More off of RT 224 (E. Waterloo Rd) for a little pick-me-up on Wednesday Feb 29 for our Geezers Nite Out. As you can see that is exactly what happened. We'll get back to that "shortly"! Bada Bing!

Pictured to the left is the owner of J. O. M. Jen. She is being hoisted in the air by our Entertainment Director, R. B. Jen was working the bar on her own after the day bartender, Michelle, left for the day. Another one of our fave bartenders, Nevene, was off for the evening. However, a DJ by the name of Amber ended up assisting Jen behind the bar after she put her tunes in order.

This was also voting nite for the meeting places for
March
. The result of the votes will be posted on the
SCHEDULE
page.  
As you will see we will be going to Just One More again on March 14. However, as of the writing of this newsletter we are not sure of the meeting place we will be going to for St. Patty's Day on March 17. There is a big party going on at the Tilted Kilt in No Canton. Last year we went to the Tap House on Waterloo Rd. They are also having party this year. We will post the location on the Schedule page when it has been determined. R. B., our Entertainment Director will be missing St. Patty's here in the Akron area as he will be going back to Pennsylvania to The Meadows casino with a group of people. 

Nicko stopped by after a lengthy absence. During the summer he is a golf machine. It was a rather warm day for the last day (Leap Day) of February, but after he called the golf course they told him that it was Underwater! It was good to see him. 

Of course most of us had to partake of the $1 burgers, and $1 beers. During the week from Mon -Fri the burgers are only one dollar until 7:00, and the domestic bottles are only $1 until 9:00 PM. That is hard to beat anywhere.

We talked with Jen, the owner, and she was excited about something new coming to Just One More in about a month or so. She was keeping it a secret but she said that it was a whole new concept that will blow her competitors out of the water! Whoa! So stayed tuned.

We will be meeting next Wednesday, March 7, at The Basement in North Canton. One of our fave bartenders, Haley, should be working. Hope to see you there.