This is a Monthly Newsletter. Articles, Pictures, and Happenings are all listed one one Page for the Current Month. Page Down to see all of the News in the order that it happens!

This page was last updated: March 1, 2014

GEEZERS NITE OUT FEBRUARY 5, 2014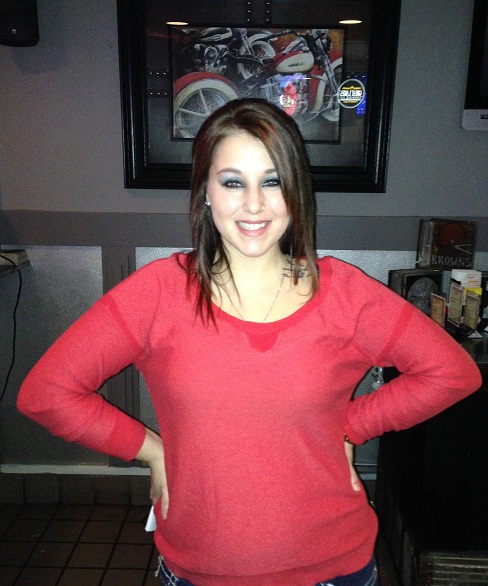 The Geezers Nite Out, Wednesday, February 5, almost didn't happen. For a couple of reasons.

First of all, 6 of the Geezers were in Florida over Super Bowl weekend. R. B., S. B., and Joebo flew down on Friday, January 31 to meet up with Spike (Swish), Fergie, and Jimbo.

Spike, and Fergie are Snowbirds, and Jimbo (Jim Fish) has become a Floridian.

This has been going on for quite sometime and is always around the time that the Super Bowl is played. Only Joebo and S. B. came back on Tuesday evening (2/4) around 5:00 PM. R. B. stayed down there with his wife, Brenda, who flew down on Tuesday (2/4). 

Later on that evening the Northeastern Ohio area was expecting to be hit with 4 to 10 inches of snow. It did eventually happen, and there were school closings on Wednesday. The south Akron area got a bunch, but not as bad as Cleveland.  I'm not telling you anything you don't already know in this area. 

All of those happenings combined did not bode well for Geezers Nite Out. However, unbelievable as it may seem, it did! The Geezers have a similar creed as postmen do when it comes to a Geezers Nite Out. 

"Neither snow nor rain nor heat nor gloom of night stays these Geezers from the swift completion of their appointed buying of the rounds on a Geezers Nite Out!"

However, the only Geezers there were Joebo, Billy Bob, and The Forester. The Forester is an old friend of some of the Geezers who recently moved back to the area after spending much of his time in the Columbus area.

S. B., who was back in town. did not want to test the weather as he lives in Cuyahoga Falls. A No Show!

Pictured above is our bartender for the evening, Jackie. She was very accommodating, and sympathetic to our plight of having only three of us there. However, there were not too many people out that night period after the blizzard the night before. Maybe those people not there were a lot smarter than us!

I was the first one to arrive that nite since I live nearby, and I was talking to Russ, the owner. He asked me where I had been and when I told him Florida he didn't want to hear it.

Yes, it was great in Florida, but we missed the one-year celebration of The Grille on the Friday that we left (1/31).

I told him what went to Florida with the Geezers and that our weather was the best that it has ever been for this trip. The first nite it rained, but after that it was in the low 80's the rest of the weekend.

We watched the Super Bowl out on the deck of the Tiki Bar at Shephard's Beach Resort, where we stayed for 2 nites, and it was 72 degrees during the game. Yes, it was a bad game, but we really didn't care a whole heck of a lot!

The three of us ate from the Grille's unique MENU. I had the Turkey Club Wrap which was very good. And the others seemed pleased with what they had ordered.

Our conversation that nite varied from Internet email addresses, and passwords to the untimely death of Academy Award winning actor Philip Seymour Hoffman. What a shame!

Speaking of actors we did not see a Celebrity Look-A-Like that evening. We didn't see too many people there at all.

As I said The Forester (John) lived quite a while in Columbus. He was very good friends with Billy Bob, R. B., and Jimbo Fish. However, what is a surprise, is he graduated from college at that "Team Up North"!  So he asked Jackie if she could find a basketball with THAT team against Nebraska on the TV near us. She tried (Not very hard), but couldn't find it. Billy Bob discovered what channel it was on Direct TV with his trusty iphone, and before you know it we were watching THAT game.

And last but not least, after we were there a short time there was a squeak.....and all power went OFF! DARKNESS! (Except for an EXIT sign?) We thought for a moment that we shouldn't be there. But in a matter of minutes we had light! After the bartender and manager got the TV's booted back up,  everything was back to normal! NORMAL? What's that anymore?

Next Wednesday, February 12, we will be at a New place called The Garage. It is located in Nicoletti's complex, which is located in the former Hook Line & Drinkers building next to On Tap on Portage Lakes Dr. Lakes.

GEEZERS NITE OUT FEBRUARY 12, 2014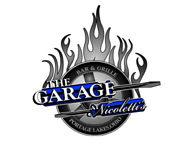 The Geezers Nite Out was scheduled to meet at a new meeting place called The Garage in Nicoletti's complex next door to On Tap of Portage Lakes.

The weather hasn't been very good in the northeastern Ohio area, as most of you know. That night it was 23 degrees at 5:54 PM. At 6:54 it went down to 12.9 with windchill of 9. At 8:54 it was 9, and at 10:54 PM it was 7 degrees.

The problem is we are now used to temperatures like these.

As you probably heard or read some of the Geezers have turned into Snowbirds in Florida. R. B., S. B., and I (Joebo) went down to Florida to see Spike, Fergie, and Jimbo during the Super Bowl weekend. And as we said before, Spike and Fergie are still down there.

Drumstir is back and fourth to Ft. Lauderdale to visit his sister, Patty,  and stay on her large boat. S. B. called off! The Candyman has disappeared, and Bubba is now a Georgian. (Is that what they call people living in Georgia?)

So in conjunction with the weather, and the snowchickens in Florida there was not a good showing of Geezers on this nite..

To make matters worse The Garage was "just that"! A garage! It is located in a mostly bare room that has a garage door.

What is so ironic is that right above The Garage on the first floor is an upscale restaurant. It couldn't be more  contrasting! Really laid out, from what I could see.

The place was very ordinary. It may have been decorated to look like a garage, but it was too much like a garage.

They only had about 4 or 5 flavors of draft beer. And Miller Lite was not one of them. During Happy Hour a glass of Bud Light draft beer in a "plastic" cup for $4.00.

And there was a male bartender. Who'd a figured that?

We don't know if food was available or even if they even had a kitchen.

We didn't stay long enough to find out.

Nicoletti's is just new in town. The building it is located in is the former Hook Line & Drinkers.The restaurant is very lavish from what I could see from the outside. We are hoping that The Garage is in its infancy, and that they plan on making improvements over the course of the year.

That will remain to be seen. But during the summer, Nicoletti's does have a bar open on the patio with live entertainment. The Out of Sequence Band who we know well, play out near the docks during the weekends. The band is composed of Jack Bishop, Chuck Lyons, and our dear Cheryl Clatworthy. Jack and Cheryl were part of the Oldies But Goodies Band, of which S. B., and I were members. 

We usually see customers who resembles a famous celebrity. We did not on this nite. However we did see a story on the News on TV of the passing of a great comedian. He will go down in history as one of the best.

Sid Caesar, passed away on this Wednesday (2/12) at his home in Beverly Hills, California after a short illness. He was 91.

We left The Garage, and headed to our old "stand by",
The Grille on Waterloo
. We know the owner,
Russ
, and the bartenders quite well. It wasn't very lively there that night either, because of the weather. But we did order from their excellent
Menu.
If you page down to the next article you will see a picture of our bartender there,
Jackie,
who also waited on us this Wednesday. 
The strange thing is, we had just been there the week before (2/5) for one of our scheduled Geezers Niites Out. You can read that article to see how that went.

Next Wednesday, February 19, we will be at one of our fave stops, Legends Sport Pub & Grille to see one of our fave bartenders, Tricia!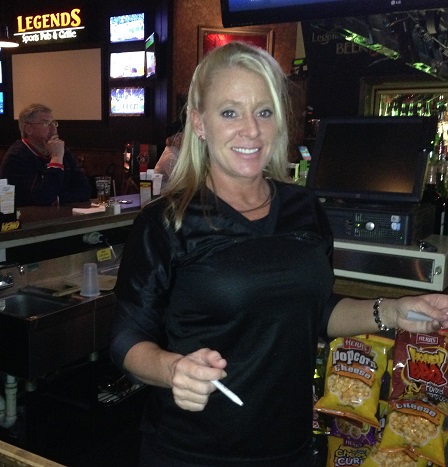 GEEZERS NITE OUT FEBRUARY 19, 2014

What a difference a month makes. The outside temperature on this Geezers Nite Out at Legends Sports Pub & Grille in Green was 37 degrees at 6:25 PM.

The last time that we met at Legends was on 1/22/14 the outside temperature was "9" degrees.

So this was considered a "heat wave"!

It was not very crowded when most of us arrived. It was partly because of the warmer weather on this night, and also because of Spike (Swish), and Fegrie are still snowbirds in Florida. But when they are back in Akron they are "early birds". Consequently we are neither!

Pictured to the left is our bartender for the nite,
Tricia
. We have known her, and she has known us since
2005
. We were just starting out with promoting our group on a website thanks to that idea by our Ent. Director,
R.B.
, to start a website. Tricia was one of our first
Bartenders of The Month
for
DEC 2005
.
The Specials for Wednesday nites at Legends are basically the same every week. During Happy Hour bottled domestic beer is only $2.00, and well drinks are also less expensive.

And Long Island Ice tea is only $2.99 till close.

The food Special is 1/2 Slab of Ribs for $7.99.

Drumstir, who flies back and fourth between Akron and Florida, was talking about meeting his sister, Patty, at her yacht, and head down to Key West. The boat is usually docked in the Ft. Lauderdale area. That is where Drumstir usually goes. I went down there with him one time to the first yacht that his sister owned, and where we stayed. Ft Lauderdale is a nice area down there. A lot of race tracks and casinos.

We were also watching the Cleveland Cavaliers game on TV. Well, we weren't actually watching it, but it was on! The Cavs were burying the Orlando Magic 26-9 at 7:34 PM. And they were leading after the half 62-47. As all Pro basketball games go, the real game is in the last two minutes! The Cavs blew a big lead, which is not unusual for them, but they ended up beating the Magic's 101-93.

The subject also came up about two drive-in restaurants that were located physically next door to one another, the Spotless Spot, and the Corral on Arlington St. I was talking about the place that my Dad used to take me and a friend of mine to eat after Cleveland Indians baseball games, Sky Way in Fairlawn.

Drumstir brought up about getting a sandwich called the "Nightmare" with his Dad at either one of the afore mentioned establishments. However, as I recall those places, one of the sandwiches was called "The Big Jim" at the Spot, and the Corral called theirs the "Nightmare"! But they were one and the same.

They were big burgers on a large bun with a slice of ham, mustard, pickle, relish, and a thick slice of onion. A side of "Giant" onion rings made it PERFECT!

The Corral is still there on Arlington St, and they still do have the Nightmare! I may go get one!

We are looking forward to the return of our Florida Snowbirds, but until that time we will be still be meeting every Wednesday night regardless of snow, nor rain, nor heat, nor gloom of night at our designated location.

Next Wednesday, February 26, we will be meeting at the New Winking Lizard in Montrose/Copley.  

Our good friend and fellow Geezer, Fergie, who happens to be one of the Snowbirds that we talk about, is still in Florida with his wife, Brenda. To show that he was thinking about us here in Akron, he sent us a postcard. 

Below is a pic of the postcard. I believe he had an ulterior motive! Thanks Pal!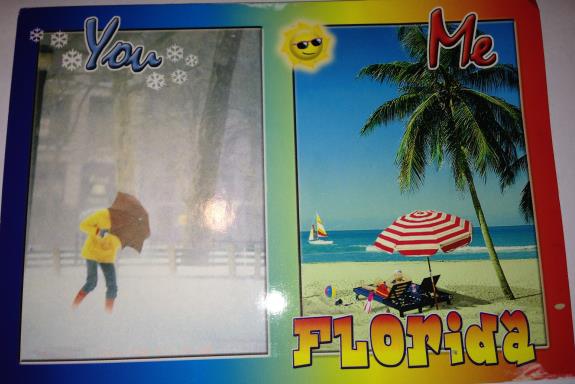 GEEZERS NITE OUT FEBRUARY 26, 2014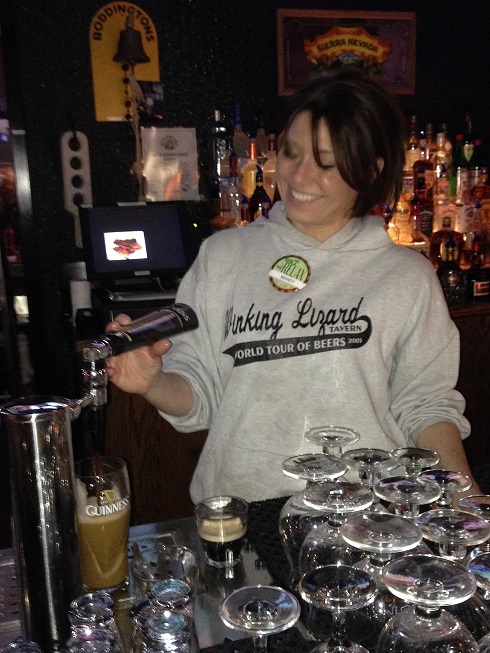 We were not the only ones to pick this Wednesday nite to meet at the Winking Lizard in Copley/Montrose.

As it turned out it was very crowded when most of us arrived for our Geezers Nite Out.

It was not a particularly warm evening. Exactly the opposite. At 5:54 PM it was 15 degrees with a Windchill of 1.1 degree! I guess people were tired of being cooped up, and all decided at the same time to brave the weather for a nite out.

Pictured to the left is Mandy, one of our fave bartenders at the Lizard. We have all been arriving later since two of our earlybird, snowbirds, Fergie, and Spike are still in Florida. Due to that fact we ended up getting split up for a while. Drumstir and Billy Bob were sitting at the main bar inside. But around 6:00 PM there were no seats to be found, and it didn't look as if there would be any soon.

That caused S. B. and I (Joebo) to look for seats at the patio bar. It is enclosed during the winter, but still open. As luck would have it there were two seats at the end of the bar which we grabbed.  

Mandy was looking out for us, and let us know when there were seats available next to the others. We were texting each other back and fourth to let each other know when seats opened, but Mandy took care of it.  Thanks Mandy! 

R. B. had arrived during the melee, but we all ended up sitting together at the main indoor bar. I was texting him also to let him know what was going on, and to let him know that there was 1 seat out at he patio bar with S. B., and I, but he was unaware of it as he rarely checks his texts until the next day or so!

The conversation during the nite consisted of the NFL Draft, and Johnny Football (Manziel). None of us favored the Cleveland Browns choosing him at #4 if he was available. His attitude, and style of play does not bode well for a long career in football. I mentioned a former QB by the name of Fran Tarkenton who also had the same style of play back in the day. But someone mentioned that it was a different "era" back then.  

FYI: Manziel is listed at 6' 1", Tarkenton 6', Joe Montana 6' 2", Johnny Unitas 6' 1", Brett Favre  6' 2", Drew Brees 6', and Russell Wilson 5' 11". What does that tell you?

I also found out during my search that Frank Sinatra was 5' 8".

The Cleveland Indians played their first Spring Training on this day. They played the Cincinnati Reds. Both the Indians and the Reds train at the same complex in Goodyear, Arizona. They also played the Reds on Thursday and Friday. I was at the training facility in 2009 which was the first year that they went back to Arizona from Florida. It was great. So was the weather.

Opening Day for the Indians is March 31 in Oakland. The Home Opener is April 4 against the Minnesota Twins.

It was also voting night for the meeting places that we will be going to in
March 2014
. There was a tie between
The Grille on Waterloo
and
Johnny Malloy's
. The Grille won out. However, our first meeting in March will be on a
Tuesday, March 4,
at
Legends
for
Fat Tuesday
. The results of the vote have been posted on the
SCHEDULE
page.