This is a Monthly Newsletter. Articles, Pictures, and Happenings are all listed one one Page for the Current Month. Page Down to see all of the News in the order that it happens!

This page was last updated: January 25, 2014

FLORIDA GEEZER RUBBING IT IN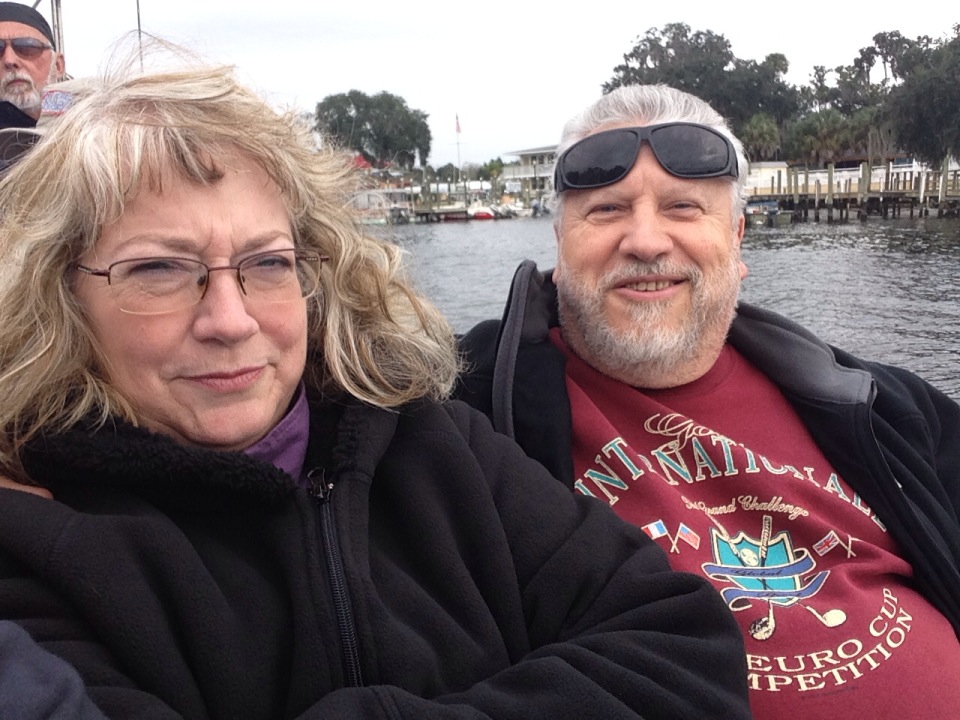 As most as you know one of our Geezers, Spike (Swish) is down in Homosassa, Florida for his winter hiatus.

His wife Kathy joined him around Christmas for a few weeks. She is still employed by The Goodyear tire & Rubber Co.

The other day I saw a few pictures that they posted from an Air Boat (Fan Boat) ride somewhere on the Gulf. Here is one of them!

While we are freezing here in Ohio Spike and his wife are enjoying the Florida sun!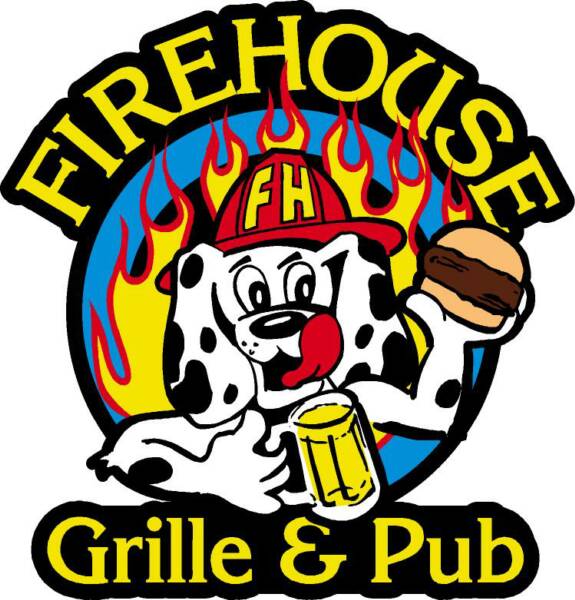 GEEZERS NITE OUT JANUARY 8, 2013

Polar Vortex or not, The Geezers held their Wednesday night meeting at The Firehouse on Tallmadge Circle in Tallmadge, OH Wednesday nite January 8.

Of course the worst was over on this nite, but you couldn't tell by the number of customers. It was still cold outside. The temp around 5:00 PM was a balmy 21 degrees but there was still a chill in the air. With the wind chill it was 10.6 degrees.

Two days before, on January 6, it was -7.6 degrees with Wind chill of -32.9 degrees with he wind gusting at 32.2 mph.

Compared to that this was a heat wave. It is supposed to warm to the 40's soon.

However, it still wasn't a normal meeting. We actually have three Geezers in Florida as I write this article. Spike (Swish) was the first to depart even before Christmas. He was followed by Fergie who left around DEC 27. Drumstir is in and out of Florida from one week to the next. His sister has a yacht anchored in the Ft. Lauderdale area.

We haven't seen the Candyman, who has a condo up on Catawba Island on the Big Lake. He is back in town but we haven't seen him since he left in the fall.

There were only four of us in attendance. I (Joebo) was there a little before 5:00 PM. R. B. showed up close to 6:00, and Bill Bob and S. B. didn't show until a little after 6:00 PM. It was the usual time for Billy Bob who works all over creation, but S. B. was definitely late.

During the summer months when the weather is good, and most of us are all in town we usually meet as early as 4:30 by some of the Geezers.   

The Firehouse has an unusual
Menu
. Check it out. We all ordered from it, and there are pictures of our choices on the
PHOTOS
page.
On Wednesday nights the Firehouse has a fantastic drink special. All adult beverages are one half off all night. There were some interesting drink choices made by the group that night. There were some martinis, mixed drinks, and foreign beers chosen in moderation of course.

R. B. and Billy Bob ordered draft Yuengling when they first arrived. But they said that it seemed to taste a little "watery". Billy Bob switched to Molson, and R. B. tried Stella Artois in the "fruity" glass! S. B. and I ordered a martini.

As I said previously we all ordered from the Firehouse menu. For awhile we were all sharing one menu. They have a lot of menus and there was no need to do that so R. B. and I asked for an individual menu. The bartender brought them to us, but before she handed us the menu she laid down a  paper place mat that was corrugated in texture. R. B., our "class clown" felt the place mat as if it was "brail". As he ordered after looking at the menu he fingered the place mat as if he were reading it in brail. The bartender was trying to ignore him as she took his order to no avail. It was all in fun, and we were not making fun of anyone!

And to top off the exciting evening Firehouse's computers would not accept any of our charge cards when we deiced to check out. So we couldn't leave! No, we did not have "one more"! We were hoping that the Firehouse would buy us a beer, but they quickly got the computers working again.

Next Wednesday,  January 15, we will be meeting at Johnny J's Pub & Grille in Springfield.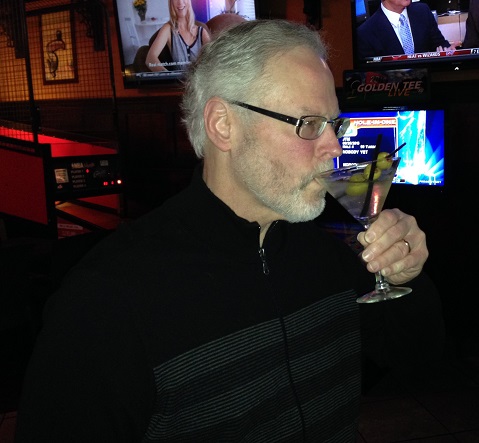 GEEZERS NITE OUT JANUARY 15, 2014

Another year another Birthday! Or is it the other way around? Another Birthday, another Year.....OLDER?

Anyway, last Wednesday, January 15, we celebrated S. B.'s Birthday at Johnny J's Pub & Grille in Springfield, OH at our Geezers Nite Out.

His actual B-Day was on Monday, JAN 13. And it just happened to be $3 Martini Nite at J. J.'s. So in the picture to the left S. B. is taking advantage of it. However, I (Joebo), and Drumstir each bought him one. So he at least had two. Drumstir was on his way back from Florida, but he told me to buy him one from him.

Most of us took advantage of the food special of 1/2 off of Appetizers at J. J.'s on Wednesday nites.

R. B.
has a fave beer that he likes called
Kentucky Bourbon Barrel Ale
. It is brewed in bourbon barrels. There are only a few sports bars in the area who have it. It is best on draught but it is served in bottles also. And when they serve it in a glass it is usually in a small glass that resembles a brandy snifter. (We will have a picture of it on our
PHOTOS
page shortly.)
However, R. B. found out that Johnny J's does now have it. Usually at the other bars they will only serve it in the brand name glass. But at J.J.'s you can order it in any size. And R. B. did. (A picture of that will also be on the Photos page.)

Our friend Krisko made an appearance. She worked late at the Go Go and she was on her way home. She was getting her dinner, wings to go. Her cat is sick, and she didn't stay long. We really think she had to get home to watch American Idol. Is that show still on?

We did see a couple Celebrity Look-A-Likes. There was one guy who looked like the phenomenal John Lennon, glasses and all. And also, almost on cue, we saw our good buddy Lou Holtz before we left.

For some reason we were talking about Presidents, current and former variety. Bill Clinton's name comes up when you talk about former presidents. Those comments were not fit to print, but I think you can figure it out.

However, he was one of our best Presidents regardless.

But our
Birthday Boy, S. B.
had a good time, and so did we. Some pictures from that nite will be available also on the
PHOTOS
page.
Next Wednesday, January 22, we will be at one of our fave winter stops, Legends Sports Pub & Grille to see one of our fave bartenders, Tricia.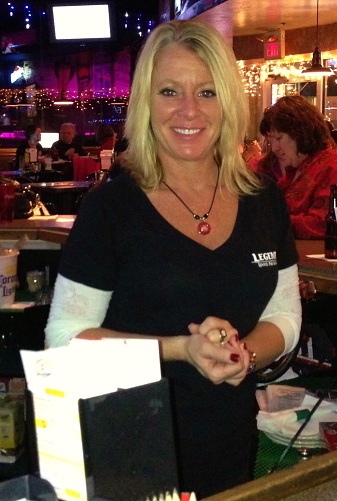 GEEZERS NITE OUT JANUARY 22, 2014

When we were at Legends Sports Pub & Grille on this Wednesday nite, it was either 9 or 8 degrees depending on who you talk to. I (Joebo) have a iPhone5. Drumstir has a Samsung Galaxy phone. My iPhone gave the temperature as "9" degrees in Uniontown. Drumstir's smart(?) phone said it was 8 degrees in "Canal Fulton"!

Evidently his Galaxy phone doesn't follow him all over the "galaxy"! Anyway, whether it was 9 degrees or 8 degrees it was "freakin" COLD! 

A couple of the Geezers are "snowbirds" in Florida. Since they are down there and not in the Akron area they are not at the Geezers meetings. We are talking about Spike (Swish) and Fergie.

During the summer and fall months those two guys are usually the early arrivals for the Wednesday nite meetings. However, they are not here, and the arrival times for the rest of the Geezers is getting later and later.

Three weeks ago I was out at the Firehouse on Tallmadge circle a little before 5:00 PM. No other Geezer showed up until near or at 6:00 PM.

I really don't know what these guys are doing before they get to the meeting, but I am going to plan on being there until around 6;00 PM in the future until this spring when the snowbirds are back.

However, Drumstir, who spends a lot of time in Florida with his sister, was there earlier on this nite, and texted me asking if I was coming.

So if you are ever planning on joining us one of these nites, the best time to be at the meeting site is after 6:00 PM. Not 5:00 PM as we used to tell people at least until spring.

The main topic of discussion was who was going to be the new Head Coach of the Cleveland Browns. At this time it was not a done deal that the Defensive Coordinator of the Buffalo Bills, Mike Pettine, was going to be Da Man! But the local news was reporting that it was going to happen.

What was funny about this was that there was a regular customer (Not that we aren't) at the bar who resembled Pettine to a tee. We kept saying that this customer (Could be) a Celebrity Look-A-Like! That is IF...Pettine was named the coach.

Pettine was eventually named the Head Coach the next day. None of us are happy about the hire. We feel that is is just another blunder by the Front Office (Referred to by many fans as the Three Stooges.)

A lot of us thought that the OC of the Seattle Seahawks, Dan Quinn would be The Guy after the OC of the Denver Broncos, Adam Gase, turned them down. But they never gave Quinn another interview, and instead chose Pettine after he SAID something in his interviews to make them believe he could lead the Browns out of their doldrums. The key is he SAID!

He was the Defensive (What do the Browns need most?) Coordinator of a "losing" team, The lowly Buffalo Bills.

OK, I got a little carried away there, but on the bight side the Cleveland Cavaliers were playing a game that nite and it was being televised so that we could watch it. We didn't watch much. They were playing the Chicago Bulls at home, and lost 98-87 with former Bulls player Luol Deng on their team.

Drumstir is on a Fireball Whiskey kick. Fireball Whiskey tastes like the old "Fireballs" that you used to make with something like mixing Cinnamon and Peppermint schnapps togehter. You can buy the Fireball whiskey at  your local liquor store.

A month ago, around the Christmas holidays,  we were at the Winking Lizard in Montrose, and one of our friends, Krisko, ordered Fireball Whiskey on the rocks. Ever since then Drumstir has been addicted to it! (He likes it)

He was drinking it Wednesday night, and even S. B. tried some. Is "Fireball Whiskey" now IN?

We also saw another Celebrity Look-A-Like in "Uncle Fester"! He has a shaved head and he does resemble the TV character from the Adams Family YV show. The last few times we have seen him at Legends he was wearing a golf visor with gray spiked fake hair on it. This night he was Kojak....er..a...Uncle Fester!

Actually he is a childhood friend of mine and a close friend that we both know, Jim Harpley, who now resides in Nashville, TN. His name is Monty Shriner. And MOnty says HI JIm Bob!

Tricia
(Pictured above), is the bartender on Wednesdays nites when the Geezers meet at Legnds. We have known her since back in 2005 when she was our Bartender of The Month for
December 2005
.  She treats us very well, and she is a lot of fun. She even puts up with our "Class Clown"
R. B.
Anyway she is heading to Mexico with her husband this weekend. It was nice knowing you Tiricia!

Next Wednesday, January 29, we will be at Dusty's Landing/Yacht Club on Portage Lakes.