This page was last updated: February 21, 2015
This is a monthly Newsletter. Page down to view the news and events as they happened.

GEEZERS IN CLEARWATER BEACH FLORIDA FOR SUPER BOWL SUNDAY

Most of the Geezers were in Clearwater Beach, Florida at Shephard's Beach Resort to visit with fellow Snowbirds, and watch the Super Bowl out on the deck of the Tiki bar. 

Pictured above (From L-R) are Spike, R. B., Jimbo, The Candyman, Fergie, J.Bo, and S. B. Voigle's wife, Mary Ann took the picture.

Missing in the picture above were Drumstir, Billy Bob, and The Forester. Drumstir and Billy Bob were headed to Key West. it looks like The Forester is stuck in Ohio for the duration as far as I know.

We were surprised to receive a call from The Candyman (Verge Gipson) who is vacationing in Florida with his wife Mary Ann. They will also be heading to Key West for 3 days. They stopped by to see us, and say hello and watch the game.

It was a great game depending on who you were rooting for. The atmosphere at Shephard's was fantastic. It went from daylight to a sunset, and then to night time.  It was cool, but comfortable if you had a jacket or windbreaker on. The younger kids were going around in T-Shirts, and shorts.

It looked like New England might walk away with it, but then Seattle came back strong. Then the Patriots surged ahead, and it looked as if it was over. However, Seattle came storming back a second time to the one yard line. But then came that fateful call. A pass across the middle. The Pats said they were waiting for that play all day, and intercepted. Voila, New England wins.....Again! Not Seattle.

S. B. and I came back to Akron on Monday afternoon 2/215. S. B. had a meeting to attend Tuesday afternoon in person at Goodyear. He normally works from home.

R. B.'s wife, Brenda flew down to Orlando, and they were going on a cruise, and spending time in Ft. Myers before they return to Akron in about a week and a half.

Drumstir is down in Key West soon to be joined by Billy Bob.

Spike has a trailer in Homosassa. He will return in March just in time to go out for St. Patrick's Day.

Fergie, and his wife Brenda will be there the longest next to Jimbo. They will not be back until May 1.

Jimbo (Jim Fish) will be there the longest because he has become an "official" Floridian.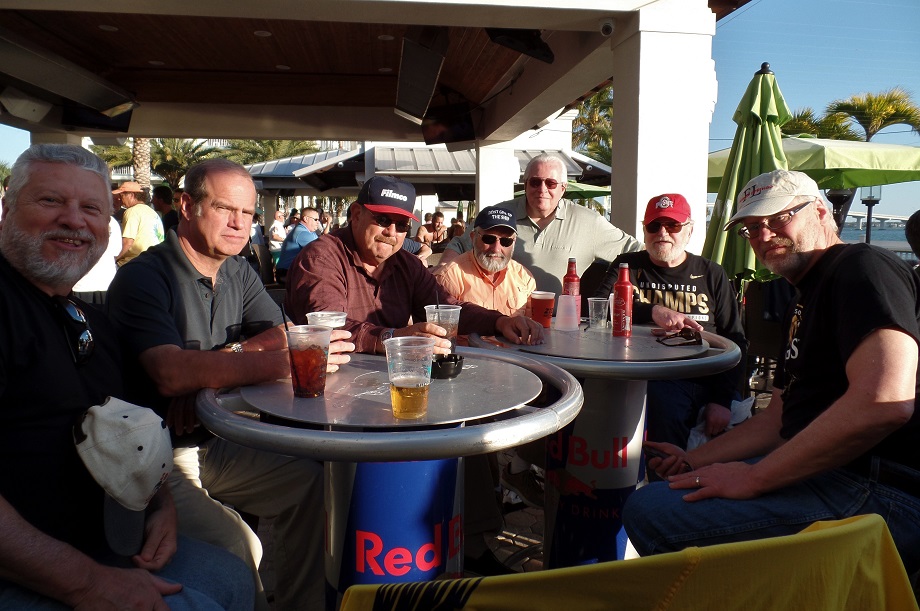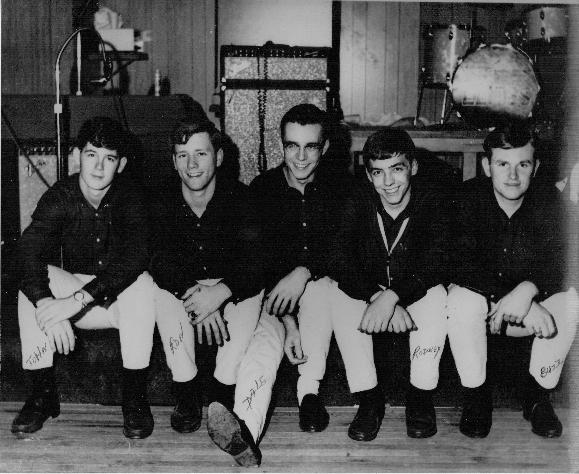 AN ELITE HAS LEFT THE BAND (RONNIE HELFRICH)

I am sad to report that the drummer for a band that I used to play in the 60's, called The Elites, has left us after a short illness on Wednesday, January 28, 2015.

Ronnie Helfrich played drums along with Jon Hopkins, Bass guitar, and Lead Vocals, Dale Beckett, Lead Guitar, and back up Vocals, Rodney Mishler, Sax, and Back up Vocals, and Buzz Cincurak (Me), Keyboard, and Rhythm Guitar. Ronnie is second from Left.

Ronnie was a very talented drummer who never missed a beat. The five of us became close friends. The highlight of our career was being the House Band for a year at a college nightclub in Kent called the Fifth Quarter.

Ronnie became and Akron Police Officer later on, and retired from there with 30 years of service. There is an Obituary in the Akron Beacon Journal, on Sunday, Feb 8, 2015. Or go to Ohio.com.

I retired from The Goodyear Tire & Rubber Co in November 30, 2000. Ronnie retired from the Akron Police Force in 2000 also. But what his obituary didn't mention was that he spent a few months at Goodyear in a Department called Petroleum Accounting. I guess being a white collar worker was not his forte. 

Below is the last picture that we took together (Minus Dale Beckett) in 2011. Ronnie is on the far right. Click on the pic to Enlarge.

Rest in peace my friend.


For more Photos and a history of the band
CLICK HERE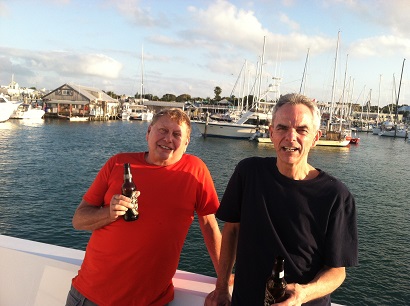 About 10 years ago the Geezers used to go travel to Florida to get out fo the bad weather for a few days, and visit with Spike (Swish), who owns a comfortable trailer in Homosassa that he purchased from a friend whose parents passed.

That was then. This is NOW. Jim Fish, who used to visit with us sold his house in Akron and moved to Homosassa. Fergie owns a condo in Clearwater where he stays about 4 months out of the year.

R. B. started having his wife Brenda, join him after S. B., and I came back to Akron. Now R. B. is staying longer and longer every year. 

Drumstir spends most of the in Ft. Lauderdale on his sister, Patty's yacht. When the anchor is pulled he can end up anywhere that you can reach on the water. A few days ago he was in Key West along with Billy Bob who joined him for a few days.

The last two Geezers Nites Out in Akron were canceled du to the lack of Geezers. This Wednesday, Febraury 11, we will be meeting at the Firehosue Grille & Pub on Tallmadge Circle. There is no guarantee who will be there. I (J.Bo) will be, and most likely S. B. who lives nearby. We heard that Billy Bob is back in town, and he will also probably stop out.

The Forester hasn't gone anywhere, except CBus so we wouldn't be surprised to see him there too.

So we are back up and running.  All systems are go!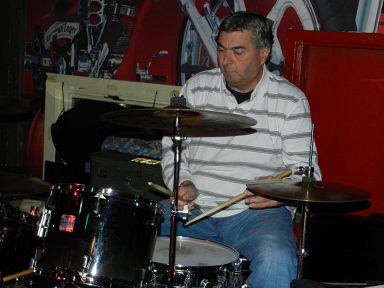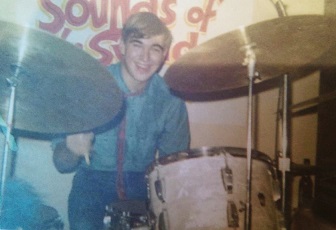 ANOTHER SAD ANNOUNCEMENT - TERRY RAY

Another friend of mine (Joebo), and a former drummer of bands that I played with in Kent, OH, has passed away.

Terry Ray, from Kent, left the stage for good last Monday, February 16, 2015.

Back in the 60's I played in a band called The Sudds with Terry at The Kove in Kent. My cousin, Jim Paulis, was also in the band. Terry also played in the Phantom Band for a short time. 

Terry along with another Sudds band member, Bud Dulin, attended a few Geezers Nite Out meetings during the last couple of years. It was good to see them and talk about old times.

I will miss his posts on Facebook where he would bring back some of the oldies but goodies songs of years past.

The Geezers want to wish Terry's wife, Penny, his two daughters, and the rest of his family our deepest sympathy.