This page was last updated: August 3, 2014
Geezers Nite Out at Legends Sports Pub & Grille -
The
Cleveland Indians
game from
Los Angeles
was being broadcast on most of the TV screens when the Geezers arrived. It was an afternoon game in L.A. making game time in Ohio at around 4:00 PM. The Indians won
5-4,
but not without a harrowing 9th inning. However,
Cody Allen,
Tribe closer, shut them down. Tribe wins.
Tricia
was working the inside bar and
Misty
was outside on the Patio. Check our
PHOTOS
page for pics.   
EDWARDS IN VEGAS - Yes, Drumstir has been to Vegas many times with his wife Cindy who is a United Airlines Flight Attendant. Also with me (Joebo) a number of times. It seems like Vegas is in his blood because his son Gary was just out there on July 1. We understand that he is still out there as of today, and we understand that he has entered a Slots Tournament. Good Luck Gary!

FOURTH OF JULY - The 4th of July is one day away. We hope that everyone has a safe and Happy Holiday. I will be going down to the Minor League Baseball game at Canal Park downtown Akron to watch a baseball game between the Akron Rubber Ducks and the Bowie Baysox with Fireworks afterward.   

PART-TIMER? - As most of you know our Entertainment Director, R. B., is one step closer to permanent retirement. He has gone Part-time at the Goodyear Tire & Rubber Co. He only works three days a week now on Mon, Tues, & Wed. The GNO was last nite (7/2/14) at Legends in Green. I am writing this on the following Thursday. You would think that this would be no 8-5 on this day. However, he automatically assumed another part-time position, as an 8-5 babysitter for his grandchild. Grandpa R. B./Babysitter.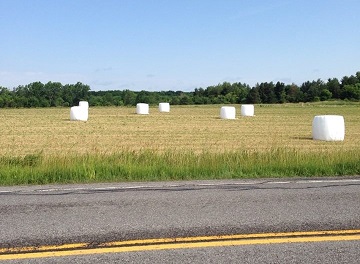 Our good friend Krisko, drove up to New York to celebrate the Fourth of July Holiday with family.

Here is a picture that she posted on Facebook. She called this a "Marshmallow Field"!

I wonder what she was drinking?

This is a Monthly Newsletter. Page Down to view all of the Current News as it happens.

MR. LOBBER THERE IN FULL FORCE

One of the Geezers, Mr. Lobber (Dick laber), was at a different kind of race track in Norwalk, OH for the Summit Racing Equipment NHRA Nationals on Sunday, June 6, 2014.

Here he is standing next to the Ford Mustang driven by race driver John Force to a win in the Funny Car division. We understand that Force is 65 years old, and this was his 140th career victory. Is this why Mr. Lobber was so happy to see the "old man" win?

Congrats to John Force. You make the Geezers proud.

UPDATE: While there at the race track Mr. Lobber ran into another popular figure in Ohio. GO BUCKS.

                       Check Out Both Pics Below. Click on Pics to Enlarge!

Geezers Nite Out at Johnny J's Pub & Grille - The current most popular sports story is all about LeBron. Who? Oh, yeah, LeBron James. Yes, it was a topic of discussion at the meeting Wednesday. On one TV there was the Cleveland Indians game against the dreaded New York Yankees, and on the other TV was ESPN's coverage of Decision II.

The Indians were playing the New York Yankees in Cleveland. The game came on while we were there,  when we left, when I arrived home, and when I fell asleep watching it.The game went 14 innings with the Yankees coming out of top 5-4.

Also on a third TV was the World Cup game between the Netherlands, and Argentina. Argentina won the penalty shoot out 4-2. That's another reason that soccer is not a popular sport in the U. S. A. The score of the actual game was 0-0. Exciting!

A couple who are good friends of the Geezers stopped in to see us. It was good to see Gayle and Dewster Hamilton. They are old friends of Drumstir who was not there.

Most of us enjoyed the "free fries" at the bar, and the $3 Martinis along with 1/2 half price appetizers.

Go to our
PHOTOS
gallery to see pictures from the evening.
Some Geezers Exit Early for Trip to Put-In-Bay - Three of the Geezers, Spike (Swish),  R. B. , and Billy Bob planned an all day, and overnight stay at Put-In-Bay on the following Thursday (7/10).

Maybe they will run into the Candyman (Verg Gipson) who has a condo up there on the Big Lake on Catawba island. R. B. and Spike left the meeting early Wednesday night to get their beauty sleep.

Geezers Nite out at The Galaxy Patio Party - Wadsworth

This was one of the most unusual meetings at The Galaxy weahterwise for Geezers Nite Out that we have had. We have had our fits with rainy days out there, but this was different. It was the middle of July and at 4:45 PM it was 70 degrees, cloudy, and windy. It felt a lot colder. It was so cold.....How cold was it?.....It was so cold that they had to lite the patio heaters.

Darla was behind the Patio Bar bar along with Becca. They take good care of us there since we always make sure that we sit at our fave place at the large bar.

Darla was awarded the Employee of The Month of June 2014. That is quite an accomplishment taking into account the many employees who The Galaxy employs. CONGRATULATIONS DARLA!

The Patio Bar has a number of TV's mounted in the bar. President Obama broke into local programming with Breaking News concerning Russia. Needless to say this brought on a highly intense political conversation between the usually docile Geezers. However, after a short time the conversation changed to more interesting topics such as our aches and pains.

The band for the nite starting at 8:00 PM was called Eclipse. They had a good sound, and you could tell that they had been performing together for quite some time.

Most of us ordered from Galaxy's fine
MENU
. You can see some of our choices on the
PHOTOS
page along with other picture from the evening.
Wednesday July 23, we are scheduled to be meeting at Dietz's & Dusty's Landing.

Florida Trip #2 Ahead for Geezers Fergie and Drumstir - Clearwater

Fergie (John Ferguson) is a Snowbird down in Clearwater, Florida during the middle of August sometime. He and his wife Brenda own a condo there. Drumstir (Denny Edwards) is considering buying a condo in the same complex with his wife Cindy.  He is going to shop around while there.

This is the second time that they have made this trip together. I (Joebo) made this trip with Fergie a couple of years ago. In August it is very hot in Florida. A lot of people stay indoors during this period as we do in Ohio during the winter months. Drumstir's wife is a flight attendant, and he uses his pass to leave Ohio for Florida during most of the winter months anyway. Have a good trip guys.

We will be looking forward to the staories that you will ahve to tell when you return.


A DAY WITHOUT MY iPHONE - i SHOULD HAVE KNOWN!

A week ago Saturday, July 26, R. B. and I drove up to Cleveland to the Horseshoe Casino. His wife was gone for the day and he asked me if I wanted to go up and gamble a little. I accepted the offer. Little did I know that this would be the start of an unusual day.

On the way up to Cleveland (I was driving) I saw that I received a text, and some Facebook alerts. But I waited until we arrived at the casino. I picked out a video poker machine, sat down, put a $20 in it and began to play. I didn't start out very well as I drained a couple of $20's in a short period of time, and I was jumping to any machine that I saw available. It was very crowded up there since The Horseshoe was having a 70's Theme Party, and I believe that it was also Cleveland's Birthday weekend.

I decided to take a break and check my texts, but when I tried the iPhone wouldn't turn on. I thought that I had the phone pretty well charged so it was puzzling. I also recently purchased a Mophie hard case which is also an extra battery. The Mophie provides an extra battery charge when the iPhone battery loses charge. I tried a few more times to turn it on but it wouldn't start up. So I continued to gamble.

R. B. and I separated when we got there, and we were to meet at a designated time. I don't wear a watch, and since my iPhone was dead I didn't know what time it was. I had to ask people. After the last person I asked told me I played a little longer, but I wasn't winning anything and I knew that it must be near the time to meet R. B. We met, we lost, so we left. We both weren't winning anything so we decided to head back to Akron. When we got to the car I hooked up my car charger to the iPhone, but it did not respond. It still would not turn on.

We stopped in Fairlawn at a new place called Ray's Place, and got a bite to eat. R. B. headed home, and I headed to the Apple store in Summit Mall which is near Ray's. When i arrived at the Apple store I made an appointment with a Genius and in a matter of 15 minutes or so I was being helped.

This is was this article is really about. What the Genius did was press both the lever on top of my iPhone and the button at the bottom (The one that you press to call up Siri) at the SAME TIME for a minute or so. And behold the phone started up. He explained to me that it was just like "rebooting" a computer. It just "locked up"!

So if this ever happens to your iPhone try doing this first before you go to the Apple Store.

Epilogue: You can stop reading here if you like, but the unfortunate day wasn't over. When I returned home, I turned on the Cleveland Indians game. As the night wore on I heard some thunder, and I saw some lightening and then all heck broke loose. I could hear the rain pouring down so I opened the front door to take a look up close and personal. It was not only rain, but there were sleet pebbles bouncing inside the door with some coming in as far as the kitchen (Which is near the front door). After a few more rumbles of thunder the TV lost its signal. The TV went out. What else could go wrong?

I have Direct TV now where I moved to, and this has happened to me twice since I have been living here.

About a half an hour later the TV came back on.

So what started out as a bad day at the casino only got worse.  

JULY 30, 2014

Geezers Nite Out - The Galaxy Party Patio Party II - Wadsworth

The Geezers Nite Out Patio Party almost didn't happen last Wednesday. As has been the case most of this summer there were "chances of thurnderstorms" for the area.

As the day progressed the weather, however, looked better and better. And when we first arrived the weahter was bearable.

But in a matter of minutes the clouds rolled in with the wind behind them, and then a pretty good shower ensued. People scampered away from the tables on the Patio, but the overhang at the Patio Bar kept us dry with occassionally wifts of rain beggin to join us in our seats. In other words we almost got rained on.

Things looked bleak for awhile, but in about an hour the rain subsided, the sun was peaking out behind the clouds, and people came out of the woodwork. It was an amazing transformation.

The band, Delta Son, even started to set up. And when TK O'Grady arrived from radio station WONE for his warm up gig it was business as usual out on the Patio.

Our bartenders for the evening were
Jess
(Alias Ruby) and
Becca
. For pictures of them, and from the rest of the evening go to our
PHOTOS
page.
It was voting nite for the Geezers to pic the meeting places for August. As is the case in many instances there was a tie which necessitated a  tie breaker vote. That also resulted in a tie which caused another tie breaker vote. The votes have been tabulated and the results will be posted on our SCHEDULE page.

We had a visit from our good friend Gary Sutherland. Most of the Geezers know him as an associate of The Goodyear Tire  Rubber Co many moons ago.

Also paying us a visit was our good friend
Gayle Hamilton
the better half of
Dewster
, and a couple of her gal pals. Pictures of them are alos on the
PHOTOS
page.
Drumstir brought an album of old pictures when the Geezers were young. Most of them are from the trip that Drumstir, Joebo, Fergie, and another friend made to Vegas to gamble and Anaheim, California to watch the Cleveland Browns lose to the L A. Rams (At the time). Those were the good ole days. When we were young. Go figure!

We did see our Galaxy Patio Party resident Sammy Hagar look-a-like there after the rain.

Next Wednesday, August 6, the meeting will be held at the Firehosue Grille & Pub on Tallmadge Circle.