This is a monthly Newsletter. Page down to view the news and events as they happened.


This page was last updated: May 15, 2016
Geezers Nite Out - Cinco De Mayo - Legends Sports Pub & Grille - Green, OH

Ah Yes, everyone remembers the Mexican army's 1862 victory over France in the battle of Pueblo.

You don't? Actually not many people in the U. S. know why we celebrate May 5th, In fact it isn't even celebrated much in Mexico. In the States it's just another reason to party.

Our good friend, and bartender, Tricia, was not behind the bar this night due to the fact that Cinco De Mayo landed on a Thursday..We usually meet on Wednesdays when she works.

Legends has a party every year to celebrate this Mexican holiday. Among the many specials were $.99 cent Margaritas, and $2 Tacos. They also had Tortilla Chips & Salsa for $2.99 with a Free refill.

Our bartenders for the evening were Misti, and Brittany. Misti was behind the bar when we first arrived. She works days. Both of them waited  on us until Misti left, but she helped out because of the large crowd. Brit took over from there, and took good care of us.

You can go to our
Facebook
page under
Geezers Nite Out
to see pics of the bartenders and some of the other food, and happenings. However, we will be putting some of those pics on our
MEDIA
page soon.
We have some big celebrations coming up for next week. On Wednesday, March 11 at The Galaxy we will be celebrating R. B. (Garo's) Retirement from The Goodyear T&R Co on that very day. And Spike (Swish's) Birthday, which is actually May 18.

Come out and celebrate with us. It will be out at the Patio Party. Pray for No Rain! .   

Geezers Nite Out - The Galaxy - Wadsworth, OH

Our first Nite Out at the Galaxy Patio Party was quite a party. First of all we were celebrating R. B.'s (Gary) retirement from the Goodyear Tire & Rubber Co after 42 years on this very day.

We also celebrated Spike's (Swish) Birthday. However, his actual birth date is May 18, but he has other plans with his family on that day. So there was a lot of celebrating going on this nite, May 11.

Not knowing what this night held for him, R. B., and J.Bo booked a room at the Holiday Inn next door just in case. During the warmer months The Galaxy has a Patio Party on Wednesday evenings with a live band. It gets pretty crowded. However, there was rain predicted on this day so even though there was no band, the patio remained open for business.

Our bartenders for the nite were
Kat,
and
Brittany
. We know Brit from last year, but we had never met Kat before. She did a very good job of taking care of us. There are pictures of the bartenders, and from this nite on our
Facebook
page, but we will be adding some on the
PHOTOS
page soon.
It was an unusual nite out on the patio, but we did enjoy ourselves. R. B. was on a high because of his last day at work, and Spike was given a good cigar, by S. B., to smoke along with a couple of complimentary drinks from the rest of the Geezers for his B-Day.

Like I said, R. B., and I reserved a room at the Holiday Inn, and because of all of the celebrating S. B. decided to join us  the nite. And as the saying goes anything that happens at the Holiday In stays at the Holiday Inn.

Next Wednesday, May 18, we will be at Jerzee's  Sports Grille on RT 619 off of Arlington Rd.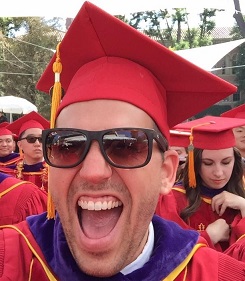 A HAPPY USC LAW SCHOOL GRADUATE

Yes, and that happy graduate just happens to be one of the Geezer's nephews. That is Joebo's nephew Mark Adam Hilkert. He is Cathy Terracciano's son. Cathy is Joebo's sister.

The kid just graduated this weekend. He is a very bright young man. For all of you Ohio State fans, he also graduated from OSU along with his sister Kristen. And he is a big Buckeye fan. 

.

He has devoted a lot of time studying, and he has put in many sleepless nights to accomplish what he did this weekend. 

Joebo says: "Congratulations Mark. We will have a cold Sierra Nevada brewski, and a Padron cigar to celebrate sometime the next time that you are home."

Below are some pictures from the event. Click On Pics To ENLARGE