GEEZERS NITE OUT ~ Newsletter

This is a Monthly Newsletter. Articles, Pictures, and Happenings are all listed on one page for the current Month. Please page down to see all of the News in the order that it happens.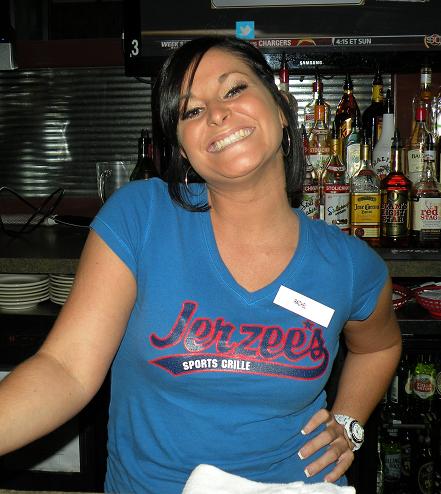 We're talking about the meeting place for our first  Geezers Nite Out for the month of November on Wednesday, the 2ND. Not an athletic jersey. However, the bartenders and waitresses were wearing them.

Speaking of which, our bartender for the evening, Rachel, pictured to the left, is wearing one. She was wearing a name tag, but it was the teeniest. Without my glasses on it looked like Bob. So we kiddingly called her Bob the rest of the night. She was a lot fun, and was very accommodating to our needs.

Marissa
was working the patio bar, but we did manage to get a picture of her which we will have posted on the
GEEZER PHOTOS
page. Also you can see her with Rachel on the
HOME
page. 
The Geezers were Drumstir, Fergie, Spike, J.Bo, the Big Boi, R. B., and Billy Bob.  We did see a Geezer look-a-like, according to Drumstir, who he thought looked like Spike (Swish).

All of the Geezers ordered from Jerzee's excellent menu. Some of their recommendations are a Turkey Club Wrap (J.Bo & R. B.), Texass BBQ Burger (Big Boi, and it was BIG), Reuben (Fergie), Wing Ding (Spike). All are Geezer Approved!  

We were also celebrating Drumstir's B-day...Again. The date was actually OCT 12. But R. B. was on a business trip for Goodyear so he finally gave Drumstir his card. He put some lottery tickets in it which Drumstir won $5. Last year we said that we wouldn't give cards anymore to all of the Geezers, but some of the original ones still do.

After most of the Geezers left some of us played the Ohio Lottery Keno game at Jerzee's because of our Entertainment Director , R. B.'s, suggestion. He had a "system" that he recently developed. It is not playing any specific numbers for B-Days or any other special dates, but by using numbers ending in any numeric sequence such as "5's", "7's" or "9's". We each chipped in a few bucks and went for it. We ended up winning our money back for "1" bet which we were going to replay. But due to a error on our part, when we replayed the same ticket as before we all had to chip in a little bit more which we never got back. But it was fun? It was?

Next Wednesday, November 9, we are scheduled to go to a spanking new place in North Canton called

The Tilted Kilt.
This is one of the most popular growing franchise business' similar to
Hooters,
and The
Brickhouse.
The Tilted Kilt is billed as a
Pub & Eatery
. It is a popular sports Bar. Opening Day is scheduled for
November 7
. If there is any change in our scheduled for our scheduled date of
11/9
we will advise you on the
SCHEDULE
page.
This page was last updated: January 9, 2012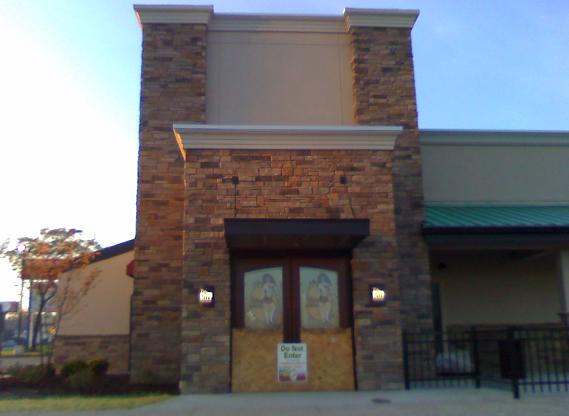 This is an actual picture of the front of The Tilted Kilt Sports Pub in Canton, Ohio taken by one of our Geezers, Billy Bob (Mike), a few weeks ago. At that time there was no concrete date for the Grand Opening. Since this picture was taken we were told that the Kilt was scheduled to open on November 7.

I called Monday on the 7th, and talked to trainer Amanda Fox. She told me that the Kilt was not open at that time, but the Grand Opening is going to be on Wednesday, November 9, which just happens to be our scheduled Geezers Nite Out.

So everything is going to work out after all. Stop in and join the Geezers Wednesday and say hello to Amanda.

It's located at 5075 Dressler Rd in the building that formerly housed Cheeseburger In Paradise.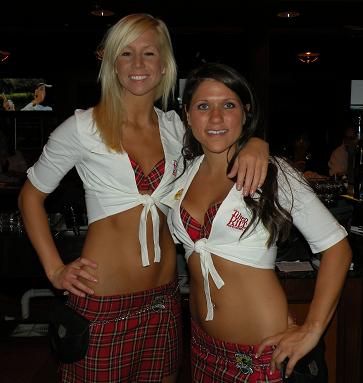 TILTED KILT IS OPEN FOR BUSINESS

Yes, the Geezers Nite Out was finally held at The Tilted Kilt on 2075 Dressler Rd in No. Canton on NOV 9th in the building that once housed Cheeseburger in Paradise. We have been anticipating the opening all year long.

Back in 2009 I was in Goodyear, Arizona for the first Cleveland Indians Spring Training in Arizona in many years with my sister, her husband, and a couple of friends. We went to Peoria, Arizona for a game. During the game a friend of mine joined me for a stroll through the ballpark. As we were walking, two lovely girls with short Scottish skirts approached us. They were two Tilted Kilt girls from the Peoria Tilted Kilt. They were passing out coupons for $1 Margaritas. Naturally, I had to take a picture with them. That was my first exposure to the Tilted Kilt.

Since then, I, along with some of The Geezers, were at a Tilted Kilt in Clearwater, Florida.

. 

I have been checking their website since way back in 2009 when I was in Arizona. Most of the Kilts were out west, and the northeastern part of the country along with the one in Clearwater, Florida. Slowly, but surely they finally opened one in our back yard. (Canton, OH)

As I said before, we were in the building when it was known as Cheeseburger in Paradise, a Jimmy Buffet creation. But walking into this same building again was unbelievable. The decor is beyond words. There is a lot of oak all over the place. The Tilted Kilt bills their places as The Best Looking Sports Pub You've Ever Seen. A huge bar is in the middle of the room with tables on either side, and a picnic table type of setting surrounding the bar. We were fortunate to sit at the bar, and it was beautiful and rich looking.

Also, there were Tilted Kilt girls all over the place. It was impossible to get an exact count. But with the crowd that was there Wednesday nite they needed every one of them. The place is just comfortable, and really laid out. You will be able to see some of it in the pics on the
GEEZER PHOTOS
page.
Sitting at the bar, where we ended up, we had a number of different bartenders waiting on us. I have pictures of all of them on the GEEZER PHOTOS link. All of the girls were very accessible for pictures. Amelia, one of our bartenders, even came out from behind the bar to take a pic with Drumstir. In the photos you will see Amelia, Marcy, (Aloha) Amanda, Jeanette, Alayna, A. Fox, Caitlin, Dayna, and Paige! Whew!

After all of the above, here are the  Geezers who were there. J.Bo, Drumstir, Spike, Candyman, R. B., and Billy Bob. The Big Boi showed up with his brother Dave (From Iowa) who was in town for work realted business with a co-worker, Ron. Also, I first arrived Drumstir's son Gary was there with some friends. He left after awhile to pick up his g/f from the airport. They both came back to eat dinner.

A. Fox (Amanda) is the girl who I talked with when I called (Monday 11/7) to see if the Kilt was open as we were previously told by management. However, it was not. A. Fox told me that the Grand opening was going to be on the following Wednesday, which coincidently is the day of our normal nite out, and we had already scheduled the Kilt for that nite.  Fox is from the Phoenix, AZ Kilt. She was brought in to Canton as a trainer for the Kilt girls. Also in the pic with Fox is Caitlin who was also brought in as a trainer from California.

The later it go the more crowded it was. The place was packed. During all of the goings-on on opening nite a
Scottish bagpiper band
came strolling through the crowd playing their biggest hits. Pictures of them are also on the Geezer Photos page. We also will have a short video of the band in action on the
MEDIA
page that you might want to have a listen to.
Most of us ate from the Kilt's unique
menu
. They have one item that is a little amusing. It is called
Fat
Bastard's Meatloaf Sandwich
. A pic of the item can be seen on the Geezer Photos page along with a pic of
Fat Bastard
(Mike Myers) himself. Not surprisingly the Big Boi had that for dinner. It all went into his belly. Whoa! 
The Kilt has more TV's than any sports bar that I've ever seen. Just the ones around the bar are mind boggling. However, because of the "tilted kilts" the girls were wearing we didn't even notice the TV's for about an hour after our arrival. (Per Drumstir)

I just wanted to mention the first tilted Kilt waitress that waited on me. Her name was Carlee. I wasn't sitting at the bar at the time, but moved there when Drumstir arrived. She served me one beer, and she was going to write me a tab. She found me at the bar, and told me that she transferred the tab there. However, I apologize for not taking a picture for the website. I asked for her later, but she had left. Maybe next time.

we had a great time and the Tilted Kilt is fantastic. I'm sure that we will be back. Besides being the Best Looking Sports Pub You've Ever Seen, they also say that "A cold beer never tasted so good."

Next Wednesday, Nov 16, we will be at Just One More Bar & Grill off of RT 224 in Gala Commons. Unlike the Tilted Kilt they have $1 Burgers, and Beer for $1 each til 7:00. Hope to see you there.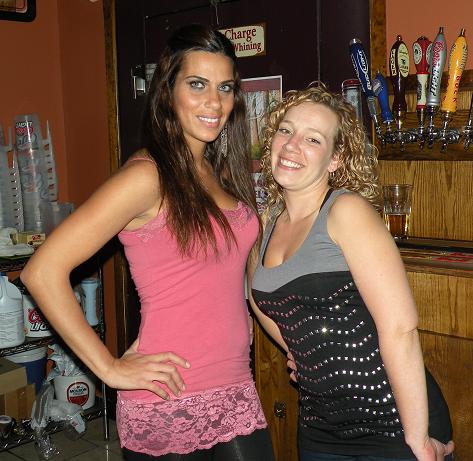 Yes, we were back to one of our fave meeting places, and the new home of The Phantom Band, Just One More Bar & Grill in Gala Commons off of RT 224 in Akron, Ohio.

When some of us arrived
Michelle
was behind the bar, the day bartender. She was only there till around 5:00 before
Naveen
came in to relive her.
Jen
, the owner, was also there when we first arrived. We have a pic of Michelle, and other photos taken that night  on the
GEEZER PHOTOS
link. To the left is a pic of Naveen (L), and Jen.
The Geezers there were Spike, Fergie, J.Bo, Mr. Lobber, R. B., the Big Boi, and Billy Bob. Billy Bob arrived a little later than the rest of us since he is back to work. And the Big Boi was having some car trouble with a tire on his brand new Hyundai Tucson.

We all took advantage of the Wednesday special of $1 bottled domestic beers, and $1 burgers. Just One More has an excellent menu. The dinner special was creamed chicken over biscuits, and mashed potatoes. it really looked delicious. But we ate the burgers. They have an excellent appetizer of stuffed banana peppers. Check it out sometime with or without the Geezers.

Two of the Geezers (The Big Boi, and J.Bo) who were there Wednesday night, are members of the Phantom Band. Jen, the owner, confirmed with us that she is looking forward to the band playing on Thursday, December 22. In fact she told us that as long as we have a band that she wants us to play for the Goodyear Christmas party every December, and maybe one or two other times during the year. 

There is also a DJ there on Wednesday nights. He plays quite a variety of music.

There was a very good crowd there Wednesday night along with a good turnout of Geezers. There was one guy there who worked at the
Akron Beacon Journal
. He was there in a shirt and tie. But the tie didn't stay on long because Naveen took it to wear with her outfit. There is a pic of her wearing it on the Geezer Photos page. Naveen also had the idea to take a picture with all of the Geezers, but she wanted to be in it. So the guy from the Beacon volunteered to take it. That pic is on the Geezer Photos page also along with it being on the
HOME
page. 
It was a fun evening, Just One More is a comfortable friendly place. Next Wednesday (Thanksgiving Eve), Nov 23 we will be at The Basement on Waterloo Rd. Hope to see you there. If not have a HAPPY THANKSGIVING!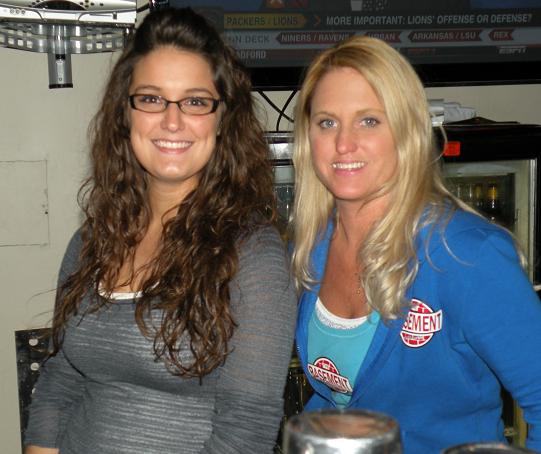 THANKSGIVING EVE NITE OUT

The Geezers Nite Out for the nite before Thanksgiving, November 24, was held at The Basement on 255 E. Waterloo Rd in Akron, OH.

This is supposed to be the biggest partying night of the year in the U. S. Whether or not that is true, it was very crowded early when we first arrived at The Basement. At that time our bartender was
Mary
, pictured to the left on the right. With her is
Brittany,
who was one of the night bartenders for the evening. The other bartenders were
Mike
, and
Nick
who we have pictures of on the
GEEZER PHOTOS
page. It was a busy nite.
Brittany has only been working at The Basement for a few months.

A little birdie told us that one of our fave bartenders at The Basement, and pictured quite often on our website, Haley, is now working at The Basement in Portage Lakes on Manchester Rd. I'm just sayin!

The Geezers there were Fergie, J.Bo, Spike, Drumstir, Mr. Lobber, and R. B. Billy Bob was taking care of his Dad in the nursing home, and the Big Boi had company. Huh?

Most of us took advantage of the Half-Price Philly Sandwiches till 7:00 PM on Wednesdays. They have quite a variety, and they are tasty, and guaranteed to fill you up.

This was Wednesday November 24, and the Urban Meyer, to coach Ohio State, was all over ESPN. These were rumors. However, as of the writing of this article (11/28/11) Urban Meyer was introduced as the next head coach of the Ohio State football team at a press conference. Rumor has it that Meyer's Agent confided in ESPN before a deal was consummated, but ESPN blabbed it to the public as they do with many stories that they receive. On top of that, ESPN announced around 2:00 PM in the afternoon that they would broadcast an Urban Meyer press conference at 5:00 PM. Then they changed it to 5:15 PM. To my knowledge it never happened. I had to watch it on Sports Time Ohio which is a more creditable sports information service.

Next Wednesday, November 30, we will be meeting at another one of our fave places, Legends Sports Pub & Grill off of Massillon Rd in Green. Come out and see one of our fave bartenders, Tricia, and the rest of the Geezers. Hope to see you there.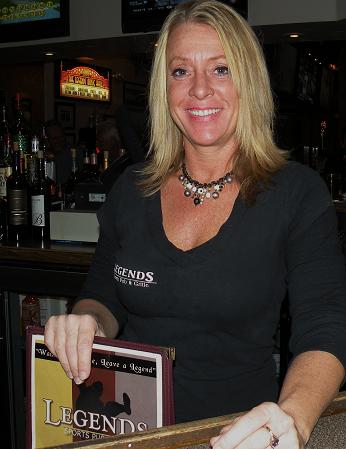 Yes, the Geezers Nite Out for Wednesday, November 30, was held at one of our fave winter stops, Legends Sports Pub & Grill in Green.

Our bartender for the evening was Tricia, pictured to the left. She is very attentive to our needs, and since we have been coming there since 2005 knows what most of us like.

These are some of those Geezers who were there.  The Big Boi, Drumstir, Candyman, J.Bo, R. B., and Billy Bob.

Most of us ate from Legends excellent
Menu
.  I had the "Veggie wrap"  with broiled chicken. There were those among us who thought that it wasn't a "veggie" wrap if it had "chicken" in it. Legends has
Happy Hour
specials every weekday. They have food and drink specials. Domestic bottled beer is $2. Well drinks $2.50 until 7:00 PM. They also had "Long Island Ice Tea" for $2.99 all evening.
They have a variety of sandwiches and soup but one of their all-time faves is the "French Dip" for $5.99. Both R. B. and Billy Bob had it. What a surprise!

I mentioned that happy hour at Legends ends at 7:00 PM. But for some reason Tricia became discombobulated, and kept walking around the bar telling us that we only had about 10 minutes before happy hour was over. That would have been OK, but it was only 5:50 PM. Not even six o'clock. We promptly informed her of her gaffe. Phew! That was a close one. 

The Big Boi was invited to go to a
Springfield High School
Alumni get-together on the same evening. However, he told them that he could not make it because of Geezers Nite out. Whether the Big Boi was told or not the Springfield "group" was having their get-together at Legends. D'oh! As some of the group was coming in they came over to talk to the Big Boi. They were meeting in the back bar, and he did go back there to visit with them. But they eventually came out to the main bar and were playing pool. We have some pics on our
GEEZER PHOTOS
link. By the way the Big Boi is a 1975 graduate! Whoa! 
Next Wednesday, DEC 7, we will be at The Galaxy in Wadsworth. However, we will not be out on The Patio, We will be inside in the Sports Bar Hope to see you there.

Remember, on Thursday, DEC 22 we will be at Just One More in Gala Commons for the 2011 Goodyear Christmas Party with the Phantom Band.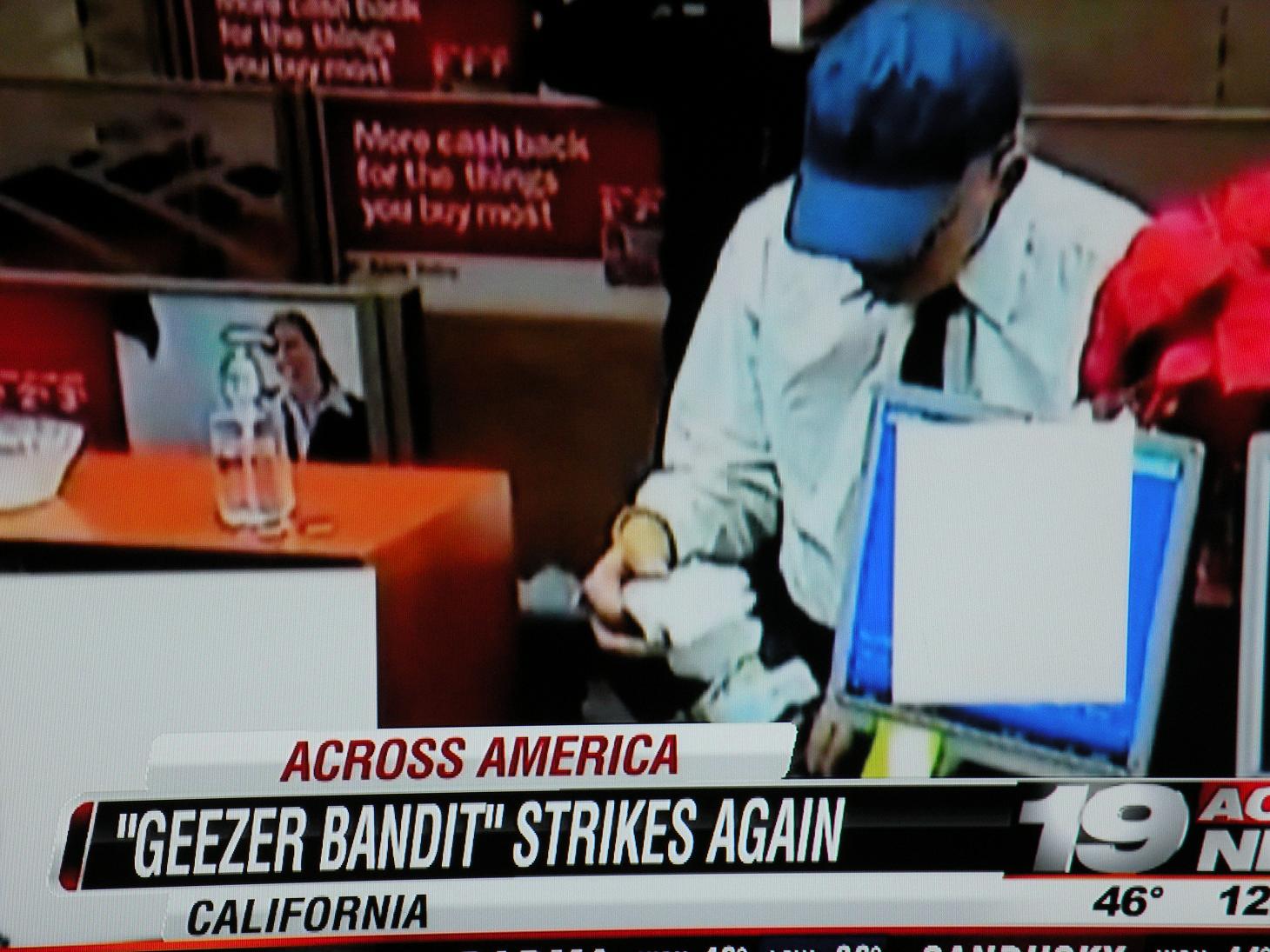 THE GEEZER BANDIT STRIKES AGAIN IN CALIFORNIA

There is a bank robber out west in California who looks like a Senior Citizen. At least he gives the appearance of an older person.

Some law enforcement officials have suspected that he is wearing a disguise. In fact some have brought up the possibility that HE may even be a SHE. There are a lot of possibilities.

The headline in today's news was that the Geezer Bandit has recently struck again! However, this time the Bandit dropped a bag with a dye explosive in it, and also left an address book. This could be a good lead.

However, in the meantime whenever the Geezer Bandit strikes we always get some flack about it.

Catch this guy/gal!